Millvina Dean: last survivor of the sinking of the RMS Titanic on 15 April 1912 My story both humble and true. How I met the youngest Titanic survivor Millvina Dean!
Listening to Celine Dion sing the immortal 'Our Hearts Will Go On' from the movie soundtrack to 'The Titanic' has touched millions of hearts. For me I can easily find myself dissolving into inarticulate emotions as memories swell up inside my heart and soul as I slip into so many memories of the great saga and how all our lives are truly all intertwined in mysterious way.Oh, how twenty years has suddenly slipped by. It seems like just yesterday I was standing in the presence of the beautiful Millvina Dean at her home in Southampton, England. Incredibly, she was the very last living survivor of the great Titanic tragedy.
I remember the magnetic energy present in the room as Millvina enthusiastically conversed about the events her life. Yes, my blinding passion led me to trace her whereabouts. I had planned to say so much to her as I found myself slipping into inarticulate emotions. Even to this day, I am still mesmerized. How was it even possible a young French Canadian artist like myself managed to join forces with such an historical figure as Millvina Dean who lived on the other side of the planet. We were from different worlds but life had somehow managed to magically connect us and together we were standing on common ground. Like a ship leaving port, we embarked upon a great project together. I still remember everything in great detail regarding how this great project started in the first place and the subsequent events leading up to the magical moment of meeting Millvina Dean.
Millions of people who viewed the blockbuster movie 'The Titanic' agree that yes, indeed, it was one of the best film experiences of all time having a deep and profound emotional impact on us all. The film's breath taking detailed beauty of the grandiose ship embarking on its maiden voyage, the unfolding drama of its sinking and the fictional love affair all intertwined portraying a real historical tragic event. I was totally seduced by the drama. The film captured so much of the terrifying last moments of so many people's lives and yet, at the end of the film we are left with the eternal promise and the hope that life and love goes on. Indeed, life has so much to offer all of us in our personal journey's.
Christmas Day 1997
I viewed the movie on Christmas Day 1997 in the afternoon in Drummondville, Canada. As the epic movie came to a close I remember so many people crying overcome with uncontrollable emotion. The power of such a sad and tragic move had simply touched everyone's hearts exposing the great remorse we were all feeling. The film's drama caused me to rush home and start to draw a sketch images on black paper with white pen. It was like I was madly possessed as my heart pounded and I surrendered to the energy of its gravity. From my memory and emotions of the film I created a drawing of the Titanic ship. Next day it was finished. I carefully framed my art piece at my framing shop. It was my way of acknowledging the deep emotions that swelled up inside my whole being; I simply had to do something to try and come to closure over the dramatic loss of life that I witnessed on such a large scale. With this, I had unknowingly planted a seed which would develop and germinate into a huge event in my life. It is true what they say, a grain of sand of hope can really change the world.
Consequently, as time passed, I found myself eagerly starting to search more and more for any and all Titanic collectables and keep sakes I could find on world markets. As a collector, I searched book stores, internet and any available sources for any items that related to the either the sinking of The White Star or the Titanic. Both ships had suffered ill-fated lives. The Renaud Bray book store had a box-set made created by a public record office in England. It came complete with pictures and copies of original documents however it was poor quality. It became evident that very few creations were available acknowledging the memory of the Titanic's great tragedy.
I turned by search toward the public record offices in London, England where archival photos and documents could be accessed. A unique black and white photo of the Titanic ship caught my attention. The photo was shot in Southampton while the ship was doing some tests at sea. I managed to purchase the publications rights to reproduce photos from an original negative from their private archive. It seemed like the whole universe was conspiring with probability to create an opportunity for something truly unique to occur.
My search for Titanic survivors
My enthusiasm led me to continue my search for Titanic survivors. I contacted the Titanic Society in England and magically someone connected me personally Millvina Dean who apparently was famous for her Titanic conventions which were held all over the world. It became obvious she was still in good functional health unlike some other Titanic survivors who had succumbed to ill health. She was the youngest Titanic survivor. Excited and blinded by the opportunity, I simply decided to telephone her personally.
Millvina patiently listened as I presented my exciting idea. I proposed that together we join forces to create Limited Edition Hand-Signed prints of my licenced Titanic photograph. All black and white photos of the Titanic would have a special double acid-free matting with each individually signed by Malvina Dean and accompanied by a Certificate of Authenticity. It would be an edition that would include some Artists Proofs as well.
Clearly, we had a shared vision of how our project would come to fruition. She was very articulate, charming and enthusiastic to do all she could to help my dream come true. Before I knew it, I had 1,000 large size photos developed and was on my way to England to Millvina Dean's home.
Just like the adventuring young lads in the movie The Titanic it was very exciting for me to travel for the first time overseas to England to stay in historic city of London for a few days. Usually, when I travel, I like to trade collectables with other collectors. I prepared items to take to England to trade with record stores and fellow collectors like myself. My hope was to see what I could find to bring back to Canada as a souvenir. For example, old English prints, interesting books, and special historical items etc.
I needed to have so tasty items to entice other collectors to want to trade so I dug out of my music collection a vintage CRIA certified KISS. This was an official music industry award and highly prised by collectors world-wide. In addition, I added two custom framed 45 rpm. records featuring Elton John's 'Candle in the Wind' featuring an over lay of the actual sheet music. Also, I had some first pressing vinyl 33 rpm of singer Celine Dion that I could easily trade.
Next thing I knew I was on an Air Canada flight from Montreal to London. Six hours 30 minutes to London Heathrow airport. I arrive very early morning. I had to engage two carts to transport the 1000 photographs and all my baggage and boxes. Needless to say, I was carting a fair amount of weight in all.
At customs and immigration, the British customs officer ask me what items were accompanying me. After enthusiastically explaining everything to him, to my surprise I found the custom officer shared the same enthusiasm for The Titanic movie. He appreciated my intentions thus certifying my clearance papers and wished me "best luck" as well! How wonderful and unexpected!
I took a taxi with all my stuff in hand and headed to Nothing Hill. Wow! London was so full of life. The hectic hustle and bustle reminded of like New York City. There were so many beautiful historical buildings and sites. It was truly an over-whelming experience. I finally arrived at my bed 'n breakfast lodging, ate breakfast and took a short pleasurable walk taking in local sites. First, I started to look around antique shops for English prints; I am a big lover of those images. I finally discovered a beautiful but very expensive shop in Nothing Hill. Vintage old shelves and vintage decor from 1880's featuring incredible collector's editions of prints and books.
London
While I was there, I was fortunate enough to meet the official supplier of entire London English print collectible stores! I was able to discuss my Titanic project with him. A chain of events unfolded. The supplier allowed me to view a lot of his special collectible prints he had in his car. This led to me purchase some items including prints of Westminster Abbey, historical ships and classic British scenery.
After agreeing on a good price for the items, we decided to enjoy breakfast together the next day at which time he introduced me to historian Denis Cochrane, one of London England's largest Titanic memorabilia and collectibles sources. Apparently, Denis had been involved with director Jim Cameron in the making of the film The Titanic! His role involved consulting and advising about the ship's décor featured in the movie. This involved authentic detailing of the cutlery, dishes and dining decor. He was consulting to make sure the movie kept the historical integrity as dining was such an integral part of the movie's making. I was truly fascinated to talk to him. What ironic luck eh?
I eventually purchased some collectible items including three third-class plates, a silver fork and two original Waterbury Titanic White Star Line Flag Blazer Buttons. I did also trade one of my Artist Proof collectible Titanic photos with him. My visit with Denis ended after breakfast. I used my time left in London to walk around visiting many famous places like Buckingham Palace and Westminster Abbey tower where I purchased an old stamp seal in Portobello Market. Yes, I was a happy camper looking at all those buildings and famous places but it was time to get ready to take the bus the next day to Southampton and meet Malvina Dean.
Growing testament to all the memories.
I arrived Southampton early afternoon with all my picture bags and collectibles in hand. As I walked around gazing at everything it became apparent many stores were closed. Suddenly, I recognize many of the same buildings that I saw in the Titanic movie! I sat in Southampton's most famous bar an old pub called The Grapes. Apparently, it was a popular spot for travelers going to the USA to take a final beer and chat. I sat on the dock where the Titanic made its final departure imaging how it must have felt. Can you imagine my great surprise to find the local cinema was ironically playing The Titanic movie? I decided to watch it in Southampton as a growing testament to all the memories. Truly all the unfolding events were filled with tremendous irony. I couldn't have imagined a better outcome to all my efforts.
Next day, Millvina Dean's boyfriend Bruno drove me to her house where we engaged in a lot of interesting conversation. Millvina explained when the Titanic tragedy occurred she was so young she hardly remembers anything. She was saved when placed in a carrying bag and lowered into a paddle boat. Like great beautiful British traditions, she offered me some traditional English tea, muffins and scones and orange marmalade as she recanted her memories and feelings of her life and times and the night the Titanic sank.
I remember her charming voice and warm ambiance of the room. She shared so many stories of her travels all over the world. I remember her saying, "Well Stephane, I've done so many cruises sharing my personal family history and I feel lucky to talk about the event which I have few memories of because I was a young baby." I spent three splendid days with Millvina in which she invited me for lunches and dinners. Millvina and Bruno were such great hosts. The days were filled with tours around the city and beautiful countryside including the spectacular New Forest Wildlife Park.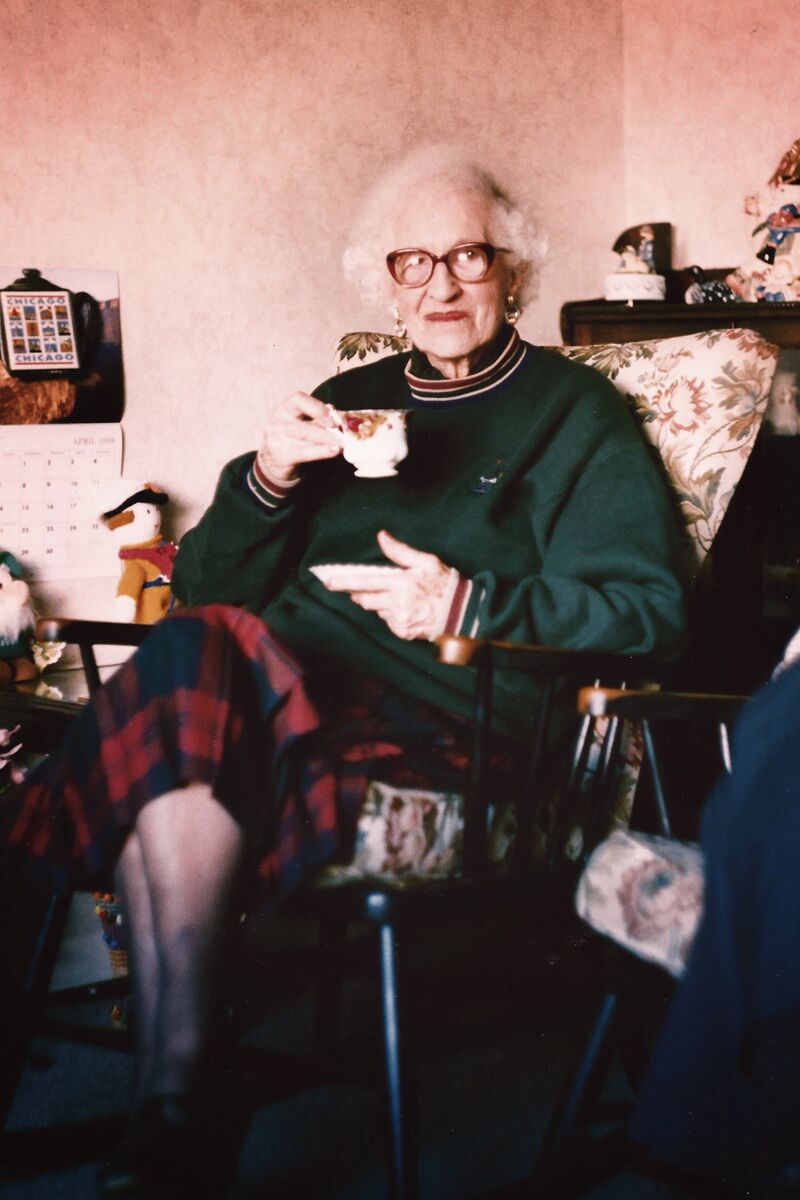 Marine collectibles a boutique called Cobwebs
After spending time with them, I had to let her work on hand-signing the 1000 Titanic photos. I used the spare time to visit the grave of Frederick Fleet and Benny Hill in the Southampton's Old Hollybrook Cemetery. I also went to Southampton Sea City Museum and Southampton town hall. Can you believe I happen to meet Peter Philpott owner of a boutique called Cobwebs. He had a lot of ocean liner memorabilia and was very articulate about his adventure with The Titanic's film director James Cameron. I remember his phone was ringing all the time. I chat for some time with him and told him my personal venture in the city and also I bought from him a large postcard, a dish, and a few other marine collectibles.
Today, I still have that large postcard on my wall at home. In Peter Philpott's store, I came across some original chairs from the Olympic, sister ship of Titanic and a complete section of a window from the actual ship. The store had such an over-whelming selection of historical ocean liner memorabilia; just incredible! I was so amazed to see so many beautiful vintage ocean liner memorabilia items for sale. You could smell the sea salt and touching the items you felt their presence permeate your existence. I went back to Millvina's home to prepare and pack the 1000 signed photos. I took a few last photos of her. I expressed how fortunate I felt for the time spent with her and Bruno. Sitting side by side, I ask her if I could take hold her hand. I was overcome with sentimental feelings. Acknowledging, Millvina said yes. While listening to her I was preparing my final farewell goodbyes sensing this would perhaps be our last personal encounter. Before I left Millvina gave me a big kiss. As I left to go back to Canada, I felt a deep sense of sadness knowing I would probably not see her again.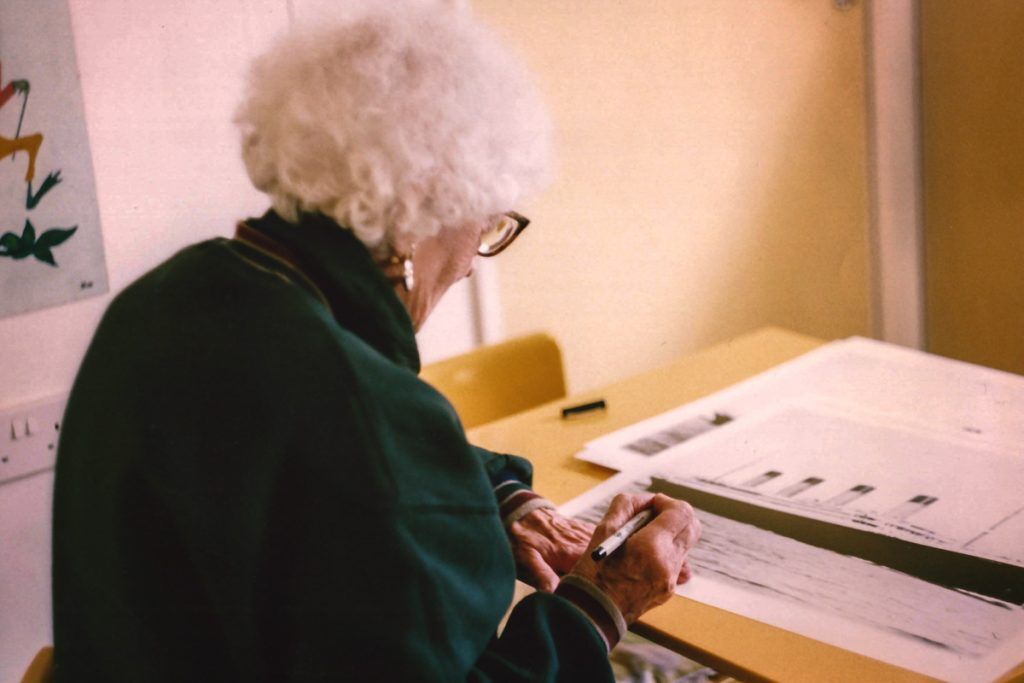 We keep contact with each other many years after, she wrote me many beautiful letters and birthday cards of which I keep preciously stored away in my personal collection. Now that Millvina has passed away, it is easy to reflect. I really feel lucky to have met her. I take great pride in what we had accomplished together. I felt we had truly created an historic collectible and yet, you can imagine the indelible impact all these events made on me personally. This whole Millvina story became a movie of my own life and yes, my heart will go on. All our lives are truly all intertwined in mysterious way.
Eliza Gladys "Millvina" Dean (2 February 1912 – 31 May 2009) was a British civil servant, cartographer, and the last survivor of the sinking of the RMS Titanic on 15 April 1912. At two months old, she was also the youngest passenger aboard.
Points of Interest Worth Mentioning
Notting Hill and Portobello Road Market
Portobello Road has been a market since the 1800s but became particularly famous for its antiques in the 1950s. Now there are numerous stalls offering everything from fruit and bread to posters, clothes, ceramics and music.
Easily accessible from Notting Hill Gate, Ladbroke Grove and Westbourne Park tube station and by bus routes servicing Ladbroke Grove and Notting Hill Gate. Main market days are Friday and Saturday with a smaller market running Monday to Thursday.
Located at the junction of five busy streets, this famous London landmark blazes with neon displays, which serve as a colorful backdrop to a bronze fountain topped by a figure of a winged archer.
The National Archives (TNA) is a non-ministerial government department. Its parent department is the Department for Culture, Media and Sport of the United Kingdom of Great Britain and Northern Ireland. It is the official archive of the UK government and for England and Wales; and "guardian of some of the nation's most iconic documents, dating back more than 1,000 years." There are separate national archives for Scotland and Northern Ireland. St James's Park.
St James's Park Westminster Abbey and the Tower of Big Ben Southampton Sea City Museum Southampton town walls Cobweb The Grapes The London Hotel – Southampton Premier Cabaret Venue, New Forest