Hello there fans of pop music!
I am so pleased to meet you and to be able to share my life stories and passions with you; may I introduce myself my name is Stephane Roy. It's no secret that ever since I discovered the Beatles at 13 year old child from my friend Richer Francoeur that I am an avid Beatles fan.
The first Beatle song I ever heard was 'Twist and Shout' from a Canadian release album bearing the same title. This compilation of songs released by Capitol Records in Canada exclusively for the Canadian market.
Back then, although I was listening to a variety of music ranging from local Quebecois rock artists to the great classics of rock n roll there was never much passion that over took me.
But when I discovered The Beatles' original sound, beat, their enchanting melodies and exciting passionate songs I became hooked to what was then coined Beatlemania. Their individual personalities were appealing to a side of my personality. I had discovered new friends and a new way of seeing life and music.
The fascinating story of this group changed the world through their awareness and energy that had naturally conquered millions of new fans like me. What I am today, a sensitive artist, a man of many passions and convictions as my spiritual friend, John Winston Lennon. The Beatles inspired me to travel and open myself up to our universe. They paved the way for me to see my life and everyday events through their songs and personal lives.
The first big trip that I was privileged to go was in Vancouver as a participant at the Katimavik exhibition in 1984 when I was barely 18 years old. I then went back and lived there for 3 years to work at a music store called The Beatles Museum where at Expo 1986 I Lennon's saw psychedelic Rolls-Royce. It was then owned by Jim Pattison. I also met Jack Cullen and Red Robinson who helped organized the first Canadian Beatles Concert in Vancouver. This was an exciting time for me that turned out to be a pivotal time in my life.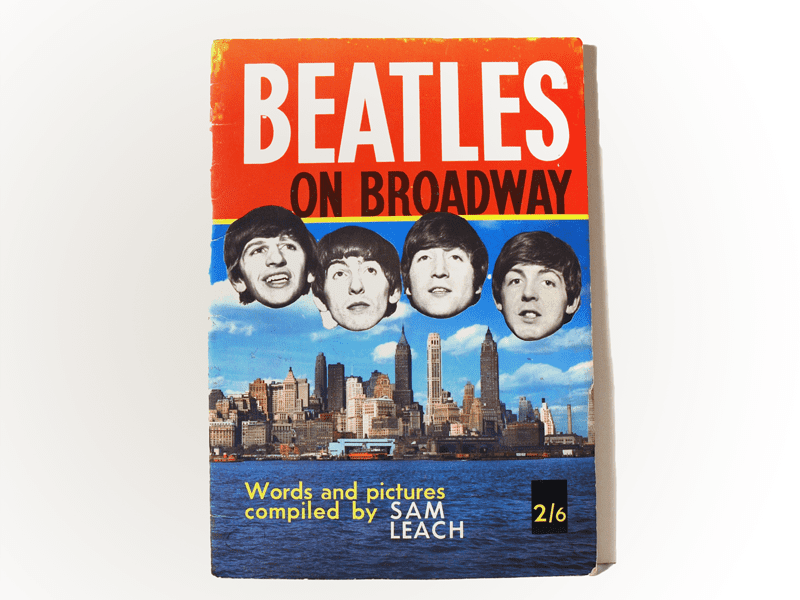 The Beatles on Broadway
I remember the first time I saw a gold record frame at a museum, I immediately wanted to have one in my personal collection. I saw a photo of Paul and John with a trophy and a gold-plated record in a book I purchased at a garage sale entitled "The Beatles on Broadway" (which I still own today). It was a unique item imported from England.
Something beyond explanation hooked me in a way that I did not understand but later in life made total sense. It was artistic, beautiful, and little did I know, it was a foreshadow of my life leading me to eventually becoming the creative artist that I am today. I realized and was enthralled with the idea of combining pictures or posters of artists, with one of their gold or platinum plated vinyl records.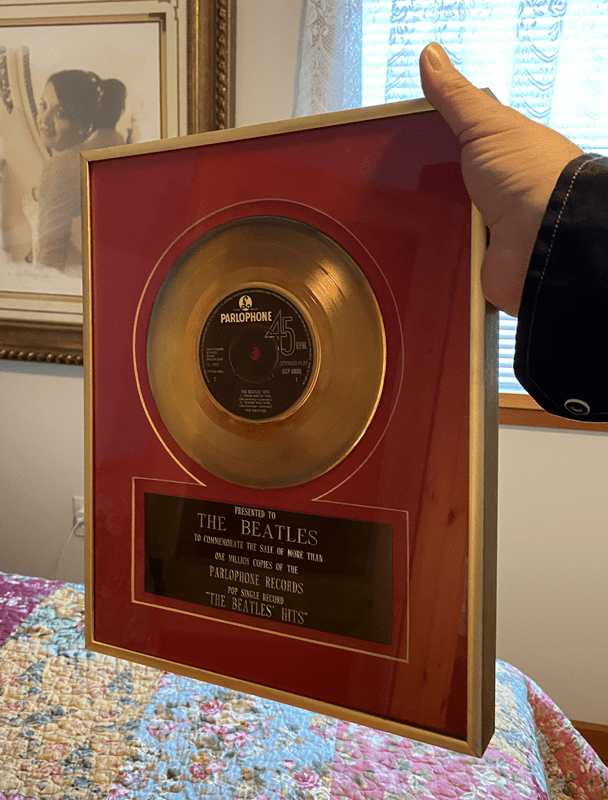 My first gold record
I remember dreaming of having a gold record on my wall. At one point, I was negotiating the purchase of a gold record with Brent, the store manager of the store. I wanted to buy the unframed gold-plated EP for my personal collection. Brent's generosity allowed me to buy it for $140.00 and as a bonus he gave me an original Hard Day's Night poster which is still in my collection today
That purchase triggered off my career at Expo 1986 in Vancouver, Canada. One booth displayed a wax statue of John Lennon with an electric guitar.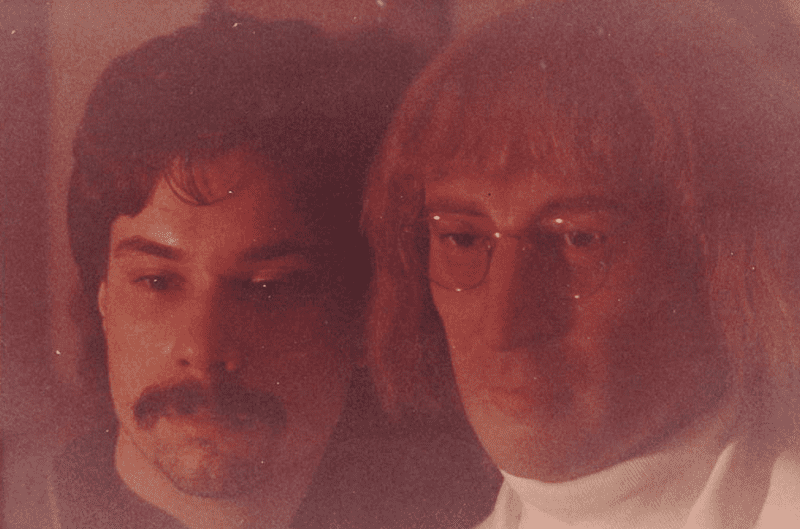 The John Lennon wax statue from Expo 1986
At the closing of Expo 1986, a colleague and I bought the wax statue of Lennon and his Rickenbacker that was on display alongside John Lennon's infamous psychedelic Mercedes. The Rickenbacker guitar and statue were exhibited with Lennon's Rolls-Royce. I had negotiated a great deal with the British Consulate to acquire the statue of John Lennon and the Rickenbacker guitar! Once I got home, I remember placing John's statue in my bedroom Next to my bed and imagining all sorts of stories and discussions with him.I took the liberty of holding a photo shoot staged by my friend Brian Vasconcellos. We took friendly pictures with the statue as if John were with us. Photo face to face, by his side with a hand on his shoulder, etc. I finally kept the guitar and Brian took the statue. Unfortunately, the statue was damaged, and I do not know if it still exists. I kept the 1964 all original Rickenbacker guitar for several years until I exchanged it for a Bag One John Lennon Collection owned by a Chicago based company. What a deal! I paid $400 for the guitar and exchanged it for a $3000.00 Limited Edition signed John Lennon print! An incredible timing.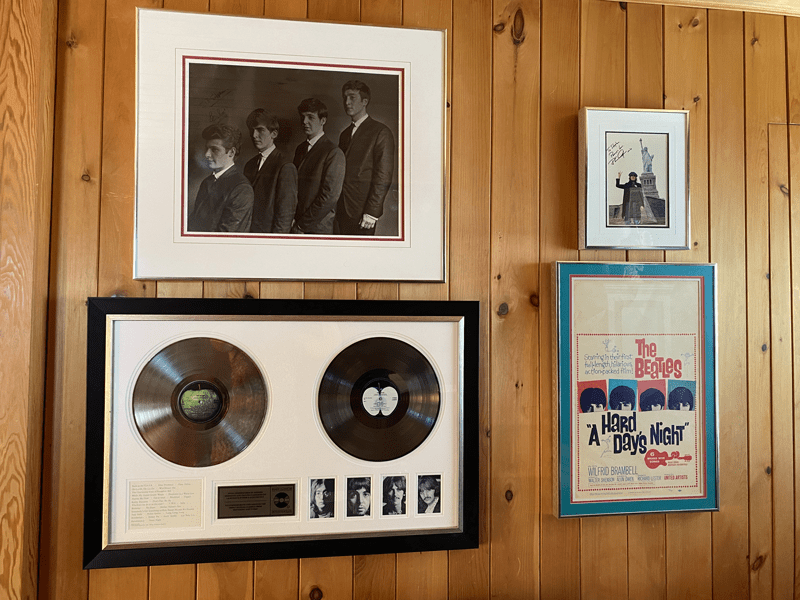 Here are few pieces of my collection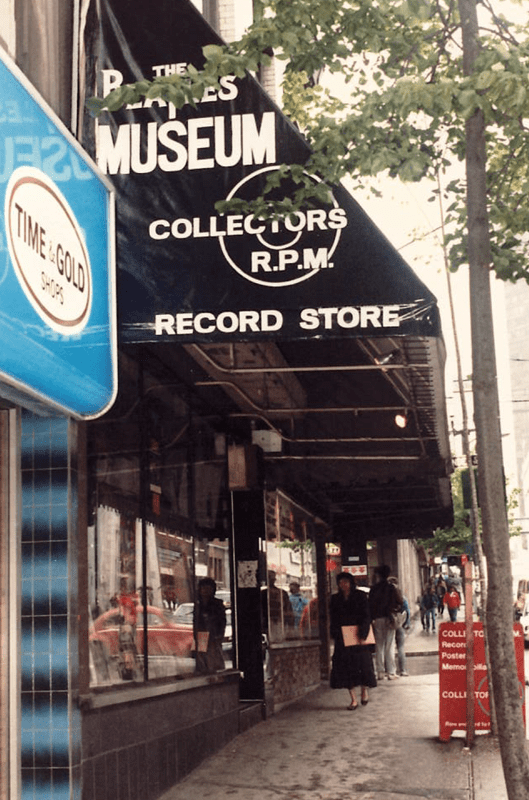 Famous Collector RPM Beatles Museum Vancouver , British Columbia 1986
Many customers shopped at the music store I worked at in Vancouver. Once Canadian actor, John Kapelos (Breakfast Club, Sixteen Candles) came to acquire collectibles. He wanted to purchase the famous Beatles "Butcher's cover" (the Butcher cover of Yesterday and Today) but the one we had in stock was not to his liking. John Kapelos invited me to spend a day with him on the movie set of 'Roxanne' featuring Steve Martin whom I got to meet and shake hands. Wow! Brian Adams unexpectedly came into the store one day in Vancouver and I got to meet and talk with him as well as he spoke about meeting Paul McCartney. Syncronicity really does exist.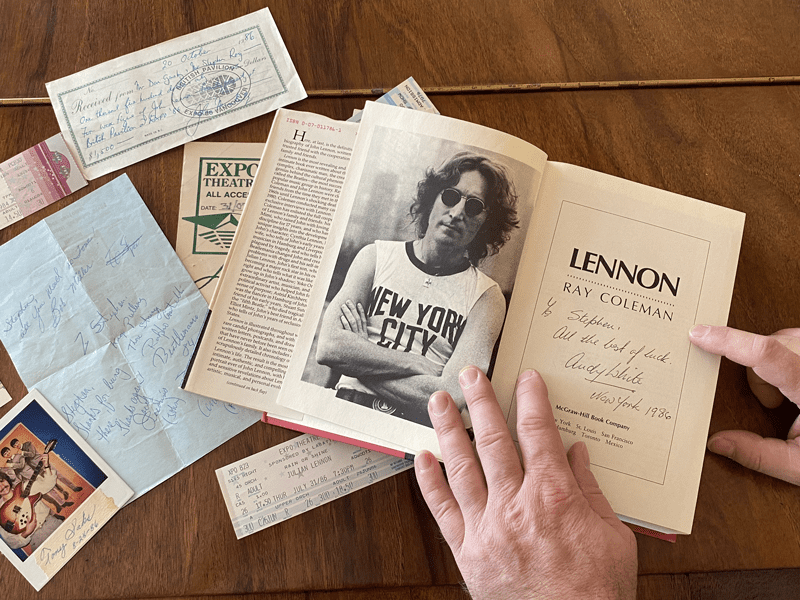 Here are a good souvenirs signed by the band Beatlemania plus my Ray Coleman book signed by Andy White in New York.
As with most young folk, I did not have much money in my teens but I did have a job in Vancouver that led me to go to New York City to the Beatles Fest. I had the opportunity to shake hands with Billy J. Kramer, Andy White, Pete Best, Louise Harrison (George's sister), Bob Gruen, and Gordon Waller (one of the members of the group: Peter and Gordon). Amazing people all linked to The Beatles with amazing life stories to share; I wasn't the only passionate Beatle fan My boss at the time, Jeff Walkerand I were one of the 200 display booths featured at the exhibition.
More importantly, I also had the opportunity to meet with the shareholders of the California Gold Record Company which were the official supplier of the Recording Industry Association of America® (RIAA) gold
and platinum and collectible records in the USA. Little did I realize that one day I would be a part of this industry running my own business and dealing with these companies and music recording artists directly.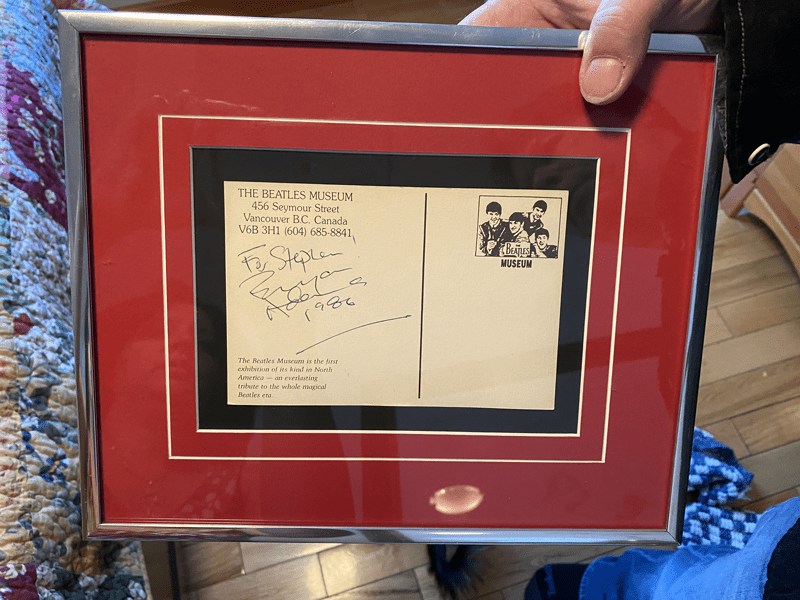 Got lucky to share time with Bryan Adams at the Vancouver Beatles Museum record store
After spending 3 years in Vancouver, I remember being on cloud nine, dreaming about having a wall filled with gold and platinum records. Who would have thought that several years later I too would have become the official supplier of certified Gold and Platinum frames for Quebec and Canada for over 25 years!
After spending 3 years in Vancouver and having finished my English studies Vancouver Community College at King Edward Campus, I went back home that I was missing. I have always lived by my passions without even knowing it. The Beatles inspired me to live my life to the fullest, with what I had, I then knew my destiny would lead me to the day I would meet one of the them : Paul McCartney. I still have a nice collection of selected pieces, autographs, vinyls, pictures, and frames in my old trunk. I have a major collection piece, a John's Original Bag
One hanging over my bed!
My YouTube video
I also acquired a beautiful Gibson J-160, a copy of a limited edition guitar John Lennon played at the "The Bed-in » in Montreal with Yoko. Who knew that a simple picture of the Beatles in a magazine dating back to 1964 would completely inspire a great part of my professional and personal life and my own art?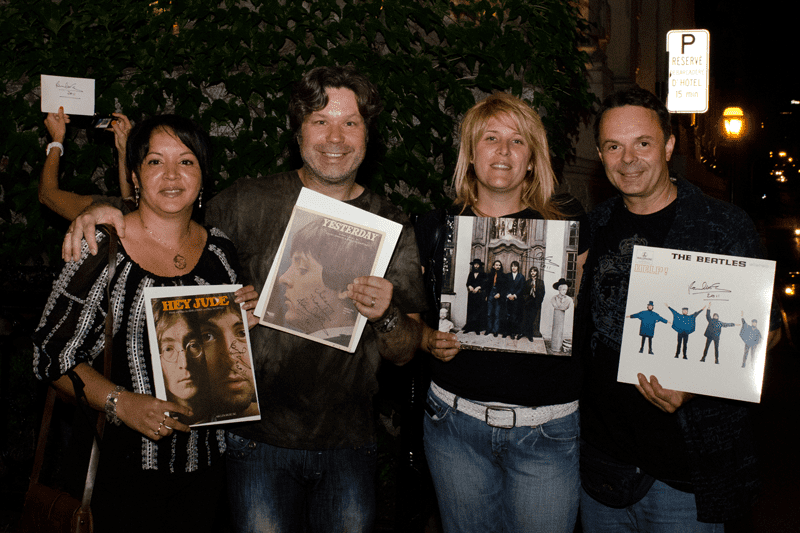 Here is the picture of me with my wife and friend's after the show meeting Sir Paul McCartney at the Hôtel Le St-James.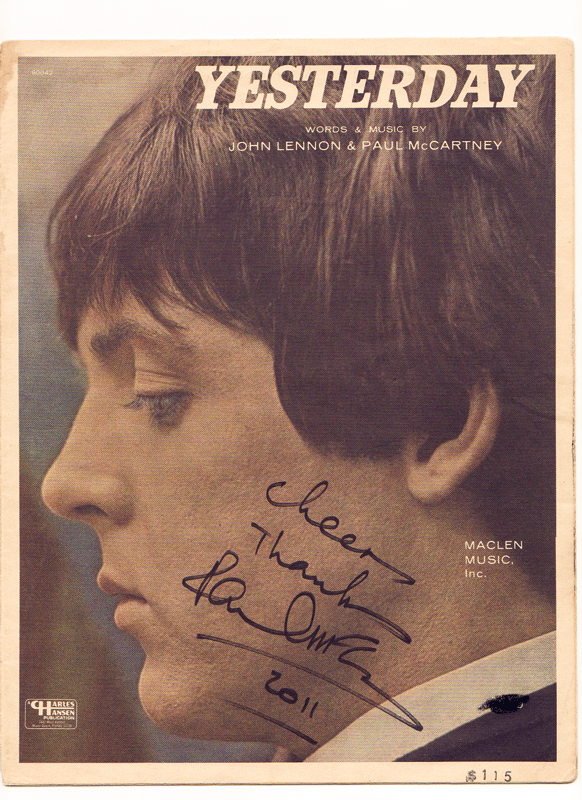 My precious signed copy
The following is what unfolded from that moment in my life:
Attending many Beatles collectible festivals throughout the USA;
• Became the official supplier for Canadian Recording Industry Association (CRIA)
• for 25 years was the official music awards creator at the Canada's famous
Canadian Music Week.
•I was also the official music award supplier to Universal Records Canada including face to face presentations to Paul McCartney (Memory Almost Full)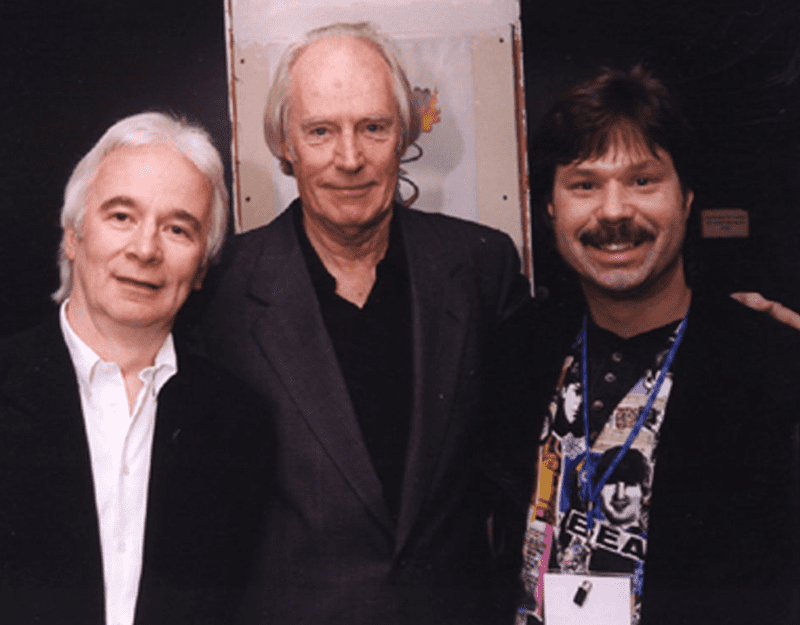 Meeting Sir Goerge Martin at Canadian Music Week
My Story Humble and True
In the beginning, life created the Beatles. In my life, as with many, Beatle music became the book mark of my life. As a young fan how could I possibly know that years later I would be meeting Paul McCartney and presenting him with one of my many custom frames. He posed for a video with me and personally signed some things for me. The video made the news as well.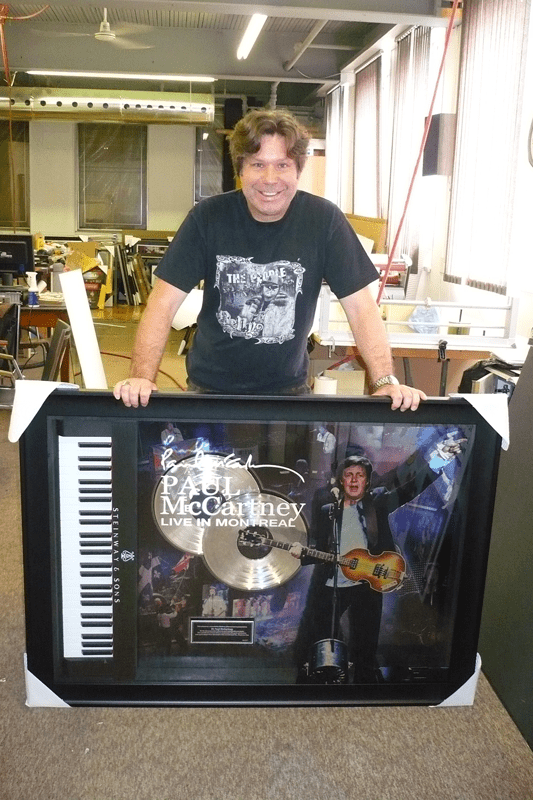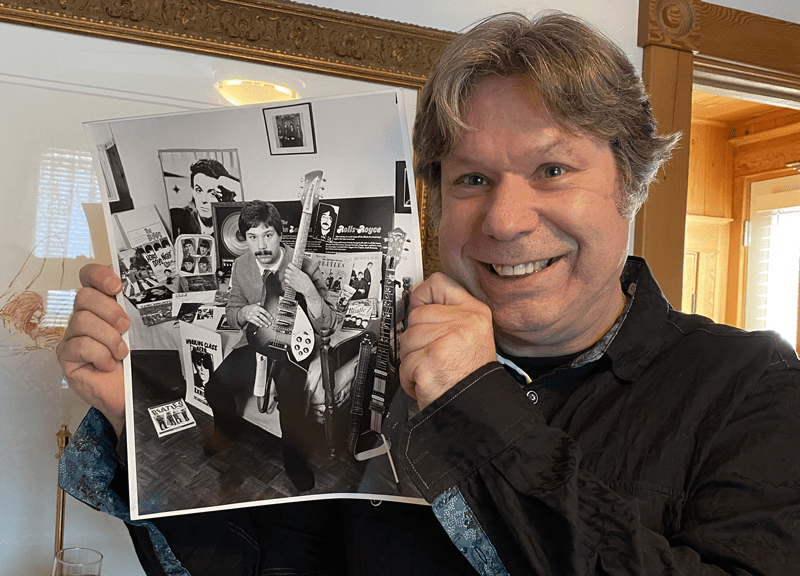 Me and my collection 35 years ago
Recently I was contacted by Larry Mancini, manager of internationally renowned artist Natalie Choquette and label executive at Isba Music who licensed and promoted the careers of The Vengaboys, Naughty by Nature, Rupaul, Charlie Watts, Englebert Humperdink and Ron Wood in Canada to name a few.
Now semi-retired but ever passionate about music Larry met Alan Parsons and his wife at the yearly European Festival The Night of The Proms (NOTP) in 2019. They joined forces together to issue a limited edition (1969 copies) of framed autographed Let it Be albums.
Parson's music projects were met with universal commercial success with 1976 Tales of Mystery and Imagination, I Robot, Pyramid, Eye in The Sky and many other album releases.
https://en.wikipedia.org/wiki/The_Alan_Parsons_Project
Often overlooked is the fact that Alan Parsons was Assistant Engineer on The Beatles' albums Abbey Road and Let It Be! Currently, Peter Jackson, Hollywood film producer, (Lord of the Rings) is ready to release a 2021 film about The Beatles 12th and final album.
The film entitled 'Get Back' challenges long-time assertions that the original project was entirely marked by ill-feeling and that the friendly camaraderie between the Beatles had dissipated and features Alan Parsons as well. You can say not only is this great news but restores the great vibe The Beatles really had until the way end.
Having noted all this, Larry Mancini contacted me to spear-head the project on line. So, suddenly upcoming more magic in my life related to The Beatles. It is incredible that now I am directly linked to The Beatles again with a current project for The Beatles 'Let It Be' album with Beatle engineer/producer Alan Parsons.
I helped consult on the marketing of the custom framed edition of The Beatles 'Let It Be' album signed by Alan Parsons who even sent me a personal signed copy and writing me a personal note "To Stephane, Thanks for your Help" Alan Parsons…. I am a happy camper!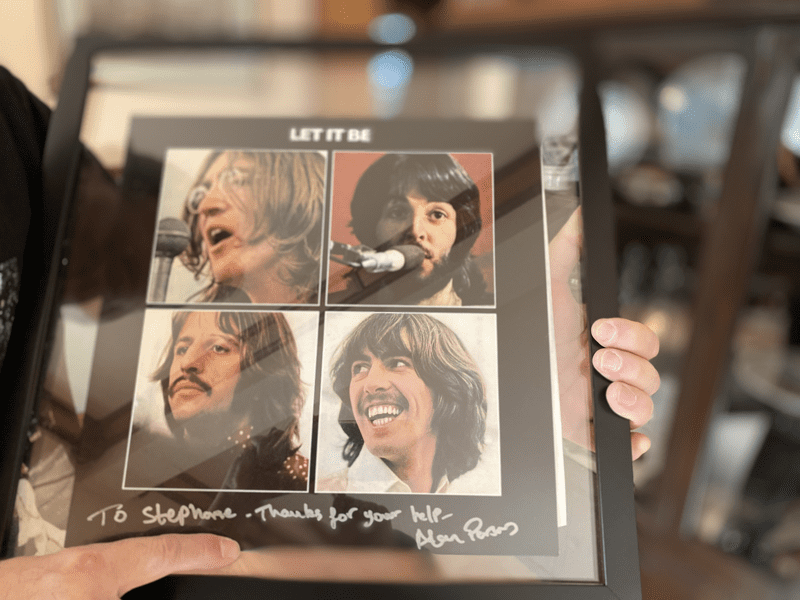 My personal signed copy by Alan Parsons
The magic of music has permeated my whole life. Through my teens I adored Beatle music as it inspired my art: custom framing. The seed planted by The Beatles led me to being official supplier of music awards to many artists and companies including Universal Music. It was truly extraordinary the number of famous musicians that I worked with. It was surreal how many music artists I have met in person through my company Roy Creations. Join me here for a magical mystery tour of my life. Without passion our lives are meaningless. There is something here for everyone including you. Join me and come and enjoy the ride.
A splendid time is guaranteed by all.


Visite


THE BEATLES: LET IT BE
CELEBRATING THE 50TH ANNIVERSARY WITH ALAN PARSONS
To commemorate the anniversary of the iconic
LET IT BE
roof top recording session and upcoming release of the new Beatle film
Get Back
directed by Peter Jackson,
LETITBE1969.COM
in conjunction with
Alan Parsons
will be signing a limited edition 1,969 vinyl copies of the iconic album. The new vinyl comes framed and signed by legendary producer Alan Parsons. The 20 year old Parsons was present during the 42 minute roof top set and was put in charge of transferring the master tapes unto two eight track recorders.