Halifax, Nova Scotia
I would have to say most of the time love inspires me to cook. I know that sounds cheesy but really for me, I tend to cook for those people I love. Cooking, for me, is an expression of my feelings for others. I always cook with others in mind, like how my food will affect them and how their feelings change what I want to cook.
To create this recipe I was inspired by a restaurant in Halifax call O Carroll's which they served local traditional meals. I order at the time the salmon which was for me very good, and I was inspired to try to do the same at home. While I was there I took the time to exchange with the owner and chat about the beauty of the place. For me Halifax, Nova Scotia was my first visit there. Actually I was fortunate to be there because one of my friends invited me to attempt the Juno Award. I took the time to visit the Maritime Museum and the Titanic artifact and cemetery. Every time I prepare this great recipe, I always think of my weekend venture in that beautiful city. I guaranty you if you try it yourself that this easy recipe will be part of your favorite one.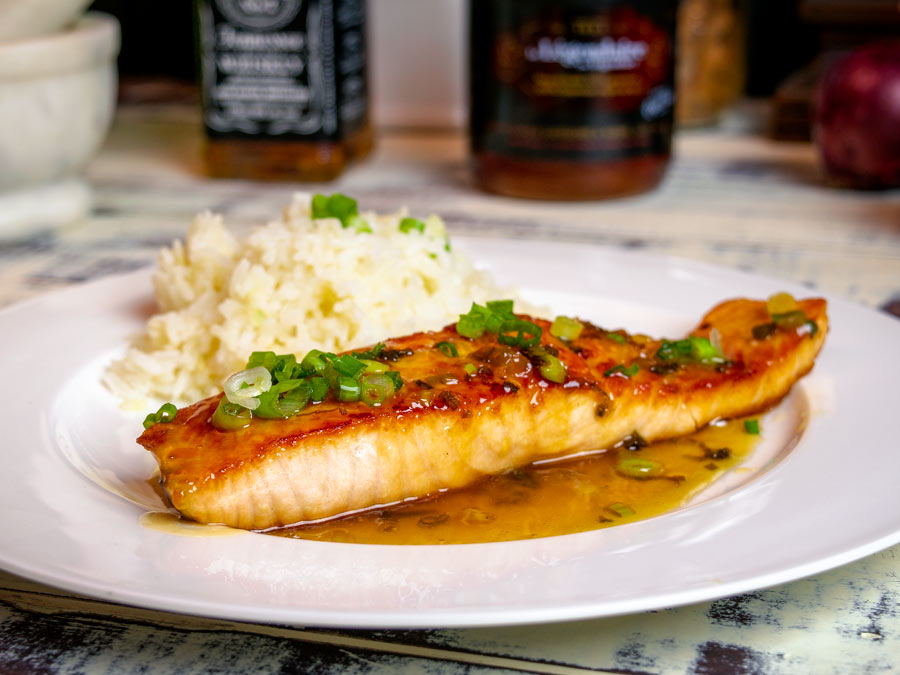 Maple Syrup and Whiskey glazed salmon
2 thick pieces of salmon fish
1 tbsp olive oil
½ cup whiskey
2 spring onions (scallion)
1/4 cup maple syrup
1 fresh lemon (juiced)
2 tbsp butter
Pink Himalayan salt
Step 1
Remove the skin by placing the fish skin side down on a cutting board and gliding your knife blade flat to the board. Give the fish pieces a light seasoning with Pink Himalayan salt.
Step 2
Chop the spring onion (scallion). Set aside.
Step 3
In a non stick pan add one tbsp of olive oil, any neutral flavour oil works well. Place on medium to high heat, once hot add the fish and sear each side until brown.
Step 4
Deglaze the pan with the whiskey, add some spring onion, lime juice and maple syrup mix well and turn heat to low. Let the fish continue to cook for approx 10 minutes or to your liking. Salmon can be served medium rare for a more moist flesh.
Step 5
Remove from pan and place on heated serving plates.
Step 6
Add the butter to the sauce and mix well, add some spring onion (scallioand keep a few extra bits for garnish later. Pour sauce over fish, garnish with green spring onion (scallion)