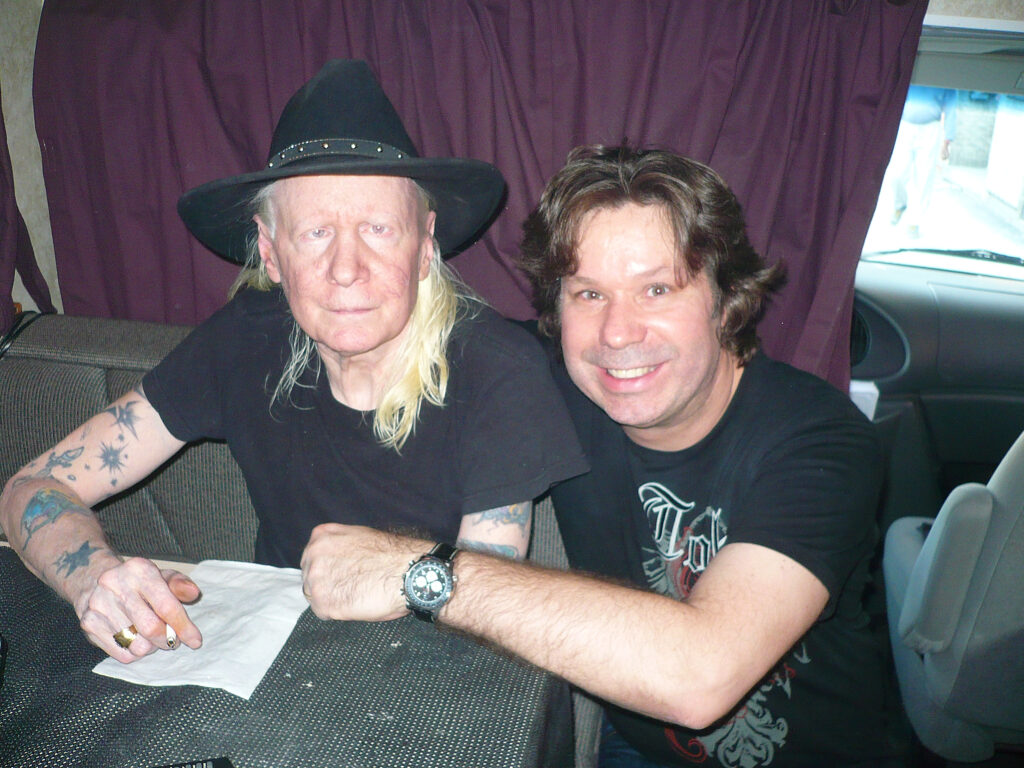 I remember that day very well. Having spent an afternoon party with Johnny Winter in his tour camper. Through a blues fan client, Blondin, I remember having introduced me to Johnny Winter's guitarist Paul Nelson before the show, who was also in charge of Johnny Winter's affairs. I wanted to offer him to do and created a limited edition frame to be signed by the artist and the group. I worked on a concept and presented the project to Paul.The idea was to make something really unique for Johnny's fans. So I prepared the concept and about twenty executives knowing that Johnny would come back to Montreal a few months later to make a performance there.
Signed by the legend himself
I had prepared a montage in the image of his group. with a nice certificate of authenticity. Everything was organized to go to Club Soda back in the parking lot with my background to be signed by the legend himself. I asked Paul Nelson if I could get him to sign my little Gibson LGO he told me no problem men. I was very excited to be in the touring camper that was parked in the back of Club Soda. When I got there, I just knocked on the door to be received by the legend himself. Johnny was sitting in the kitchenette saying hello to me. Paul Nelson had explained the editing to him since Johnny was practically blind. After our official presentations and discuss how to sign the whole group began the procedure. I found myself sitting next to the blues master discussing his life and his passions at home, which was to rock with his cat and enjoy life with his wife.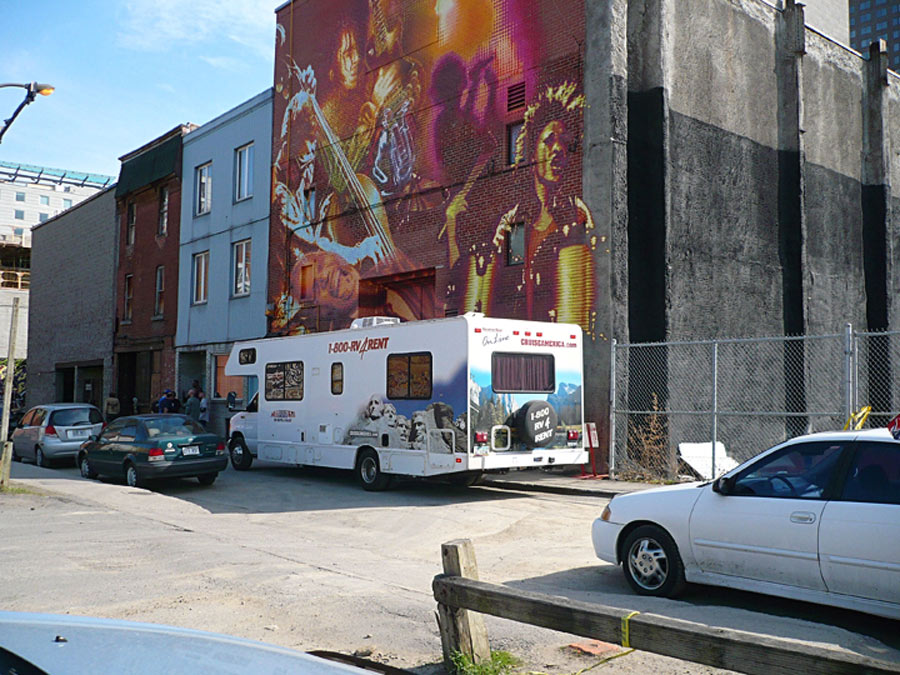 Beautiful memory
After spending part of the afternoon chatting with everyone, I explained to Johnny that I also played the guitar that I liked the blues especially the slide guitar that I had brought my little Gibson for that he can do me the honor of signing it. Without hesitation, he asked me to take it out, and he signed it for me. Wow-what a beautiful memory a true legend of the Blues who gives me this beautiful gift. I then let everyone get ready and relax before the big show in the evening. I came home and come back home to prepare myself for the big Johnny Winter live. After seeing the extraordinary performance of the legendary guitarist. I was once again invited into the caravan as a translator. Since Johnny loved his fans very much, he took the time to sign autographs after the show. I translated into English what the fans told me to tell him. Johnny was much appreciated here in Montreal.
I found this guitar at a pawnshop on Mont-Royal Street. I paid him $500. It is my everyday guitar since the neck of this instrument is perfectly designed and easy to play.
---
John Dawson Winter III (February 23, 1944 – July 16, 2014), known as Johnny Winter, was an American musician, singer, songwriter, multi-instrumentalist, and producer. Best known for his high-energy blues-rock albums and live performances in the late 1960s and 1970s, Winter also produced three Grammy Award-winning albums for blues singer and guitarist Muddy Waters. After his time with Waters, Winter recorded several Grammy-nominated blues albums. In 1988, he was inducted into the Blues Foundation Hall of Fame and in 2003, he was ranked 63rd in Rolling Stone magazine's list of the "100 Greatest Guitarists of All Time".