Mayor Bill de Blasio announced that Broadway will be re-opening in September. This is exciting news for New York City and the arts. Since Times Square is the center of Broadway and New York's entertainment district, we thought we'd celebrate by sharing all the amazing things to do in Times Square. We have stayed in the Times Square Neighborhood of New York four times and love it. It is alive with energy and excitement. If you love staying in the heart of the action, this is the place and these are all the top things to see during your visit.
Time Square, New York
Note: Some activities are still affected by covid-19. Check with each attraction for opening hours and activities. Things are constantly changing as New York City moves into different stages of Covid so be sure to check before you go. New York is planning on being open by July 1, but keep up to date on restrictions and closures here.
Get your Free Map of our Times SQuare Attractions
Want a map of all the attractions we suggest for Times Square? Enter Your email and it will be sent to you
Every time we hear about people talk about New York, they always say, "Avoid Time Square." But we love Times Square. We love staying in the hotels of Times Square, we love walking around Times Square at night and we love the energy and excitement of the world's most famous block of neon lights. The amount of things to do in Time Square alone is makes New York worth visiting. Yes, there are many things to do in New York and we have an entire itinerary to help you plan your New York travels. But if it's your first time to New York, you'll want to check out all these Times Square attractions in the city that never sleeps.
About Times Square
Named after The New York Times after it moved its headquarters to 1 Times Square in 1904, Times Square has been the gathering place and entertainment and theater district of New York City for more than a century. The New York Times no longer has its offices at 1 Times Square, but now instead of cubicles and newsrooms, the building hosts a grid of electric billboards and neon lights.
You have seen it at the movies, and on TV, but until you've seen Times Square with your own eyes, you really don't understand just how awesome it is. So when to visit New York, make your way to Times Square to take in this one of a kind destination. Check out these cool 15 Fun Facts about New York City
These are the best things to see and do in Time Square, NYC and the surrounding area. For your first trip to New York City, you are not going to want to miss this.
Planning a trip to NYC? Enjoy these New York city guides
Where is Times Square?
Times square is located in Midtown Manhattan where Broadway and 7th Avenue. But the neighborhood really stretches north to 53th Street and south to 38th to 40th St, between Sixth and Eighth Avenues.
However, most New Yorkers refer to the larger neighborhood as Times Square, which stretches north and south from 40th St. to roughly 52nd St. and east and west from 8th Ave to 6th Ave.  
During our multiple trips to New York, we've used a New York Pass to make the most of our time and save money. If you plan on seeing a lot of attractions, this is a great investment to use on your New York itinerary as it gets you into tourist attractions with big savings. But only if you plan on seeing a lot of attractions. It doesn't pay for itself if you only are planning on a couple of NYC attractions during your visit.
Where to Stay in Times Square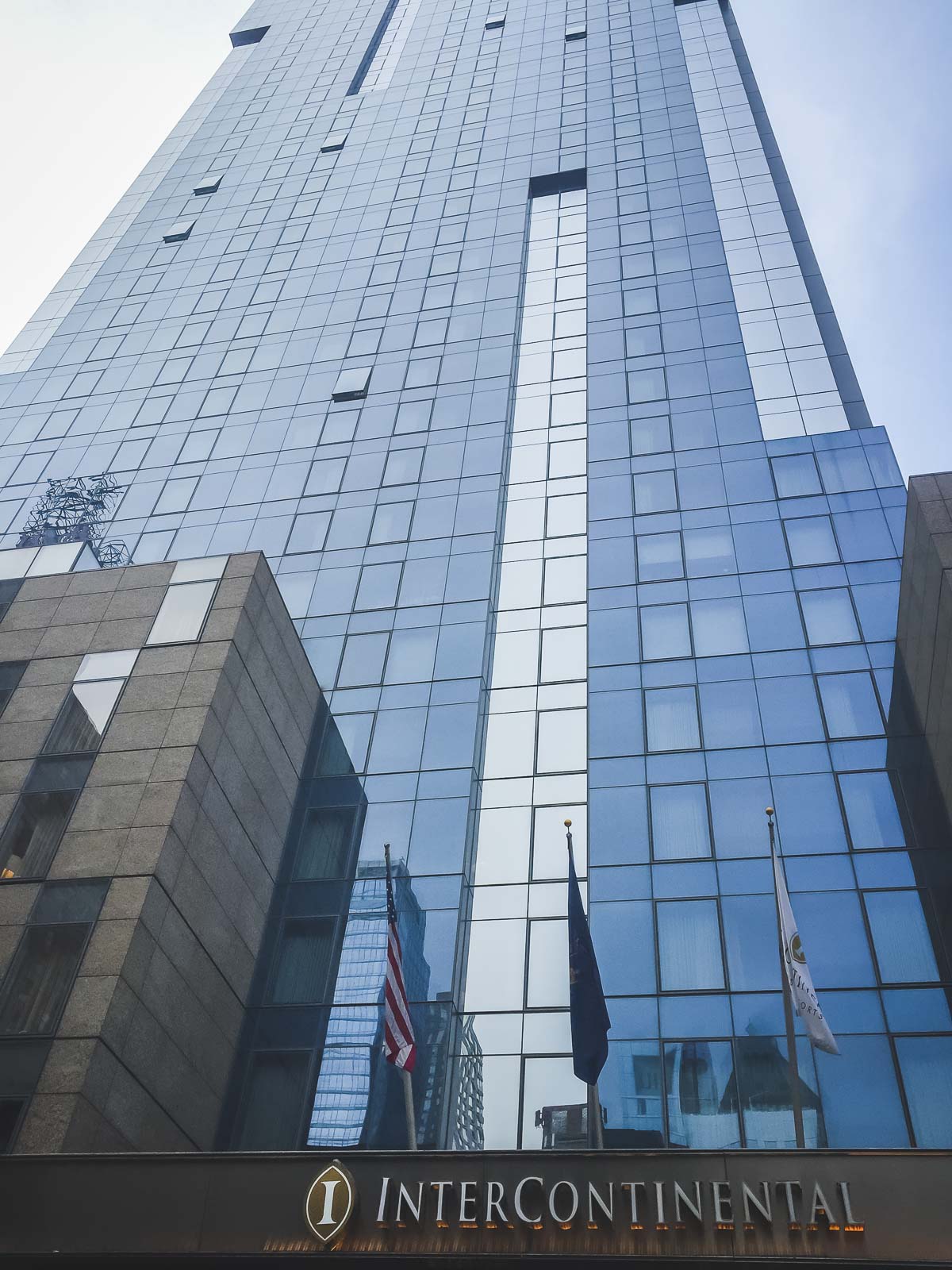 We are not kidding when we say that we love staying in Times Square. When staying nearby you are within walking distance to so many top New York Attractions when staying in Times Square. After a full day out sightseeing, we really love coming back to the neon lights of Times Square. Plus, once we get into the hotels that we've stayed in, it's all peace and quiet.
Free Things to do in Times Square
Sit on the Red Staircase at the TKTS booth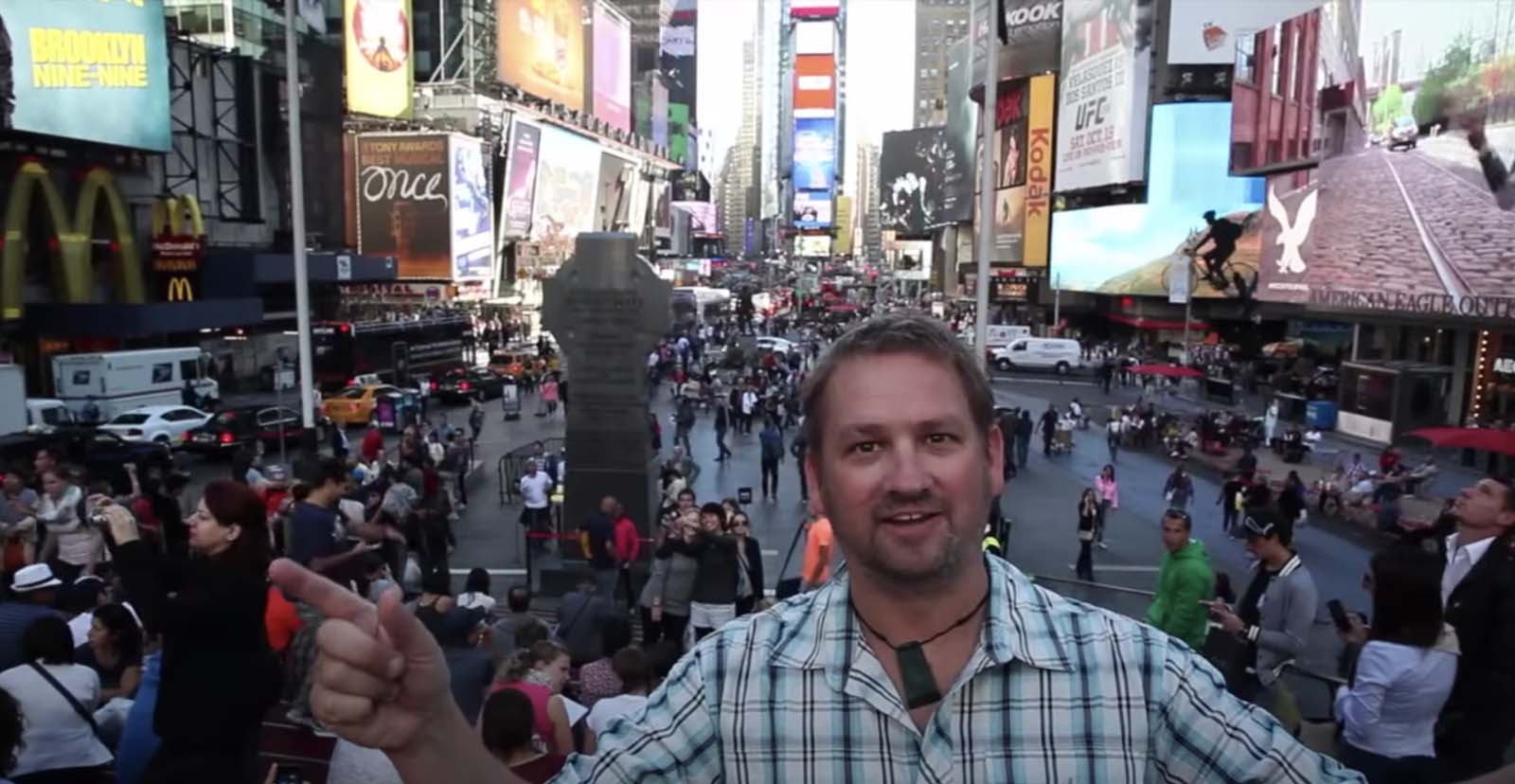 Located in Father Duffy Square, the red bleachers are definitely the cornerstone attraction in Times Square. The 27 ruby red steps rise 16 feet above Times Square with the The Times Square TKTS book behind it selling discount day-of-performance tickets. It's an excellent spot to take in the neon lights and billboards and to look down the Great White Way.
Address: Broadway at, W 47th St, New York, NY 10036
Watch the live web-cam and Admire the Billboards

When visiting Times Square the star attraction are of the surrounding LED and neon lights. The sheer amount of billboards will take your breath away. In nearly every direction there are LED billboards glowing above the square. You can watch the live web cam from Times Square even when you are not in the city! Check it out here.
Looking for something romantic to do in Times Square and New York? Book this Central Park and Times Square Carriage Ride for a different view. This 1 hour private tour takes you from Central Park to Times Square and the Rockefeller Centre. It's a great introduction to the Big Apple.
Famous billboards of Times Square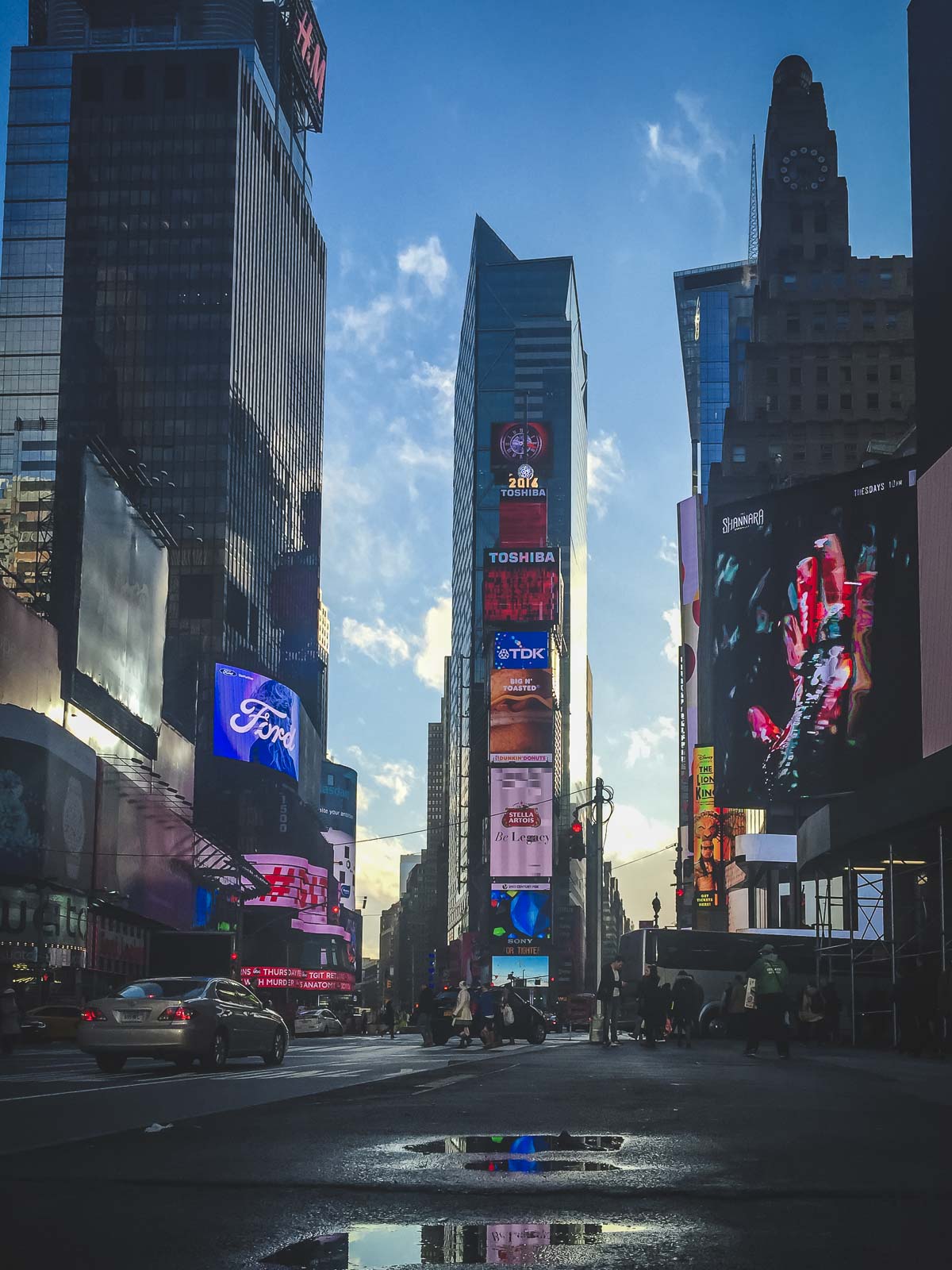 Here's a fun fact: The Times Square area is a place in the city where zoning ordinances actually require building owners to display illuminated signs. Every building surrounding Times Square has a super sign on it. A few to keep an eye out for are, The ABC Supersign, the four story high American Eagle Outfitters billboard with 5,000 square feet of LED lighting the NASDAQ and Thomson Reuters sign standing 20 stories high and more including the One Times Square Billboard located in the direct view of the front of the red steps. See what the hottest Broadway productions are, check the stock market at the latest Disney movie all while hanging out at Times Square.
Rooftop Bars
One of the best things to do in any city is to head up to a rooftop bar to take in the views and Times Square is no exception. Haven at the Sanctuary Hotel is a favourite located on the 9th floor and St. Cloud Rooftop at Knickerbocker Hotel is a great place to have a glass of bubbly while taking in the views. And the Magic Hour Rooftop bar at the Moxy NYC Times Square is the place to pop in for happy hour.
Not sure where to start your night out in Time Square? Book this Times Square Pub Crawl – Explore the old watering holes of famous playwrights and poets as your guide talks about the history of this famous neighborhood offering a different side away from the billboards and LED lights.
People Watch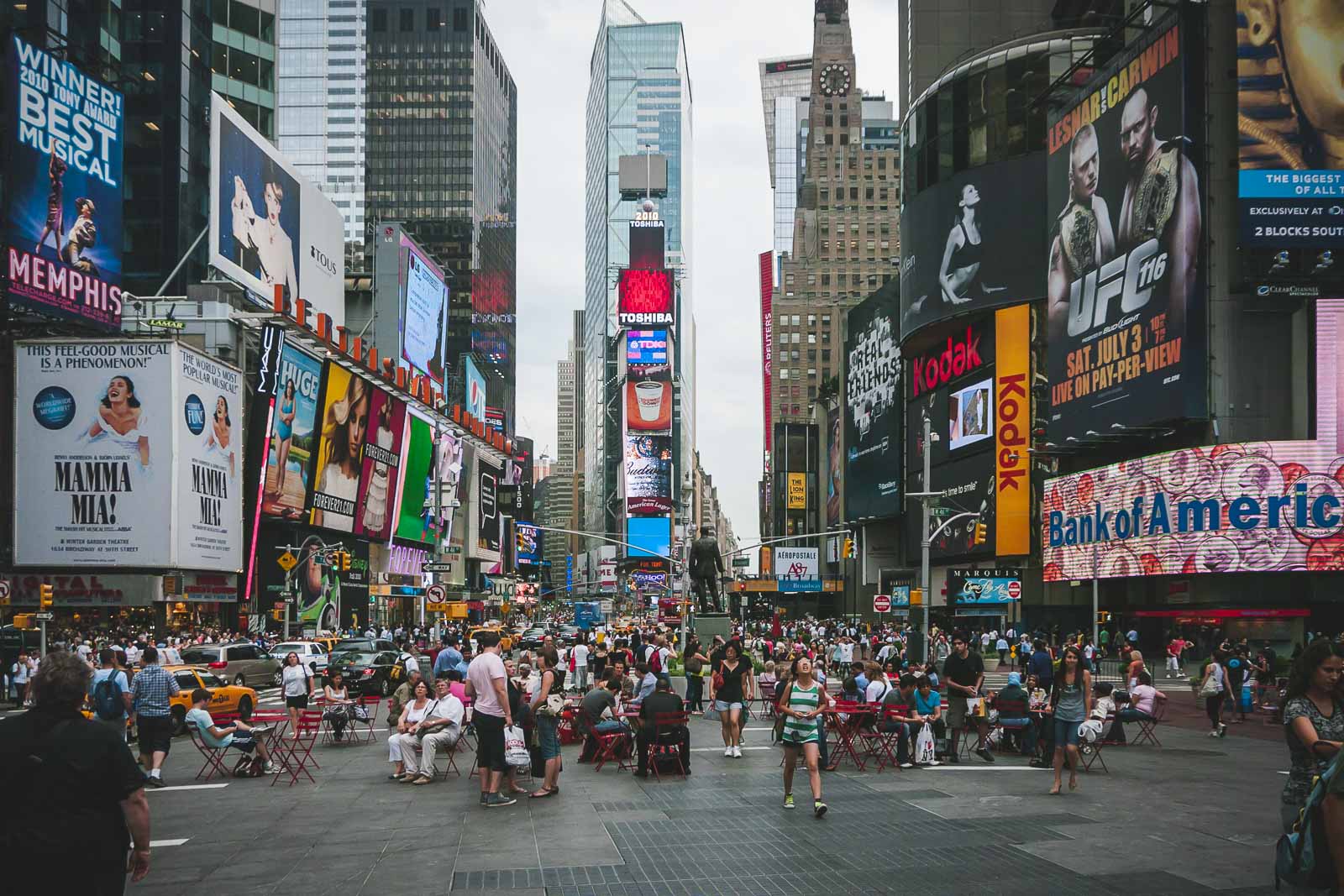 New York is one of the best places to people watch. Plenty of characters hang out in Times Square from all around the world. There are long benches and installations that offer plenty of places to sit down and relax in Times Square. The red tables and chairs are a good place to sit back and have a snack from one of the food carts or take in the street performers of Times Square.
Enjoy the Street Performers – (But have spare change on hand)
Naturally, since Times Square is pedestrian friendly free from cars, it's an excellent place for street performers to make some cash. You'll find some excellent dancers and musicians in Times Square as well as costumed performers like The Statue of Liberty, Mickey Mouse, and even the Naked Cowboy is still going strong. Make sure you have change on hand if you take a picture with them, but don't worry if you don't want one just say no or steer clear of their restricted areas.
Statues of Times Square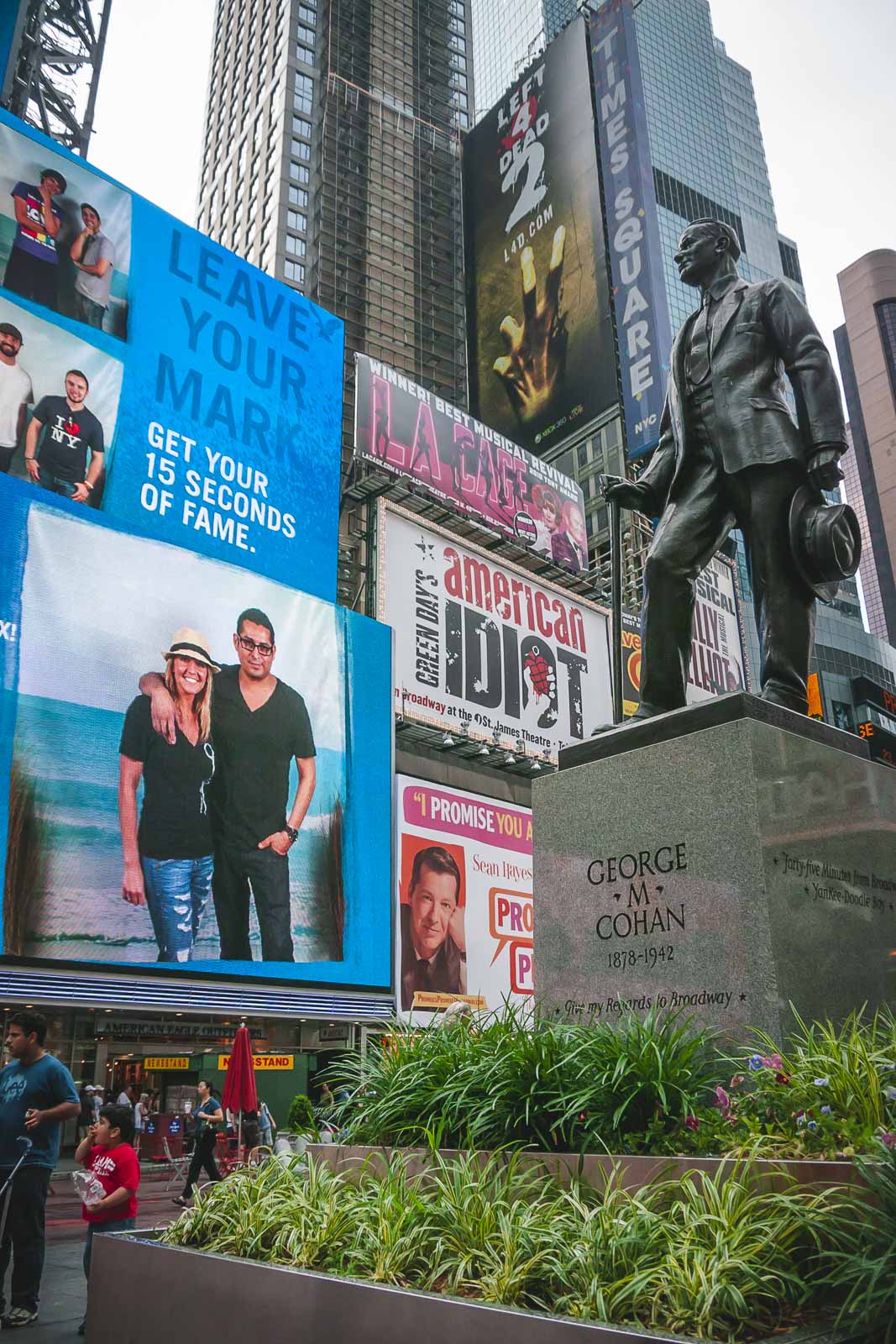 While walking around Times Square, you might notice a couple of statues on display. One is the George M Cohen Statue. This statue of famous American composer George Cohen with the the inscription quoting his most famous song "Give my regards to Broadway."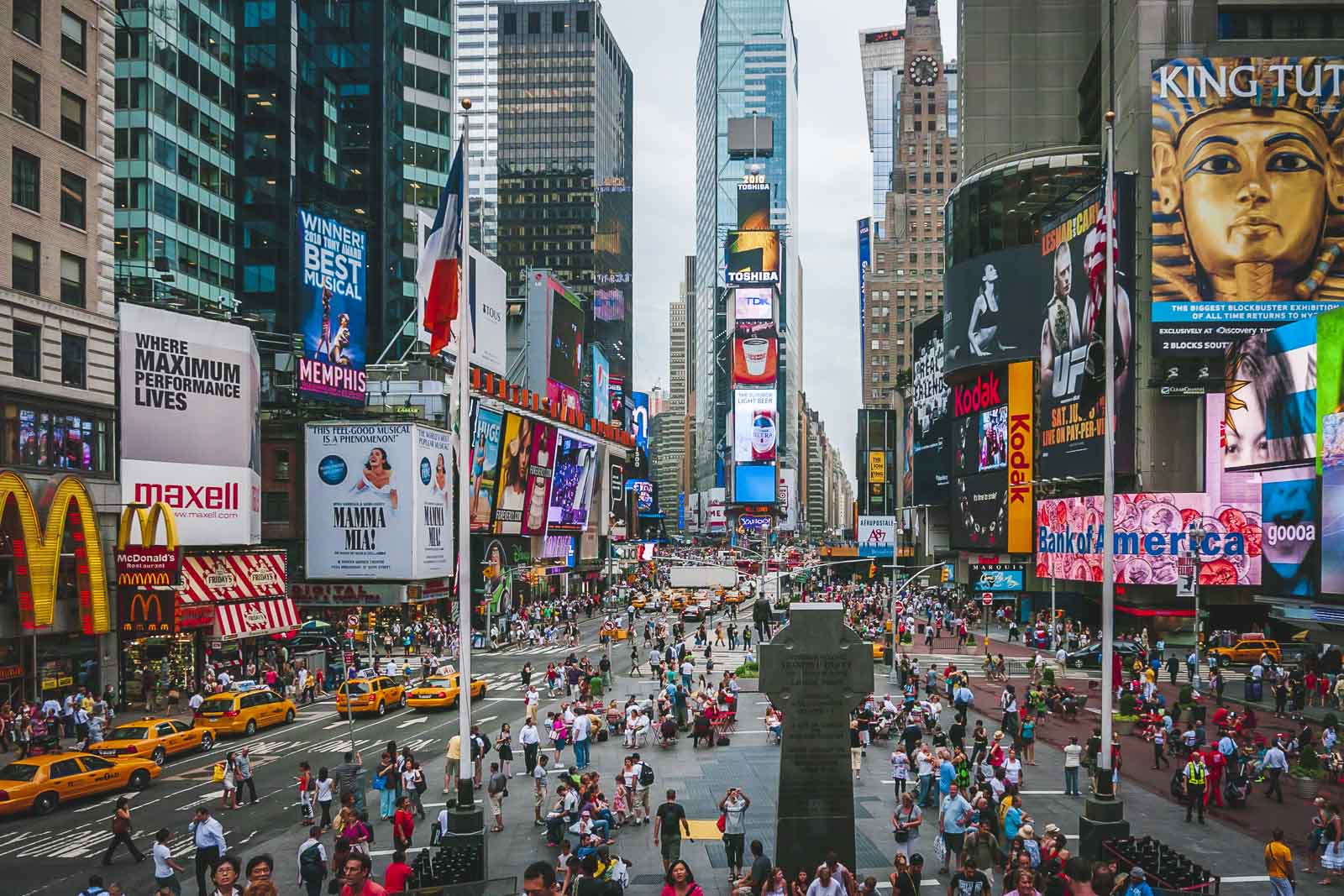 The other is a statue of Father Duffy. Duffy was a first Lieutenant and chaplain of the Fighting 69th Infantry in World War I. In 1920, he was appointed pastor of the Holy Cross Church serving the theater district community for more than a decade. Father Duffy Square was dedicated to him in 1939 and is located the northern triangle at the Red Staircase.
Watch the Midnight Moment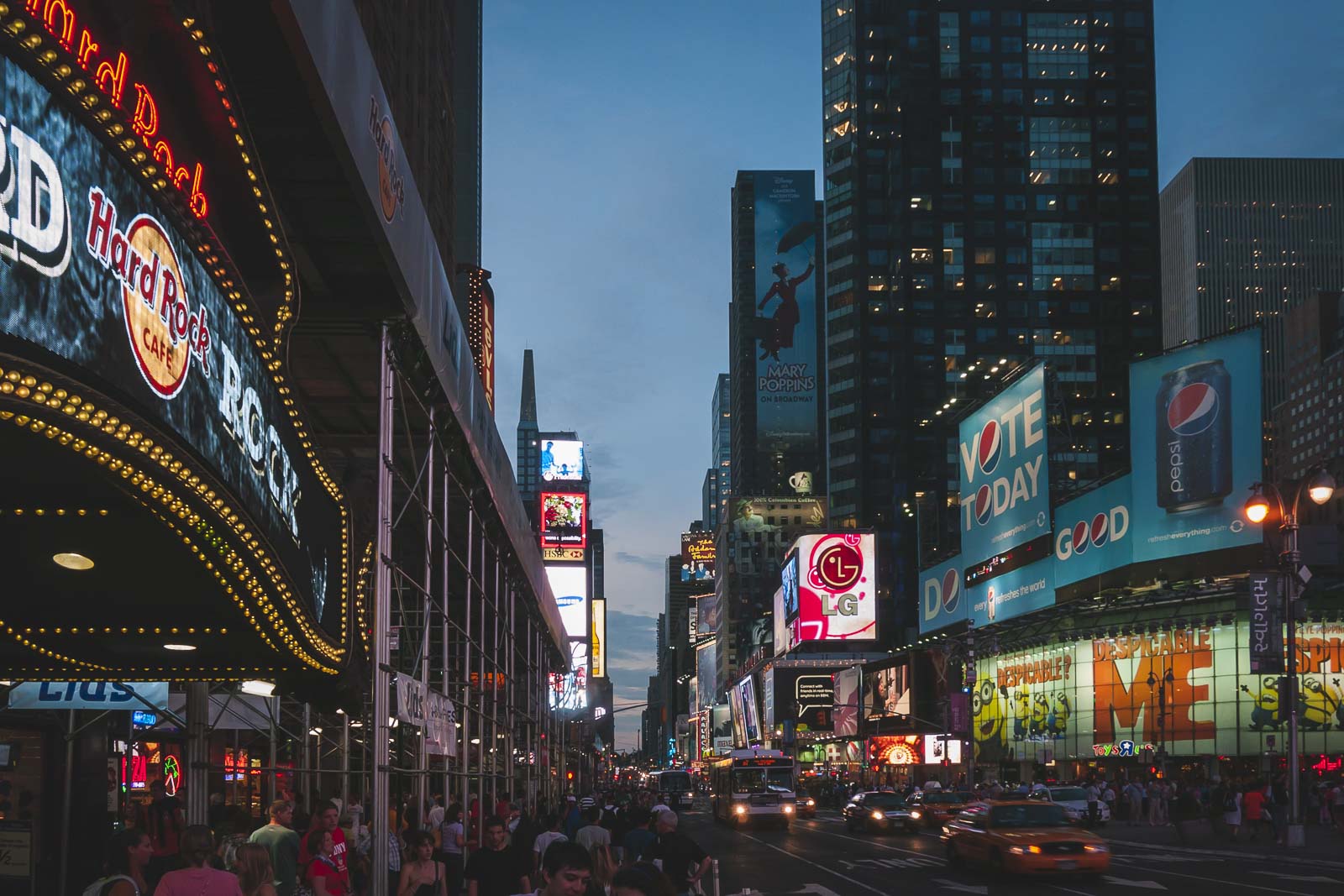 New York truly is the city that never sleeps. Dave and I never turn in before midnight. If you are staying near Times Square, it's easy to catch a showing of the worlds largest digital arts exhibition. The Billboards are amazing enough on their own, but starting at 11:57 each night, the billboards synchronize to showcase digital art.
Times Square Church
While St. Patrick's Cathedral is the more famous church in New York, Tims Square has its own church that attracts tourists and visitors. This inter-denominational church is open to visitors and people gather every Tuesday, Times Square Church.
Address: 237 West 51st Street.
And if you want to see another Times Square Church, visit the Church of St Mary the Virgin a New York City landmark dating back to 1868. Known for its use of incense at services it has become known as Smokey Mary's. Address: 145 W 46th St, New York, NY 10036
Late Shows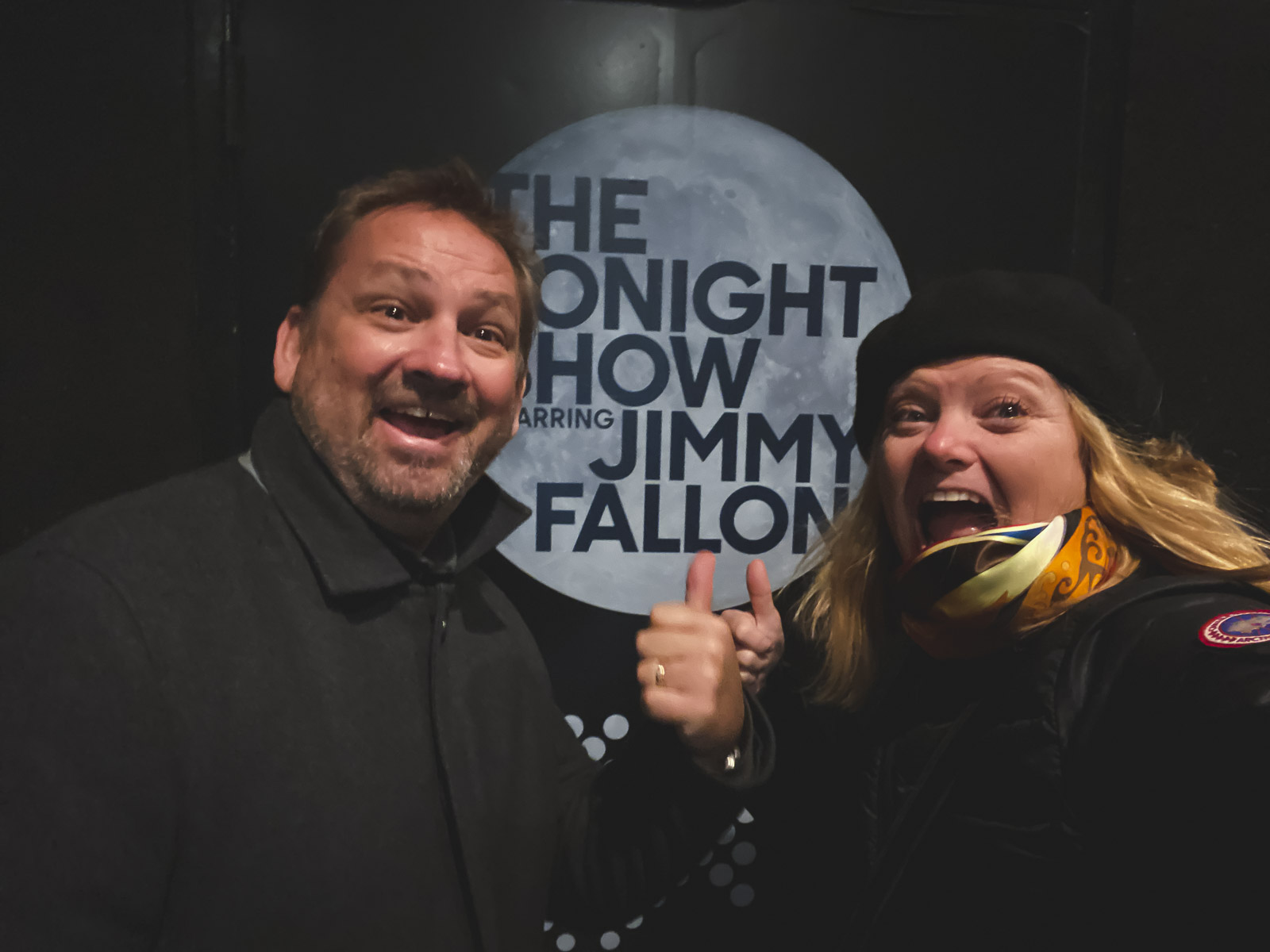 The Late Show with Stephen Colbert is taped near Times Square at the Ed Sullivan Theater, Tonight Show with Jimmy Fallon is at 30 Rockefeller Centre, Seth Myers is also at The Rock ant The Daily Show With Trevor Noah is taped near Times Square. Some shows are not yet receiving live audiences, but you can keep an eye out for updates at the links below.
Book Free Tickets for Stephen Colbert here
See how to get free tickets to the Daily Show with Trevor Noah here
Book Free Tickets for Jimmy Fallon here
See how to get Tickets for Seth Myers at NBC here
Things to do in Times Square Attractions
See a Broadway Show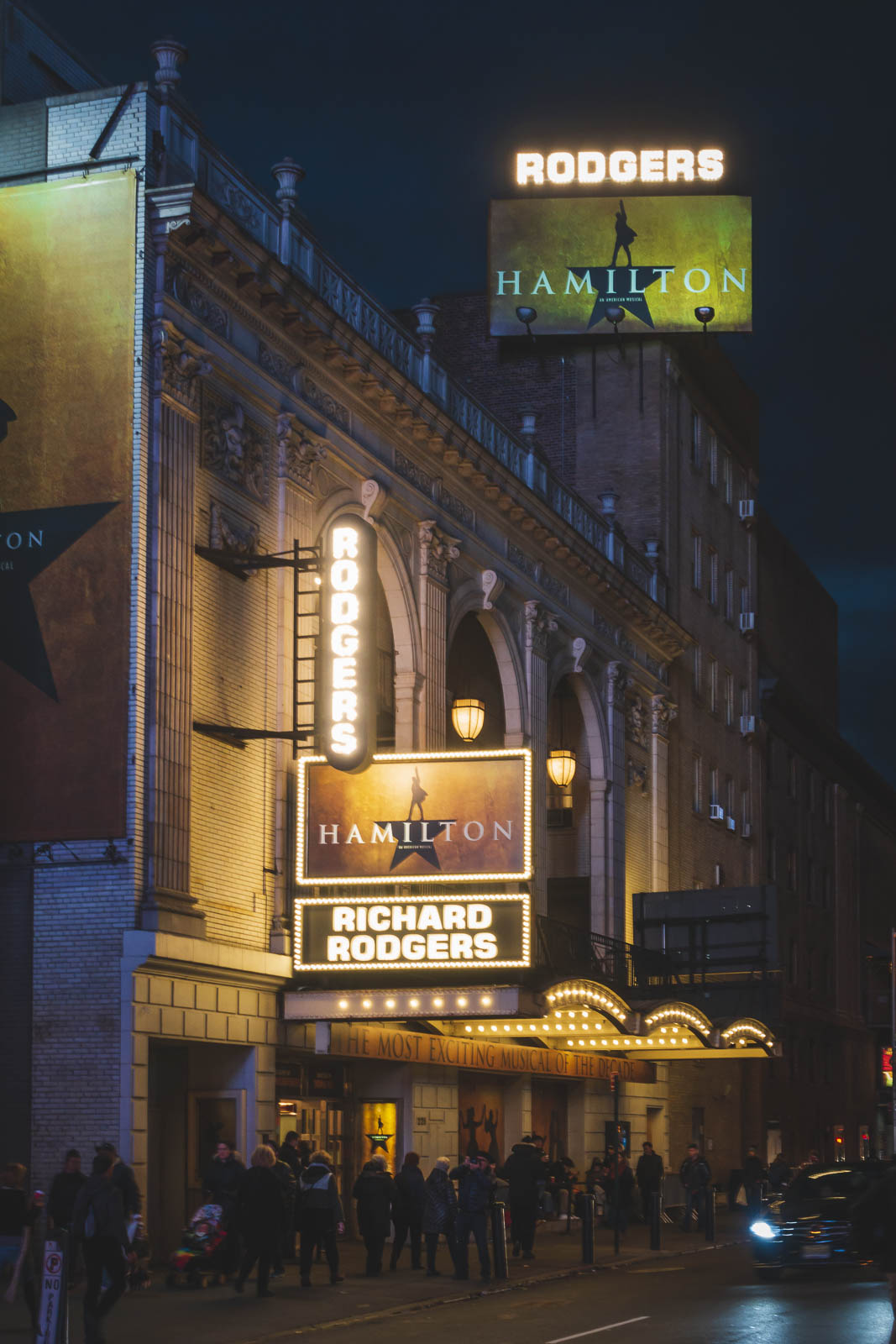 Once you've sat on the red stairs head to the TKTS booth to get your day-of tickets for a Broadway show. Get your tickets for the long running productions like Phantom of the Opera at the Majestic Theatre or the Lion King at the Minskoff Theatre. But there are 41 Broadway Theatres in total with only three actually on Broadway itself, the Broadway Theatre, the Palace Theatre, and the Winter Garden Theatre. All you have to do is walk around the streets near Times Square, and you'll see many theatre marquees with big name actors headlining.
Note: Broadway is planning on reopening in September. Check out Broadway.com for a list of all the shows playing on Broadway. TKTS Discount Booths have tentative openings as of Sept 14th. You can check out their website for updates.
Drunk Shakespeare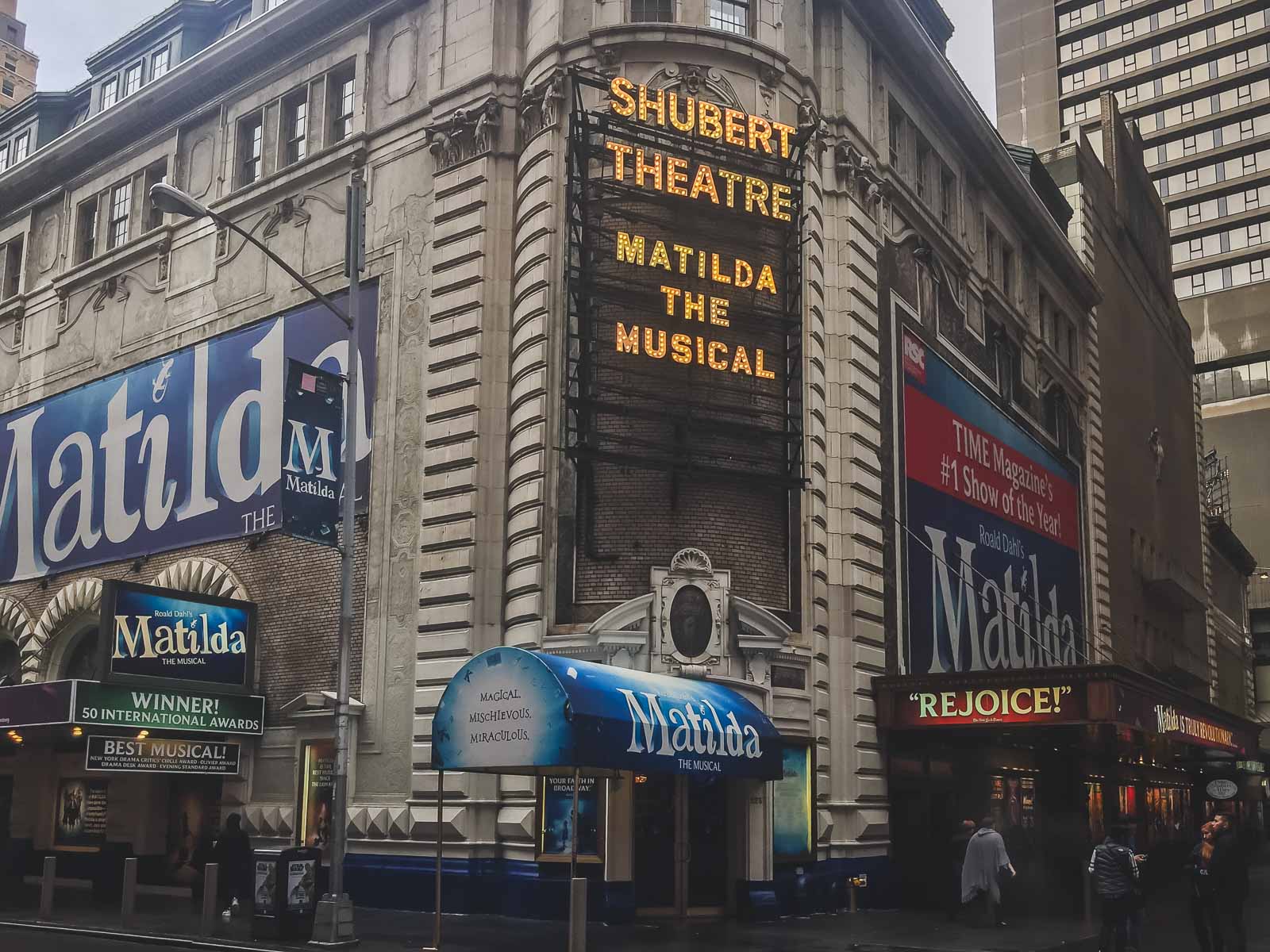 If you want to do something unique in Times Square, The Drunk Shakespeare Society puts on a Shakespearian play where one actor has five shots of spirits and then goes on stage to perform while trying to keep their act together.
Drunk Shakespeare is currently closed due to COVID, but check with their website for updates and openings.
Address: 711 7th Ave floor 2, New York, NY 10036
Don't have time to take in a play? Take a Broadway Theater Tour where you'll learn the history of the Broadway Theater District, and tour famous  TKTS ticket booth in Times Square where you'll go on a journey through time stopping at Broadway's oldest gift store, One Shurbert Alley, the legendary Broadway eatery; Sardie restaurant, (known as the toast of Broadway) and explore the Theaters of 42nd Street.
Madame Tussauds New York
You can't miss seeing Madame Tussauds Times Square has plenty of activities on offer. Besides the usual wax subjects, visitors can see their favourite Marvel superheroes in 4D or immerse in the Coney Island Carnival Carnage 7D Game. Hang out with Jimmy Fallon and be a star on the Tonight Show, or immerse in being a star on Broadway.
Ripley's Believe it Or Not
Want to see the strange and unusual? And I don't mean the strange and unusual that are out on the streets. Ripley's Believe it or Not is a fun attraction that showcases collections of artifacts from around the world. Back in the day, rulers liked to collect the weird and whacky like shrunken heads, human heads in jars a Medieval Torture Chamber or walk into a black hole. This is a fun attraction for the whole family and kids will love it.
The New Victory Theater
While we are on the subject of family, one of the best things to do in Times Square with kids is a theatre dedicated to kids. The theatre puts on family focused shows but it also caters to families pre show. For an hour, kids take part in pre and post show activities in the lobby.
Address: 209 W 42nd St, New York, NY 10036
Check out a Comedy Club
It's no secret that some of the best comedians in the world hail from New York. Or at least cut their chops at the comedy clubs in New York. You don't have to venture far from your hotel to find a comedy club near times Square. There's Caroline's Comedy Club, Broadway Comedy Club and LoL Times Square Comedy Club right in the heart of all the action.
Hard Rock Cafe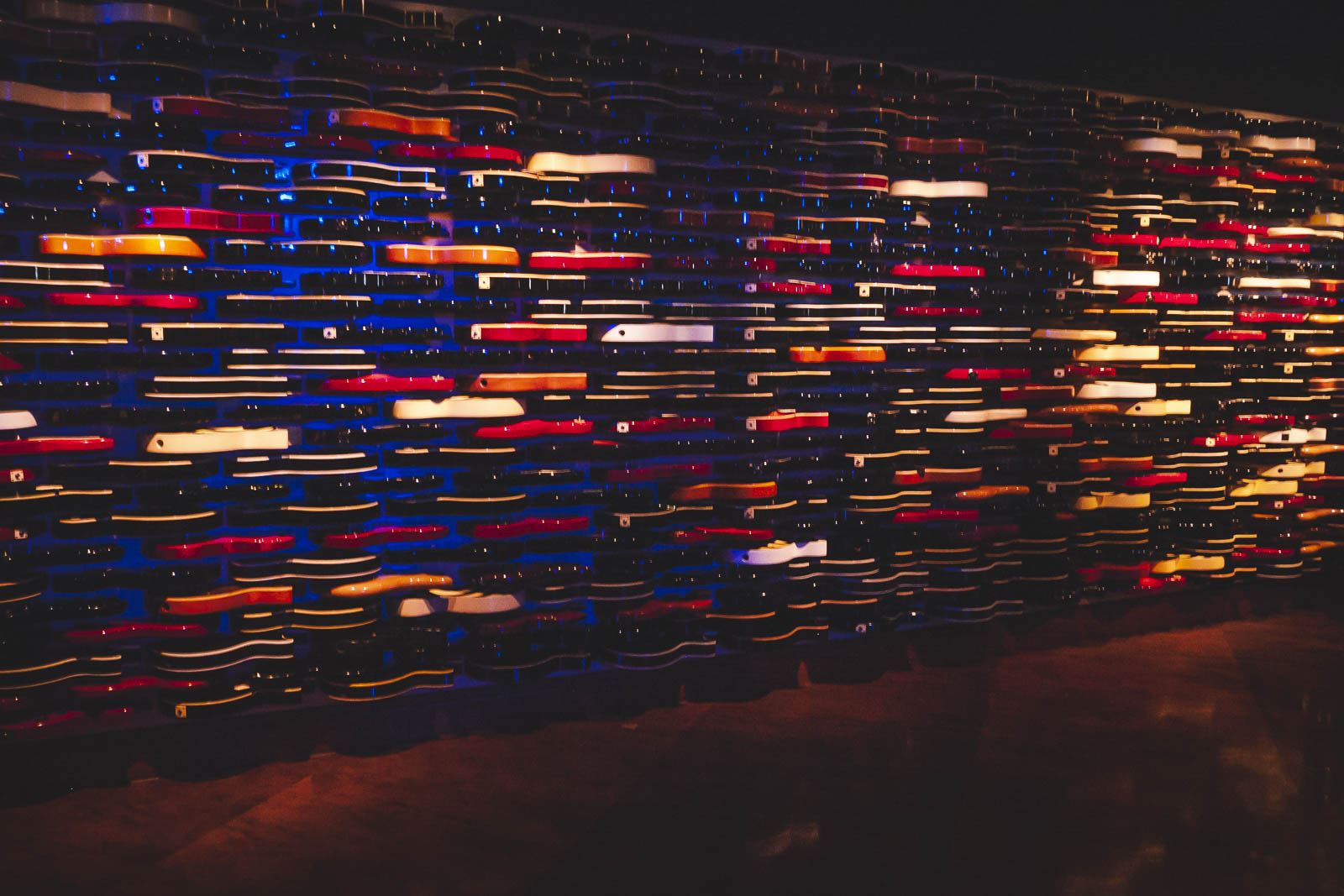 It's a guilty pleasure for Dave and I, we just love going to Hard Rock Cafés. We've even stayed at the Hard Rock in Panama and in Cancun. Being rock lovers, we had to pop into the Hard Rock Times Square for a drink. Located in the heart of Times Square, the Hard Rock cannot be missed. Hard Rock Cafes have fantastic collections of Rock 'n Roll memorabilia and the New York Hard Rock has some great displays with a wall of guitars greeting you at the entrance.
Address: 1501 Broadway, New York, NY 10036
The Olive Garden
While we are on the subject well-known chain restaurants, we always go to the Olive Garden Times Square. I know, The Olive Garden? Whey are you mentioning that? But it really does have one of the best locations and you can book New Years Eve celebrations here. The Olive Garden looks directly onto Times Square for the ball drop and we have actually had a friend celebrate New Years Eve right here. I'd much rather be inside munching on Italian food and breadsticks with a proper toilet than standing in the freezing cold in Times Square.
Address: 2 Times Square, New York, NY 10036
Shopping in Times Square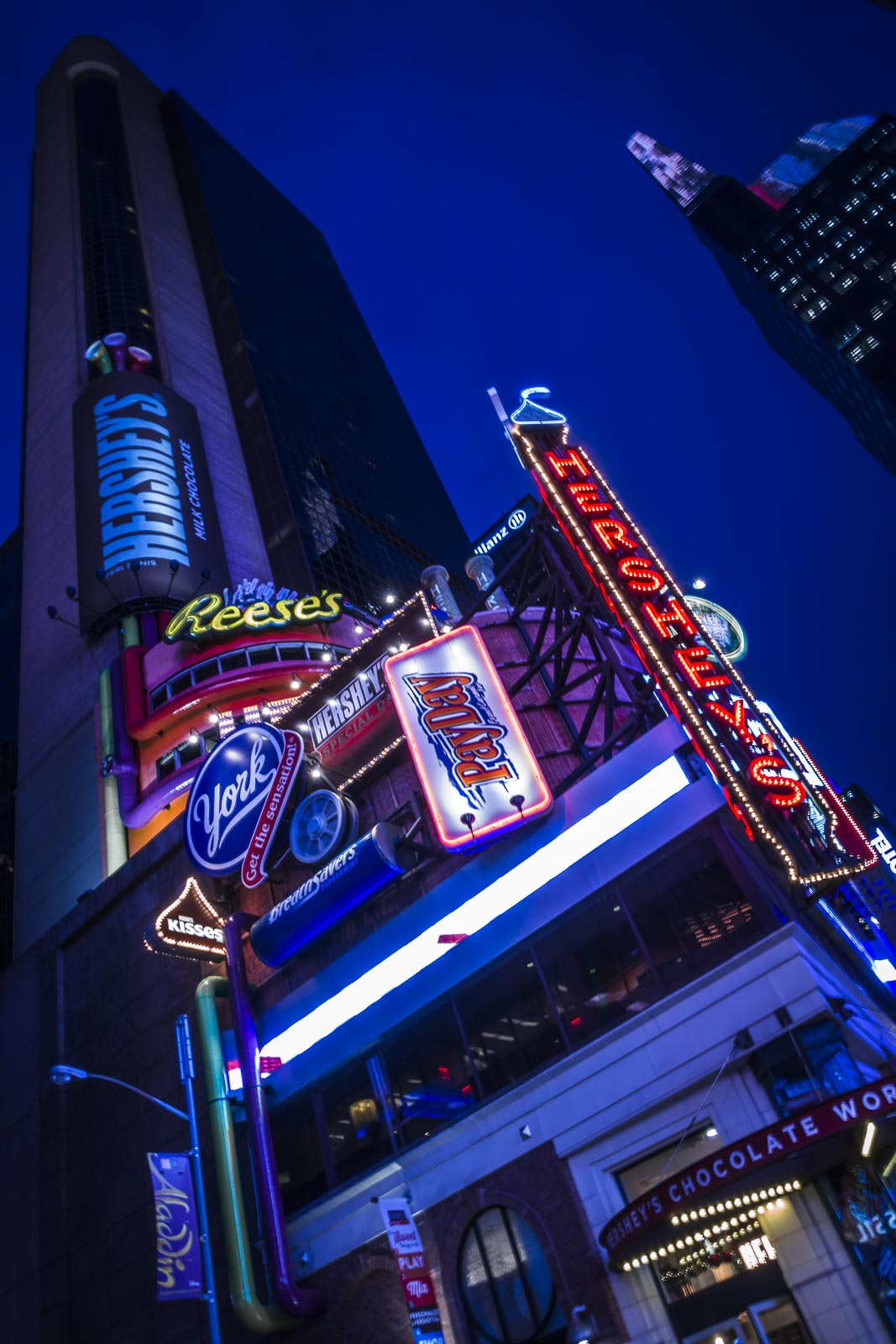 There's plenty of shopping at Times Square with the usual chains like H&M, The Gap, Levis and Sephora Cosmetics, but there are other specialty stores that are unique to Times Square. You must go into Hershey's Chocolate World Times Square. It's an extravaganza of candy but it also has HERSHEY'S Kitchens Bakery treats, and HERSHEY'S largest s'mores experience. Another unique store is Grand Slam New York where you can buy all the NYC souvenirs you want and Pelé Soccer Store for the ultimate soccer gear and memorabilia.
Address Hershey's Chocolate World: 20 Times Square, 701 7th Ave, New York, NY 10036
Address Grand Slam New York: 1557 Broadway, New York, NY 10036
OMEscape at Times Square
Escape Rooms are all the rage these days and there is one at Times Square too! If you are looking for something challenging and fun, you may want to check out the OMEscape at Times Square. Test your skills as you try to escape the Penitentiary, The Labratory of Biohazard or Room X.
Things to do Near Times Square
Rockefeller Center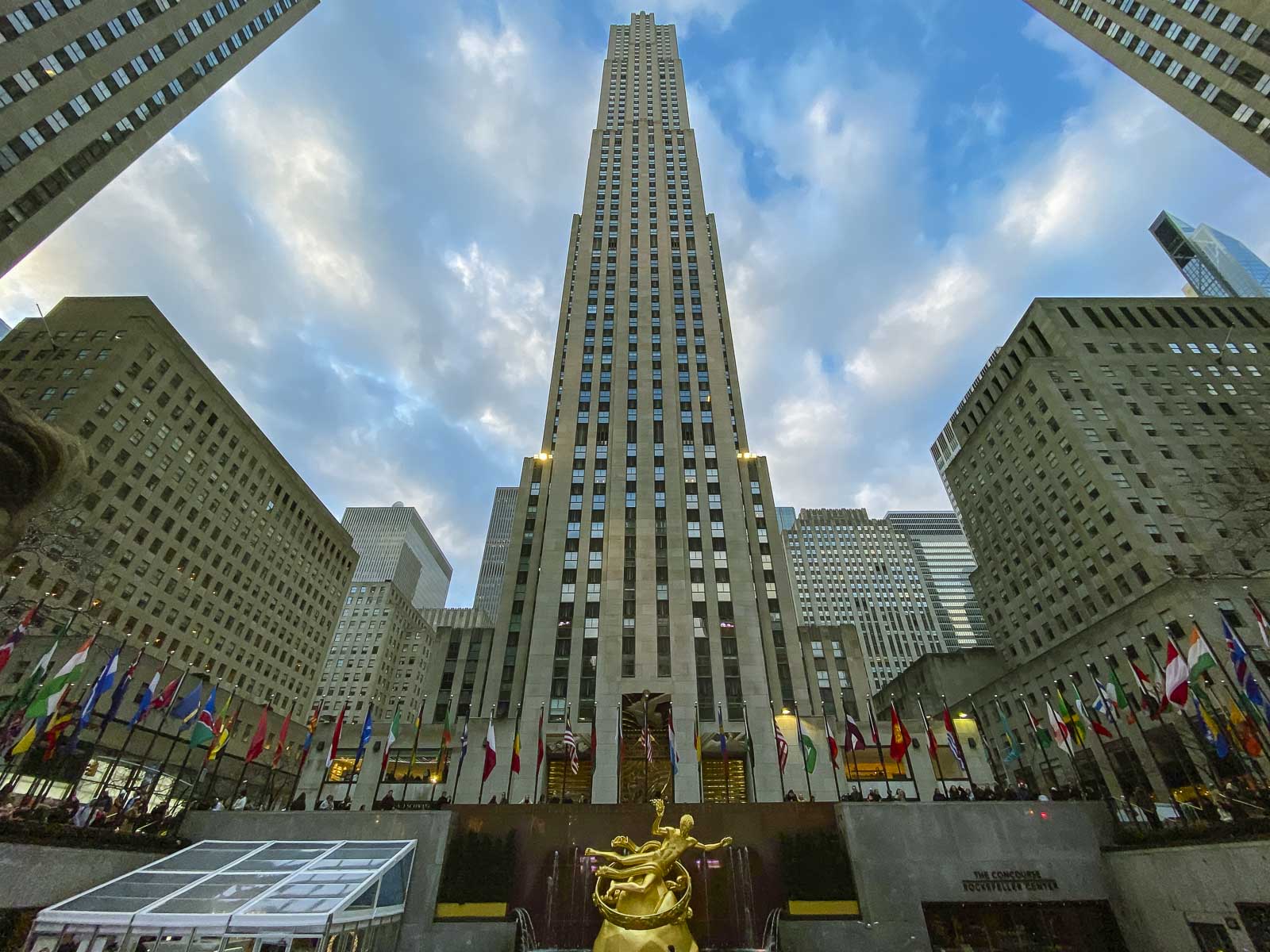 One of our favourite places to walk to from Times Square is to the Rockefeller Centre. Home to NBC studios, there is always something exciting going on here. In the winter, the outdoor ice skating rink is abuzz with people especially during the holidays when the Rockefeller Christmas Tree is lit up overhead. There's shopping and restaurants and a foodcourt in the concourse. It is here that the Tonight Show with Jimmy Fallon and our personal favourite Late Night with Seth Meyers are taped. Plus, the Lego Store and FAO Schwartz are at the Rockefeller Center which the kids will love to visit.
Top of the Rock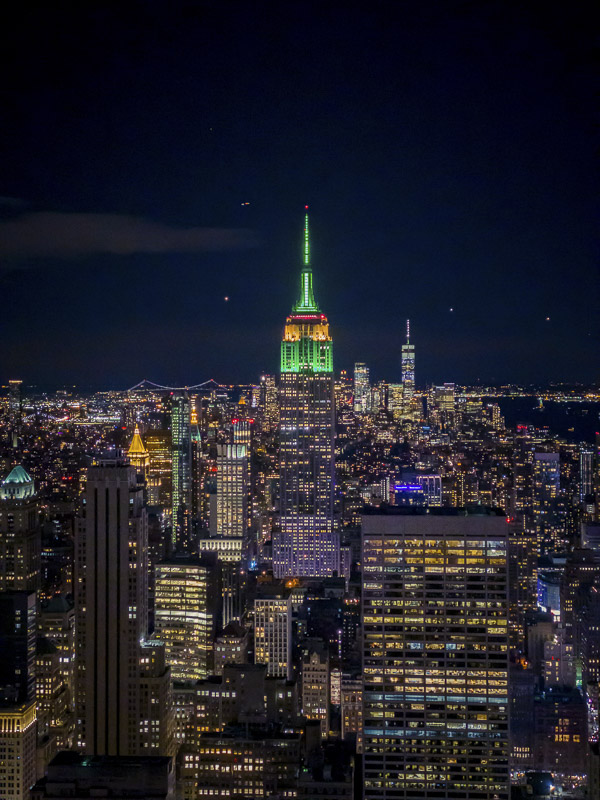 While checking out the Rockefeller Centre, you cannot miss going up to the Top of the Rock. This is one of the best things to do in New York. We think it offers the best view of the city as you get look directly at the Empire State Building. It also offers amazing views of all New York City including Central Park. From above you really see just how huge the city is.
Radio City Music Hall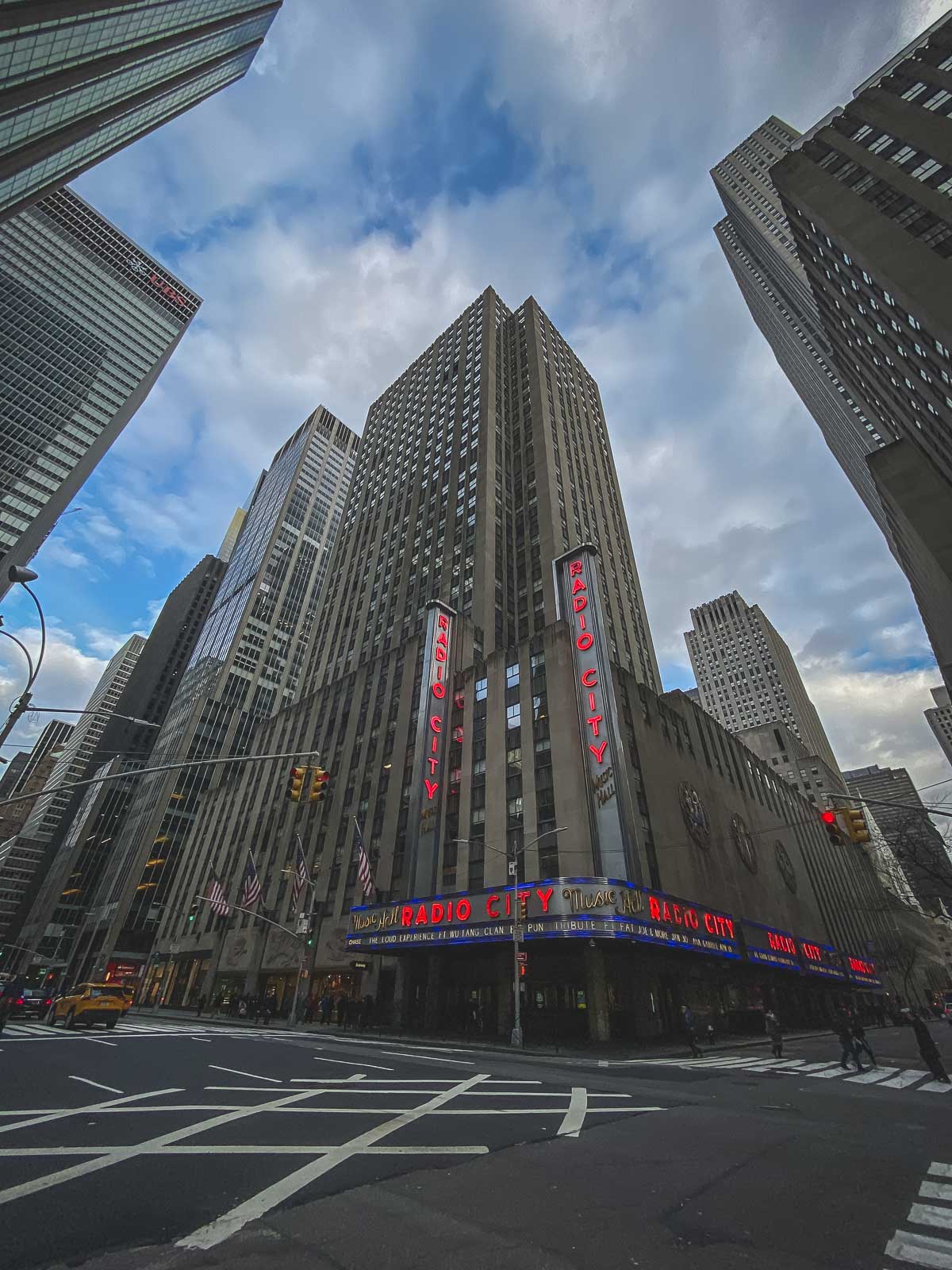 Radio City Music Hall is a New York landmark and is just a short walk from Times Square. When in New York, you really need to catch a show of the Rockettes. If you can't, going on a back stage Radio City Music Hall is the next best thing. (if not better) Get a behind the scenes tour of this iconic building to see the private suite of Samuel "Roxy" Rothafel and step into a bygone era when Judy Garland, Walt Disney and Alfred Hitchcock frequented downtown NYC. You'll get to see the state of the art stage and meet a Rockette!
This Backstage Radio City Music Hall Tour tour is free with your New York Pass. but you need to book ahead of time at the box office. We booked our tour a couple of hours in advance at the box office.
Address: 1260 6th Ave, New York, NY 10020
MOMA – Museum of Modern Art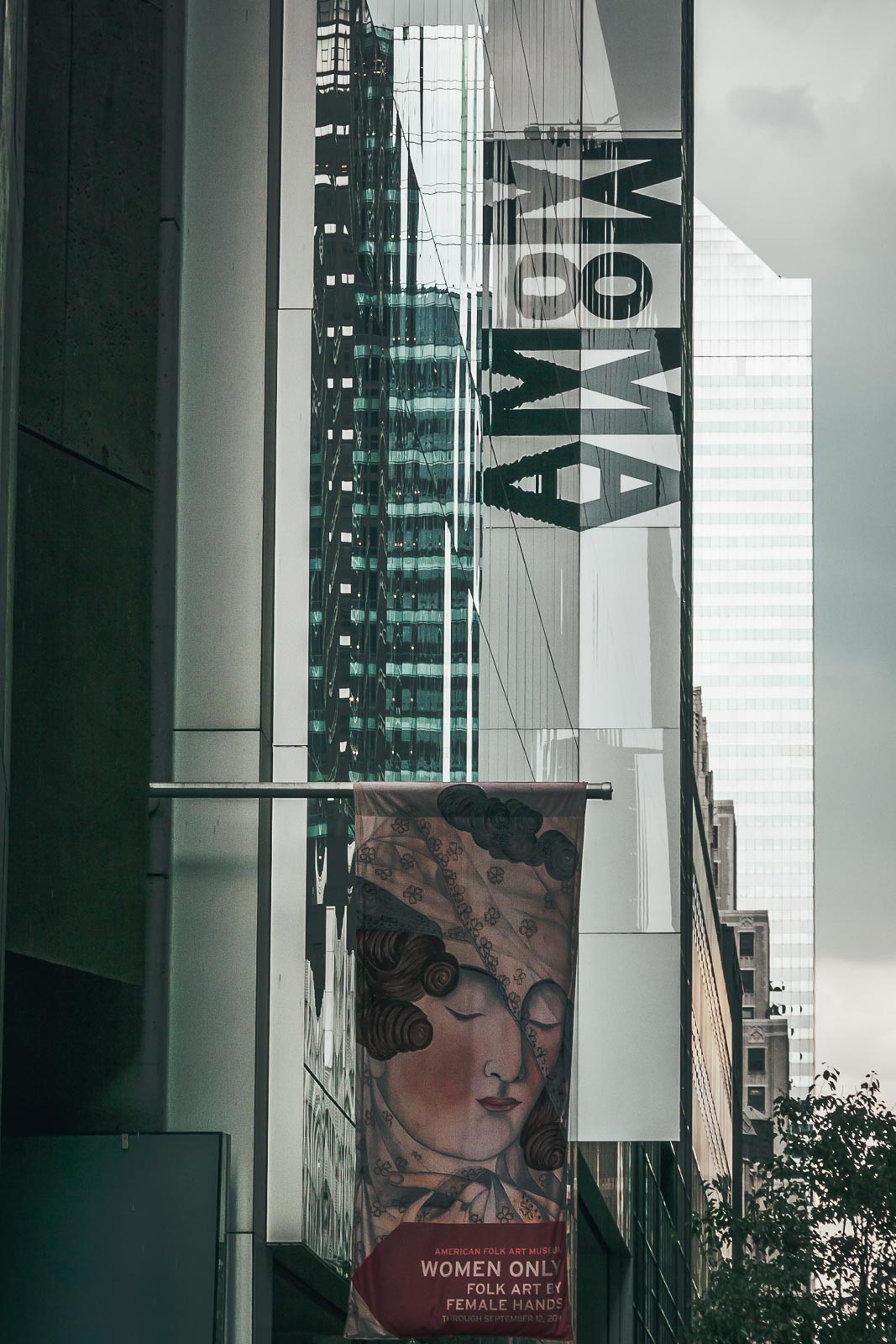 The Museum of Modern Art (MOMA) is getting a little farther away from Times Square, but it's not a long walk to check out one of New York's best museums. If you have a New York Pass entry to MOMA and other museums are free. Address: 11 W 53rd St, New York, NY 10019
Bryant Park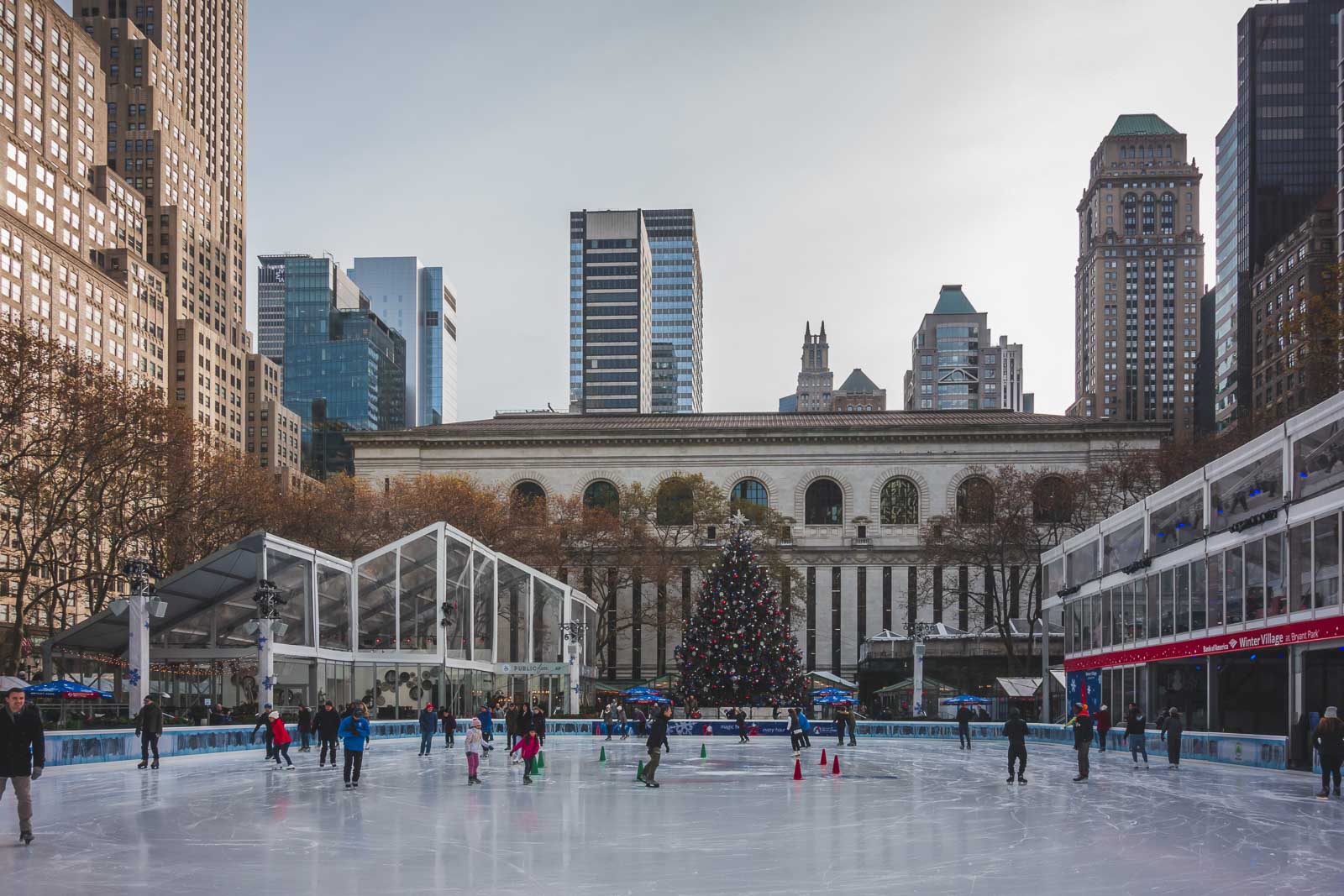 If you want to get away from the hustle and bustle, take a break to relax in Bryant Park. Also known as Manhattan's Town Square, Bryant Park always has a lot going on. In the winter, it turns into a holiday market surrounding the outdoor skating rink and in the summer it hosts Bryant Park movie nights. There's always something going on with chess and games, outdoor cafes and gardens.
Gulliver's Gate
When visiting Nikko Japan we took a walk around the miniature world of famous landmarks at Tobu World and loved seeing the miniature models from around the world. Gulliver's Gate Miniature World near Times Square is similar with a display of miniature buildings from around the world. If you find yourself in Times Square during a rainy day, this is a good option to check out and to take a journey around the world.
Address: 216 W 44th St, New York, NY 10036
National Geographic Encounter – Closed?
If you want to check out the underwater world of National Geographic Encounter, it seems to be closed from what we can tell. It's too bad because this 60,000-square-foot space in Times Square, looked like it was an amazing way to immerse in the underwater world.
More Times Square Hotels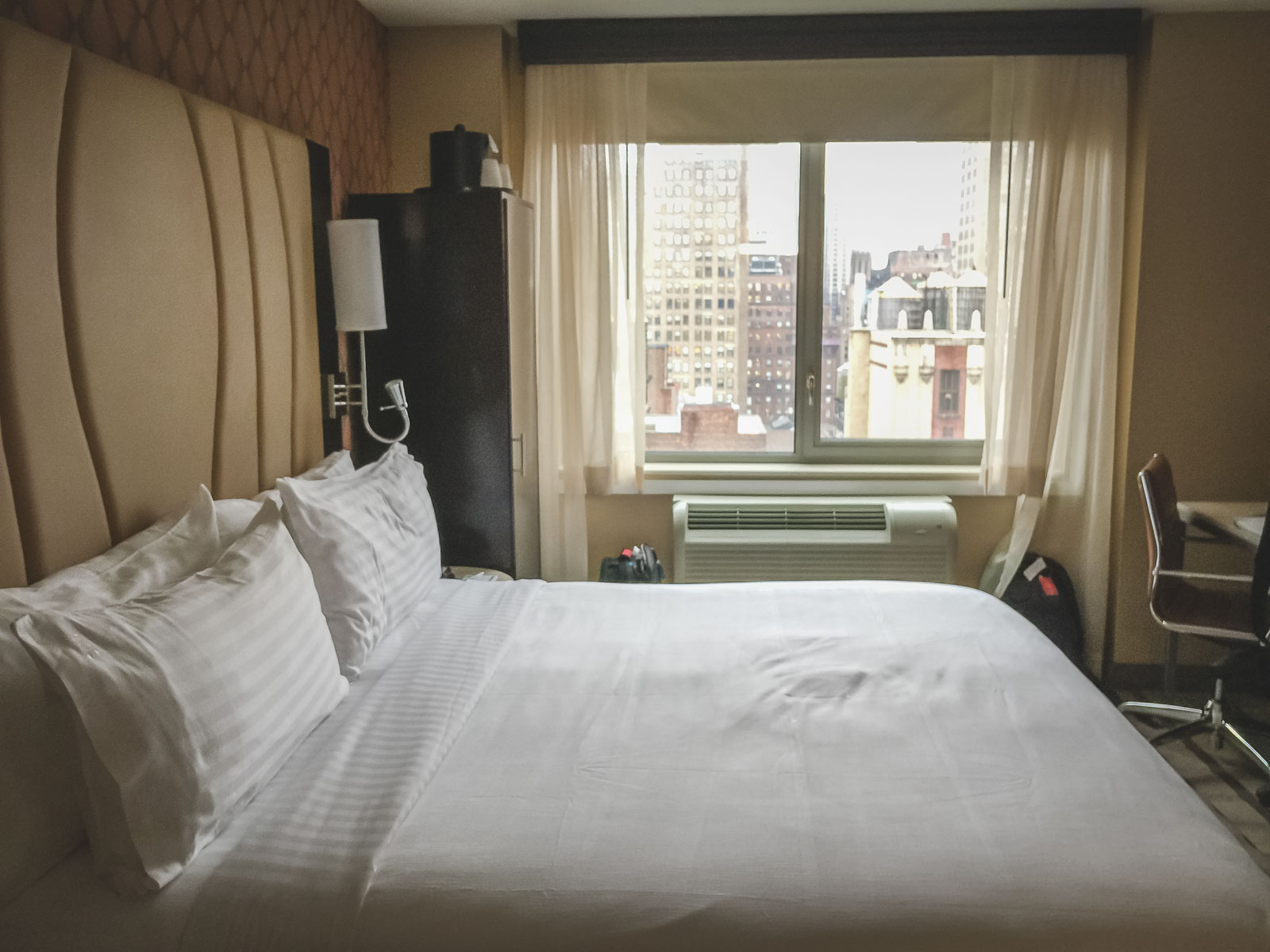 You don't have to stay in Times Square to enjoy New York, we have stayed everywhere from Queens to Brooklyn and up town. You can read our entire breakdown of where to stay in new york here: Complete Guide to the Best Neighborhoods in NYC
But here are a few more recommendations for hotels in Times Square.
Casablanca Hotel by Library Hotel Collection – Located steps from Times Square this hotel has well-appointed rooms, great amenities, and wine and cheese every afternoon! Definitely one of the best places to stay in Manhattan. Check out Availability and prices on TripAdvisor or Booking.com
Hilton Garden Inn Times Square – The perfect location really close to the subway station. Rooms are small but you are steps from Broadway theaters, Restaurant Row, TKTS, famous 42nd Street, and much more. Check out Availability and Prices on TripAdvisor or Booking.com
Park Central Hotel New York – Located in Upper Midtown, a short walk from Times Square, this hotel is within walking distance to all the main sights, close to Central Park and the subway. The rooms are really comfortable. Great value for your money. Check out Availability and prices on TripAdvisor
Hopefully this list will give you a lot of ideas for your next visit to New York. There are so many things to do in Times Square, that you just may never leave the area. But that gives you another reason to go back to the Big Apple again and again. It is definitely a city that keeps drawing us back. If we were American, we'd live in New York!
Enjoy More New York city guides