Marilyn Monroe – The Intellectual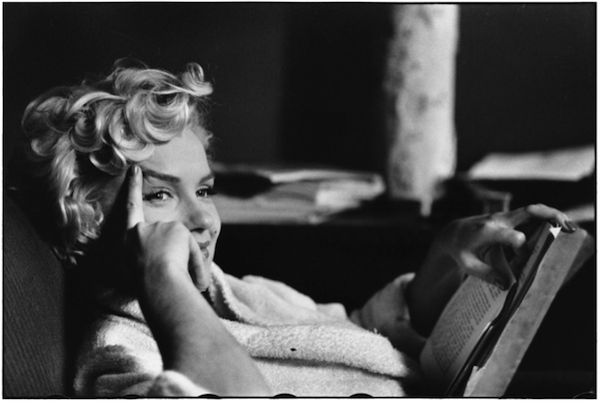 Over the years, Marilyn Monroe has become more icon than person. The Marilyn the world knows is mostly defined by two things: appearance and tragedy. She is seen as the ditzy, blonde bombshell who giggles as her skirt flies up or as the naïve orphan eaten alive by Hollywood. In reality, Marilyn Monroe was anything but ditzy or naïve. She had over 430 books when she passed away; many of them bore her personal notes in the margins. Her favorite book was Ulysses by James Joyce and one of her dreams was to get The Brothers Karamazov by Dostoevsky made on screen with herself playing Grushenka. She continued self-educating her whole life and she even started her own production company. These facts are often lost in the myth, but behind the blonde bombshell persona was an intelligent woman whose intellectual side was an important part of her life.
Most people are aware that Marilyn Monroe's childhood was anything but idyllic. So it comes as no surprise that Marilyn's education was chaotic due to her unpredictable home life. Going from foster home, to her mother, to friends, to an orphanage, to her mother's best friend meant that she changed schools at the drop of a hat. She struggled most with public speaking, as her traumatic upbringing had left her with an occasional stutter. Nonetheless, she showed a real flair for writing and contributed to the school paper. But after a few stable years in the same school, her education was cut short when she married at the age of sixteen. In those days, getting married meant that you became a full-time housewife, so Marilyn left school for good. Her lack of a diploma was a sore spot her entire life. Marilyn later admitted that she was bored out of her mind as a housewife. So it seemed like fate when she was discovered by a photographer while her husband was away for his work in the military.
The idea of a career as a model, and maybe more, lit a fire in her. As a child, she had dreamed of being just like her idol Jean Harlow. The head of her modeling agency later said: 'She wanted to learn, wanted to be somebody, more than anybody I ever saw before in my life.' An astute observation, as Marilyn soon left the modeling industry for Hollywood and subsequently divorced the husband who wanted her to remain a housewife. Marilyn had bigger plans.
Although she quickly received a contract at 20th Century Fox, they barely took notice of her. The ambitious Marilyn showed up at the studio regularly and talked to anyone who could teach her something: from cameramen to the lighting crew, to the make-up and wardrobe department. Her lack of roles only motivated her to learn as much as she could about her new career path. She started taking lessons at the Actor's Laboratory, a popular place among playwrights, Broadway directors, and stage actors. This was her first introduction to acting as a serious craft and Marilyn was mesmerized. She became determined to be the best actress she could be, but this clashed with her own insecurities and what other people wanted from her. Marilyn had made some valuable connections, but most of them made no secret of their attraction to her. It was made clear that her sexuality was her biggest asset on her career path. Despite the superficial world she found herself in, Marilyn remained undeterred when it came to learning and challenging herself. She had a thirst for knowledge, which was an important part of her personality, despite not being stimulated by anyone around her. During this time, Marilyn was known to read Tolstoy, Marcel Proust, and Thomas Wolfe, often calling friends with a flair for literature with questions. The Actor's Lab had ignited her love for the stage and she became fascinated by the idea of playing Grushenka in Dostoevsky's The Brothers Karamazov. Literature and plays were not her only interests: she was already looking into the teachings of Freud, something that would become more important later in her life. In 1950, not long before she became a star, she even enrolled in a literature night class at the University of California. But surrounding herself with teachers did not always work in her favor, especially when it came to acting. The more acting coaches told her what she did wrong, the more insecure she became. Marilyn was more of a natural in front of the camera than she gave herself credit for. Viewers noticed this quicker than the studio, as they bombarded the starlet with fan letters, despite the small roles she was playing.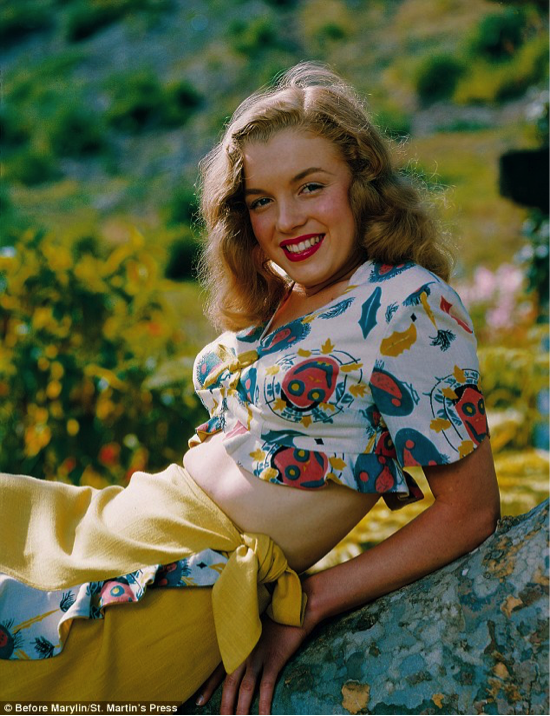 20th Century Fox could not deny her potential any longer and they gave her bigger parts, which led to more press. Marilyn was disappointed to find out that most articles focused on her physique, though one journalist for Collier's did mention that he saw books by Whitman, Rilke, Tolstoy, Sandburg and Arthur Miller on her bookshelf, with bookmarkers and notes sticking out of them.
Marilyn might not have had a college education, but she did have one thing that most people at 20th Century Fox did not have: street smarts. This saved her career when nude pictures of her were discovered in 1952. The studio panicked and came up with a tried and true method in the conventional 1950's: deny, deny, deny. Instead, Marilyn went rogue: she admitted to a journalist that it really was her in the pictures and simply said that she had needed the money to pay for food and rent. She was counting on the audience feeling empathy for her struggles and appreciation for her honesty. Her instincts proved right, her honest admission caused a wave of positive publicity and the studio exhaled a sigh of relief. By this time, Marilyn was finally playing leading roles. While working on Niagara, director Henry Hathaway called her 'witty and bright'. While working on Gentlemen Prefer Blondes co-star Jane Russell tried to get her involved in religion. Marilyn reciprocated by giving her a book about Sigmund Freud. After she appeared on the Jack Benny Show, the comedian raved about her natural talent for comedy. Still, the people at 20th Century Fox did not take their new star seriously. An example of their view on Marilyn is the time when the publicity department arranged for poet Dame Edith Sitwell to write an article about her. The idea was that their 'opposite' personalities would be funny. Imagine their surprise when the pair got on extremely well and spent most of the time discussing philosopher Rudolf Steiner. Marilyn and Edith even kept in touch and dame Sitwell would later describe Marilyn as 'quiet, with great natural dignity and extremely intelligent.' Still, in the midst of becoming a world-renowned star, Marilyn was stuck on the same $1500 a week salary at Fox. More importantly, she was sick of the 'dumb blonde' roles they kept forcing on her. She knew this persona had gotten her this far, but she also knew that she was capable of much more. So she took matters into her own hands and decided to do what only a few actors had dared to do before her: she started her own production company. It took over a year for the negotiations with 20th Century Fox to succeed. But Marilyn stood her ground and became the producer of her own movies.
In the meantime, Marilyn left Hollywood for New York. This hub of intellectuals, writers, and artists had always attracted her. She openly discussed her desire to finally be herself instead of 'Marilyn Monroe', who had become a character she had to play. One of her first moves was to become a member of the famous Actors Studio run by Lee Strasberg – a way for her to fine-tune her craft and become the serious and respected actress she so desperately wanted to be.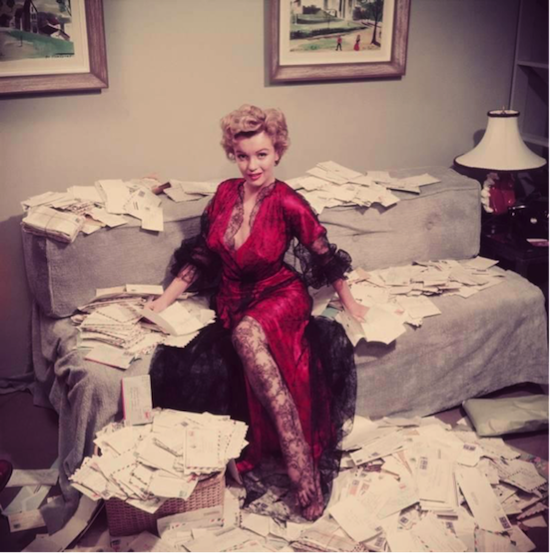 Strasberg was known for championing Method Acting: an acting technique centered on actors using their past and emotions while acting. Lee gave her private lessons and encouraged her to see a psychoanalyst. From now on, Marilyn would be encouraged to relive her traumatic childhood almost daily, through Lee's techniques and a succession of psychoanalysts with connections to Freud. This would contribute to Marilyn's infamous downward spiral over the following years, in which she began taking a lot of prescribed medication and drinking alcohol to cope. Still, her drive for perfection made her completely devoted to Lee's lessons and it was only after months of training that she felt good enough to perform for his other students, who burst into applause as soon as she was done. Despite her personal issues, she enjoyed the culture in New York immensely. Marilyn was known to wander around the city, going to bookstores, museums and the theatre without make-up on and in regular clothes. In the New York social scene, she found friends who encouraged these interests. At their dinner parties, she would shyly recite poetry by Yeats, which she knew by heart. Some of her new friends were famed authors such as Carson McCullers and Truman Capote. The latter would later say: 'She was very bright. People would humor her, thinking she was a dumb blonde; but Marilyn was very perceptive. She wasn't fooled by many people, and they thought they were fooling her all the time.' It was around this time that she started to write her own poetry, as well as paint watercolors.
When the contract between her production company and 20th Century Fox was approved, Time Magazine called her 'a shrewd businesswoman'. For one of the first projects she chose, The Prince and the Showgirl, she asked Laurence Olivier to co-star and direct. Olivier was a respected Shakespearean actor, a good fit for Marilyn's desire to be taken seriously from now on. Unfortunately, Olivier began filming by telling her: 'All you have to do is be sexy, dear Marilyn'. This did not go down well and their relationship did not recover. She would find herself in a somewhat similar situation with her third husband, playwright Arthur Miller, a few months later. He had promised to write a good role for her in his screenplay The Misfits, in which she could finally show the world her acting chops. Marilyn was devastated when she found the part of 'Roslyn' to be a caricature of her own personality. She felt that he had made a mockery of her, but she had already committed to doing the film. Their marriage, which was already in hot water, was over.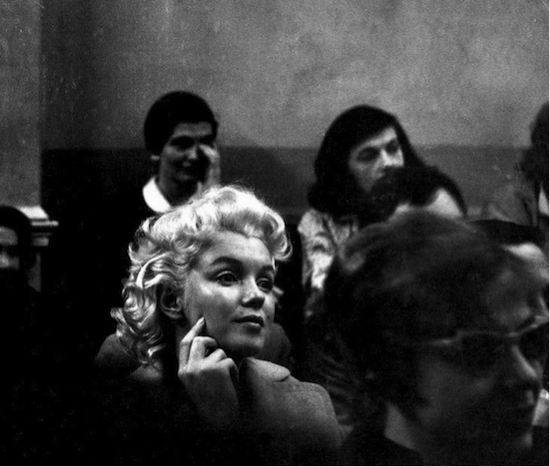 Resilient as always, Marilyn pushed on after another personal blow. Despite constantly feeling forced back into the 'blonde bombshell' persona, she remained focused on her quest for knowledge and growth. She became involved in politics: Marilyn was a founding member of the Hollywood branch of the Committee for a Sane Nuclear Policy and she was elected as an alternate delegate to Connecticut's Democratic caucus, as she had lived in the state with Miller. She was not shy about her political views. She was vocal in her support of the civil rights movement and she wrote the editor of the New York Times about her thoughts on the candidates for the new election. A dream came true for her when she befriended writer Carl Sandburg, the biographer of her political hero Abraham Lincoln. Work was still on her mind as well. She argued with 20th Century Fox about the chaotic production of her next project Something's Got To Give. Working with Fox had become more stressful than ever and she was contemplating her own projects again, such as a movie about her childhood icon Jean Harlow. Unfortunately, she passed away before this could come to fruition. Much has been said about Marilyn's untimely death. Was it suicide, an accidental overdose or something more sinister? We may never know, but according to those closest to her, she remained bright, funny and eager to learn up until the end. She never saw herself as a victim. Marilyn was a shrewd businesswoman, a talented actress, a creative all-rounder and an intelligent autodidact. Maybe it's exactly because there were so many sides to her that she has become an enigma people want to figure out. Marilyn was many things, but above all she was unique. It was through her intelligence and ambition that she created 'Marilyn Monroe', an icon who continues to fascinate worldwide more than fifty years after her death.
The sources for the quotes in this article are Marilyn Monroe: The Biography by Donald Spoto, Norma Jean: The Life of Marilyn Monroe by Fred Lawrence Guiles, Taken Care Of by Dame Edith Sitwell, and Truman Capote: Conversations by M. Thomas Inge; also Time articles – May 1956 and June 2016.
…..
— Arancha van der Veen for Classic Movie Hub
You can read all of Arancha's Lives Behind the Legends Articles Here.
Arancha has been fascinated with Classic Hollywood and its stars for years. Her main area of expertise is the behind-the-scenes stories, though she's pretty sure she could beat you at movie trivia night too. Her website, Classic Hollywood Central, is about everything Classic Hollywood, from actors' life stories and movie facts to Classic Hollywood myths. You can follow her on Twitter at @ClassicHC.