When people think of Peruvian food, they generally imagine savory dishes, but sweet dishes are very popular. Peruvians have a real sweet tooth and Peruvian desserts are some of the best in Latin America, if not the world. Finish your meal with a sweet dish from South America's culinary capital.
Every household in Peru has its own recipe or what we could call "family secret ingredient" for their favorite dessert recipe. Though there are many unique variations, there will always be one way to cook and prepare it. When preparing these dishes, expect a lot of stirring and attention to detail, but after all the hard work, you'll definitely enjoy the taste of these delicious dishes.
Essential supplies: condensed milk, white rice, manjar blanco (dulce de leche), milk, eggs, sugar, and ice cream, butter. And an appetite. So, prepare your kitchen apparel because we're about to awaken the chef inside you!
There's nothing better than a delicious sweet dish to satisfy your sugar craving. For all fans of the Peruvian cuisine out there, we've handpicked 9 of the most popular desserts that you can try right now.
Alfajores 
Alfajores (made with manjar blanco caramel sauce) cookies are popular throughout South America. The Peruvian way of preparing this sweet treat is to put two rounded cookies together with manjar blanco in between. 
Made with butter, flour, cornstarch, egg yolks, and powdered sugar. And of course, the manjar blanco (also known as dulce de leche). The final touch is a sprinkling of sugar on top for extra sweetness.
This dessert is perfect for those who like dry and sweet cookies. Alfajores are often served with a cup of hot chocolate or coffee.
Alfajores Recipe
Lucuma Ice Cream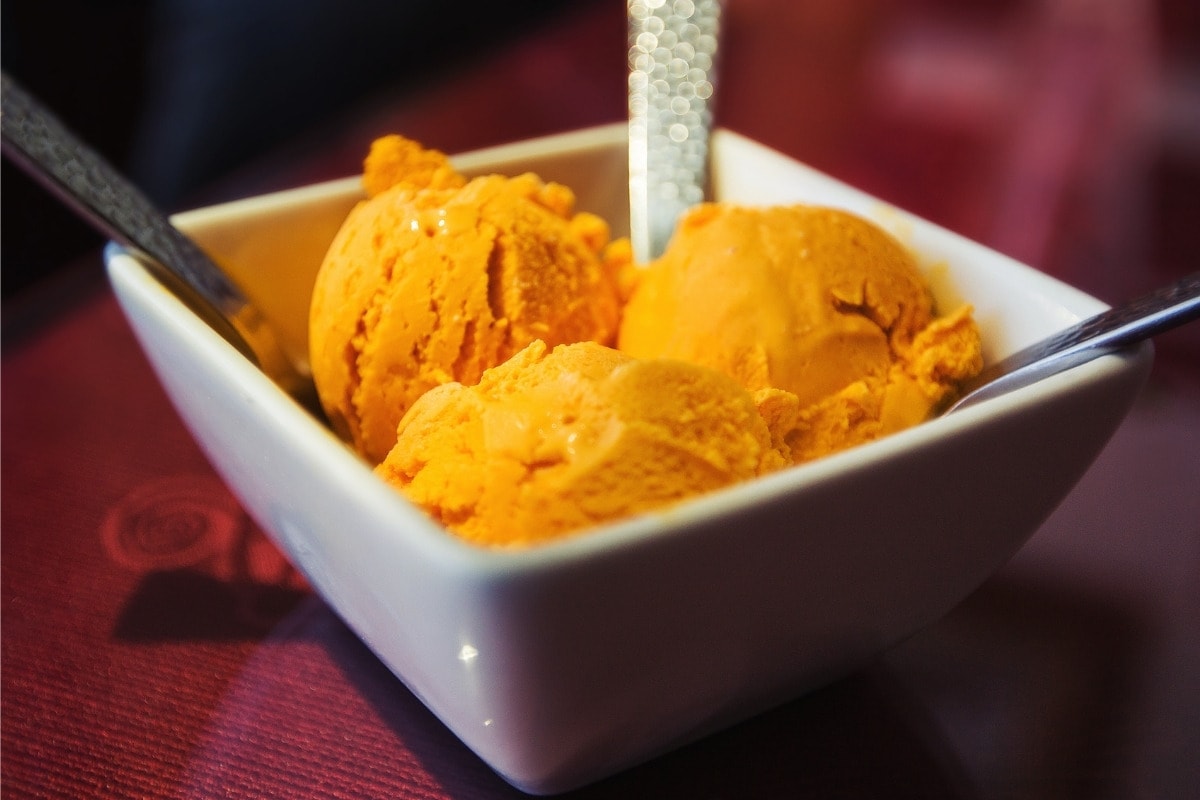 It's clear that when it comes to the last course, the influence of Europe, and in particular Spain, is responsible for the majority of dishes. Peruvian cuisine is a mixture of food influences from native Peruvians, Europeans, Asians, and Africans. 
Many of the dishes started life in the homes of people in Madrid, Barcelona, and Seville. The Italians brought Cream and Gelato, and this is where we get Lucuma Ice Cream. The centerpiece of this dish is the superfood Peruvian fruit called Lucuma. Many people think this unique Peruvian fruit has tones of butterscotch, caramel, brown sugar, and even ice cream. So that makes it perfect for adding to more traditional ingredients like milk, eggs, sugar, cream and vanilla to make this very popular treat.
You can also combine with manjar blanco (dulce de leche) or even chocolate for an extra special last course.  
Suspiro de Limeña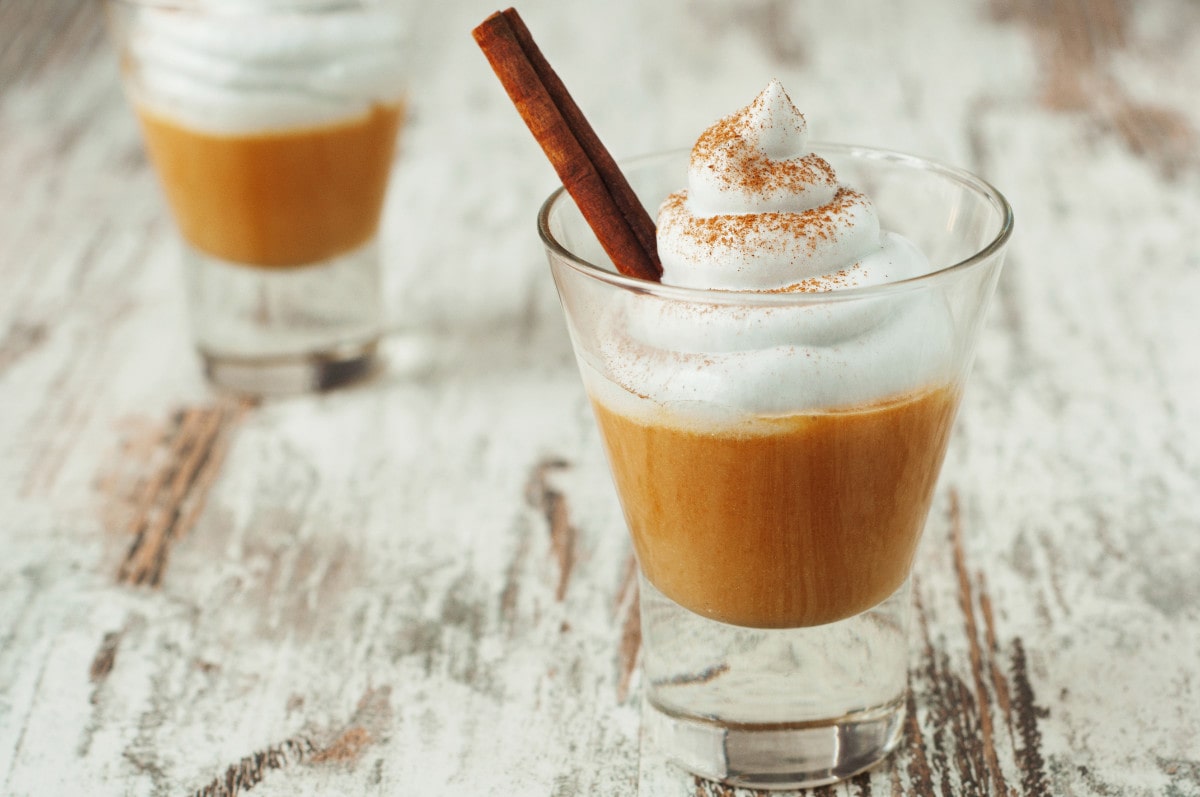 One of our favorite dessert dishes and one that will surely rock your world too. Suspiro de Limeña literally translates to the sigh of the lady from Lima and is also known as Suspiro Limeño (Liman sigh). This Peruvian dessert consists of two parts. The top part is fluffy meringue that's made with egg whites, cinnamon, and port wine, while the bottom part is the manjar blanco caramel cream that's made from milk, egg yolks, vanilla, and sugar.
The dessert first appeared in the 19th century in Lima, and it has been an integral part of Peruvian cuisine since then. Served in glass or plastic cups. Some people like it at room temperature, while others prefer it slightly cold. It's delicious either way, and we're pretty sure that you're going to enjoy it if you love caramel and cinnamon. 
Suspiro de Limeña Recipe
Arroz Con Leche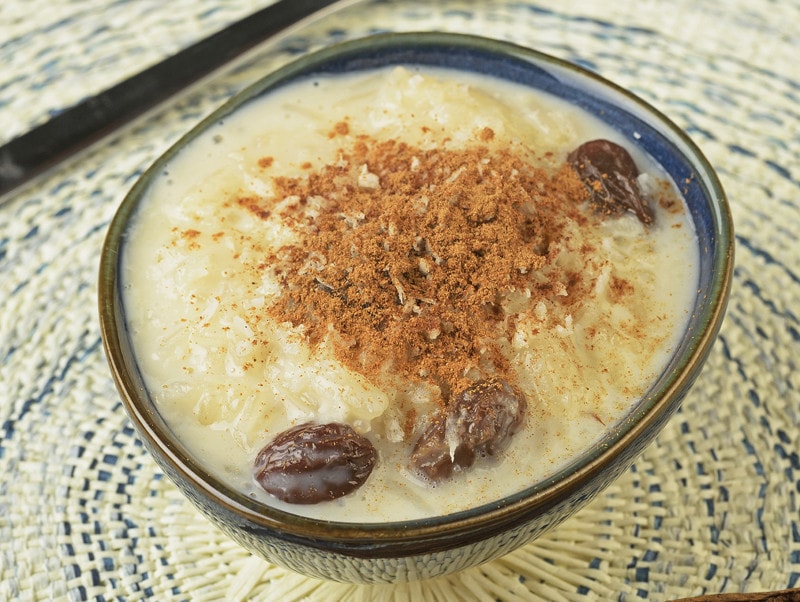 Arroz con leche is the Peruvian take on the classic rice pudding. It's not that different from the typical rice pudding found in other parts of the world, but as always, Peruvian ingredients and preparation techniques leave an impression. It's one of the most popular desserts in Peru, so make sure you try it.
To prepare arroz con leche, you'll need rice, egg yolks, sugar, cinnamon, butter, nutmeg, and condensed milk. These ingredients create a consistent, creamy pudding (when done right). It usually takes somewhere between 25-30 minutes to prepare. You can also try adding one slice of lemon or orange peel for a bitter taste. Some people also like to add raisins on top. This is also a popular kind of street food that you must try if you visit Peru.
Vegetarians can substitute the regular cow's milk for some kind of nut or rice milk.
Arroz Con Leche Recipe
Turrón de Doña Pepa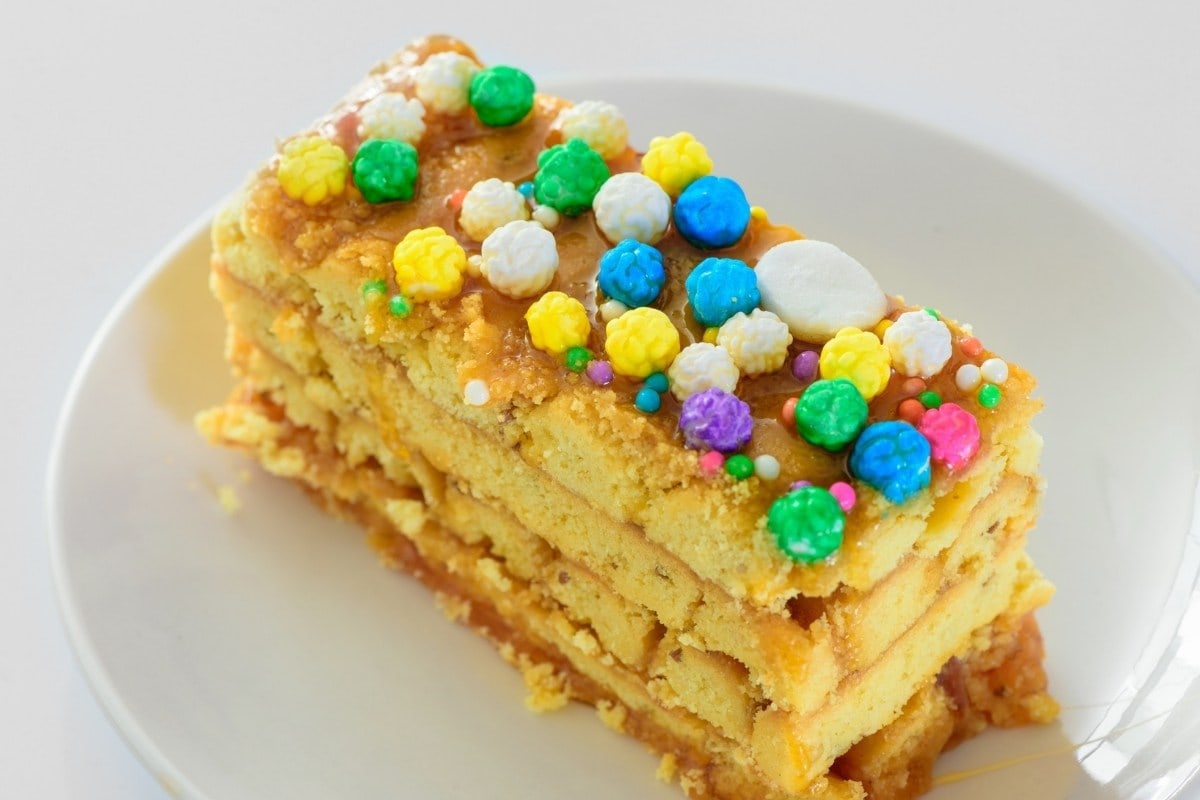 Turrón de Doña Pepa is a popular cake in Peru that has been around for centuries. There's a popular story that the dessert was invented by a Peruvian woman during a religious procession held in the center of Lima 
Peruvians usually eat it around October, the purple month (el mes morada). It's a soft nougat dessrt sprinkled with colorful candies and filled with chancaca, a sweet Peruvian sauce made of raw sugarcane sugar.
The recipe also includes butter, anise seeds, eggs, flour, and sugar. You can find common variations with flavors like allspice, cinnamon, lime juice, orange zest, cloves, and vanilla.
A similar crowd-pleaser, Turrones de Chocolate is another incredibly rich, delicious turón-type dessert cake that looks amazing and will have everyone asking for seconds.
Ranfañote
While stale bread might not be top of your list of desirable foods or dish ingredients but you'll definitely enjoy ranfañote, a bread pudding that consists of toasted stale bread bites, almonds, walnuts, port wine, zest, butter, queso fresco (a type of cheese), vanilla extract, and orange juice. Some people also like to top it with raisins.
If you like this type of bread pudding, check out our Budín de Pan recipe for a tasty, aromatic, and sweet dessert made with leftover bread.
Picarones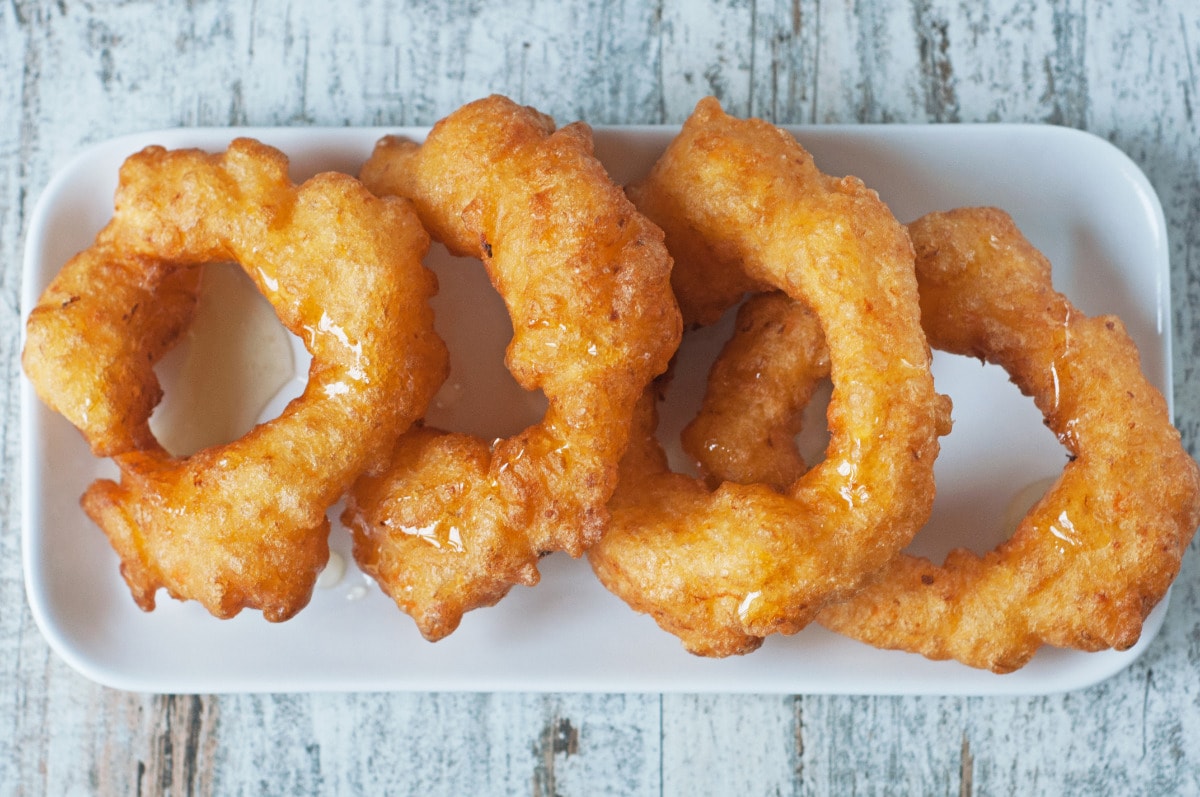 If you wander around most streets in Peru in the evening, you are bound to come across these simple dessert snack foods. The aroma will probably entice you to take a further look. There's no mistaking it, picarones might be the most popular dessert street food in the country. 
Often referred to as the Peruvian doughnuts thanks to the same rounded shape with a hole in the center. However, unlike conventional donuts, picarones use more than eggs and flour. Corn, sweet potato, squash, anise, and beer are just some of the other ingredients that add a distinctive flavour to this deep fried treat.
The picarones first appeared during the colonial period as an alternative to buñuelos (fried dough fritters) because they weren't affordable for the majority of the local population at that time. Since then, picarones have become a high scoring entry on the Peruvian top ten list of favorite desserts.
Picarones Recipe
Mazamorra Morada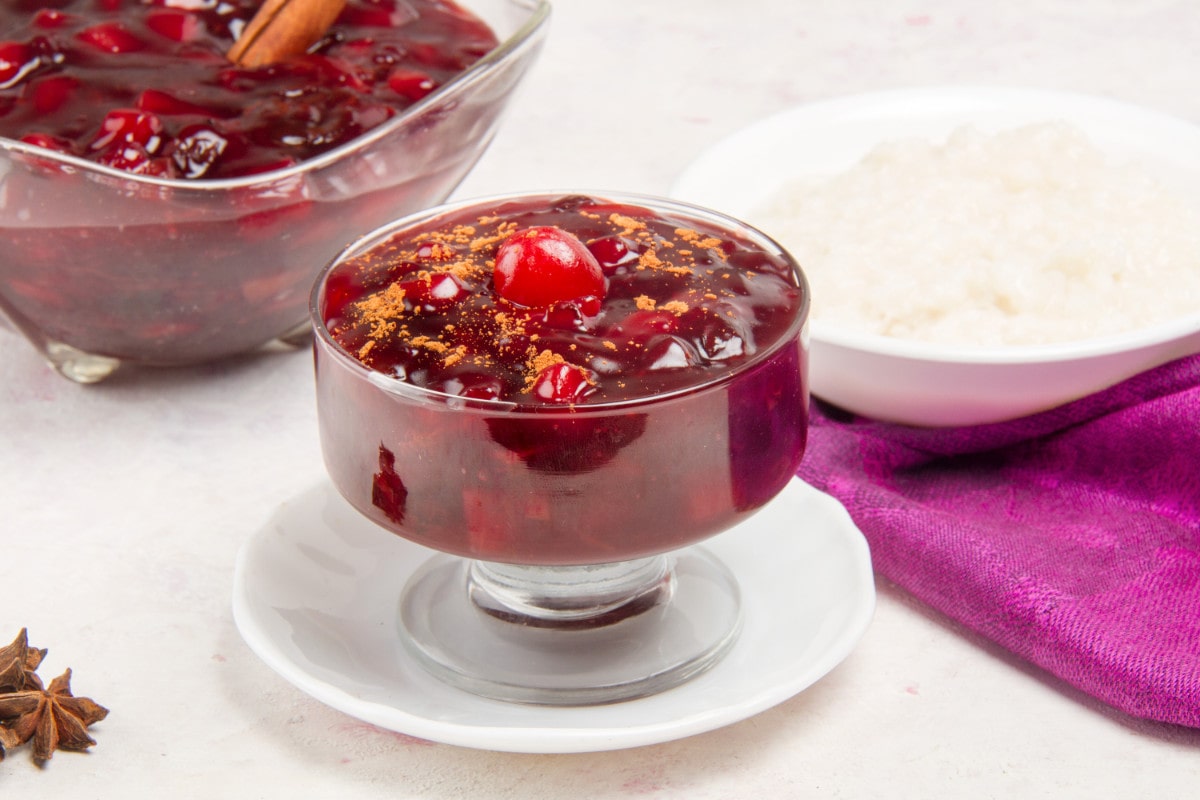 Mazamorra morada is a famous pudding made from fruit and Peruvian purple corn. Imagine the consistency and taste of blackberry pies, but with a characteristic flavoring of ground cinnamon and cloves that set it apart from anything you've ever tasted before. 
To prepare mazamorra morada, you'll need dried purple corn, a couple of cinnamon sticks, 1 apple, ½ pineapple, 1 teaspoon of whole cloves, lime juice, and a cup of dried fruit. You can also add a quince if you feel like it. 
There are many ways to prepare this dessert (adding apricots or cherries, for example) but we recommend that you start with the basic recipe at first before adding any more ingredients.
The mazamorra morada is usually served cold, but some people like eating it at room temperature. No doubt, one taste and you'll be craving for more.
Mazamorra Morada Recipe
Crema Volteada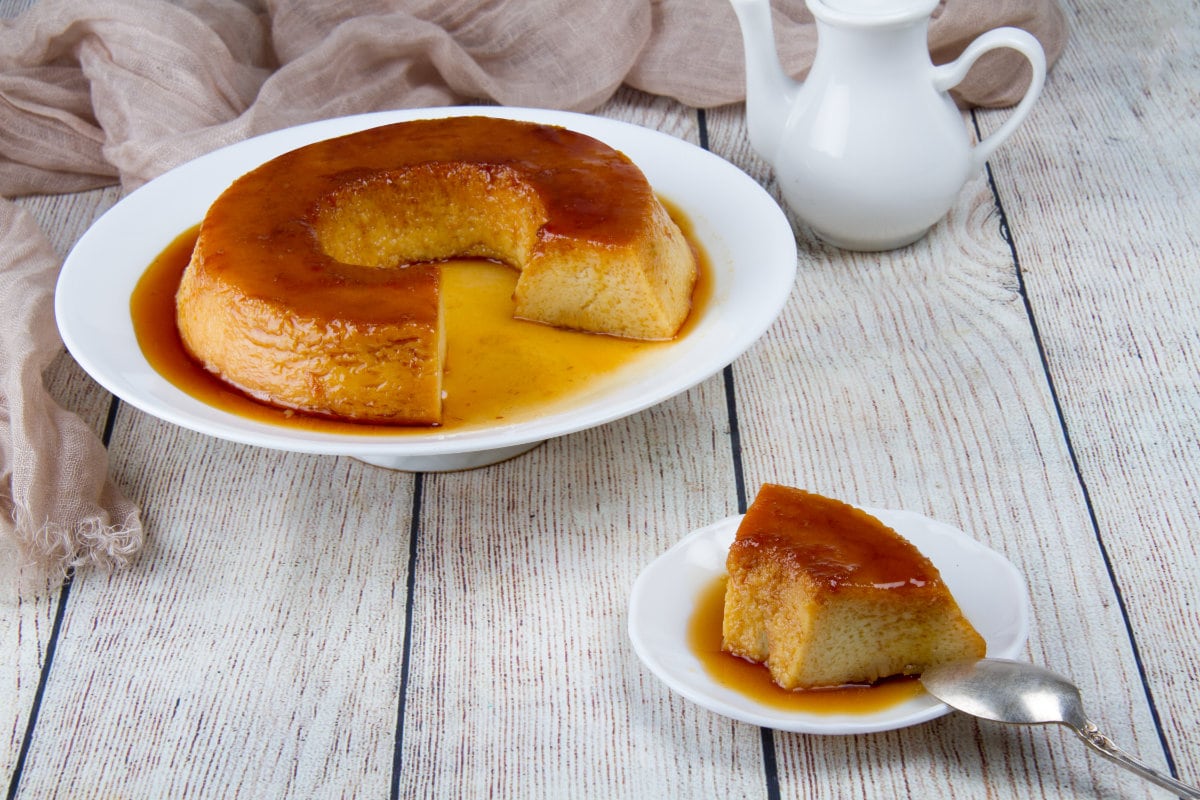 The last one on the list is the crema volteada, and we've made sure that it's a special one. The crema volteada, or "up-side cream" is the Peruvian take on the famous crème caramel. So, what makes it any different from the french version? It's all about the red, delicious crust.
It's also worth noting that Peruvians prepare the crema volteada in a wide variety of delicious flavors, like vanilla, apple, coconut, cinnamon, pear, and raisins. The vanilla version is the dominant one, though. It's a reasonably easy dessert recipe to prepare and looks great on the dining table after the main courses have been cleared away.
Crema Volteada Recipe
Which recipe are you going to try out first? Reach out to us and let us know how it was! Read recipes for all our desserts here!