Today we're looking at Peru's "covered rice" dish. A traditional rice and beef dish that's very popular thanks to its deep savory flavor and simple ingredients. Arroz tapado gets its name from the rice that is first boiled and then lightly fried and placed on top of the beef. Cooked rice literally covers the juicy, flavor-infused meat.
Arroz tapado is perfect for large family meals or gatherings so add it to your list for the next entertaining night. It's also perfectly fine to eat it cold. In fact, I recommend trying it. You'll also find this dish in many Peruvian restaurants so why not order it next time you get the chance!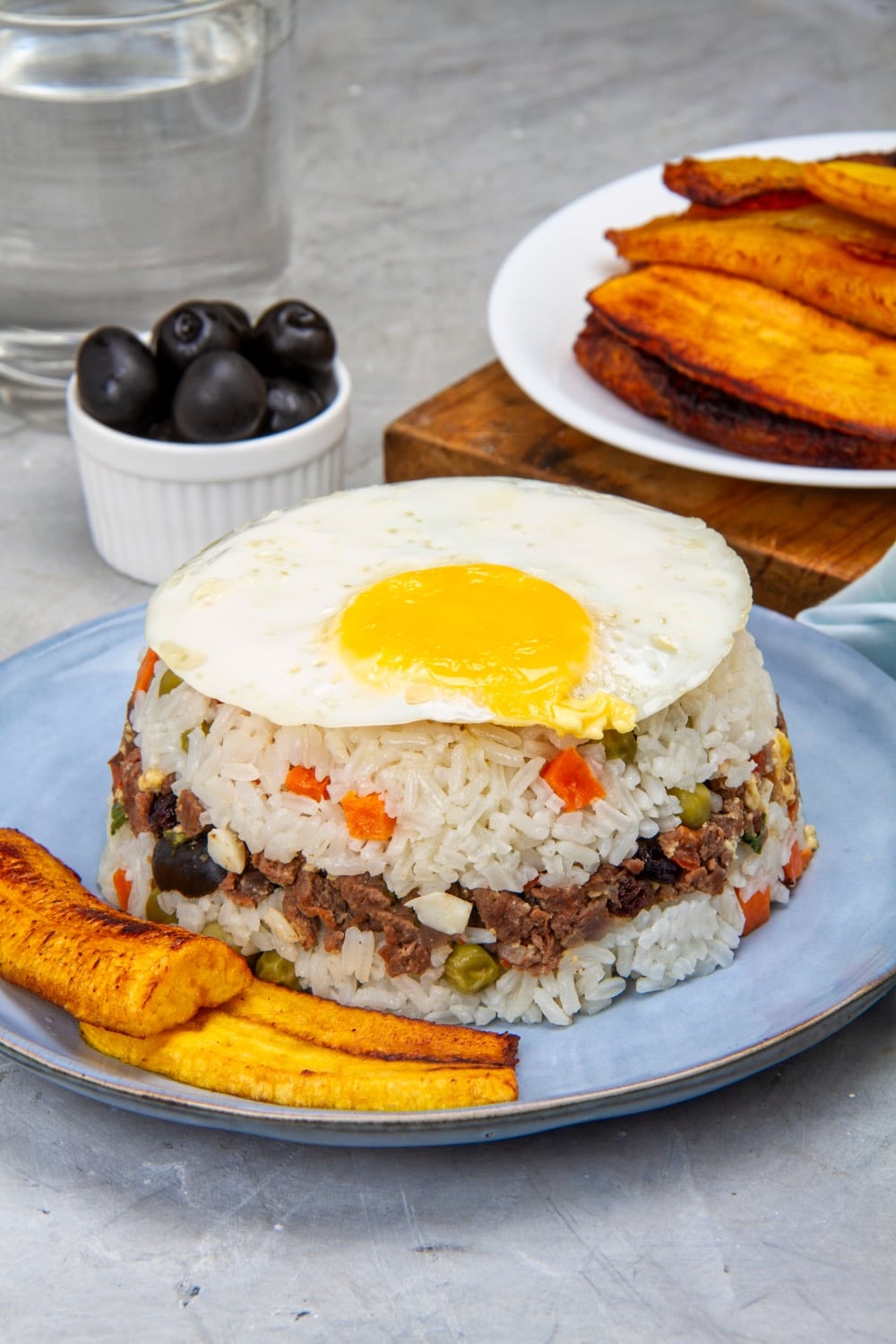 Ingredients
The ingredients list includes Beef, onion, garlic, ahjí panca peppers, tomato, raisins, eggs, black olives, carrots, peas, and rice. Add in some cumin and coriander herbs and spices, garish with plantains and egg and you've got a lot of flavor in one dish.
Panca chili (ají panca) is a dark red (almost black) pepper that is popular in Peruvian food. In contrast to the more common ají amarillo, panca is not very hot and a bit sweeter. You can find this pepper in paste form or powder form online and you might be able to source the dried version in an ethnic store or local Peruvian farmer's market. As a substitute, you could use a mild-flavored, low heat pepper but be careful of strong-flavored ones that alter the taste.
Tips
Use leftover beef for other Peruvian ground beef recipes such as empanadas or rocoto relleno.
There are quite a few steps in this recipe but there's nothing complicated. In fact, it's a deceptively easy dish to prepare.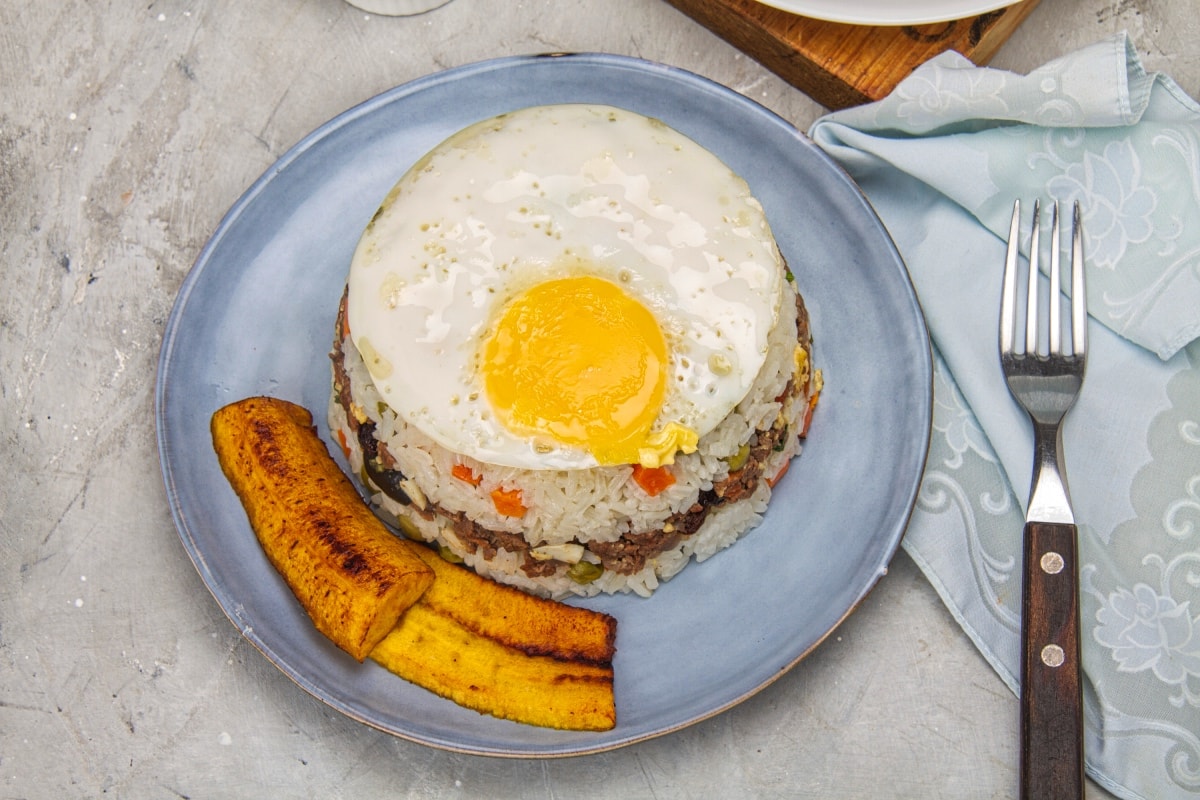 Alternatives
If beef isn't your thing, you can use ground turkey, chicken, or tuna. Nothing beats the ground beef for flavor though.
Vegetarians and vegans can use extra vegetables or even tofu in place of the meat.
How to serve
Serve with Peruvian fried plantains, potatoes, chopped hard-boiled egg, or a topping of fried egg. If you don't have plantains, you can serve it with some steamed potato wedges.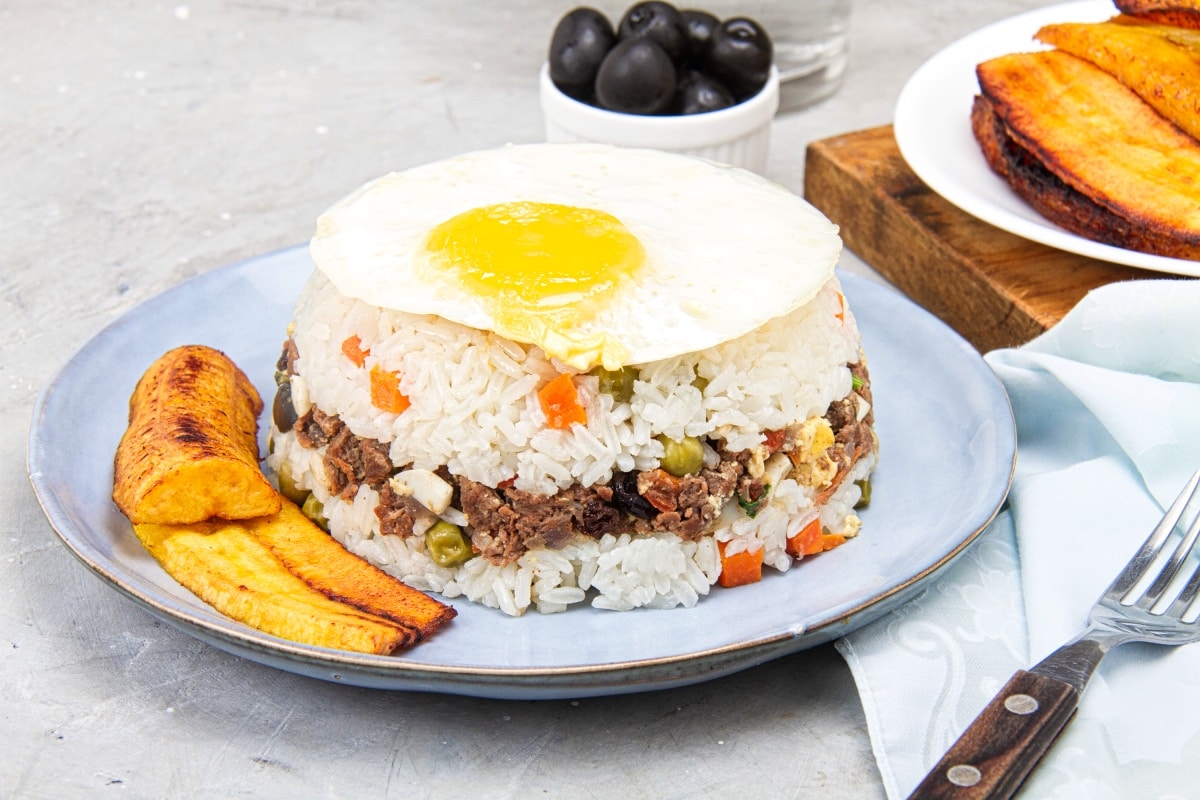 Print Recipe
Arroz Tapado – Rice on Top Peruvian Beef Dish
Delicious, filling, adaptable rice with beef, panca peppers, tomato, onion, and seasoning.
Servings: 4
Calories: 1205kcal
Ingredients
For the meat base
500

g.

beef

ground or finely chopped

3

tablespoons

oil

1

red onion

90 g.

2

cloves

garlic

2

panca peppers

1

teaspoon

cumin

2

tablespoons

tomato paste

1/2

cup

raisins

3

boiled eggs

10

black olives

seeded

A sprig of coriander

Salt to taste
For the rice topping
2

cups

rice

320 g.

4 1/2

cups

of water

1 l.

1

large carrot

diced, 150 g.

1

cup

peas

3

tablespoons

oil

Salt to taste
For the garnish
2

ripe plantains

12/

cup

oil

4

eggs

Parsley to taste
Instructions 
Rice
In a saucepan over medium heat, add the oil, the carrot cut into pieces, the salt, and the rice. Stir everything, and cook for a couple of minutes.

Then add the water, and raise the temperature to the maximum. Cook uncovered for about seven minutes until the water on the surface of the rice has evaporated.

Then add the peas, stir a little, maximum of two turns to avoid breaking the rice, and continue to cook covered for an additional five to seven minutes. Meanwhile, prepare the meat.
Meat
Peel the onion and chop it finely. Peel the garlic and mash it. Remove the stems from the chili, scoop out the seeds, and cut them into small pieces. Cut the eggs into small pieces too, as well as the olives.

In a bowl, place the meat and season with the cumin, tomato paste, salt, and crushed garlic. Let it rest for about five minutes.

In a saucepan, put the three tablespoons of oil over medium heat. When it is bubbling, add the onion and the minced panca peppers. Cook for about three minutes until the onion turns translucent.

Add the seasoned meat and sauté with the vegetables for about five minutes.

When the meat loses its pink color, add the olives and raisins. Lastly, add the chopped eggs, and the coriander (cilantro). Stir and turn off.

To assemble the covered rice, you will need a round bowl, about four inches in diameter. Brush with oil so it comes off easily when serving. Then, place about four large tablespoons of the rice that you prepare and distribute it over the base of the bowl, then compress it with a spoon, until it is compact and uniform.

When the first layer of rice is sufficiently compacted, add about four tablespoons of beef stew. Compact again with the spoon

Then put more rice on top, compacting in the same way.

To flip, place a plate on top of the bowl and center it, or if you want to serve fried plantains on the side, place it on the side.

Hold the plate, and firmly turn it over. The covered rice will remain on the plate.

Remove the cup very carefully so that the covered rice does not collapse.
Garnishes
The garnishes for this dish are fried, and you can fry them in the same pan, using the same oil. Peel the plantains cut them in two crosswise, and then each banana half into three slices.

Fry the plantains, about three minutes on each side. Place two or three slices of plantain per plate. Then fry the eggs, and put a scrambled egg on top of each covered rice. Garnish with a little parsley and enjoy.
Nutrition
Calories: 1205kcal | Carbohydrates: 131g | Protein: 43g | Fat: 57g | Saturated Fat: 14g | Trans Fat: 2g | Cholesterol: 392mg | Sodium: 455mg | Potassium: 1498mg | Fiber: 8g | Sugar: 20g | Vitamin A: 4649IU | Vitamin C: 69mg | Calcium: 147mg | Iron: 7mg