Our exhibition of contemporary works alongside historic antiques opened this week at our South Audley Street gallery, and will run until 10 October. In collaboration with Cura Art and London Craft Week, the exhibition celebrates creative craftsmanship and skillful application of technique, connecting modern masterpieces with traditional works.
The artworks sit side by side in conversation with each other, commenting on their shared display of technique, materials, and aesthetic approach, and all satisfying the very human instinct to be surrounded by beautiful, handmade objects.
Dialogues have been created between the antique and contemporary crafts, connecting a lineage of makers and traditional techniques, passed down through generations of craftspeople. With a focus on excellence in design and quality of materials, this exhibition is an exciting opportunity for collectors of all periods and tastes to make unexpected connections and juxtapositions between the pieces on display.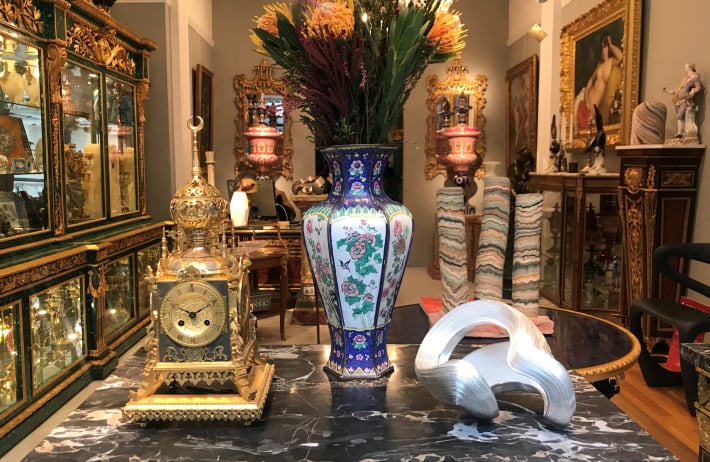 The history of craft
Historically, craft work has been a particularly skilled profession for millennia. The very first crafts were made by humans at the dawn of mankind's evolution, inspired by the need to produce tools and objects to survive. As mankind evolved, the craft of hand-made objects played a larger part in different civilisations, flourishing alongside art and heritage as well as a growing consumer culture.
Craftspeople from all eras cultivated specialised knowledge and skill in order to produce beautiful and often functional objects. When the Industrial Revolution introduced mass production, this master craftsmanship was threatened by divisions of labour and the alienation of the artisan from their craft, making antiques all the more precious.
In the late 19th century, the Arts and Crafts movement advocated for the continued relevance of traditional craft skills and production, championing hand-made quality decorative arts against mass produced factory objects. In the same way, the spirit of London Craft Week and our exhibition aims to appreciate the continuance of great crafts and heritage, particularly by celebrating a new generation of artists.
Ultimately, regardless of economic and industrial changes, the desire to own a beautiful object hand-crafted from exquisite quality materials is one which transcends time period.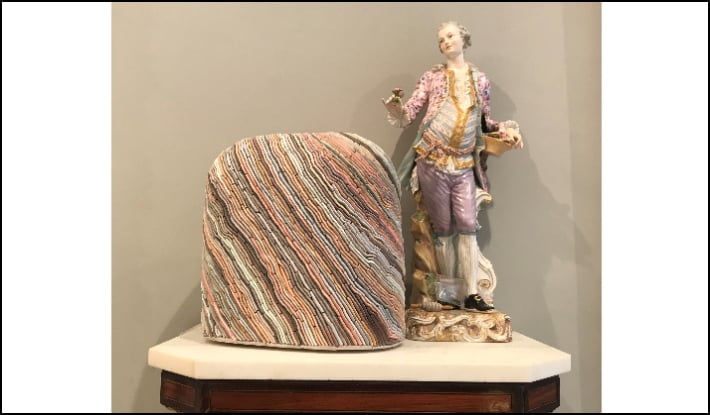 Alice Walton's ceramic sculpture Avonvale Mapping speaks to the delicate colours and techique of our antique porcelain.
Alice Walton's porcelain ceramic sculptures
Using traditional clay materials and techniques in unconventional ways, Alice Walton's intriguing porcelain sculptures draw inspiration from familiar urban objects seen on her daily commute. The mundane shapes of concrete bollards, textured bricks and winding pipework are reconstructed into new abstract landscapes.
The works on display at Mayfair Gallery also draw inspiration from the colours and patterns of 1820s Scottish maps, coastal lines and rock formations, influenced by her desire to connect to the organic and natural, and stave off our digital reality.
In the exhibition, works such as Mirasi Lock and Avonvale Mapping – which use her painstaking ribboning technique – are placed beside antique porcelain objects, allowing her materials and pastel colours to speak to the elegance of, for example, a 19th century KPM chandelier.
Mori Mandi, which was featured on the cover of Crafts magazine in February 2020, has been displayed alongside an exquisite example of Chinese carved red coral. Parallels are drawn between the delicacy and intricate techniques shown in both, as well as the connection made through Walton's use of a traditional material originating in China.
Recently, when Walton and her contribution to the exhibition was featured in Tempus magazine (Issue 69, August/September 2020), she said: 'My hope is that people will see my art and want to investigate it. London Craft Week is a true celebration of humanity's ability to create. The cultural importance is enormous.'
Indeed, her works on display are rooted in the transhistorical desire to let the materials guide her experimentation, working with a variety of hand-building techniques to connect her work to a tradition of ceramic craftsmanship and meditative working processes.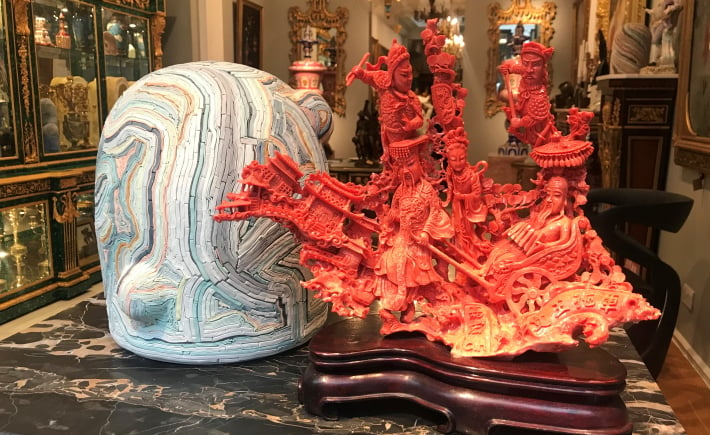 Chinese craftsmanship and materials are compared in this antique coral sculpture and Alice Walton's abstract porcelain Mori Mandi.
Vezzini and Chen's stunning ceramics and glassware
Marrying together hand-carved ceramics and blown glass, Vezzini and Chen's beautiful decorative plates and vases tread the line between functional and conceptual. Like many of the artists in this exhibition, their work is led by their immense skill and attention to detail, the quality and craftsmanship being paramount to creating such beautiful objects.
Their fascinations with geometry, texture, repetition and fluid simplicity shines through in their work. In particular, the works on display at Mayfair Gallery take their inspiration from natural and organic forms: the patterns of frost, rock formation and water movements.
This interest in the beauty of nature allows their work to speak to numerous examples of other ceramic and glass craftsmen who have found inspiration in natural forms and patterns. The clear and white simplicity of Vezzini and Chen's Fragment Vases, Frost Vases and Hexa Plates are both complimented and juxtaposed by, for example, the floral patterns of coloured bohemian glassware.
Placing their works beside a particularly beautiful Art Nouveau lamp by Émile Gallé allows for a historical conversation to occur. Comparing and contrasting modern masterpieces in ceramics and glassware with a work by one of the most important Art Nouveau glass artists truly emphasises the importance of honouring the great heritage of glassware production throughout history.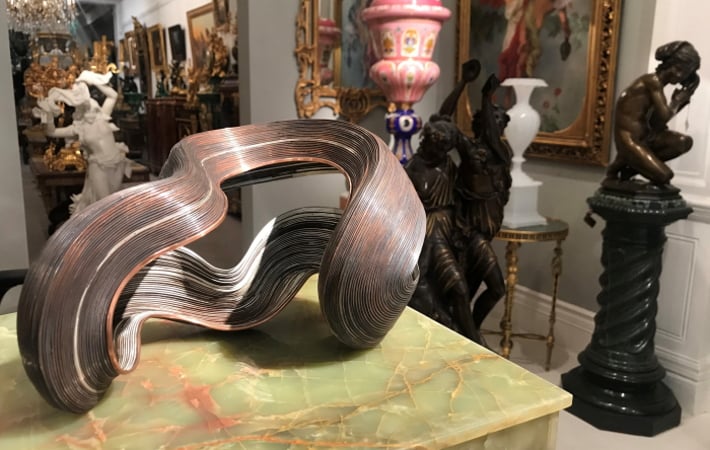 The expert metalwork of Tom Vaughan and Nan Nan Liu
Tom Vaughan and Nan Nan Liu's respective metal work provides a strong contrast to the delicacy of porcelain ceramics and glassware, yet they are also examples of master craftsmanship.
Beginning his training in traditional cabinet making at the London College of Furniture, Vaughan originally started crafting wooden furniture, converging traditional techniques with contemporary digital design and manufacturing processes. In addition to the shaped wooden pieces he is associated with, the Goldsmiths' Chair on display at Mayfair Gallery is an example of his most recent experimentation with new materials, in this case, solid cast bronze.
Produced for the Queen Elizabeth Scholarship Trust, the chair's abstract form provides an interesting juxtaposition to the antique figurative bronze sculptures on display from our historic collection. Indeed, Vaughan considers his furniture as functional sculpture, and takes direct inspiration from historic artists and craftspeople such as Barbara Hepworth and Henry Moore.
He recently explained his inspiration in Tempus magazine (Issue 69, August/September 2020): 'I find influence in the materials I use and in the processes I have developed to manipulate them. I am influenced by both tradition and modern digital craft – my work is based around a fusion of the two. London Craft Week provides craftspeople with the opportunity to give the public an insight into the development and evolution of crafts, both traditional and new.'
Nan Nan Liu's abstract metal sculptures similarly explore the intersection between naturalism and abstraction when placed alongside our antique metalware. As an artist working with exceptional sterling silver materials, it was important to showcase such craftsmanship alongside historic examples in order to highlight the highly skilled nature of her hand-hammering and soldering techniques.
The earthiness of her copper and silver abstract sculpture speaks to the patinated bronze of our 19th century antique sculptures, as well as Vaughan's chair. Liu's entirely sterling silver sculpture, displayed in our front window, is an eyecatching companion to a French Ottoman-style silvered and gilt bronze mantel clock by Oudin. Although completely different in style, form and technique, their quality materials and craftsmanship share a long history of metal making.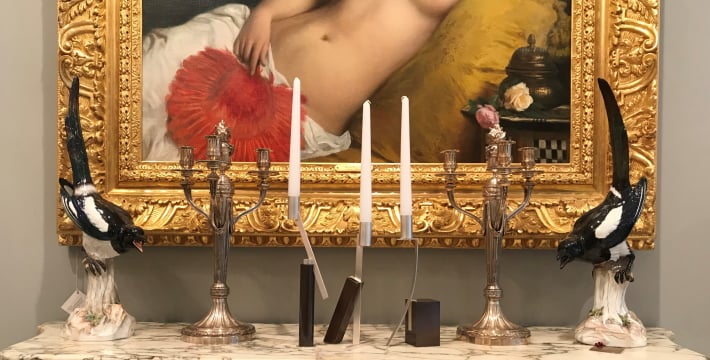 A celebration of crafts
Whether made this year, or 200 years ago, each piece on display is an example of human ingenuity and dexterity regardless of style, period or maker. All made to decorate and make life all the more appealing and meaningful by their presence, the works represent both the history and continuity of quality craftsmanship, demonstrating how such skill transcends style or period.
It is the experience of marvelling at human skill, and finding connections between centuries of exceptional crafts, that is manifest in this exhibition. This connection is made more profound when the work has been made by a living maker, made in response to your own time and history. The work of a contemporary maker can answer questions that those from the past cannot in the same way, you do not need to guess the inspiration or the incentives, you can simply ask and explore.
Ultimately, this collaboration with Cura Art and London Craft Week bridges the gap between antique and contemporary arts and crafts to explore the wonderful similarities and differences between old and new.
Exhibition Details
Exhibition dates:
30 September to 10 October (Mon – Fri, 10am – 5:30pm)
Makers to include:
Alice Walton, Object Studio, Rebecca de Quin, Vezzini & Chen, Nan Nan Liu
Additional makers featured online:
Jo Barker, Heike Brachlow and Charlotte de Syllas
www.londoncraftweek.com/events/craft-takeover-mayfair-gallery
www.curaart.com