There's an old saying that goes like this "start as you intend to continue". We can apply this advice to Peruvian cuisine. Starters (or appetizers) are important as they set the tone of the meal. Food is a very important part of Peruvian culture. While snacks and quick meals are popular, a proper meal of appetizer followed by the main course followed by dessert is even better.
The first course is special as it can make or break a meal.  Here are some of the most delicious Peruvian appetizers you can choose from in Peruvian restaurants around the world or even prepare for yourself at home.
Aji De Gallina
One of our favorite starters is Peruvian spicy creamed chicken, also known as Ají de Gallina. 
A rich, creamy chicken stew laced with garlic, chili pepper, cheese, and nut sauce, and served with boiled potato slices. There's nowhere better to get a taste of this pepper sauce than at home, and it couldn't be simpler to whip up a large batch for the perfect entrada.
If you go to a Peruvian restaurant or one with a Peruvian chef, there's probably some sort of Ají de Gallina on the menu.
Ají de Gallina Recipe
Rocoto Relleno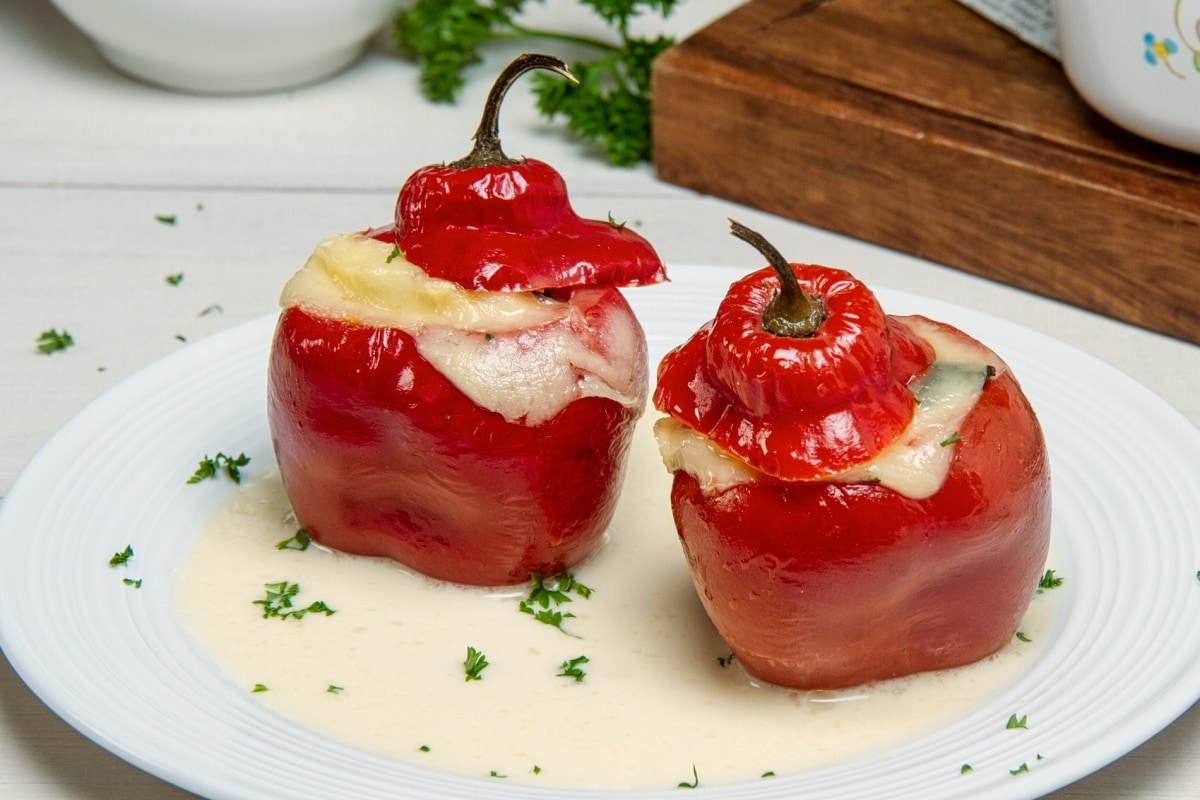 This colorful appetizer from the Amazonian city of Arequipa is packed with flavor and perfect for people that like a bit of spice to start their meals. The rocoto cheese adds a deliciously creamy texture to the dish and is perfect for bringing down the heat. 
Each juicy rocoto pepper is filled with ground beef, chopped onion, garlic, cumin powder, paprika,  ground peanuts, raisins, black olives, and boiled egg. We think you'll agree that it sounds mouth-watering.
Learn how to make rocoto relleno
Papa a la Huancaína
This appetizer is hugely popular and it's easy to see why. Made with two of Peru's iconic ingredients, potato and ají amarillo yellow chili pepper, this creamy and savory first course is a favorite of many.
Spicy without too much heat. Creamy without being too heavy. Papa a la Huancaína is a great first course for people who are new to Peruvian food. 
And check out this Italian-influenced dish that uses huancaína sauce: Huancaina macaroni is a spicy macaroni and cheese dish that is generally served as the main course because it's quite filling, but you could adapt it to serve as a Peruvian food starter. 
Ingredients include potatoes, queso fresco (cheese), chili peppers, garlic, breadcrumbs, olives, and egg.
Step By Step Recipe
Ceviche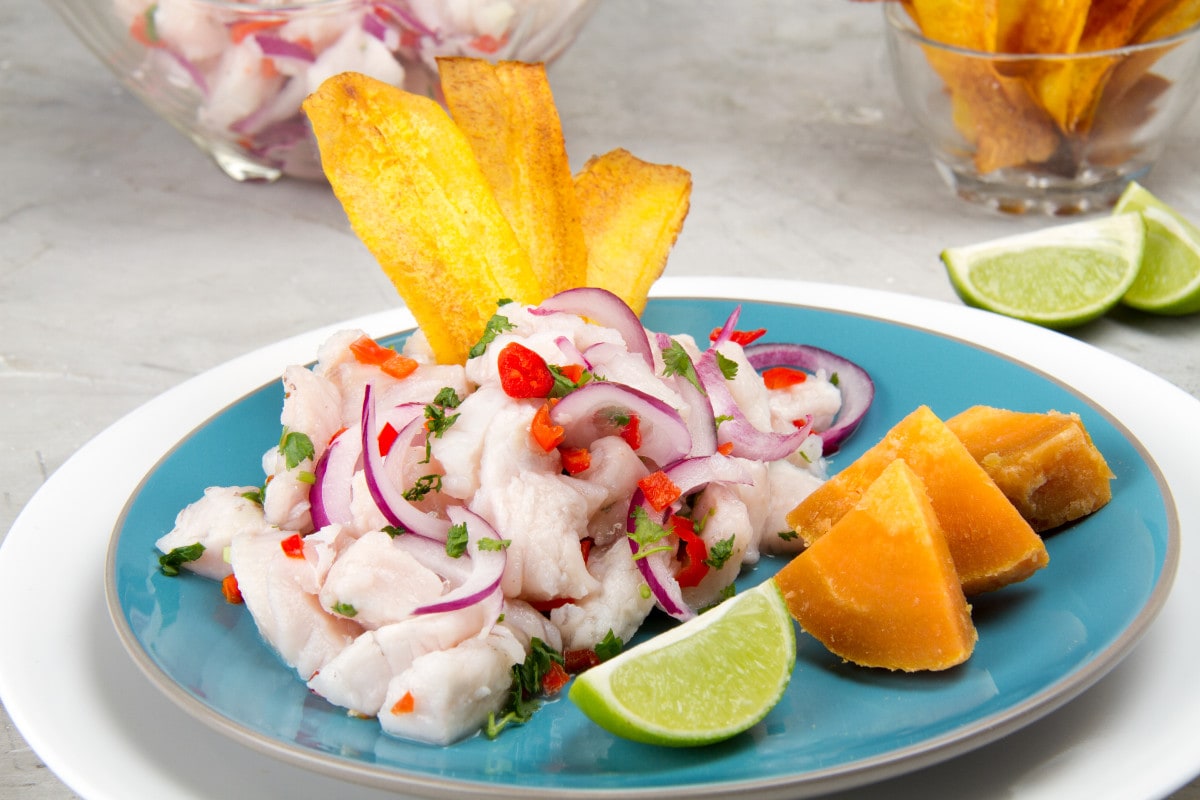 Peruvian appetizers often double as main courses. Consider the delicious, iconic ceviche, probably the most famous of all Peruvian dishes. This cold fish dish can be served as an appetizer or a main course in any Peruvian restaurant or household. There are many variations and many different ways to prepare and present this dish. All are delicious.
Ceviche is the dish of Peruvian cuisine and the delicate flavors and refreshing taste are perfect to start any meal. The tangy lime flavor of the white flesh of the fish and the aroma of onion and lime always reminds us of Peru. Served cold, ultra-fresh fish is the star of this delectable appetizer. 
The original ceviches were just fish cured in citrus juices, but nowadays there are thousands of variations of the same concept, from vegetables to fruits to chicken, and all sorts of remixes that play with the idea of "cooking" without heat.
The Peruvian version is generally prepared without sauces (see tiradito for a sauce-covered raw fish starter) so it's a healthy food that you can enjoy for lunch or dinner. 
How to make Ceviche
Tacu Tacu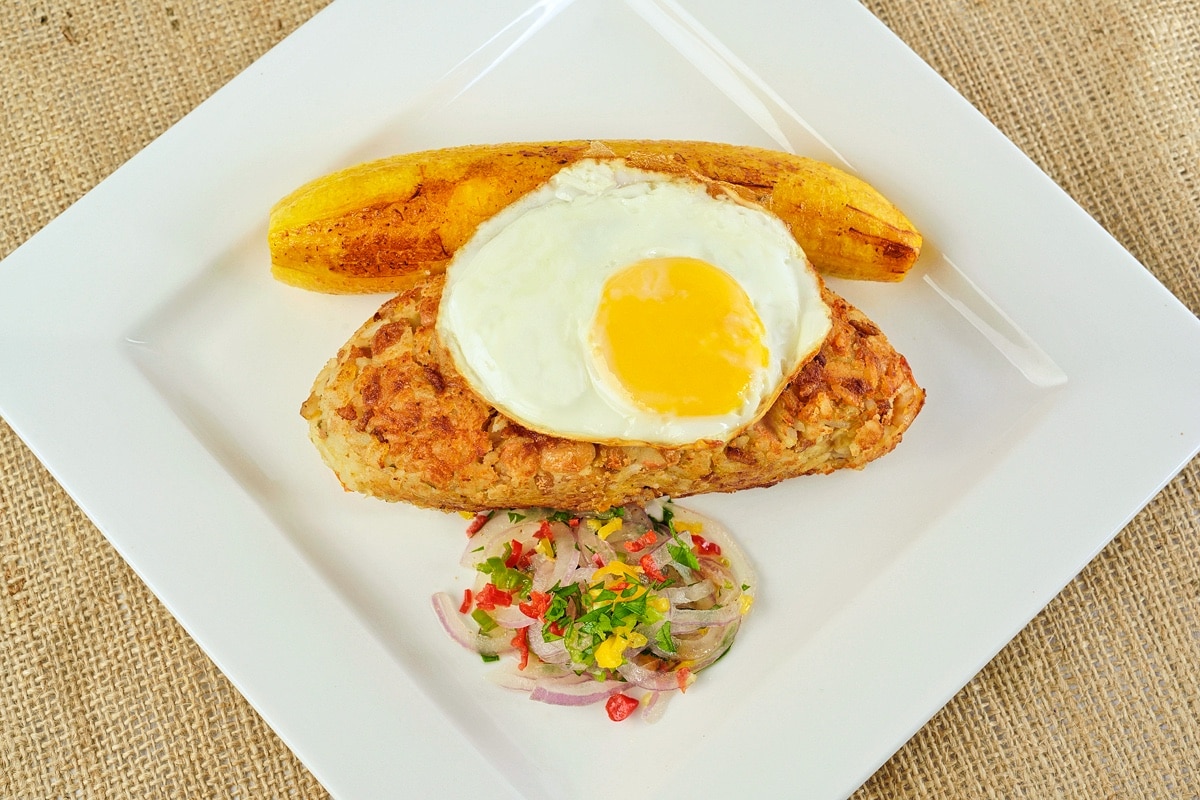 This African-influenced dish is satisfying and very easy to make. It's also a practical dish, using leftovers and simple ingredients to create something special. Beans, rice, red onion, tomato, garlic, chili pepper, eggs, and a range of spices make this dish bursting with flavor.
Serve with fried plantains (platanos) and salsa criolla (the ubiquitous Peruvian side dish or accompaniment). An optional addition is thin fried steaks, lomo saltado, or fish.
Tacu Tacu Recipe
Tiradito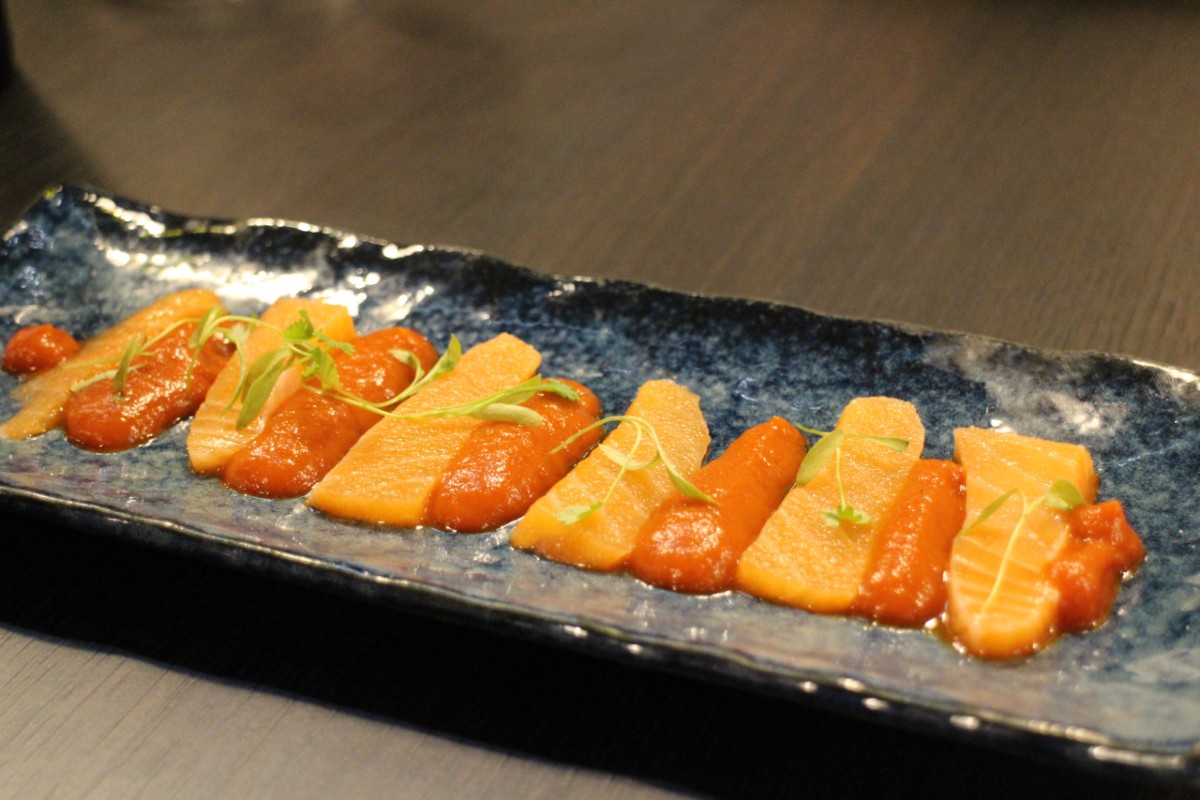 A raw Nikkei-influenced fish dish similar to ceviche. The biggest difference is that tiradito is served raw with a sauce (applied immediately before serving). Ceviche is "cooked" in lime juice marinade before serving. Tiradito also resembles sashimi in that it's sliced rather than cubed. 
Only the freshest and most delicate of fish works with tiradito so make sure you go for the high-test quality. Tiradito is a delicious appetizer inspired by Japanese cuisine, that uses a spicy, lime juice-based sauce to add a kick to the raw fish. A palate-refresher on a hot day thanks to the heat from the ají amarillo pepper and the citrus acidity from the limes.
Tiradito Recipe
Causa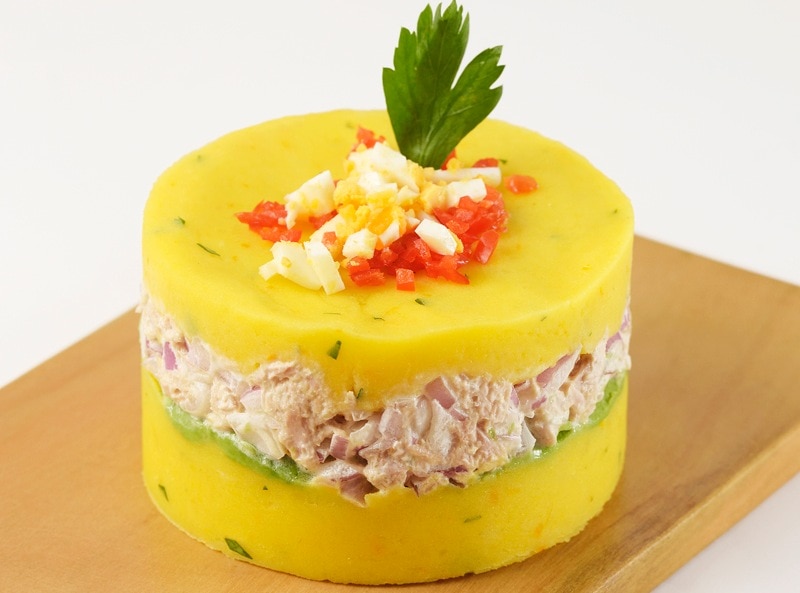 Probably the appetizer we've eaten the most is causa, in its various forms. Causa de atún (mashed potato with tuna) is the most commonly served version of this dish. Also known as causa rellena (meaning filled) and causa limeña (meaning "from Lima"), this delicious, cold starter is perfect anytime.
You'll also find causa de pollo (chicken) in many Peruvian eateries. Chicken causa is less common but equally delicious. But if you're looking for the original, authentic version, try causa rellena de atún.
Check out this easy to make causa recipe
Ceviche de pulpo (octopus ceviche)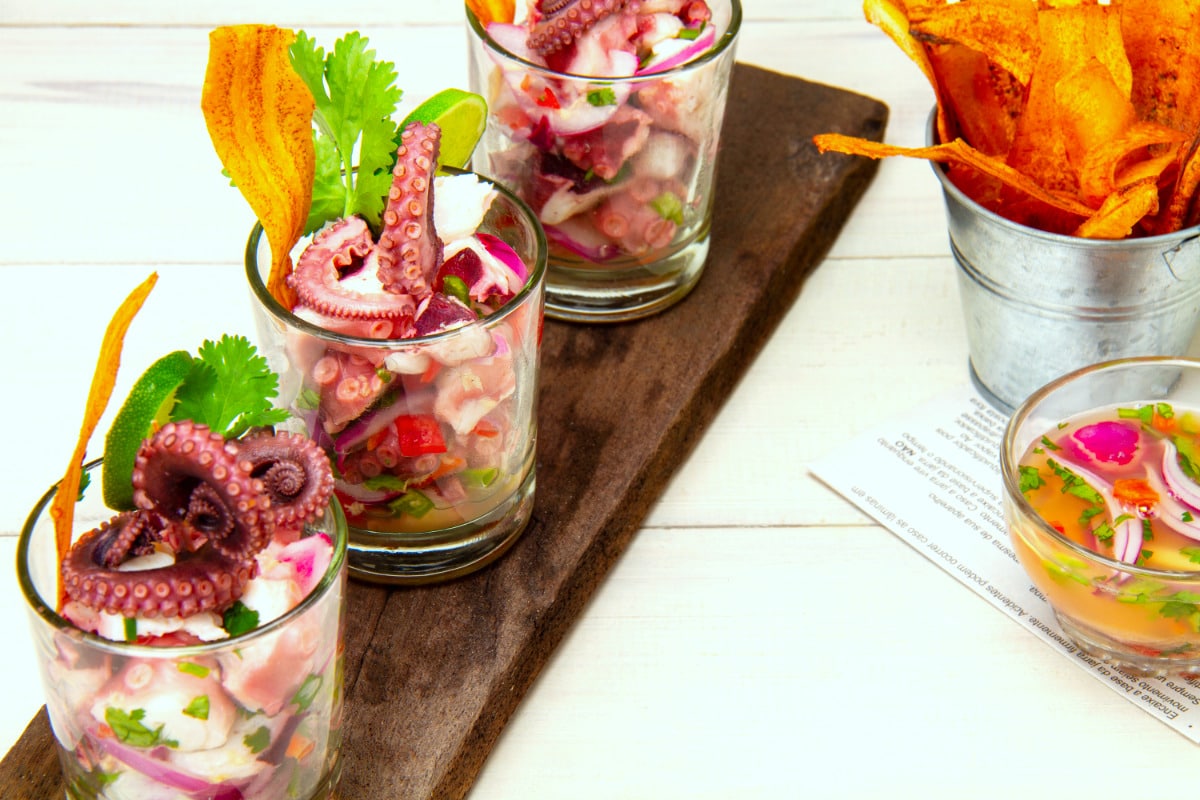 A variation of the better-known white fish version, octopus ceviche is the kind of starter that draws attention. Juicy and tender tentacles absorb the flavors of lime juice, garlic, and onion mixed with chopped red chili peppers.
Of course, you can serve without the tentacles as many people might be put off by the sight of the octopus legs with suction pads sticking out of their food. But it's certainly got the "wow" factor and it's a big hit with seafood aficionados. 
Full recipe
Peruvian Empanadas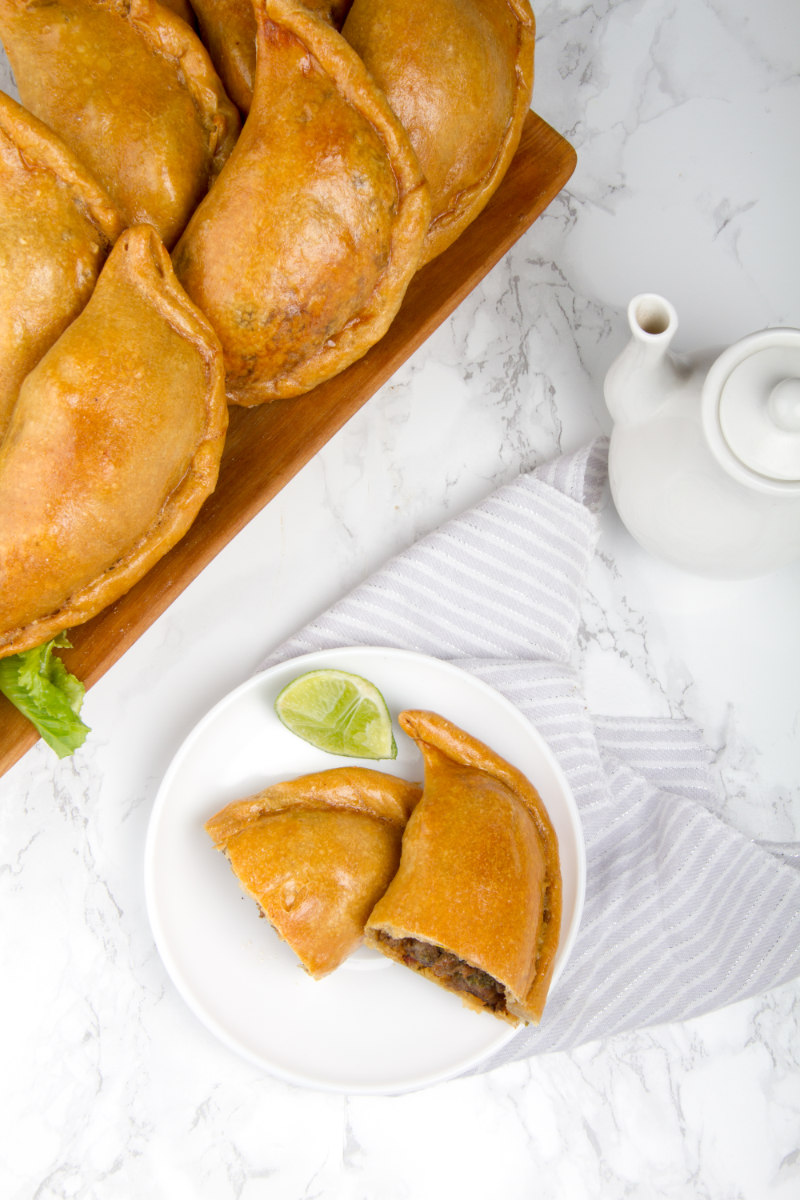 This is a snack that you'll find all over Central and South America but especially in Peru and Argentina. These baked turnovers (filled pastry) originated in Europe (Spain and Portugal) and are very much a breakfast or lunch meal item. But who says you can't eat empanadas as a dinner appetizer?
Empanadas are the ultimate handheld street food snack, but they work perfectly well with a knife and fork with lime wedges and some ají verde (Peruvian green sauce) or mayonnaise. Empanadas can also be fried and filled with savory or sweet ingredients. 
Peruvian empanadas recipe
Tamalitos / Tamales Verdes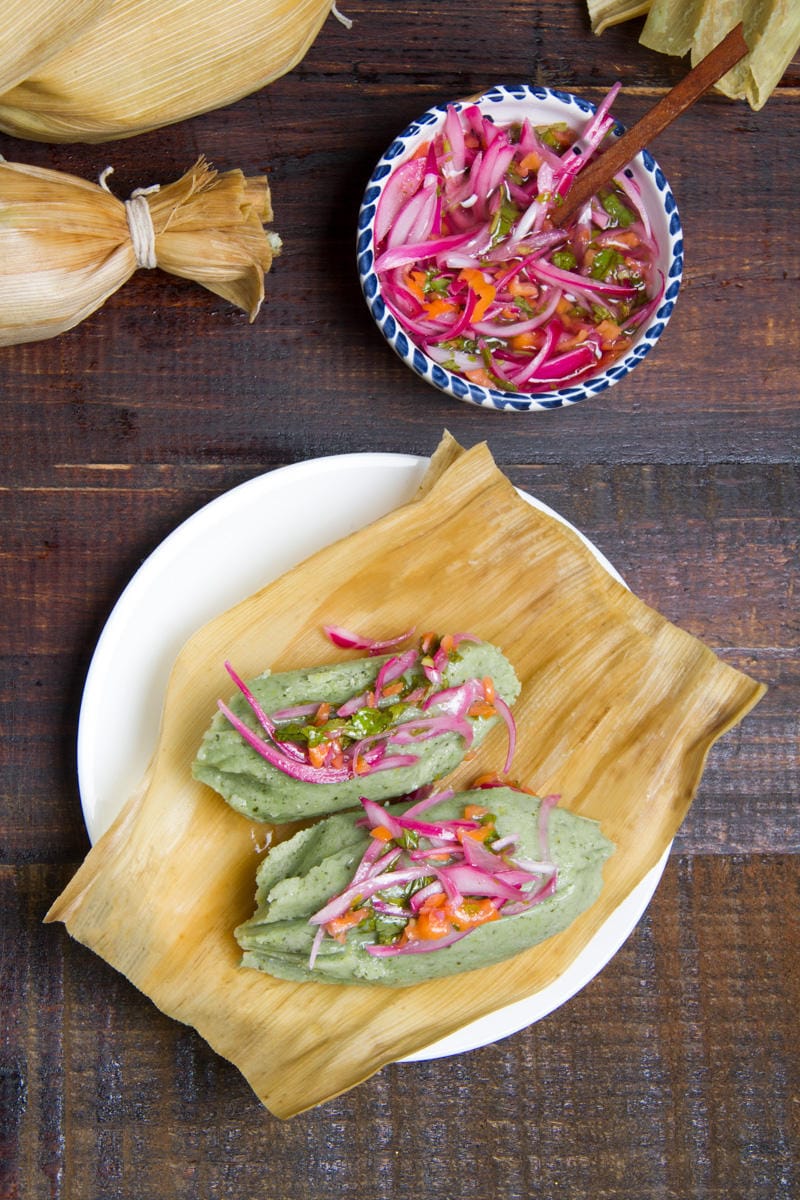 A vegetarian favorite, tamalitos can be time-consuming to prepare so try to order some in a restaurant when you get the chance. 
Tamalitos or Peruvian tamales are made from Peruvian corn kernels and vegetables mixed or blended with a mill or electric blender, wrapped in corn husks, and boiled. Coriander and cilantro add a delicious but delicate flavor to this delicious Peruvian traditional dish, served with a delicious sauce of lime juice, aji or red bell peppers, cilantro, and vinegar (salsa criolla).
Tamalitos can be quite filling so definitely opt for a smaller one as an appetizer. 
Read this guide to preparing tamales verdes
How to choose a Peruvian food appetizer
What main dish will you try? If you're going to have lomo saltado as the main course, then anticuchos might not be the best choice of starter (unless you really love red meat).
A cold starter followed by a hot main course is a good idea, but there are no rules. Just consider your taste buds. 
Don't repeat flavors and try to balance ingredients. A super hot starter might not work with a mild, delicate-flavored main and a super sweet dessert. 
Salad with beef or stew main course works well.
Papa a la huancaína is another cold potato appetizer with a creamy sauce and is easily followed with a strong-flavored main dish.