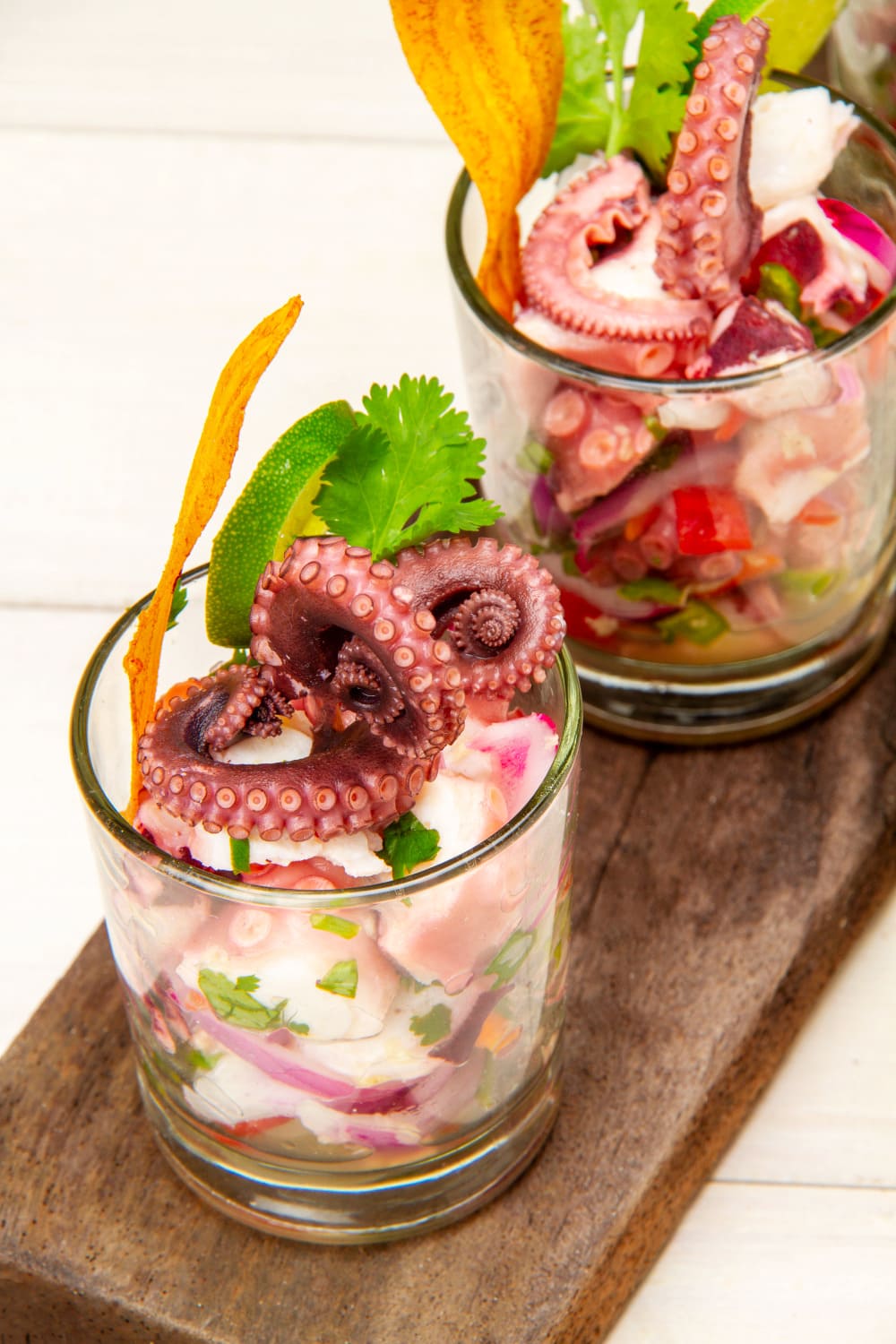 Today I'm going to show you how to make a delicious variation on the traditional ceviche recipe, one of the most widely recognized Peruvian food dishes in the world. Rather than use soft white fish, we'll be using Octopus. And while this might not appeal to everyone, trust me when I tell you that it's delicious. Give it a try if you get the chance. 
In fact, here's your opportunity! Just follow along and let us know what you think of this delicious and healthy seafood recipe.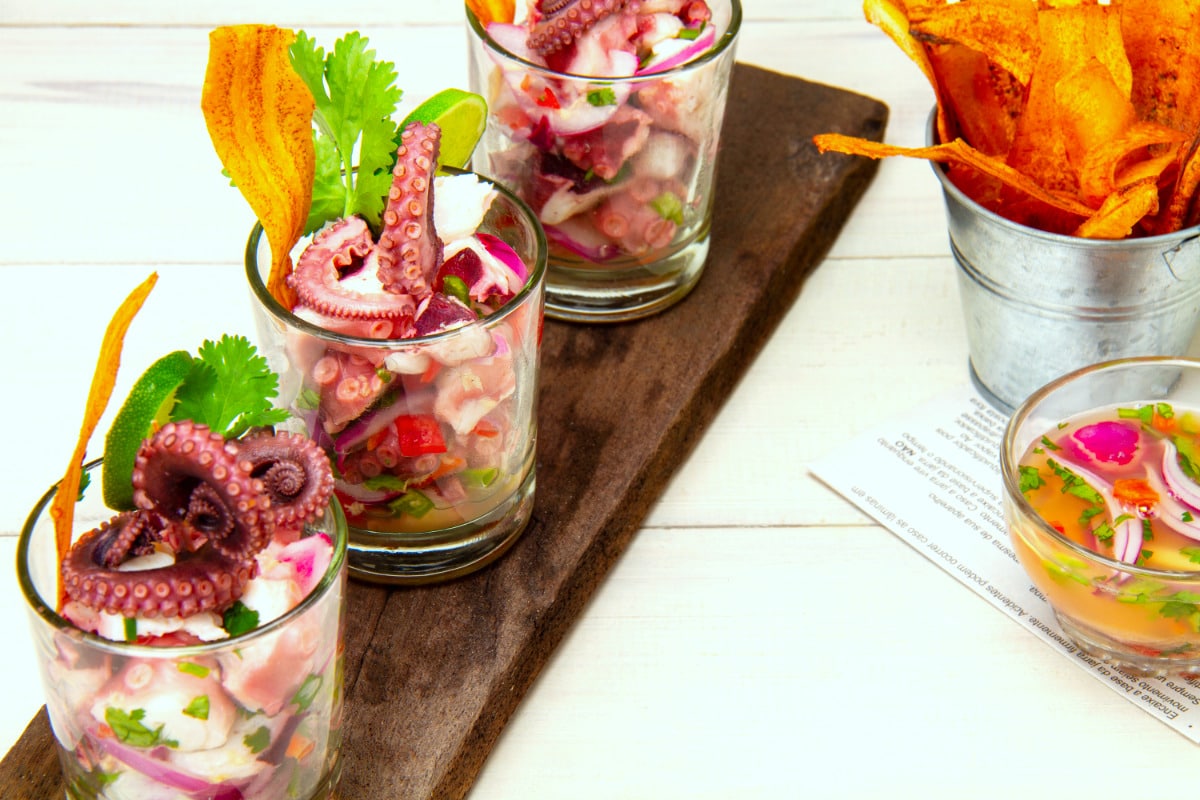 This delicacy from Peru is popular in coastal regions of the country where seafood makes up a significant part of the diet of contemporary Peruvians. The brightly colored dish is made with a base of fresh octopus, combined with lime juice, onions, tomatoes, hot peppers, and cilantro.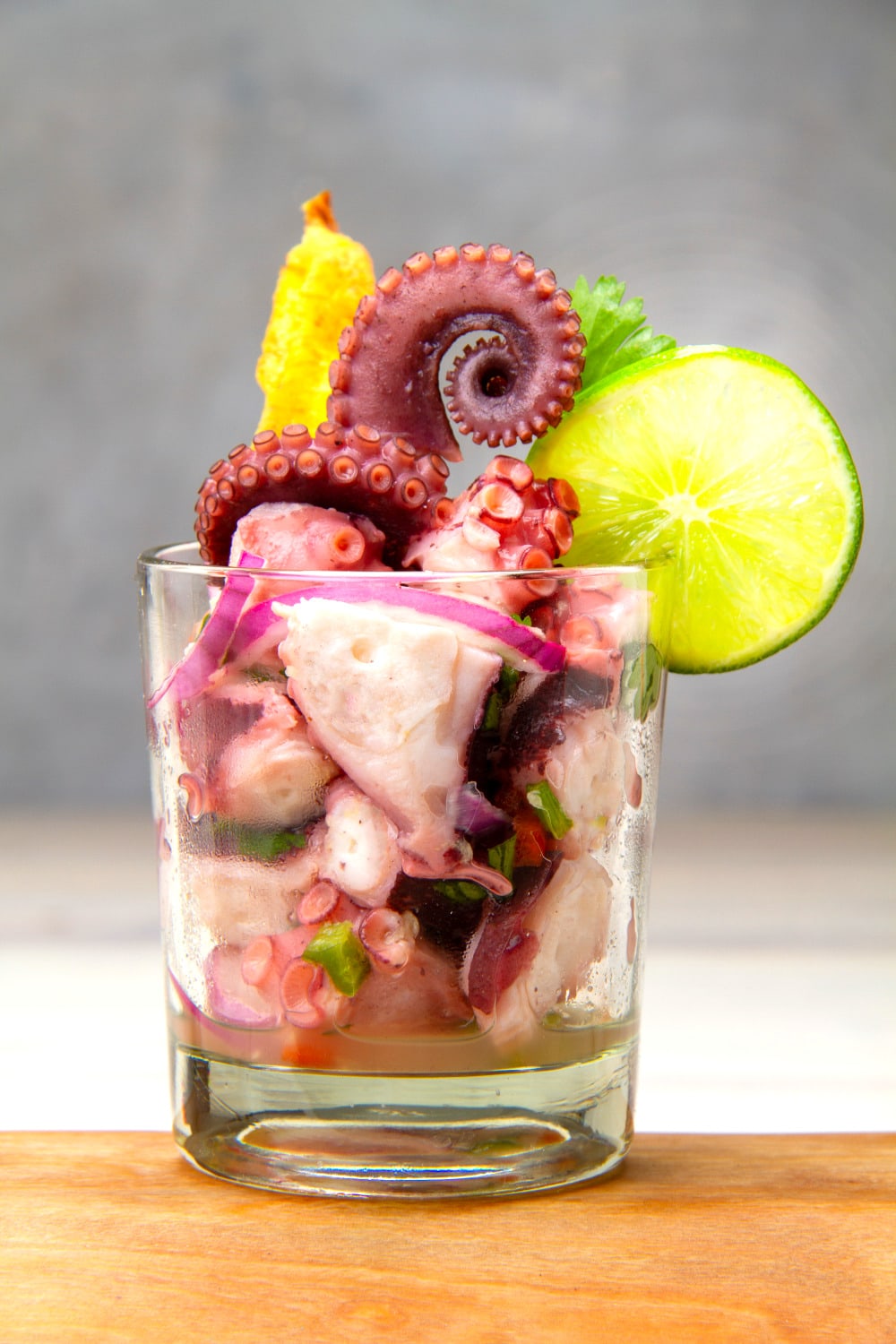 The difference between the better-known classic white fish ceviche and the ingredients in this recipe is the fact that the octopus must be cooked. While it's technically possible to eat the flesh raw, octopus should be tenderised by boiling to make it palatable. And make sure it's good and fresh. Use only the best quality fish for this dish.
Ingredients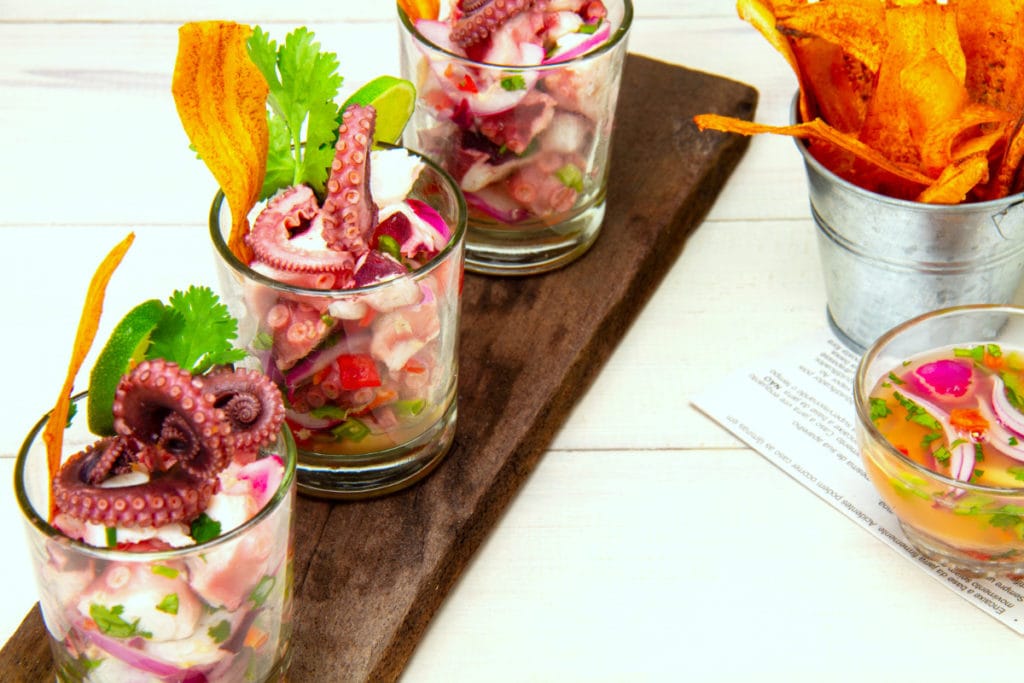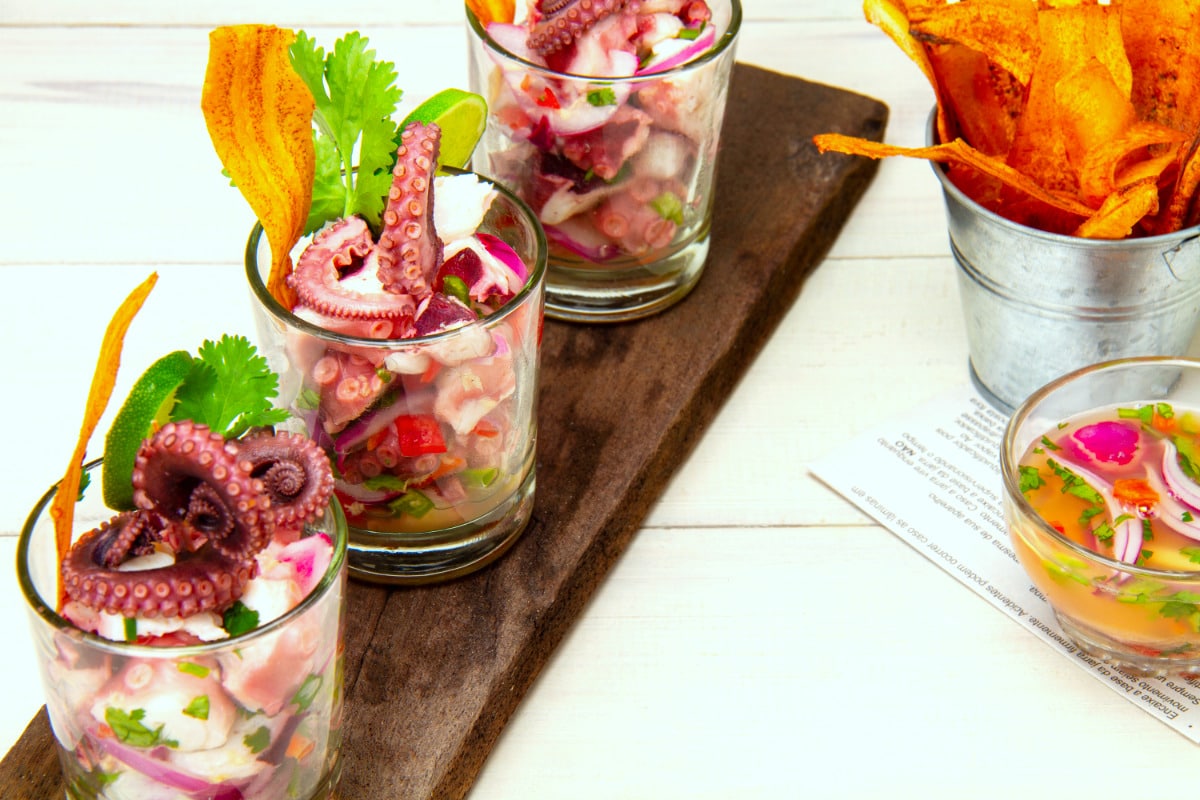 Print Recipe
Octopus Ceviche (Ceviche de Pulpo)
A definite show-stopper recipe that can be enjoyed as an appetizer or main course with some nice plantain chips, tostones, or crackers and a cool glass of Peruvian beer. A delicious and healthy way to enjoy tender octopus.
Servings: 4
Calories: 417kcal
Ingredients
For the octopus
1

medium octopus of 800 g. approx.

4

liters

water

1

white onion

3

garlic cloves

1

habanero pepper

2

bay leaves

5

grains of Allspice

1

tablespoon

of salt

1

juice of

lime
For the ceviche
1

large

red onion

100 g. approx.

2

chilies

1

bunch

coriander

1

teaspoon

fresh ginger

grated

1/8

cup

lemon juice

1/8

cup

orange juice

2

tablespoons

olive oil

Salt to taste
Instructions 
Try to select a fresh octopus. Rinse the octopus under running water, wash it very well. Check the suction cups on the tentacles to remove any marine detritus attached to the octopus flesh. Place in a bowl while you prepare the broth.

Peel the onion and cut it into four pieces. Peel the garlic. Wash the chili, cut it in two, and extract the seeds.

Bring a pot with four to six liters of water to a boil (it depends on the size of the pot). Inside the pot, place the white onion, garlic cloves, habanero pepper, bay leaves, allspice, lemon juice, and salt. Cook uncovered over high heat until boiling.

How to cook octopus for ceviche? To prepare the octopus successfully we need the tentacles to curl. This requires a procedure known in the cooking world as "scare the octopus". The octopus is held by the head and the tips of the tentacles are inserted into boiling broth for approximately five seconds. Quickly remove the octopus, wait ten seconds, and repeat the procedure until you see the tip of the tentacles curled up.

When the tips of the tentacles are curled, place the octopus in the pot, and boil covered for approximately twenty minutes until tender. Strain the octopus, discard the liquid and the vegetables. Let it cool for a few minutes until you can cut it.

While the octopus is cooling, cut the red onion into thin julienne strips. Wash the peppers, cut them, and extract the veins and seeds. Then chop them finely. Cut the cilantro as small as you can. Grate the ginger on the finest side of the cheese grater.

In a bowl, place the lime juice, orange juice, grated ginger, olive oil, and salt. Stir very well. Add the onion, cilantro, and finely chopped chili to the bowl. Stir and let it rest for a few minutes while you slice the octopus.

Place the octopus on the cutting board, cut off the head with a sharp knife. Some use it for ceviche, but it is better to remove it because it takes away the appearance of the dish. Slice the tentacles one by one. Then take each tentacle, and cut it into slices about two centimeters long.

Put the pieces in the bowl. Stir everything and voila! Serve with tostones or fried plantains
Nutrition
Calories: 417kcal | Carbohydrates: 39g | Protein: 6g | Fat: 29g | Saturated Fat: 4g | Cholesterol: 1mg | Sodium: 7202mg | Potassium: 838mg | Fiber: 6g | Sugar: 18g | Vitamin A: 1097IU | Vitamin C: 196mg | Calcium: 229mg | Iron: 3mg