Tin-glazed earthenware is known by many names. Regardless of what it is called, or from which corner of the word it comes, it is celebrated for its charming array of forms and its beautiful, lustrous finish.
The process of tin-glazing may be used to decorate the humblest of household crockery, such as a plate or a milk jug, or to produce remarkable works of high art, such as Giovanni della Robbia's "Resurrection of Christ" from c. 1520, which is illustrated above (photograph courtesy of the Brooklyn Museum).
This blog explores tin-glazed earthenware from its inception in the medieval Near East, following the technique's journey through the Islamic world to Moorish Spain, and from the Iberian Peninsula to Italy and onto practically every corner of the continent of Europe.
Maiolica, majolica, faience, delftware… Explaining the jargon
The number of names used to describe tin-glazed earthenware can be confusing. What one person calls maiolica, another calls faience, and a word one spells with an 'i' (maiolica), another person spells with a 'j' (majolica). Then there is delftware, and English delftware, to add to the confusion.
Maiolica, with an 'i', refers to the tin-glazed earthenware produced in Italy beginning in the early fifteenth century. The word also refers to subsequent earthenware—whether Italian or not—produced in this Italian manner. The word 'maiolica' is a corruption of the Italian name for the Balearic Island of Majorca, which hints at the Spanish provenance of the techniques behind the production of tin-glazed earthenware (but more on that later).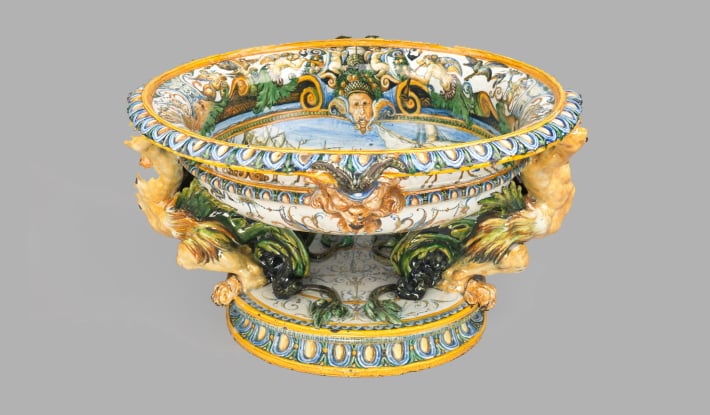 From the workshop of sixteenth-century ceramicist Flaminio Fontana and now at the Wallace Colletion in London, this wine cooler is a superb example of Italian maiolica (image courtesy of the Wallace Collection).
Majolica, with a 'j', generally refers to a particular type of earthenware first manufactured in Britain in the middle of the nineteenth century. This type of earthenware, the saturated colours and high-sheen finish of which resemble Renaissance era Italian maiolica, was first mastered by the celebrated English maker Minton.
Minton also referred to their majolica as 'Palissy ware', in reference to the sixteenth century French ceramicist Bernard Palissy, whose idiosyncratic creations proved influential to the English firm. This 'Palissy ware' type majolica, however, entails a different manufacturing process to that of maiolica, and the two are not the same.
Delftware is tin-glazed earthenware produced in the Dutch city of Delft. While the technique is comparable to that underlying maiolica, the aesthetic is not, with delftware mostly defined by a cool blue on white palette.
English delftware is simply the name for delftware (that is, tin-glazed earthenware) produced in England: many Netherlandish artisans fled to Britain from cities such as Antwerp in the 1560s, bringing the technique of tin-glazed earthenware production with them.
Finally, faience is the French name for Italian maiolica, and tin-glazed earthenware made in its manner. The word derives from the French for the Italian city of Faenza, an early centre of maiolica production. The term has also come to signify something specific when used in the context of late nineteenth-century French art, but more on that below.
Understanding tin-glazed earthenware
Tin-glazed earthenware is a type of ceramic pottery that is achieved by the addition of tin oxide to a lead glaze, the latter being a staple of ceramics production in Europe and beyond since medieval times. The process requires a kiln capable of producing a temperature exceeding 1,000 Celsius, as well as the tin oxide itself. Pigments applied to lead glazes tend to run into one another, whereas pigments applied to a tin-glaze are readily fixed, as well as being beautifully lustrous.
The effect of tin-glazed earthenware is a white, opaque glazed surface that is smooth and shiny. When pigment is added, the surface becomes vibrantly coloured with the pure tones of the pigments.
Tin-glazed earthenware such as maiolica was painted with coloured pigment prior to firing. This required great skill on the part of the artisan since mistakes could not easily be corrected—the pigment is absorbed into the powdery, unfired tin glaze quickly, leaving little room for error. Painting onto an unfired tin-glaze is much like painting onto wet fresco.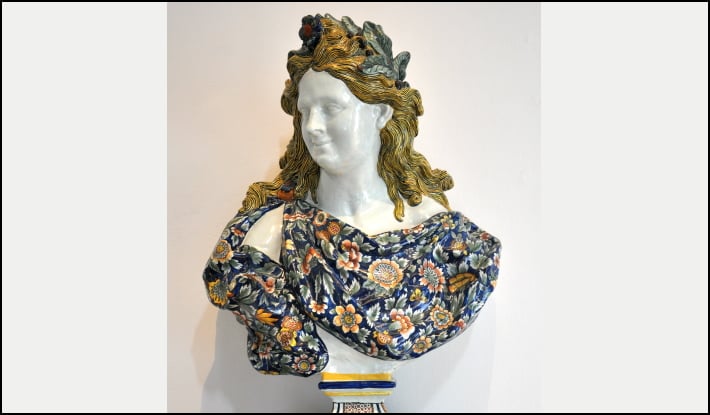 Produced by the Rouen Factory in c. 1730, this faience bust of Apollo is a remarkable example of the artistic potential of tin-glazed earthenware.
Islamic ceramics and Hispano-Moresque ware (c. 1300 to 1500)
The earliest examples of tin-glazed earthenware yet discovered were found in Iraq and date to the ninth century. The technique of tin glazing (that is, adding tin oxide to a lead glaze) spread throughout the Islamic world with trade and the movement of artisans, advancing from its origin in Persia or Iraq through the Near East, Egypt, and North Africa, before arriving in Islamic Spain.
The techniques were present on the Iberian Peninsula for centuries before reaching unparalleled levels of sophistication in the fourteenth and fifteenth centuries.
Hispano-Moresque ware, as tin-glazed earthenware produced in Spain from the fourteenth century onwards is known, is distinguished by the Islamic nature of its decoration: figurative elements being forbidden, artisans employed geometrical motifs such as arabesques to adorn surfaces.
Pieces were produced in great quantity for export into the Christian west, where a huge market existed: Christian Europe was still decades away from producing anything approaching the quality of that produced in Spain.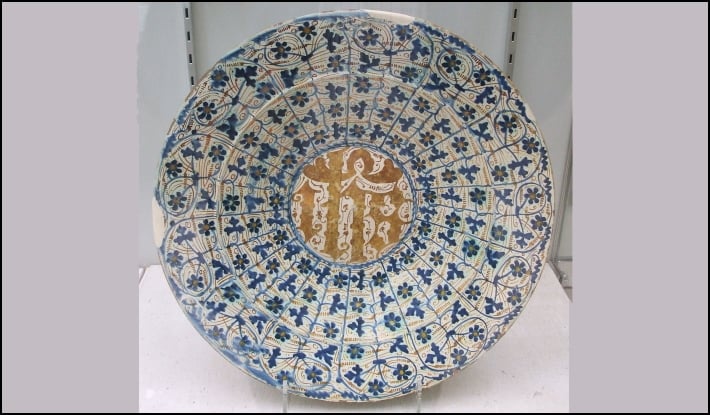 A Hispano-Moresque dish, decorated with arabesques and other geometrical Islamic motifs, but also featuring the 'IHS' Christogram to its centre.
The above dish from Valencia is a superb example: the surface is profusely adorned with blue and gold arabesques and flowers in a distinctly Islamic style. Strikingly, however, the centre of the dish features a stylised 'IHS' Christogram, which signifies the first three letters of Christ's name as rendered in the Greek alphabet.
The export of such pieces around Europe led to attempts to replicate the technique underlying their production. A large market existed in Italy for Hispano-Moresque ware; indeed, as mentioned above, the word maiolica refers to the Spanish Island of Majorca, a point on the trade route between Valencia and Malaga (the two major centres of production) and Italy.
Production in Spain continued under the new Christian Kingdoms but began to wane in quality after 1500; with this demise, the focus shifted towards Italy.
Italian Maiolica during the Renaissance (c. 1400 to 1600)
The creation of maiolica was the result of a long process whereby existing lead-glazed wares were gradually improved over the early fifteenth century by the addition of tin oxide. This process occurred with Spanish wares in mind, as Italian artisans attempted to adapt and match Iberian imports.
In Italy, the first major centre of production was Florence. Beginning in the first decades of the fifteenth century, Florence produced several skilled artisans whose products began to rival the best of Hispano-Moresque ware.
The first great masters were undoubtedly Luca della Robbia and his nephew Andrea della Robbia, celebrated in their own day and since for their colourful, tin-glazed terracotta statuary and sculpture.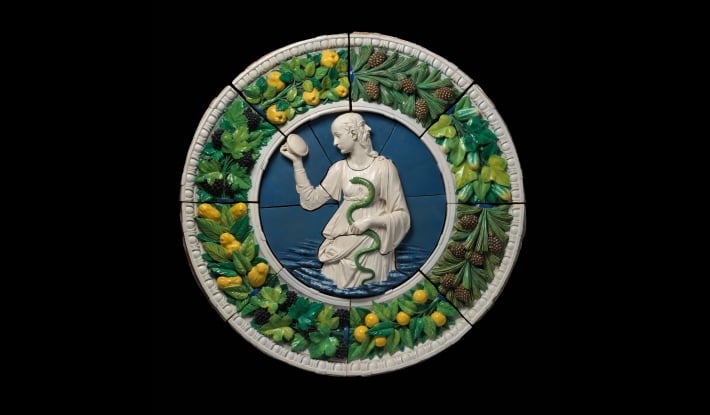 Andrea della Robbia's magnificent maiolica roundel, of c. 1475, depicts Prudence, one of the seven virtues of Christianity.
Centres of maiolica production emerged in Naples and Faenza (the French for which gives us 'faience'), among other cities, during the latter fifteenth century. By 1600, when tastes began to change and maiolica production decreased in both quantity and quality, tin-glazed earthenware was produced throughout Italy, from Venice to Sicily, and Italian maiolica was exported throughout Europe.
Italian artisans used tin-glazing to decorate all forms of earthenware, from bowls and dishes to sculpture and tiles. During the period of production between about 1400 and 1600, the colour palette employed expanded into an explosion of polychromy, the sheer spectrum of which could rival painting.
Perhaps the most notable Italian maiolica product was 'istoriato' ware—or works that were "painted with stories"—which were produced from about 1500 in Faenza. In such works, painted compositions of comparable seriousness and skill of execution were applied to maiolica ware. Such pieces represent the pinnacle of Italian maiolica production.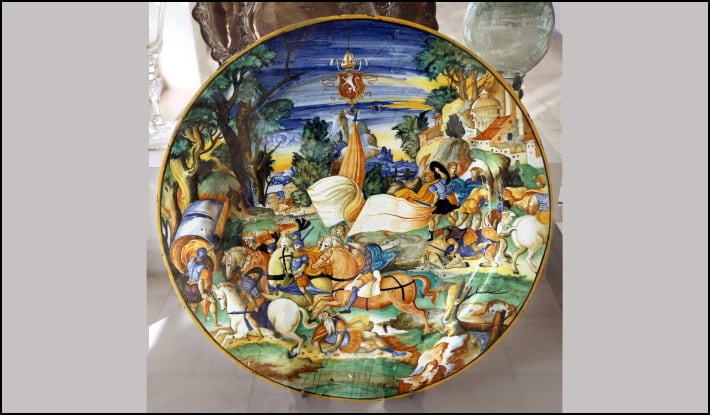 A maiolica dish, or 'istoriato', from Faenza, which depicts a battle scene executed with the same care and precision afforded to painting.
Delftware in the Netherlands and England (c. 1500 to 1780)
The techniques of tin-glazed earthenware reached the Low Countries at the start of the sixteenth century. Delftware, as Dutch production eventually came to be known, was initially centred around Amsterdam but the city of Delft was soon established as its most important centre.
Delftware began to acquire a unique aesthetic towards the end of the sixteenth century. From about 1580, inspired by Chinese export porcelain, Dutch producers narrowed the colour palette employed, focusing on variegated pale blue pigments above the white tin-glazed ground—the effect of which was to imitate Chinese porcelain.
The trend towards blue-on-white glazes accelerated after the death of Emperor Wan-Li in 1619, when the supply of Chinese porcelain to Europe was dramatically interrupted.
Depicting a naval battle between Dutch and English ships, Cornelis Bouwmeester's delftware tilework from c. 1700 demonstrates the skill of Dutch artisans.
Delftware flourished between about 1600 and 1780, after which its popularity waned with the rise of European porcelain. English delftware, as it is confusingly called, flourished during this same time. As Netherlandish artisans fled cities like Antwerp in the 1560s with the beginning of the Eighty Years' War, they brought Dutch techniques with them to their adopted homeland.
Victorian Majolica and Minton (19th Century)
At the Great Exhibition of 1851, the English firm Minton, which was founded in 1793, revealed to the world its majolica. Minton's new majolica did not utilise tin oxide in its glazes; instead, Minton discovered a technique for applying pigments directly to lead glazes, overcoming earlier problems of pigments running into each other during the firing process. Thus, Minton's majolica (with a 'j') is fundamentally different to earlier tin-glazed maiolica (with an 'i').
Minton had been inspired by Italian maiolica, which was widely collected in Britain during the late eighteenth and early nineteenth centuries. Indeed, before 1851 Minton had produced products crafted from true tin-glazed maiolica, but production of such pieces diminished after 1851 and the advent of its new majolica.
In addition to being inspired by Italian maiolica, Minton was greatly influenced by Bernard Palissy, a sixteenth-century French ceramicist whose charming and quirky designs found resonance in Victorian Britain. Indeed, Minton originally termed its new majolica 'Palissy ware', in homage to the French artist.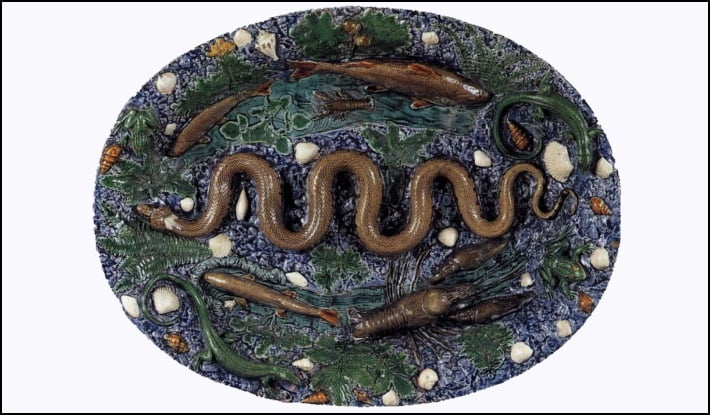 A glazed terracotta oval platter by Bernard Palissy (c.1510-1589); a superb example of the artist's so-called 'rustic style'.
Minton's majolica proved to be exceptionally popular between its introduction and about 1900, when its charming, playful style was superseded by the Art Nouveau. Minton's majolica is vibrant in terms of colour and composition and is fanciful in form and content.
While Italian maiolica is often religious or historical in subject matter, Victorian majolica is moulded, sculptural, and whimsical. Items produced by Minton were often 'fit for purpose': a jar for sardines may have a sardine-form finial, for instance.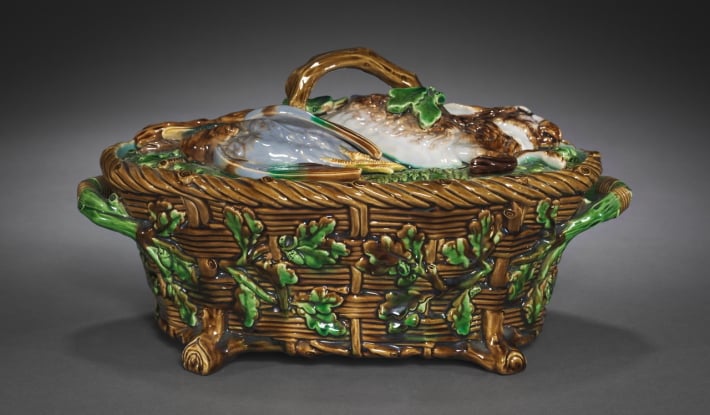 A Victorian period Minton pie dish. Inspired by the work of Palissy, Minton produced a wide range of playful, 'fit for purpose' pieces.
French Faience (c. 1500 to 1900)
In conjunction with the establishment of centres of tin-glazed earthenware production throughout Europe, important centres, such as at Rouen, were established in France during the early sixteenth century. While French faience is sometimes distinguished by its refinement and delicacy, it is often indistinguishable from European counterparts, and its fortunes waxed and waned in lockstep.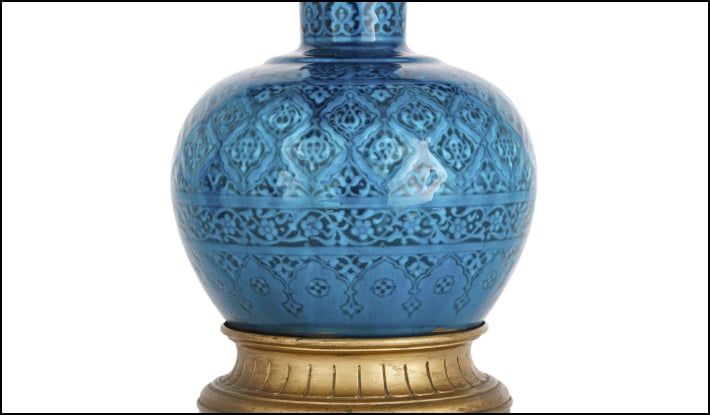 A faience lamp by Thédore Deck (1823-1891), demonstrating the influence of Islamic ceramics.
Faience production in France, however, enjoyed a renaissance during the late nineteenth century. Potters such as Théodore Deck re-established faience as a fashionable material, often incorporating exotic aspects or influences into their compositions. Deck, for instance, imitated Persian, Japanese, and Chinese prototypes, producing an eclectic mix of the Islamic, Chinoiserie, and Japonisme.
Tin-glazed earthenware
As this blog has demonstrated, tin-glazed earthenware has enjoyed, and still enjoys, a long life in Europe. Introduced from the East via Moorish Spain, the technique of tin glazing flourished between 1400 and 1700 in various corners of Europe, producing Italian maiolica, Dutch delftware, French faience, and, in a circuitous way, Victorian majolica.
Tin-glazed earthenware is still highly collectable: visit any Italian tourist town and you will be able to buy a maiolica lemon, or go to any museum and you can find pieces of tin-glazed earthenware of exceptional artistic quality.
In London, superb collections exist in the Wallace Collection, whose collection of Italian maiolica is world renowned, and the Victoria and Albert Museum.