By Shawn Perry
Now that things are back to normal, people are dying to get out and mingle with people. Whether traveling, in restaurants or in the company of others, it doesn't seem to matter. Interaction with others drives the world forward.
Attending concerts is an activity music fans have longed for over the past year. The live music industry suffered a severe blow when the pandemic lockdowns were initiated. Live Nation, the world's leading event organizer, claims its sales fell 84% in 2020. At the same time, long-standing venues around the world have finally closed their doors.
For some artists who tour regularly it was a time to think and rethink while others struggled to make ends meet. Like everyone else, Los Angeles-based hard rock quartet Dirty Honey, which was just starting to catch fire before it all went dark, was ready to see what the future held in store.
The band members are no strangers to the rock'n'roll assembly line. They stormed onto the stage in 2019 with When I'm Gone, which zoomed to the top of the Billboard mainstream rock chart and made the band the first non-signed act to land at number one. Their second single, "Rolling 7s," a top 5 hit with a cheeky, slow riff that turns into a punch in the pit of your stomach, was enhanced by a stylish, irreverent video. The song captures the whole essence of what Dirty Honey is about – straightforward, not nonsensical, riff-rich rock with an old-school sheen and a modern attitude.
After a number of opening slots with The Who, Guns N 'Roses, Slash and Alter Bridge, appearances at various music festivals around the country and a few headlining gigs (including one in Los Angeles), Dirty Honey joined everyone else in the pandemic. Locked and protected at home. They use their time off the road to write and record new music.
"We wanted to go to Australia," said John Notto, the band's guitarist, during a phone call about their derailed plans for 2020. "It was about two days late when the quarantine began. We had a little idea that we might sneak into Australia but decided against it. It would have taken Australia about three weeks to make an album. We would have played the Byron Bay Blues Festival. We wanted to jump over to Japan very quickly and hold the Download Fest Tokyo. Then we wanted to come back and play all the radio festivals here in the US for six weeks and then travel to Europe for a month and do the Download Fest UK. Basically we just deleted the year tour by tour until there was nothing left. "
Stuck at home in Los Angeles, Notto wasted no second and got to work immediately. "I took the extra time and played a lot of music in my studio," he says. "I wrote some of the demos that became songs like California Dreamin '. We just tried to push the ball forward. "
"California Dreamin '" was the first taste of what was to become the band's final album in 2021. The song, backed by a surreal, exploratory video that embraces the California vibe, was celebrated with great success on March 5th. Notto notes how the song developed. "The demo I did was pretty loose and swampy. When the guys finished adding their thing, it became a kind of stadium rock sound – big and powerful. "
A month later, the group's self-titled album was released. With people drooling on hot rock and roll, the eight song LP is a satisfying record that will have you breaking every social distancing law in the book. You'll enjoy the slumbering waves of California Dreamin 'before a new set comes in and takes you away.
Other songs like "The Wire", "Take My Hand" and "Gypsy" pretty much jump out of the gate and hit you in the face. There's nothing too clumsy or too ambitious – just Notto's crisp guitar work and Marc LaBelle's passionate vocals, spanning the feisty foundation of bassist Justin Smolian and drummer Corey Coverstone, for a fulfilling elixir of blues-based rock.
Since the group couldn't make it to Australia, where their producer Nick DiDia is based, they decided to record the album in Los Angeles. Fortunately, DiDia was able to perform its magic remotely. In the end, everything seemed to work out, even if the pandemic was in full swing.
"The only criticism we've got is that the album is short – around 30 minutes," explains Notto. "We really don't care about the length; for us it is simply about quality, especially in this day and age. We have chosen an all-killer-no-filler approach, so to speak. "
Although the guitarist shows a lot of material to try out for the band, he emphasizes that it's not quite as dry and dry. On the one hand, he leaves the lyrics for LaBelle. There are other exceptions as well.
"It's a mixed bag," says Notto. "There are a lot of songs, especially on the first album, that came from just playing together. When I'm here alone, I just have fun. I have a full studio setup so I just make the most of it. I usually don't encourage Justin or Corey to copy the parts I put down because they are such incredible players. We are all open to answers from anywhere, but mostly everyone does their part. "
In fact, the four members of Dirty Honey each contribute to the whole, however and whenever the inspiration strikes. Notto recalls that the soft start of "Rolling 7's" was actually Labelle's idea. "I thought it should start with the chorus riff because it was so fun and so good," he says. "It was his idea to start small and grow. And it's perfect. "
The new album blossoms with hard knuckle rockers, but as it comes to an end you begin to realize that it's not just rumbling and jealous. "About Last Night", the final track, is a slow blues pattern that is shaped by LaBelle's soulful vocals. The song is reminiscent of something Jimi Hendrix or Stevie Ray Vaughn would record, although Notto points out that the solo is actually based on AC / DC's Angus Young. With riffs, chord progressions and solos, the guitarist draws on various influences.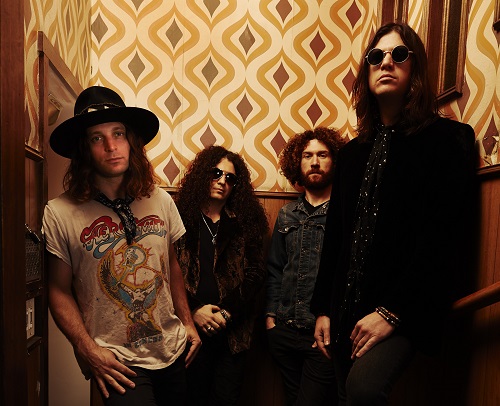 In addition to AC / DC, Notto names Aerosmith and Van Halen as bands that give him ideas. "My influences play in the band when they need it," he reveals. "When it's time for a solo, when the song has developed, I just follow what my ear hears. Sometimes I hear a melody. Sometimes I hear a style for the solo. "
As for the band's "vintage" rock style, Notto quickly realizes that Dirty Honey is not the only relatively new and young band to use the sound and boast for rock-hungry audiences. "I think we thought if there was a band to look out for and maybe we imagined our model, we thought for a minute it was Rival Sons," he says.
By sheer coincidence, the band was working with Rival Sons producer Dave Cobb when they covered Aerosmith's "Last Child".
Then there is Greta Van Fleet, probably the most researched band on the "new" classic rock scene. For Notto, it's anything but a competition. "It's cool that they exist. I'm glad that there is still a group of young people like us who make the same music, "he muses, and adds:" We share fans. The more we came, the more Greta Van Fleet fans came to our shows, which is nice. "
Notto mentions another young band from Los Angeles: Joyous Wolf. In fact, they were hired to start a two-week warm-up tour for Dirty Honey in June. According to all reports, the trip was well received.
Eager to get her music out with the crowds and play more shows, Dirty Honey is now ready to take the big plunge after serving as a support act for the highly anticipated 'Shake Your Money Maker' reunion tour of Black Crowes was selected, which begins July 20 in Nashville.
"It will be one of the first tours," says Notto. "It's going to be exciting and you don't want to miss it."
After a year of empty stages, the concerts explode. Everyone announces big tours and is eager to get back on the road. Catching Dirty Honey with the Black Crowes shouldn't be less than a pure celebration of rock and roll. And who knows – by this time next year, Dirty Honey could very well climb the ladder herself and start filling arenas herself. For all of their hard work, diligence, and strength, they are sure to expect great rewards.