The pandemic raised its ugly head shortly after the 2020 NAMM Show in Anaheim. This resulted in the cancellation of the Summer NAMM show in 2020, followed by the larger Anaheim show in 2021. You'd think the anticipation for anything to do with NAMM would go through the roof. The number of visitors to the summer NAMM trade fair 2021 was significantly lower than in previous years, despite the hesitation that was still in the air. It is speculated that when the show returns to Anaheim in 2022, it will be out of control. Still, a few hearty souls ventured to Nashville to show off their wares and gain a foothold. We spoke to five organizations with cool and unique products that caught our attention as well as our ears.
~~
Are you having trouble diving your Gibson SG? The AxEze Cap provides a simple solution to controlling neck dive and playing position on SG guitars and basses that have the strap button behind the neck. Some players drill holes to move the strap button so they can access the top frets on the neck. AxeEze eliminates that. The cap grips your instrument securely – and is easy to remove with a single pull. Once in place, the weight is shifted without an uncomfortable strap or anchoring rope. You can get a more balanced guitar by shifting its axis or center of gravity towards the guitar's headstock. You can even bounce it around. Check out our interview with Pete Conrad, the inventor of the AxeEze. To learn more, visit axeeze.com.
~~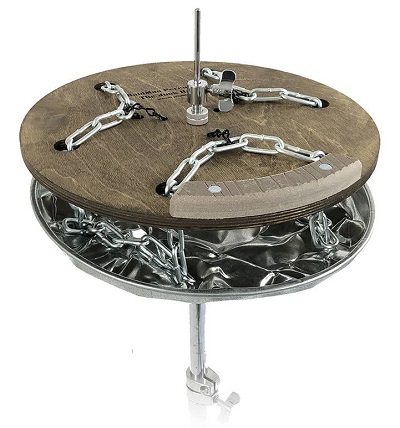 Danny Young and Mike McKee met a few years ago and bonded because of their lack of hair and their love of drums and percussion. Together they set out to develop and create something that the drumming world had never seen before. Their first creation was the JUNK HAT ™, a device that you can attach to your hi-hat stand to get all kinds of new and unique acoustic sounds. There are a few variations of the JUNK HAT: the "OG", a "purist" version that includes the 14-inch wood top in dark walnut stain with woven chains and a hand-hammered metal base; an "XL" version four inches taller; a "Mini Mini" that is only 8.5 "in size and a 2.0 version with five holes on the edge for" add-on "attachments. A second product, the STANK FOOT, which the company founders like to call" The Swiss Army Knife of the Percussion World ", can be buckled to the foot and creates a chain-falling JUNK HAT sound. The STANK FOOT was named" Best of Show "at the Summer NAMM Show. Click through to our interview with the owners of Baldman Percussion. You can also read their story and see their full line of products at baldmanpercussion.com.
~~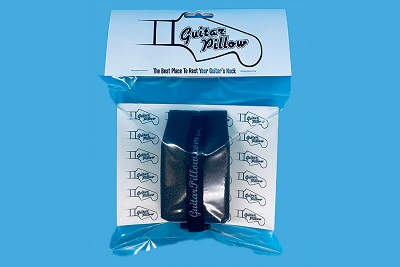 Have you ever leaned your guitar against the wall and walked away with your precious instrument sliding and falling to the floor? This crash really hurts! Thanks to the guitar cushion, that doesn't have to happen. The Guitar Pillow is a foam device that attaches to the headstock of your guitar and allows you to securely prop your guitar against a wall, desk, table, amplifier, or whatever – without the inevitable THUD. This simple, low-tech product attaches to the headstock of your guitar without preventing you from tuning the instrument. Once attached, you can rest your guitar on any vertical surface with no worries. The guitar cushion is available in both a 3-pack and a 10-pack, and inventor Tom Porter told us all about it in our video interview. You can order yours on Guitarpillow.com.
https://www.youtube.com/watch?v=bQGr_NKQfWw
~~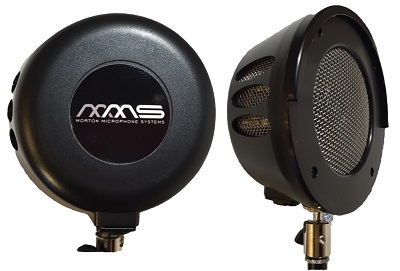 Morton Microphone Systems' KickTone is designed to amplify low-end sounds and is designed for kick drums. The KickTone replaces a kick drum microphone and captures the entire spectrum of sound that is naturally generated in the resonance chamber of a kick drum. It is based on a specially manufactured hemp membrane that is both stiff and light and offers outstanding cushioning properties. There is a second, coaxial dynamic structure to accommodate the higher frequency transients that give a kick drum its crack. The result is a punchy, well-defined sound that immediately catches your attention. The KickTone can be mounted on a standard microphone stand or attached to the resonant head of a kick drum using a proprietary slide mount that comes with each microphone, connecting it to any KickPort, a popular kick drum sonic enhancer. It snaps securely into the drum's sweet spot, where it won't block your view of your eardrum artwork or be kicked out of position by an energetic singer. You can also get creative by using the KickTone on other instruments for a little more bass – pointing up under the bass keys of a piano or under your floor tom for more depth. Inventor Terry Morton briefed us on everything it can do. You can read more about it at kicktonemic.com.
~~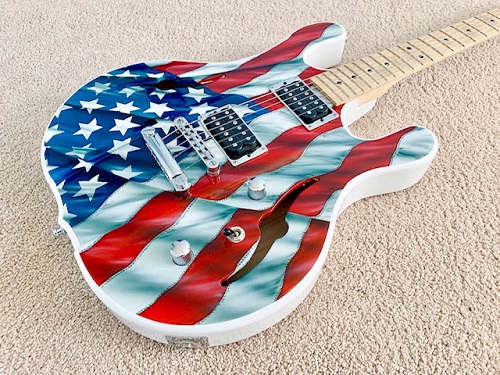 OK,
Jeff Heitmann has owned and played guitars for over 30 years. He's also an engineer who loves working wood, so it was only natural that he would eventually start making guitars. And so began Viper Guitars. Since then, Heitmann has refined his craft through extensive research into guitar construction, component selection and finishing techniques. Players from all corners of the world come to Viper to have a guitar built. You can customize any of the components to meet your needs, including the pickup, tremelo / bridge, and neck specifications. You can also order a guitar in different colors and designs. Pricing occurs after design and component selections are confirmed, and delivery takes between 10 and 12 weeks. At Summer NAMM we spoke to Heitmann and the guitarist Ronny North, who demonstrated a variety of sounds and tones on his own Viper guitar. See what else you can do at viperguitar.com.
~~
Compiled by Shawn Perry
Video recorded by Erin Perry