Review by Shawn Perry
Dirty Honey photos by Candice Fairorth & Mike Savola
The Black Crowes Photos by Jason Kempin / Getty Images for Live Nation
Thanks to bands like The Black Crowes and Dirty Honey, live rock and roll concerts are back with a vengeance. At least that's what it felt like in Nashville. After the lock was lifted and the masks removed, the Black Crowes opened their long-awaited, long-delayed one Shake Your Money Maker Tour for the 30th Anniversary in Music City, sparing no expense or detail to make everyone feel like it was the glory days before the pandemic derailed everyone's lives.
Los Angeles-based quartet Dirty Honey got things rolling at 7:35 am, playing an energetic, pure rock set of 14 songs. Strolling the cozy confines of the Ascend it was hard to ignore the fans in their Dirty Honey t-shirts, which meant a lot of people were on the show to watch these rising stars of the New Wave of Classic Rock scene experience.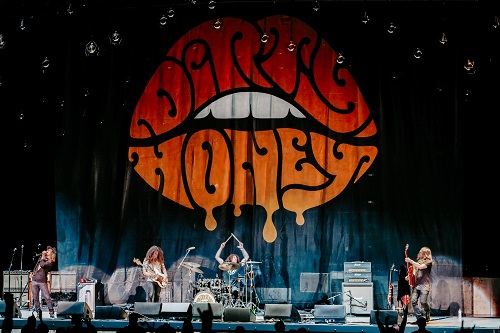 Warm-up acts have a lot against them – they're ignored when people buy drinks and look for their seat – but that didn't stop Dirty Honey from delivering a strong set. For nearly an hour the band cranked up their boastful whiskey-soaked, riff-baked rock. Over half of the songs came from her self-titled, full album 2021, including the lead-in single "California Dreamin '" and strengthened crunchers like "Take My Hand", "The Wire" and "Tied Up".
The members of Dirty Honey embody a rare quality that rock and roll has lacked for years – an attitude and approach that deserves space and dynamism. Singer Marc LaBelle worked on the front lines, instinctively swaying from left stage to right without losing his balance, and even jumping into the photo pit once to get close to fans and pose for selfies. Meanwhile, guitarist John Notto plucked with calculated devotion, every chord and groove were handcrafted and embedded. The rhythm section of bassist Justin Smolian and drummer Corey Coverstone filled the bag, underlining every twist with hard finesse. Extended solo breaks by Notto and Coverstone underlined their extraordinary musicality.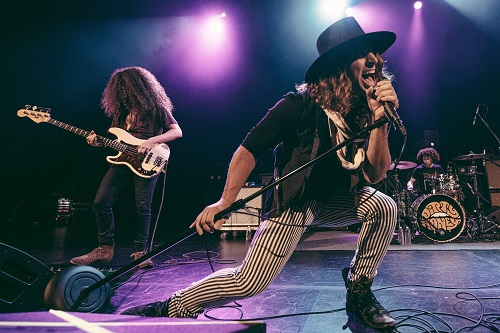 After beating Nashville, Dirty Honey finished their spot with two of their best-known tracks from 2019 – "When I'm Gone" and the bubbly "Rolling 7's". Seeing this up and coming group was like seeing the Black Crowes 30 years ago when they were young, hungry, and ready to bring rock and roll back. As they continue to perform across the country – in support of more established acts and as headliners – and evolve as songwriters and performers, it really is only a matter of time before Dirty Honey becomes a world-class group, regularly running arenas and amphitheaters full of eager, doe-eyed followers.
After a 30-minute hiatus, it was The Black Crowes' turn to reclaim the throne and make up for lost time. In early 2020, the band's founders and main sponsors, Chris and Rich Robinson, launched theirs Brothers of a spring acoustic tour of smaller venues (including a date in Basement East in Nashville that was razed by a tornado a week later). They ended just as the world was closing large gatherings, which of course led to the cancellation of their vaunted reunion tour.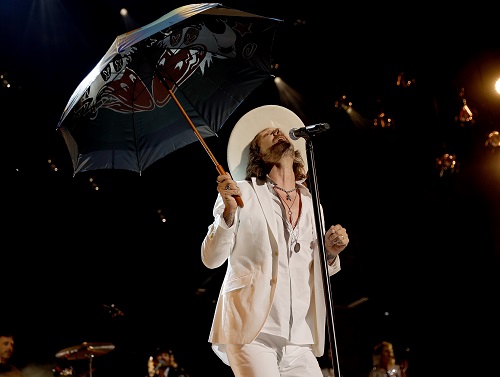 When the lights were on a stage resembling an old juke shop, with its own bar on the backline and tin huts on each side, each adorned with its own crow's nest, a prevailing thought went over the amphitheater: be it worth it?
As soon as the players took their seats and Chris Robinson – dressed to the nines like a genteel Southern gentleman in an all-white leisure suit – came out from behind a Black Crowes umbrella to watch the audience through an exciting series of "Twice As Hard" It was all too obvious that the entire ensemble was just as happy and excited to be on stage as the audience that stood in front of them.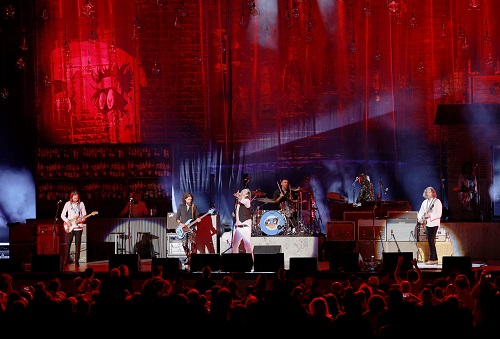 For the next 45 minutes, The Black Crowes traveled back in time to their debut plate, Shake your moneymaker, and shook off the rust of every single number that filled the grooves of her multi-platinum opus. Standouts included the group's breakout hit, "Jealous Again," as well as their infamous rework of Otis Redding's "Hard To Handle" and the exceedingly beautiful "She Talks To Angels".
The Robinson brothers dug in, dangling their hard-won traits – Chris in his most soulful form, hands on hips, strutting back and forth, more or less in control; Rich with an abundance of amps, changing guitars for each song, mostly playing rhythm, with a few leads here and there just to make sure everyone knew he was always the driver of The Black Crowes.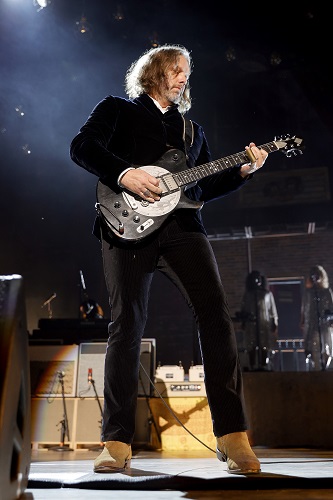 The new recruits are under closer scrutiny, namely guitarist Isaiah Mitchell, keyboardist Joel Robinow and drummer Brian Griffin. Although the line-up changed several times during the Crowes' founding years, former members such as guitarist Marc Ford and longtime original drummer Steve Gorman (who wrote a devastating book about his time with the band) were absent from this reunion. As a result, Mitchell and Griffin were subjected to rigorous judgments and comparisons, especially by seasoned fans.
To be fair, both musicians, along with Robinow (who replaced the late Eddie Harsch), did an admirable job of filling in the gaps and driving the whole bang. Bassist Sven Pipien, mostly in the band since 1999, held back and seemed happy to just be there. To complete the line-up, backup singers Mackenzie Adams and Leslie Grant did their best to embellish the band's gospel-tinged rhythm and blues roots.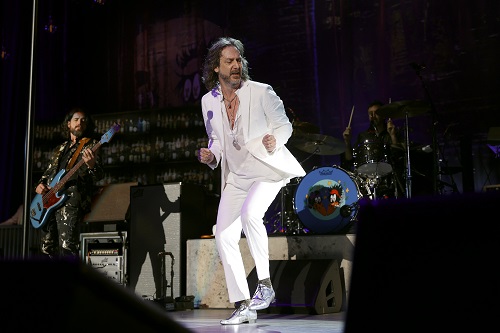 As expected, the rest of the setlist stayed with the tried and tested, rousing five tracks from the group's second album, 1992 1992 The Southern Harmony and musical companion, including "Remedy" for the encore. They also included two from their third album, 1994 America, plus "Good Friday" from 1996 Three snakes and one charm, "Go Faster" from 1999 By your side, and "Soul Singing" from 2001 Lions. They would have covered pretty much every album if they pulled out something like "Goodbye daughters of the revolution "of 2008" War paintbut unfortunately they chose to leave any material from it or from 2009 Before the frost … until the frost off the table.
Chris Robinson had a few jokes to make with the audience, mostly supplementary remarks about the need to wear silver shoes for "struttin 'blues" and a call to the state of Tennessee to legalize weed. Older and smarter, the smile on the singer's face said more about being happy with where things ended up than anything else. His brother's somber outlook leaves little to the imagination and more than enough to speculate. However, when the two hugged at the end of the night, it was clear that all digressions of the past were forgiven. At least for now.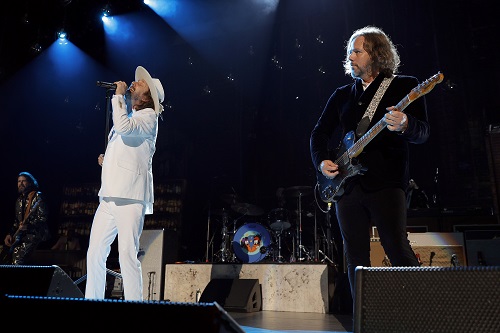 For their second night at Ascend, the setlist was tweaked a bit to keep things fresh and doubtful, with "Kickin My Heart Around" replacing "Go Faster" and "My Morning Song" instead of "Hotel Illness" and "High Head." Blues "is used." Perhaps the biggest surprise was an encore of "It's Only Rock 'n' Roll" by the Rolling Stones, a fitting tribute to the ancestors of a sound and image that has aged like fine bourbon.
It's interesting to consider how the Stones opened the door to bands like Faces and Aerosmith, which in turn influenced The Black Crowes, who likely influenced the direction of Dirty Honey. The more things come back, the more they are valued. Two nights in Nashville, after more than a year under lock and key, and it's fair to say rock and roll is still alive and well and ready to thrive in the post-pandemic era.