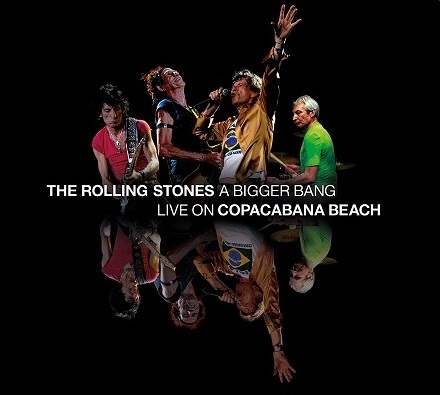 A Rolling Stones concert is nothing small. The band has been playing regularly in front of an audience of 100,000 or more since 1969. Then came February 8, 2006. At that time, the Stones and their entourage walked over a bridge from the Copacabana Palace Hotel to a stage on Copacabana Beach in Rio de Janeiro. Forget 100,000 people – there were over a million. Yes you've read correctly. That New York Times reported 1.5 million bodies – all on an endless stretch of sea and sand to see the Rolling Stones. Bangs don't get much bigger.
A moment like this shouldn't go undocumented, so of course the show was filmed and taped. Sixteen songs were part of The biggest bang, A four-DVD set released in 2007. Now that the stones are releasing concert videos on a regular basis, it only makes sense to expand the Rio de Janeiro Show with the rest of the songs and delete them as a stand-alone, multi-format package called A Bigger Bang: Live on Copacabana Beach. For Stones completists, this is an addition to the collection.
Having played about a hundred shows over the past year, the Rolling Stones and their crew were a well-oiled machine that was more than ready to take on Marvelous City. South America loves the band very much, so it was important to them to give the show of a lifetime. Extensive shots of the crowd reveal a large part of humanity – on the beach, in the water, in boats and on the streets. If you watch the development, there is hardly any time for mistakes. This is followed by a two-hour thrill ride filled with favorites like "It's Only Rock 'n' Roll (But I Like It)", "Brown Sugar", "Start Me Up", "Satisfaction" and "Wild Horses" alongside – new tracks like "Rain Fall Down," "This Place Is Empty," "Oh No, Not You Again," and "Rough Justice," all from the group's 2005 studio release, Bigger bang. The fans in Brazil ate up every hearty note.
The Deluxe Edition is available on Blu-ray, DVD and double CD and includes additional footage from the Stones' concert in Salt Lake City, UT in November 2005. In total, A Bigger Bang: Live on Copacabana Beach captures another piece of history in the more than 50-year-old Rolling Stones Odyssey – a group that has never broken up, has never announced a farewell tour and apparently – just like a stadium tour announced for 2021 in autumn – never stops. Will these guys still be playing in their 80s? In any case, they keep rolling until they can no longer roll the dice.
~ Shawn Perry