Black & white photos by Richard Avedon  
Johnny Mathis didn't need to come from a rock and R&B background to become one of the coolest entertainers ever.
Give a think as to whether his style of music would even fit within the scope of these genres. You may think no initially. After all, this global icon with the majestic, honey-soaked voice behind such eternal musical staples as "Misty," "Chances Are," and "Wonderful! Wonderful!" is one of the foremost definers of the term "easy listening." Go to any music store and find him wedged in the bins with other luminaries like Barbra Streisand, Dean Martin, and Neil Diamond.
But we need to realize that Mathis is timeless because he can assimilate into any genre put before him. He's also dominated the Billboard charts multiple times throughout a 60-plus year career. Consider that his Johnny's Greatest Hits album, released in 1958, held a 15-year record for most weeks on the bestselling LPs list until Pink Floyd's The Dark Side Of the Moon dropped onto turntables. Let's not forget how in the year 1978 alone Mathis scored his biggest hit in 14 years with the Number One ballad "Too Much, Too Little, Too Late" (with Deniece Williams) — one of only eight chart toppers that year to not be a disco tune. He would also nab an Academy Award nomination for Best Original Song for "The Last Time I Felt Like This," a duet with singer Jane Olivor.
(Full disclosure, I've been a Mathis fan nearly all my life. To this day, his rendition of "Brian's Song (The Hands of Time)" remains a personal favorite and still gives me goosebumps.)
Beyond Mathis' chart success in the late 1950s and early 1960s, and his resurgence in the late 1970s, I started wondering: What about the rest of his catalogue? How had he evolved with the musical times? Did he evolve with the musical times? Had he ever taken a page out of the book of Frank Sinatra by releasing an album of something old, something new, and something borrowed (a la Ol' Blue Eyes' Trilogy)?
I was pleasantly (and happily) surprised at the answers to these questions once I discovered them.
Turns out Mathis has always been a true musical chameleon. When soon-to-be legends were making their marks with their original compositions, Mathis would be there right alongside them, adding his own unique flourishes to their tracks to keep them viable. No artist was seemingly off limits. A whole album of songs dedicated to the work of Burt Bacharach? Sure, why not! While the total number is larger, I pinpointed more than 40 songs following this trend from Mathis albums spanning 15 years (1967 to 1982). It still makes for one of the most enjoyable playlists I've ever heard. I marveled (albeit unsurprisingly) how this smooth musical everyman managed to produce such wonderful renditions of these songs without them being full carbon copies.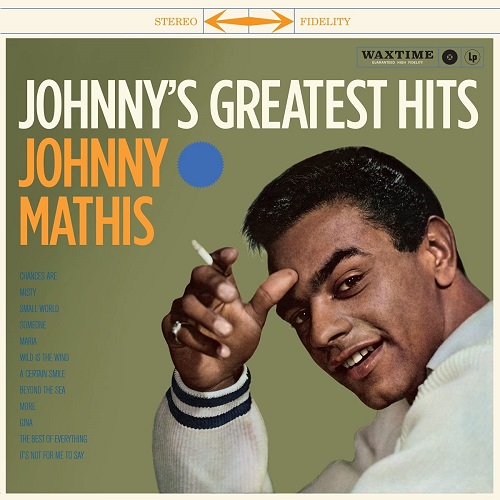 Just a few examples of the bands and artists in Mathis' purview during this period include:
Glen Campbell ("By The Time I Get to Phoenix")
The Association ("Never My Love")
Harry Nilsson ("Without Her," "Without You")
George Harrison ("My Sweet Lord")
James Taylor ("Fire and Rain")
America ("I Need You")
Bill Withers ("Lean on Me")
Roberta Flack ("Killing Me Softly With His Song," "Where Is The Love?")
Art Garfunkel ("99 Miles From L.A.")
Boz Scaggs ("We're All Alone")
"I was available as an artist at Columbia Records to anybody in any department — classical, jazz, pop. They all were in one big building, and I was there all the time just walking around," Mathis, now 86, told me recently. "Because of the way I was brought up in San Francisco, I sang jazz at home with my dad and brothers and sisters. I went to church and sang classical music with the powers that be at church. And then in school I sang certain types of songs in different languages. I can only say that it was very natural and easy because I grew up in San Francisco. Every kind of music you could think of was around."
In an interview, Mathis recounted his upbringing in San Francisco and how it influenced the genre trajectory of his career. One of seven kids, Mathis credits his fame and standing in music to two key figures — his father, and his voice teacher Connie Cox, who he began studying with at age 13.
"(My dad) was a big fan. He was like a pal. He was an amazing man. He had all these responsibilities. He worked all day; he'd come home and take care of little things he had to do at home. Then he and I would hop in the car and drive around San Francisco. I'd say, 'Where we going, Pop?' 'I don't know, son. Maybe somebody will want to hear you sing,'" Mathis told me with a laugh. "What a great beginning of my life to have a friend like that — and he's your father."
"The thing about a vocalist is you are capable of singing only what vocal qualities you have. My dad … wanted me to sing so that I wouldn't hurt my voice and learn to produce the tones properly. The only way to do that, he thought, was to get a voice teacher," Mathis adds. "Her name was Connie Cox and she was my first and only voice teacher. She guided me through those early years when my voice was changing from a little girl's voice to a masculine voice. It was a blessing that I've always revered. I owe all of my career and all of my success to that wonderful lady to this day."
Mathis's ability to vocally dance across genres would take him from San Francisco jazz clubs (in the era of Lena Horne, Sarah Vaughan, and Ella Fitzgerald) to singing opera while attending San Francisco State University. By age 19, Mathis would be discovered by Columbia Records jazz head George Avakian, who signed him to his first contract. Mathis would remain with Columbia from 1956 to 1963, and again from 1967 to the present day. Throughout his career, he has sold an estimated 350 million records worldwide.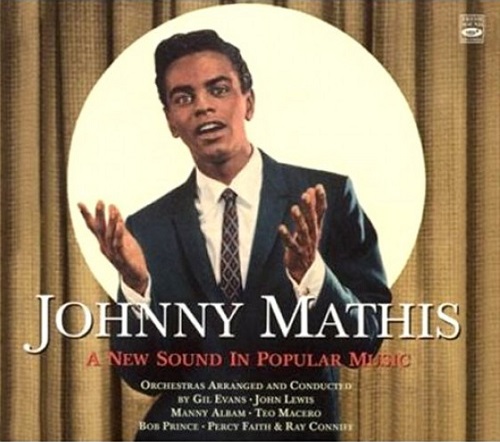 "The thing that stays in my mind is how kind and loving and wonderful all of these great singers that I admired as a child were to me in the beginning of my career. Growing up in San Francisco, they all came through there in every capacity — opera singers, jazz singers, popular singers — and I got to meet and become pals with them from the time I was 12, 13 years old. They embraced me then and then when I had my success as a singer, I got on the same plane as them," Mathis said. "That was a blessing that I still hold in my heart. Whenever I hear a young person sing, I try to encourage them and give them some embrace that they might remember and that might buoy them a little bit."
Mathis' debut, a jazz album released in 1956 entitled A New Sound In Popular Song, would kick off what is easily a legendary career. While the rest they say is history, Mathis' shift to more pop and soulful tracks would be a bit more immediate.
"Most people don't realize that jazz music is a fundamental American treasure, but jazz musicians don't make much money because the audiences aren't very big. So the money doesn't come in like that like it does for popular music," Mathis said. "My first album was called A New Sound In Popular Song, which was not popular at all. But it brought me to the attention of a guy named Mitch Miller who was the head of popular music at Columbia Records. He said, 'I like your voice, but I hate that S-H-I-T that you're singing.' So I started to sing, 'Chances are, 'It's not for me to say,' and 'Wonderful! Wonderful!' And that was it."
Arrange Mathis' pop, rock, and R&B covers chronologically, and the result is a terrific primer documenting the truest kind of musical art to come out within the span of nearly two decades. When it comes to his vocal execution, Mathis never once phones it in. He believes in everything he sings and makes sure his "voice production" never once falters.
"The most important thing a singer has is learn the fundamentals of voice production because it doesn't matter how well you sing — if you lose it, it never comes back," he told me. "Voice production involves an opening of the muscles of the throat to their fullest extent, supporting from your diaphragm, and letting the air flow over your vocal chords without any obstruction. Period."
Below outlines several of Mathis' greatest song renditions that showcase why he really is THE voice of popular music:
"Midnight Cowboy"
Initially an instrumental from popular duo Ferrante & Teicher, Mathis adds heartfelt vocals to tell the tale of James Leo Herlihy's ill-fated character Joe Buck. While most remember the film Midnight Cowboy for its central theme song of "Everybody's Talkin'" (also covered by Mathis), this version gets to the core of the affable yet naïve protagonist. When Mathis sings the line, "Love is all that's left in the end," you find yourself shaking your head in the affirmative and tearing up at the same time.
"Bridge Over Troubled Water"
Perhaps taking a page from Aretha Franklin's own version, Mathis gives this defining Simon and Garfunkel song the gospel feel Paul Simon first imagined while shaping its overall direction and tone. While Mathis doesn't bring the house down like Art Garfunkel, he still manages to take us all to church — thus coming full circle from his San Francisco upbringing.
"Evil Ways"
Maintaining the groove and slyness of Santana's original track, Mathis has a fun time giving the tune some brassy punch. "You got to chance your evil ways" shifts from being a command to a chide as you imagine Mathis slyly giggling as the words fall out of his mouth.
"If You Could Read My Mind"
Gordon Lightfoot's breakthrough US hit is given added power here as Mathis sings of vulnerability, missed chances, and hard promises. With twangy guitar and lush string instrumentation, Mathis' vocal take is more polished and sweeter (you can hear him articulate each word) compared to Lightfoot's. Still, he doesn't yield any of the Canadian legend's intensity behind the track. A noticeable key change towards song's end is the equivalent of Mathis grabbing your arm and having you stare into his eyes. You can't not listen, and you wouldn't be able to look away.
"It's Too Late"
Worthy of Gamble and Huff, piano is swapped for percussion as a darker tone envelops the track. Here, Mathis takes Carole King's lyrics and sensibilities into another world. Hearing the song sung from a man's point-of-view changes the entire tone and mood of the piece. Instead of a kiss-off, it becomes a primal plea of resignation.
"Betcha By Golly Wow"
The Stylistics needed falsetto to sell listeners on this love song. All Mathis has to do is let his gorgeous vibrato do the work.
"How Can I Be Sure"
This song is arguably the best one ever released by The Rascals given that it's not a straightforward pop song (even though it zoomed up the pop chart anyway). Introspective and at times brooding, these elements carry over to Mathis's version. By the time you reach the song's final minute, his voice is in a full aerial pandemonium ballet mode and the results are epic: his sustained note on the word "found" will stop listeners in their tracks.
"Show And Tell"
Soul singer Al Wilson went to Number One in 1974 with this coy pre-disco number that laid the groundwork for songs like "Disco Lady" to flourish. In this instance, Mathis slows things down and instead of blasting out the chorus, slowly shifts to a higher range to come off as much more seductive. This song therefore goes from camp to classic in an instant.
"How Deep Is Your Love"
The Bee Gees were arguably the hottest musical property in the late 1970s. Even Mathis (and Columbia) were not immune to their star power. Not much changes here musically compared to the original track from the Brothers Gibb but the piece shows how Mathis doesn't have to exert himself too much to leave an impact. The same mindset applies to his respective covers of Seals and Crofts' "Summer Breeze" and Barry Manilow's "I Write the Songs."
"With You I'm Born Again"
One of the more underrated songs from the late Billy Preston's discography (a complete about face love ballad compared to "Will It Go Round In Circles" and "Nothing From Nothing"), this track took him and singer Syreeta to the Top 5 in 1980. Mathis doesn't send his voice into the stratosphere here; he instead lets the orchestral instrumentation guide his sentiment and execution. Mathis' directness in conveying the song makes it one of his more standout renditions. It's chilling, but in the best possible way.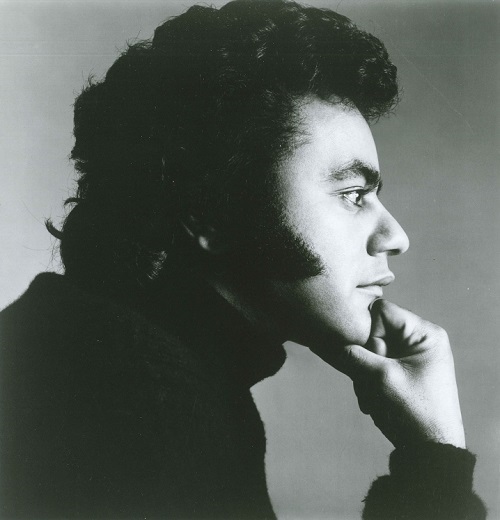 ***
Share your feedback and suggestions for future columns with Ira at vinylconfessions84@gmail.com. Ira's new book, "Hello, Honey, It's Me": The Story of Harry Chapin, is available for purchase here.