This website may contain affiliate links and advertising so that we can provide recipes to you. Read my privacy policy.
I use my air fryer in my kitchen on a weekly basis! There are so many recipes out there that I definitely have an air fryer recipe for everyone. These are the best of the best and the hardest part will be picking out which one is your favorite!
If you haven't tried using an air fryer or you're an old pro, there is something or everyone! Try out some of my top favorite air fryer recipes like this chicken, these delicious French fries or this mouthwatering salmon.
Air Fryer Recipes
Ok, ok, you've got me. The air fryer is currently my all-time favorite kitchen appliance! I mean, how could it not be when it does as many things as it does? Let's talk about it for a minute. Air frying doesn't require any oil, making it healthier and mess-free. It is quick and easy, and the cooking time is decreased in most recipes. It's pretty hands-off. You may only have to flip your food a time or two during cooking (if at all). The air fryer can reheat leftovers like it's nobody's business and make them taste as good as when they were first cooked… Have I convinced you yet?
If you use an air fryer all of the time or you are just about to buy one (thanks to my convincing you), then I have you covered for the next step… The recipes! This air fryer recipe round-up is the best of the best! The most popular on my website, the most popular in my house, and really, just the spot where I have gathered together all of the tried and true favorites. So get cooking! Want fish? Check. Chicken? Check. Vegetables? Check. This roundup has something for everyone! Plus, You will have a lot fewer dishes to do at the end of it all… It's a win-win!
Cooking with and Air Fryer
Before you get started on cooking air fryer recipes with your air fryer, there are some tips that I recommend reading over so that your food turns out perfect every single time!
Don't Overcrowd the Basket: The most important rule (in my opinion) is that you don't try to fill the air fryer's basket up with too much food at once. When you overfill the basket and your food is all touching then it doesn't cook evenly. The parts that touch will remain soggy and you won't get that delicious and crisp edge that the air fryer is known for!
Shake the Basket: Give the basket a good shake throughout the cooking process! This helps to cook and brown the food more evenly. I like to do this with fries, vegetables, and anything I want to crisp and brown really well. Just pull open the basket a few times during the cooking process, shake to toss the ingredients inside, and replace the basket to continue cooking.
Flip Meat Halfway Through: Halfway through the cooking process, flip your meat to help cook it evenly. This is a good rule of thumb for chicken, hamburgers, steak, and pork. Simply open the basket, flip the meat using tongs, and continue cooking until done.
Easy Cleanup Tips: Use parchment paper or foil to line the basket if you want to make clean up easy. Also, be sure to clean the air fryer if there is a lot of residue from the food left behind. This helps to prevent the food from taking on other flavors. It's not necessary to clean your air fryer after every use, just clean it when it needs it.
Air Fryer French Toast
Air fryer French toast is simple and delicious! You can whip this up in less than 10 minutes, and your family will gobble it up so fast that it will fly off of your table! 
Ingredients: eggs, milk, cinnamon, vanilla, thick bread Texas toast or French bread, fresh berries, powdered sugar, syrup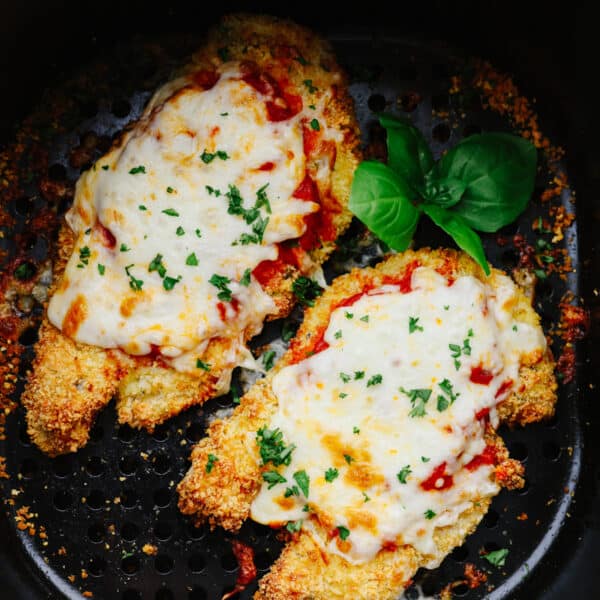 Air Fryer Chicken Parmesan
Air fryer chicken parmesan is cheesy, crispy, and cooks up in less than 10 minutes! It's an easy-to-make dinner that your family will go crazy over!
Ingredients: Chicken Breasts, Salt, Italian Seasoning Mix, All Purpose Flour, Eggs, Garlic Powder, Salt, Panko Breadcrumbs, grated Parmesan, Homemade Marinara, shredded Mozzarella, grated Parmesan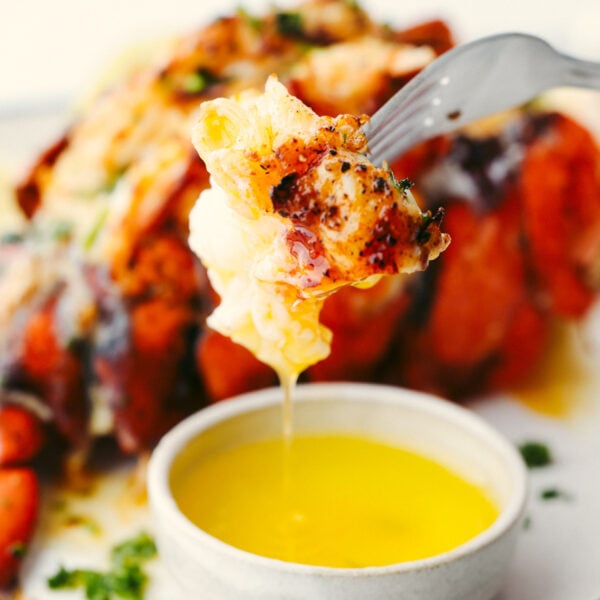 Air Fryer Lobster Tails
The lobster tails cooked in the air fryer are incredibly tender and delicious. Topped with a melted buttery garlic herb sauce, this is a quick and easy way to have that delectable fancy dinner without a lot of time and preparation!
Ingredients: lobster tails, salt and pepper, butter melted, garlic cloves minced, paprika, parsley chopped
Easy Air Fryer Cinnamon Rolls
There is no easier way to cook cinnamon rolls out there! These air fryer cinnamon rolls from a can are so easy and delicious. They take less than 15 minutes to bake!
Ingredients: refrigerator cinnamon rolls (with frosting)
Juicy Air Fryer Turkey
This juicy air fryer turkey is SOO GOOD and will have all of your guests asking for more! It's perfectly golden brown and dripping in flavor… You will never cook a turkey any other way again! 
Ingredients: bone-in turkey breast , Olive Oil, Italian Seasoning, paprika, garlic powder, salt, pepper, butter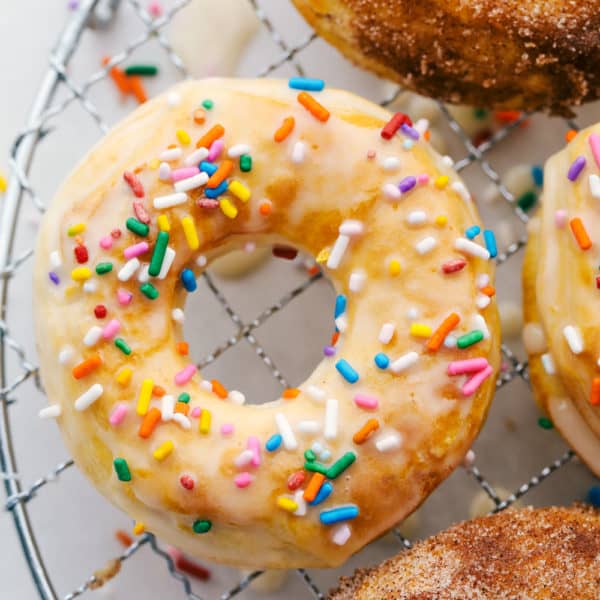 Air Fryer Donuts
Air Fryer Donuts are just minutes away and taste amazing! Glaze them or dunk them in cinnamon and sugar for donuts in less than 15 minutes!
Ingredients: refrigerated grands biscuits, Olive Oil Spray, Butter, sugar, cinnamon, powdered sugar, Milk*, vanilla, Optional: Sprinkles
Air Fryer Broccoli
Crunchy yet tender this Air Fryer Roasted Garlic Broccoli is going to become a favorite side dish. Super quick and easy this is the best way to cook broccoli guaranteed!
Ingredients: broccoli florets, olive oil, garlic, italian seasoning, salt and pepper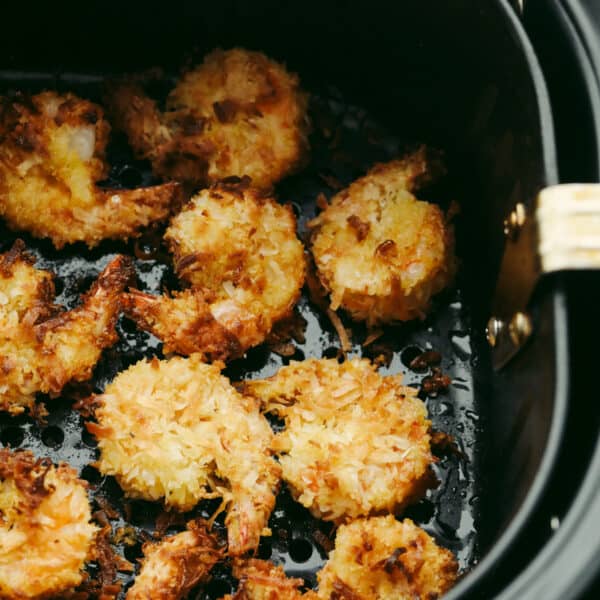 Insanely Delicious Air Fryer Coconut Shrimp
Coconut shrimp are insanely delicious! One of the best appetizers out there, these mouthwatering air fried coconut shrimp are crispy, lightweight and completely delightful! This appetizer is one that is sure to have your guests coming back for more!
Ingredients: large shrimp about 25, eggs, flaked unsweetened coconut, panko breadcrumbs, all-purpose flour, garlic powder, paprika optional, Salt and freshly ground black pepper
20 Minute Air Fryer Chicken Fajitas
These air fryer fajitas are packed to the brim with flavor but only take a few minutes to make! They are perfect for those on-the-go, busy nights, and everyone will go crazy over them!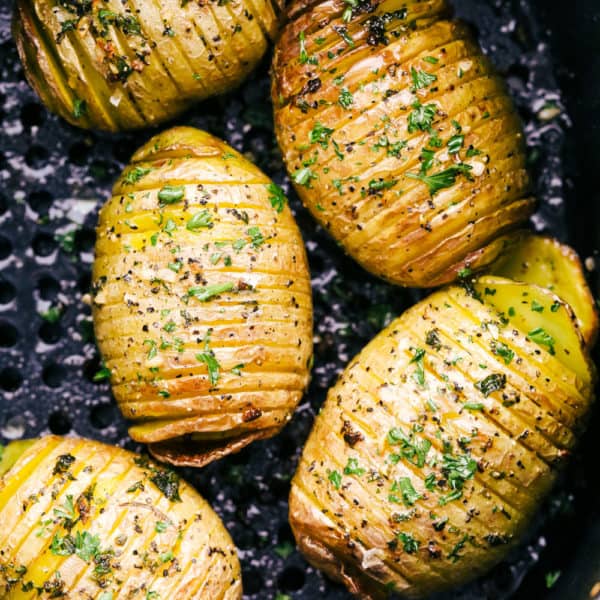 Air Fryer Garlic Butter Hasselback Potatoes
Air Fryer Garlic Butter Hasselback Potatoes are going to be your new favorite side dish. They are fried to a golden brown and the flavor is amazing!
Ingredients: size russet potatoes, salt and pepper to taste, butter melted, fresh parsley finely chopped, fresh thyme finely chopped, fresh rosemary finely chopped, garlic minced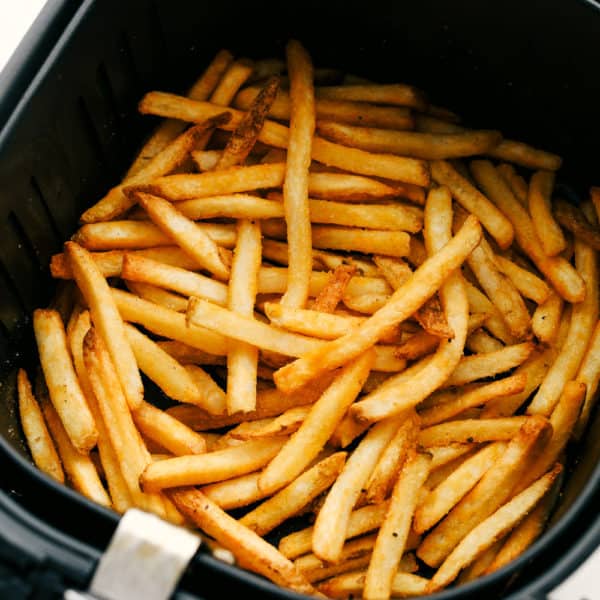 Air Fryer Frozen French Fries
These Air Fryer Frozen French Fries come out exactly like your favorite fast food fries! They are crispy, golden on the outside and perfectly soft on the inside. So much better than frying or baking!
Ingredients: frozen French fries, salt to taste, olive oil spray
Air Fryer Hard Boiled Eggs
These perfectly cooked air fryer hard-boiled eggs will blow your mind! Convenient, quick, and easy to peel every time, they will be your go-to for some quick protein for any meal! 
Ingredients: Eggs, Cold Water and Ice
Air Fryer Pizza
Pizza night just got a whole lot better with this Awesome Air Fryer Pizza! Perfectly cooked crust and exquisitely baked toppings, the air fryer does it again!
Ingredients: cornmeal, fresh homemade pizza dough , pizza sauce, Pepperoni, mozzarella cheese, Italian seasoning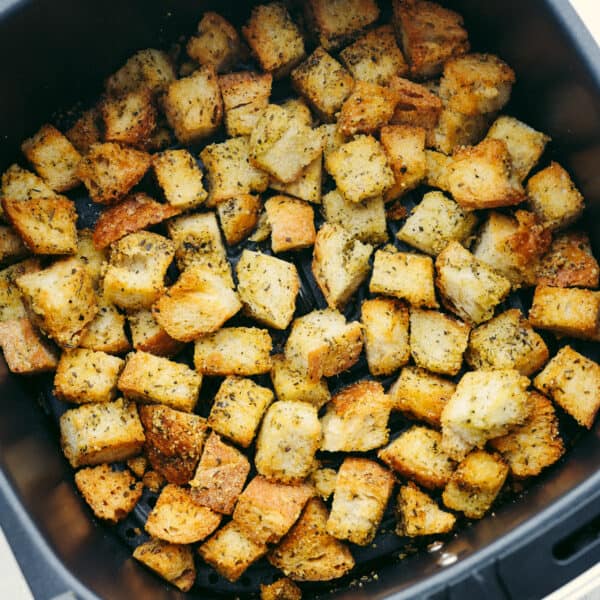 Air Fryer Croutons
These quick and easy air fryer croutons will give your salads and recipes that "wow" factor! A fresh loaf of bread cubed, seasoned, and air fried to perfection.
Ingredients: French Bread, Olive Oil, Italian Seasonings, Parmesan Cheese, Garlic Salt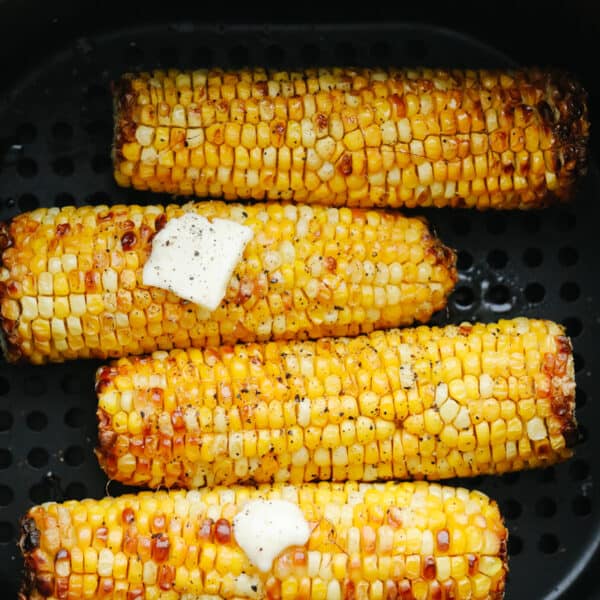 Air Fryer Corn on the Cob
Air Fryer Corn on the Cob is going to change the way you cook corn. Super fast, tender, and full of toasted corn flavor air fryer, corn is insanely delicious.
Ingredients: ears of corn, olive oil, salt and pepper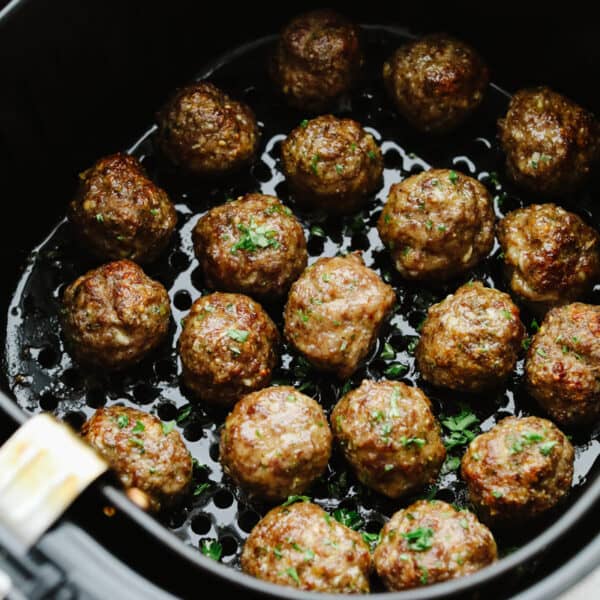 Quick and Easy Air Fryer Meatballs
Air fryer meatballs are tender, juicy, and delicious! They are SOO good and this will be a recipe that your family will want you to make again and again!
Ingredients: lean ground beef, onion, garlic, grated parmesan cheese, Italian breadcrumbs, parsley, salt, pepper, egg, milk
Air Fryer Brown Sugar Pineapple
This amazing air fryer brown sugar pineapple is the easiest and most delicious snack! So juicy and sweet, this warm pineapple will become your new favorite way to eat this tropical fruit! 
Ingredients: Pineapple, Brown Sugar, Butter melted, Cinnamon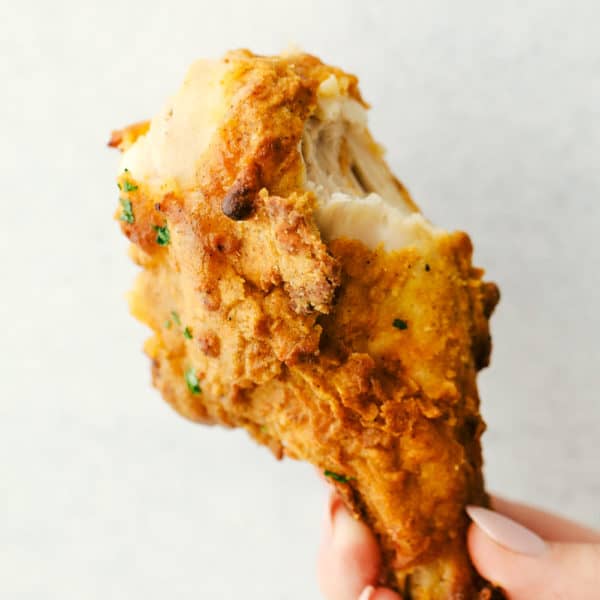 Crispy Air Fryer "Fried" Chicken
Crispy Air Fryer "Fried" Chicken is what Air Fryers were created to do! Crunchy golden seasoned outside, and tender, juicy, full of flavor inside! This is how chicken was meant to be eaten.
Ingredients: bone-in chicken thighs and legs, salt and pepper, buttermilk, eggs, flour, cajun seasoning, garlic powder, onion powder, paprika, salt, pepper, olive oil spray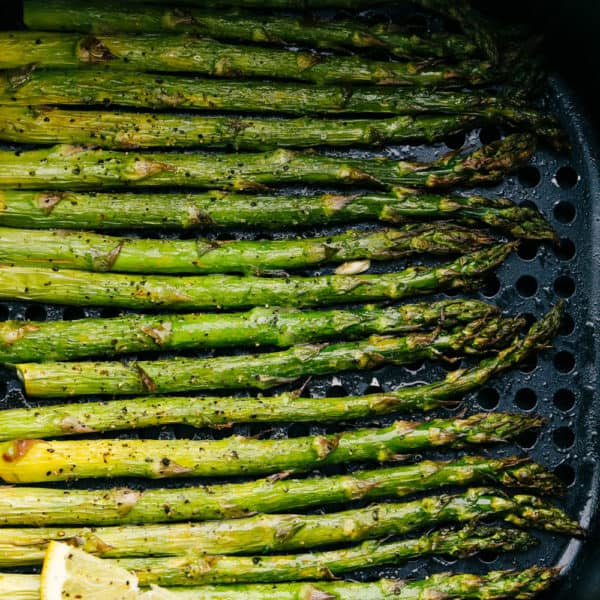 Air Fryer Asparagus
Air Fryer Asparagus is crisp, tender and delicious. This is hands down the best way to roast asparagus!
Ingredients: stalk asparagus, olive oil, juice of half lemon, salt and pepper
Air Fryer Cauliflower Wings
This low-carb take on wings is going to rock your world! Draped in a sticky-sweet honey buffalo sauce, these easy air fryer cauliflower wings are absolutely to die for!
Ingredients: head cauliflower, flour, paprika, garlic powder, onion powder, chili powder, salt, pepper, optional: pinch red pepper flakes, milk, Franks Buffalo Sauce, honey, Brown Sugar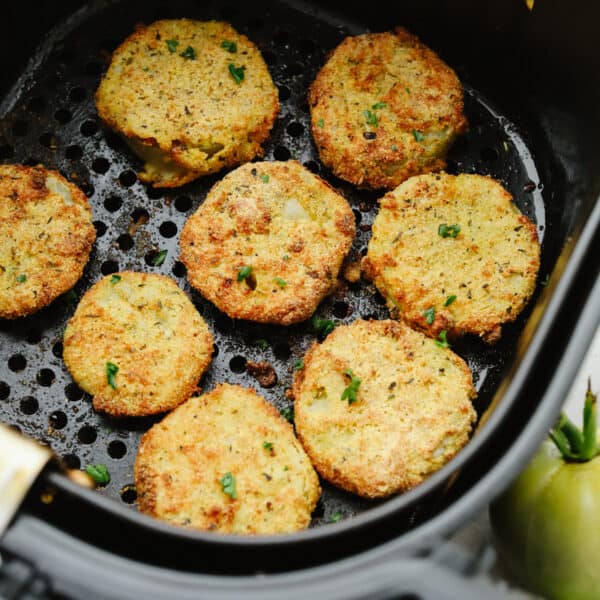 Air Fryer Fried Green Tomatoes
Air fryer fried green tomatoes are insanely delicious! Crispy on the outside and tender and juicy on the inside, these tomatoes will knock your socks off!
Ingredients: green tomatoes firm, eggs, milk, flour, salt, pepper, cornmeal, breadcrumbs, grated parmesan, Italian seasoning, olive oil spray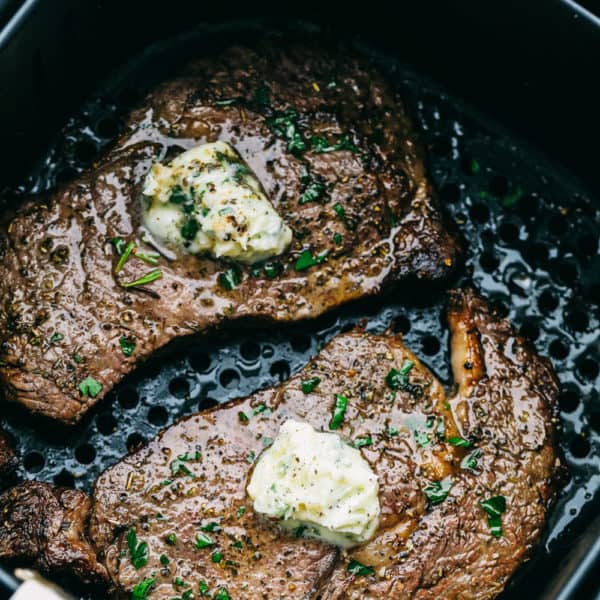 Air Fryer Steak
This Air Fryer Steak is impeccably seared on the outside and tender juicy on the inside. Cooking steak in an air fryer will create extra flavor and a delicate texture to truly satisfy! 
Ingredients: Ribeye, olive oil, Italian seasoning, salt and pepper, butter, garlic clove, fresh rosemary, fresh thyme, fresh parsley
Air Fryer Onion Rings
Crispy Air Fryer Onion Rings are going to be your new go to favorite. Golden, crunchy and cooked to perfection, these onion rings are so addicting!
Ingredients: onions, flour, baking powder, eggs, panko, grated parmesan cheese, paprika, garlic powder, olive oil spray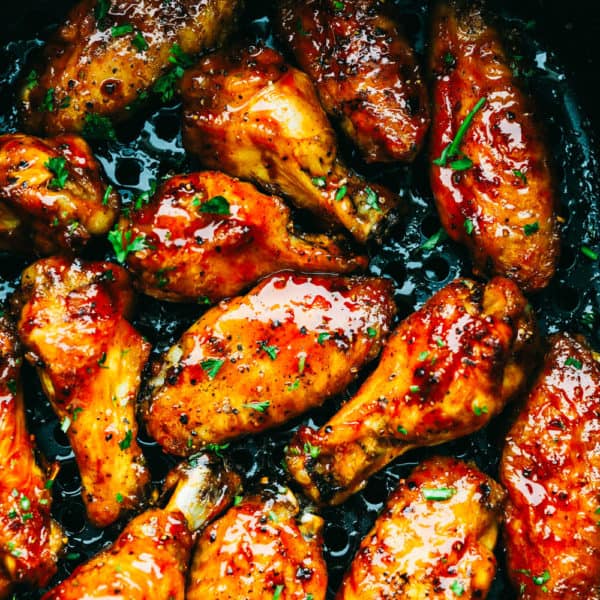 Crispy Air Fryer Chicken Wings
Crispy Air Fryer Chicken Wings are simply the best ever! Crispy on the outside, tender on the inside and with a smack of homemade buffalo sauce, they're finger lick'n good!
Ingredients: chicken wings, olive oil, garlic powder, paprika, salt and pepper, buffalo sauce, honey, Worcestershire sauce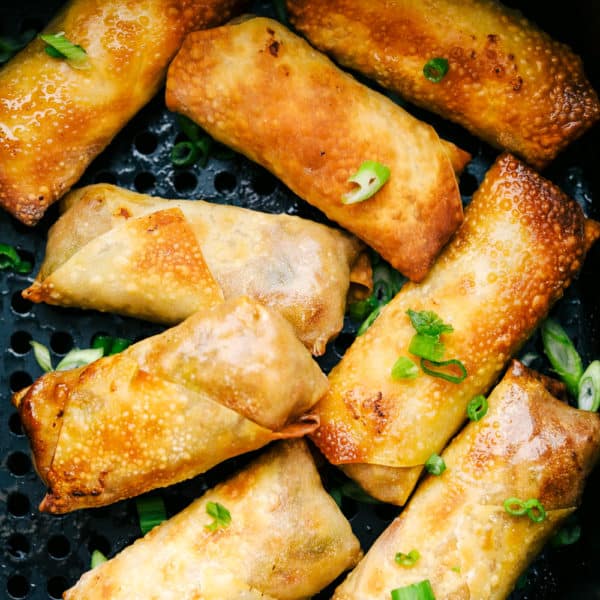 Air Fryer Egg Rolls
Egg Roll lovers, this Crispy Air Fryer Egg Roll Recipe is for you! Crispy, crunchy outside, tender filling inside, without the extra fat of frying or drying out from oven cooking. These are what you have been waiting for!
Ingredients: vegetable oil, minced garlic, minced ginger, finely chopped celery, coleslaw mix, ground chicken, oyster sauce, soy sauce, toasted sesame oil, sriracha, chopped green onions, egg roll wrappers, olive oil spray
Air Fryer Pop Tarts
Make your kids excited to get out of bed with these Homemade Air Fryer Pop Tarts! These pop tarts have a crisp flakey crust with a tender sweet filling, and topped with frosting, of course!
Ingredients: refrigerated pie crusts, strawberry jam, powdered sugar, milk, sprinkles: optional, brown sugar, cinnamon, flour, melted butter, powdered sugar, milk, cinnamon
Crispy Air Fryer Chickpeas (3 Ways!)
Air fryer chickpeas are crispy and flavored to perfection! With three different ways to season them, there will be a flavor for everyone. These crunchy, roasted chickpeas will become your new go-to snack!
Ingredients: of chickpeas, olive oil, garlic, salt, paprika, pepper, of Chickpeas, Olive Oil, Parmesan, Garlic, salt, of Chickpeas, Olive Oil, Homemade Taco Seasoning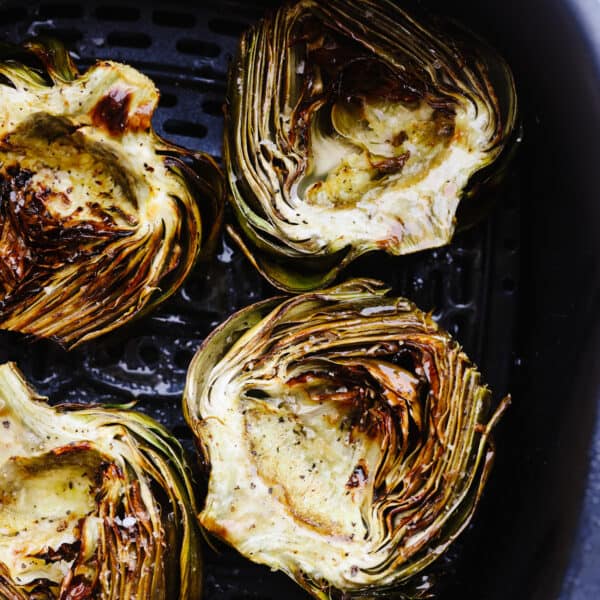 Air Fryer Artichokes
If you are looking for a simple and delicious way to cook up your artichokes that is quick and easy, then these air fryer artichokes are just for you! Cooked to perfection, these will be your new favorite vegetable! 
Ingredients: artichokes, olive oil, lemon, kosher salt, pepper
Air Fryer Chocolate Chip Cookies
Air Fryer Chocolate Chip Cookies are crispy on the outside, ooey gooey on the inside. These cookies are going to change the way you cookie!
Ingredients: butter , brown sugar, sugar, eggs, vanilla, flour, baking soda, baking powder, salt, milk chocolate chips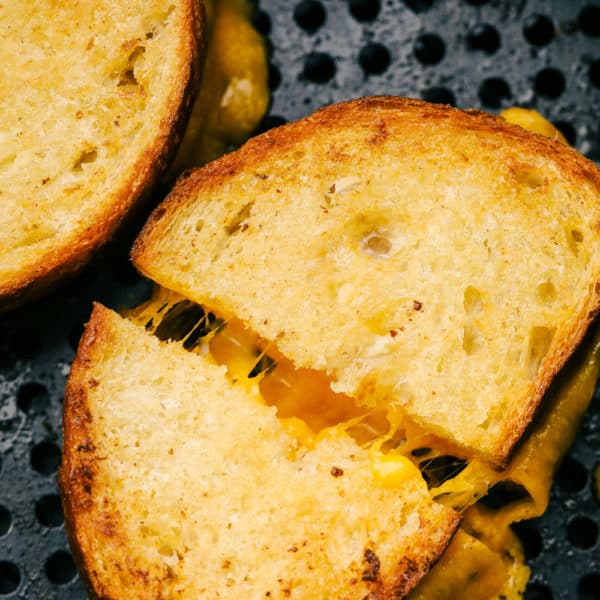 Air Fryer Grilled Cheese
This Air Fryer Grilled Cheese is the best I have ever had! Perfectly grilled to a crunchy golden brown on the outside and melty goodness on the inside. It's life changing.
Ingredients: sourdough bread*, cheddar cheese, mayonnaise, softened butter