Review & photos by Ira Kantor
Before the lights dimmed, the ubiquity of powerhouse guitarist Adrian Belew was easy to spot.
From the Zappaphiles to the David Bowie boosters to the King Crimson devotees in attendance, the air was filled with the idea that we were all being treated to a delicious buffet of rock history.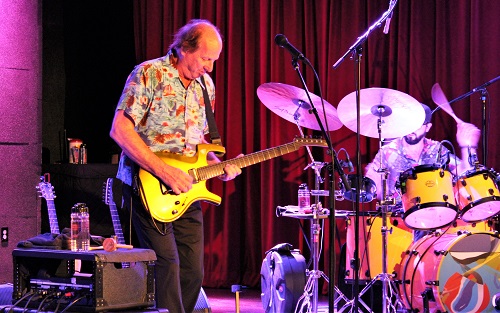 While Bowie and Zappa tunes were ultimately not part of the setlist, Belew and his youthful, feisty backing players, bassist Julie Slick and drummer Johnnie Luca, disappoint and tear up the homey Boston venue for a full force, in-your -face, two-hour show. This was not a concert for wine connoisseurs; it was one for the Red Bull Chuggers.
With 25 solo albums under his belt (Elevator his latest) Belew found the perfect balance between classic and individuality. The glorious riffs of Crimson-era "Frame By Frame" gave way to the jangly and edgy "Men in Helicopters," which then segued into the feedback-driven "Big Electric Cat."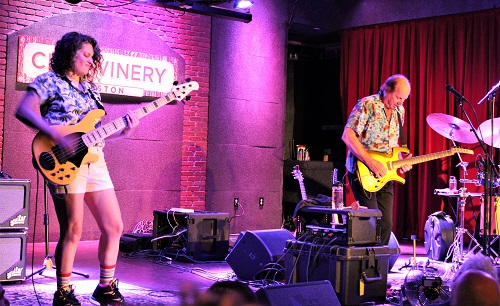 Today, Belew wears a vintage Hawaiian shirt (from his days playing live with Bowie), black pants and glittery sockless slippers, and is still the feisty, grinning virtuoso of yore. See him on stage this year and it's impossible not to imagine his 1980's European gigs with the Talking Heads; his Sheik Yerbuti-era shows with Zappa; and his 1984 trip to Japan with King Crimson.
Belew's guitar sounds are full to the brim with actually hard elements – including cuts, slashes and squeals. However, his talent has always been to take what might be perceived as dissonant and turn it into ambient brilliance. This was exemplified here in tracks like "Ampersand" and "Young Lions".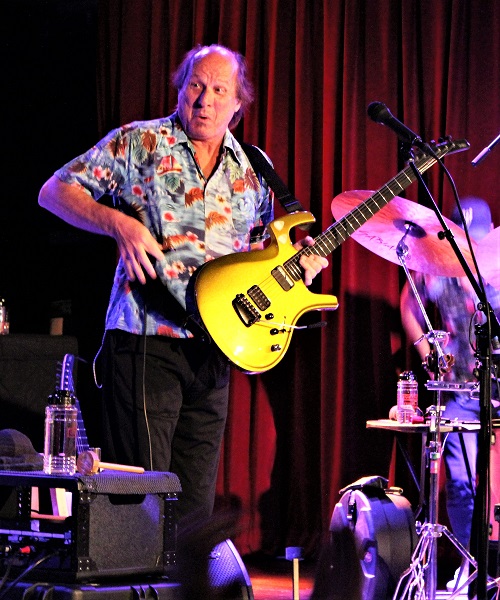 But Belew also offered his show a unique twist midway through, a solo acoustic set full of softer tunes like "Big Blue Sun," "The Power of the Natural World," and "Luminous." This then culminated in an intimate Q&A with viewers (which this reviewer eagerly participated in). Some questions were pure crush ("Isn't that freaking awesome??" exclaimed one fan); others were more thought-provoking. From this, we all learned some Wikipedia-worthy facts:
– Though Belew hasn't taken part in recent King Crimson lineups, he stressed that he and former bandmate Robert Fripp are on "very good terms."
– The legend is true that when shooting renter with David Bowie, Bowie and producer Brian Eno put Belew in a control room and simply asked him to play—with no instructions on what to do or how the tracks sounded. The original title of the album was Planned Accidents.
– While working with Talking Heads on "The Great Curve" from her seminal stay in the light Belew listened to the album for several minutes trying to find a spot on the base track for a guitar solo. Once he did, the result proved so popular with David Byrne and his crew that he ended up adding another.
– When performing with Bowie, Belew was chastised by his personal assistant Coco Schwab for his apparent exuberance on stage: "Stop dwarfing David Bowie!"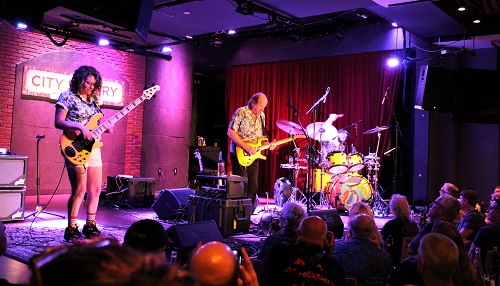 After a 20-minute break, Belew and the crew returned in full force in trio mode, firing off one terrific Crimson classic after another: "Neurotica", "Three of a Perfect Pair" and "Indiscipline" were real highlights, much to the delight of the audience. The band's encore would consist of excerpts from the fun, multi-layered musical romp "e".
As this performance emphasized, Belew should be considered the Jackson Pollack of rock. The effects and presentation of Belew's art aren't necessarily "pretty" in the classic sense, but it's hard to argue that the results he produces are anything but awesome.