This website may contain affiliate links and advertising so that we can provide recipes to you. Read my privacy policy.
Apple recipes are perfect for year-round deliciousness! Take your apples to the next level with these amazing recipes from breakfast, salads, main dishes to side dishes and even desserts!
Apples are my favorite thing to incorporate in just about every recipe because they are SO versatile! The number of recipes that I can use apples in is amazing and the creativity used to make such delicious food is inspiring! A few favorites are this caramel apple pie and apple bread.
The Best Apple Recipes
Mashed, chopped, sliced, diced, or baked, apples are the best ingredient to add to just about any recipe! Is there a more used fruit that you see used in breakfast, lunch, dinner, AND dessert? Just about everyone loves them. Thes apple recipes in this round-up will show you a variety of apple recipes that are bread and pies, salads, and drinks. You will be sure to find a recipe that your apple-loving friends will appreciate!
For so many years, American apple harvests were used mainly for apple cider! But now, when I think of apples, so many delicious tastes are brought to mind. These recipes are sure to have something for everyone, and you will definitely be able to find one that works for just about any occasion. These tried and true recipes are all something that has been curated with YOU in mind. Whether you are baking for a small family or a large party, these apple recipes will be sure to fit your needs! I hope that you enjoy them as much as I do!!
Tips for Apples
How do you choose apples? Do you use different apples for different apple recipes? There are so many different questions about apples for every recipe. I am here to help you gain some general knowledge and some quick tips that will help you make any and all of these apple recipes!
Tangy apples: If you are looking to add a bit of tartness to a recipe, use a Granny Smith apple or a slightly tart Macoun.
Sweet apples: If you want to add some sweetness to a recipe without the extra sugar, look for Honeycrisp apples which pack a lot of sugar. Or try using a sweet Golden Delicious apple. Either of these will add some sweetness you may be looking for!
Prevent apples from turning brown: If you are using apples in a salad or sliced on a platter, the best way to stop sliced apples from turning brown is to soak the fruit in some salt water (½ tsp salt in a cup of water) for about 10 minutes. You can drain them and store them until ready to use. Once you want to use them, rinse them off before serving or using them to get rid of that saltwater taste.
To peel apples: If you dip an apple quickly in and out of boiling water, then you will be able to peel the skin off much more easily.
How to Store Apples
There is always a time of year when we are overwhelmed with an abundance of apples. Don't let them go to waste! Here are some ways that you can make them last longer so you can store them to use later in so many different apple recipes!
Keep them cool: With apples, it's best to store them in the fridge until you are ready to use them. If you have one, place them in the crisper drawer in a plastic bag with holes. Or, place them in the fridge covered with a damp paper towel.
Freeze them: Did you know that you can freeze whole apples?? Once you have your apples, wash them and place them in an airtight container in your freezer. Apples can be kept in the freezer for 3-6 months.
Apple Dump Cake
Apple Dump Cake is a sweet and savory warm apple dessert that is pure goodness! Easy to dump all ingredients together and enjoy an irresistible fall treat. 
Ingredients: Apple fruit filling, Yellow cake mix, Cinnamon, Pecans, Butter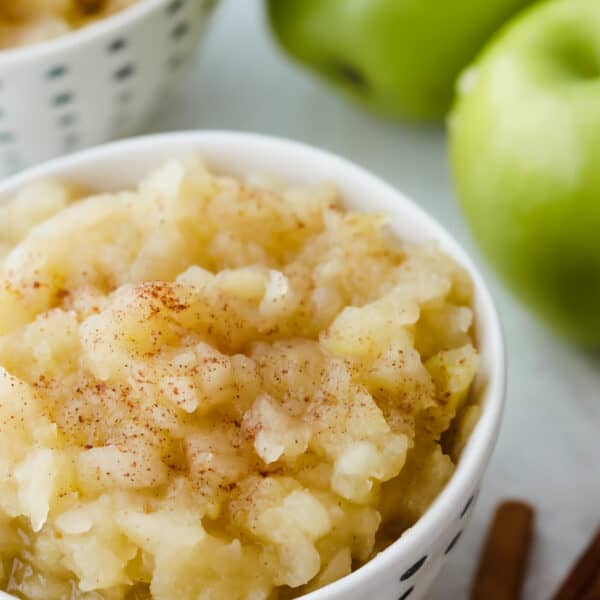 Homemade Applesauce
Homemade applesauce is a simple way to incorporate all of the apples that I have in my fridge! PLUS as a bonus, my kids are more inclined to eat something so simple!
Ingredients: apples, water, sugar, Juice from half a lemon, cinnamon
Caramel Apple Pie
Caramel apple pie is the traditional American dessert, but totally elevated. Sour tart apples are smothered in caramel, it's insanely delicious.
Ingredients: homemade pie crust, granny smith apples, fresh lemon juice, granulated sugar, cornstarch, ground cinnamon, ground nutmeg, salt, Egg yolk plus 2 tbsp water for egg wash, heavy cream, granulated sugar, light corn syrup, salt, salted butter, vanilla extract
Old Fashioned Apple Cobbler
Old Fashioned Apple Cobbler is a warm baked fruit dessert that is topped with a perfect biscuit-like crust.  The warm cinnamon spice is comforting and satisfying and nails a perfect summer dessert!
Ingredients: Granny Smith apples, brown sugar, apple juice, cinnamon, Lemon Juice, Cornstarch, flour, sugar, baking powder, cold butter, milk, Sugar, cinnamon
Apple Butter
Apple Butter is a sweet velvety concentrated apple spread that you'll want to put on everything. It requires just a few ingredients and a little bit of patience to make this yummy jam like condiment.
Ingredients: golden delicious apples, apple cider, brown sugar, ground cinnamon, kosher salt, nutmeg, vanilla extract
Apple Pie
Apple Pie is a classic American favorite that is sure to hit everyone's dining room table each fall. The buttery flaky crust, sweet-tart apple filling, and warm cinnamon aroma makes this a slice of heaven. Top it with ice cream and you've got a dessert that is sure to hit the spot.
Ingredients: all-purpose flour, salt, unsalted butter, shortening, ice water, apples, lemon juice, granulated sugar, all-purpose flour, cinnamon, nutmeg, ground ginger, egg wash, coarse sugar
Caramel Apple Cinnamon Rolls
A quick and easy cinnamon rolls stuffed with real apples and drizzled with caramel. Ready within an hour!
Ingredients: flour, instant yeast, white sugar, salt, egg, water, milk, butter, Granny Smith Apples, brown sugar, cinnamon, nutmeg, butter, butter, brown sugar, sweetened condensed milk
Cinnamon Apple Bread
This densely soft Cinnamon Apple Bread is filled with fall flavor and packed with sweetened apples and walnuts. Serve this easy-to-make treat with breakfast or for a snack.
Ingredients: Flour, Sugar, Cinnamon, Baking Soda, Baking Powder, Salt, Eggs, Oil, Vanilla, Apples, Walnuts, Brown Sugar
Salted Caramel Apple Bars
Salted caramel apple bars are ooey-gooey treats that have an amazing buttery shortbread crust and a soft and sweet caramel apple center!  This is one of the best desserts you will make this fall!
Ingredients: butter, white sugar, powdered sugar, vanilla, flour, apples, caramels, whipping cream, vanilla, coarse sea salt
Dutch Apple Pie
Dutch Apple Pie is the best version of apple pie! Instead of a top crust, you enjoy a sweet crumble topping over a mound of delicious apples.
Ingredients: pie crust, apples, sugar, all purpose flour, cinnamon, lemon juice, brown sugar, all-purpose flour, butter, cinnamon
Caramel Apple Overnight French Toast Casserole
Caramel Apple French Toast Casserole is a sweet and savory breakfast with thick chunks of cinnamon swirl bread, warm apples and caramel drizzle that brings comfort to your family in one morning!
Ingredients: LUCKY LEAF® Premium Caramel Apple Fruit Filling & Topping, pecans, chopped, caramel sweetened condensed milk*, thick sliced cinnamon swirl bread, cubed, eggs, vanilla extract
Strawberry, Apple, and Pear Spinach Salad with an Apple Cider Poppyseed Dressing
Strawberry, Apple, and Pear Spinach Salad is an easy to make spinach salad with crisp apples, pears and strawberries hidden throughout. Topped with feta cheese, crunchy pecans and tossed in a delicious apple cider dressing!
Ingredients: spinach, strawberries, apple, pear, apple cider, Apple Cider Vinegar, Olive Oil, Honey, poppyseeds, feta cheese, chopped pecans
Apple Danish
Apple Danishes are the perfect way to ring in the apple season! The flaky crust, apple pie filling, crumb topping, and simple glaze make them irresistible.
Ingredients: butter, granulated sugar, water, cornstarch, cinnamon, nutmeg, of salt, large Granny Smith apples peeled and diced, brown sugar, cinnamon, butter melted, flour, egg, water, powdered sugar, heavy whipping cream or milk, vanilla extract
Slow Cooker Apple Cider (2 Ways)
Homemade apple cider that is packed with flavor and delicious sweetness!Homemade apple cider that is packed with flavor and delicious sweetness!
Ingredients: of cheesecloth, whole cinnamon sticks, whole cloves, whole allspice, 2 quarts apple cider, light brown sugar, large orange
Harvest Cobb Salad with a Honey Apple Cider Vinaigrette
Harvest Cobb Salad with a Honey Apple Cider Vinaigrette is filled with crisp fall apples, roasted butternut squash, and all of the delicious things of fall come together in this mouthwatering salad.
Ingredients: romaine lettuce, arugula, boneless skinless chicken breast, of bacon, hard boiled eggs, apples, butternut squash, avocado, candied walnuts*, crumbled feta cheese, olive oil, apple cider vinegar, water, honey, salt, pepper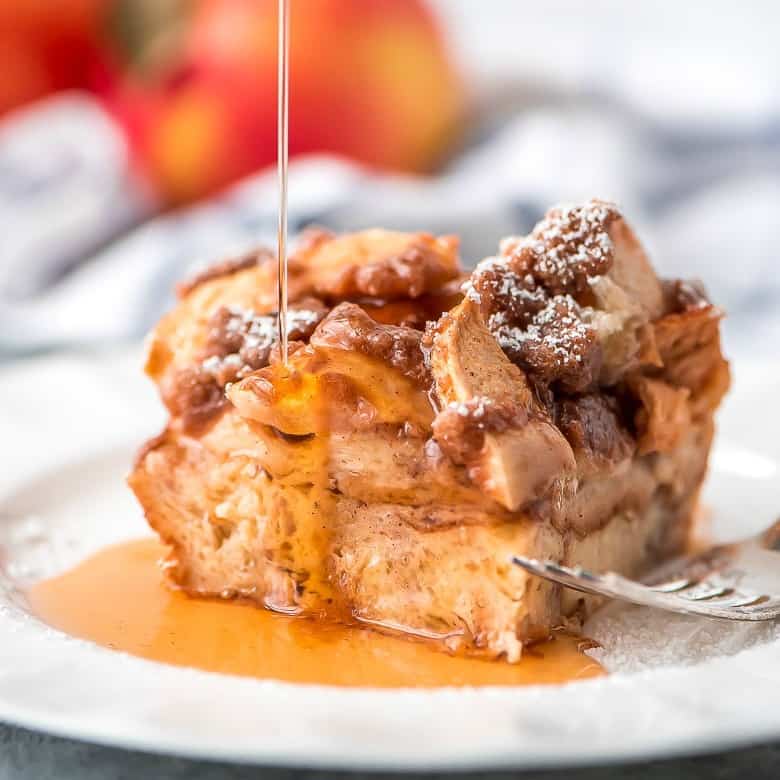 Overnight Cinnamon Apple French Toast Casserole
Overnight Cinnamon Apple French Toast Casserole is the perfect autumn breakfast to wake the family up to!
Ingredients: loaf challah bread, eggs, half and half, milk, granulated sugar, vanilla, cinnamon, apples peeled and sliced thin, brown sugar, flour, cinnamon, butter cold, powdered sugar, maple syrup
Irish Apple Cake
With a buttery streusel topping, Irish apple cake is tender and spiced to perfection. Drizzled with a warm custard sauce, this is one dessert you won't want to miss!
Ingredients: Unsalted Butter, Granulated Sugar, Vanilla, Eggs, All-Purpose Flour, Baking Powder, Cinnamon, Salt, Milk, Granny Smith Apples, All-purpose Flour, Rolled Oats, granulated sugar, Salt, unsalted butter, Whole Milk, Dash Salt, Egg Yolks, granulated sugar, vanilla extract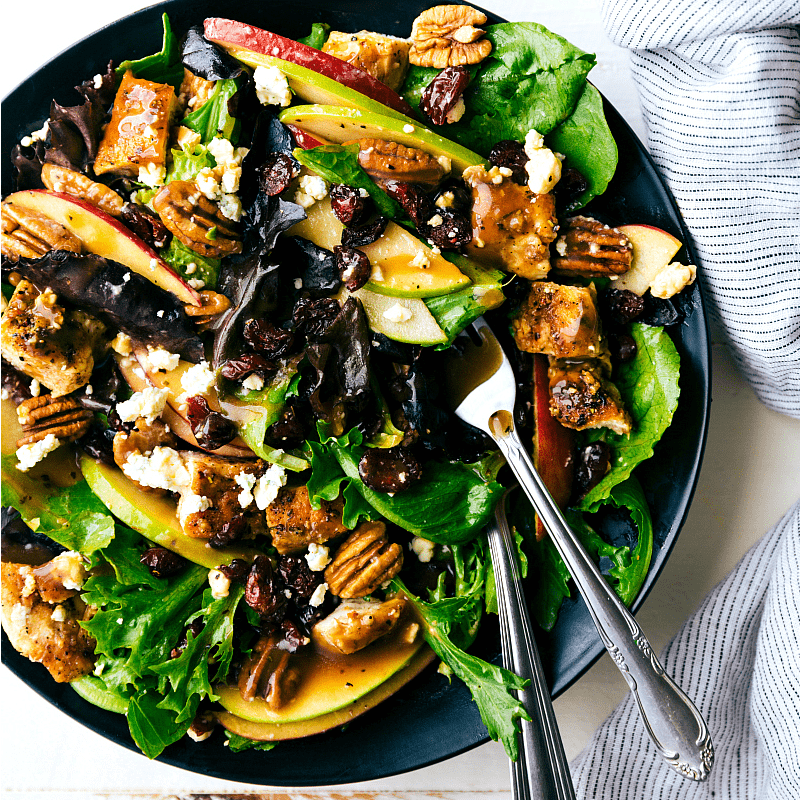 Chicken and Apple Salad
Chicken and Apple Salad with a Honey Dijon Vinaigrette is the perfect fall salad full of crisp apples, cranberries, crunchy pecans and bleu cheese. This salad is easy to put together and so mouthwatering!
Ingredients: Spring lettuce mix, small apples, roasted pecans, dried cranberries, crumbled bleu cheese, Cooked and diced seasoned chicken*, lemon, olive oil, balsamic vinegar, and ½ teaspoon honey, Dijon mustard, shallot, garlic, S&P
Sautéed Apples
These apples are sautéed in a brown sugar and cinnamon mixture, making them insanely delicious! It's a match made in heaven when you top them with some vanilla ice cream or whipped cream! 
Ingredients: apples, butter, water, cornstarch, brown sugar, cinnamon
Crumb-Topped Apple Coffee Cake
This Crumb-Topped Apple Coffee Cake is perfect for fall! Greek yogurt and extra apples keep it moist and a crunchy crumb topping gives it extra decadence!
Ingredients: canola oil, brown sugar, plain Greek yogurt, large eggs, vanilla, flour, cinnamon, baking powder, salt, baking soda, tart baking apples, melted butter, all-purpose flour, brown sugar, cinnamon
Caramel Apple Toffee Poke Cake
Caramel Toffee Apple Cake is a tender and moist cake with apples baked right inside! Topped with cool whip topping toffee bits and drizzled in caramel, this will become a new favorite!
Ingredients: box yellow cake mix, can, large eggs, vanilla extract, ground cinnamon, whole milk, container, For topping: caramel sauce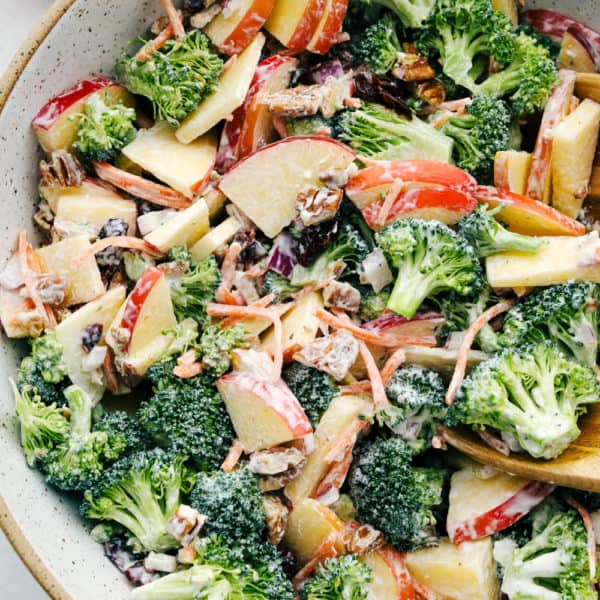 Broccoli Apple Salad
Broccoli, pecans, cranberries, carrots and apples come together to make an amazing salad with delicious flavors and textures.  The creamy dressing on top makes this salad absolutely incredible!
Ingredients: fresh broccoli florets, shredded carrots, diced red onion, large apples, pecans, dried cranberries, lite mayonnaise, low fat greek yogurt, lemon juice, sugar, salt, pepper