Historic compass carried by American pioneer and frontiersman during his exploits that made him one of the first folk heroes of the United States highlights Heritage Auction's Americana & Political event.
DALLAS – A compass personally owned by Daniel Boone, with provenance, sold for $109,375, more than five times its pre-auction estimate, to lead Heritage Auctions' Americana & Political Signature Auction to $1,465,666 February 25-26.
"This compass is an exceedingly significant piece of American history," said Curtis Lindner, Americana & Political Director at Heritage Auctions. "Daniel Boone was a pioneer, a frontiersman, whose accomplishments included exploration and settling of Kentucky, which at the time was beyond the borders of the 13 Colonies. His curiosity and courage — and at times, this compass — allowed him to explore the world around him."
Included among the provenance that accompanies the compass are two newspaper articles from the 1930s that tell the story of the transfer of the compass from Boone to a young friend named Abraham Miller, who was taught to shoot by Boone. When Miller, at just 12 years old, killed a panther threatening his family's cattle, Boone was so proud that he gave this compass to Miller.
Also reaching six figures was a carte de visite signed by former President Abraham Lincoln that drew a winning bid of $106,250. The CDV was one of six Lincoln is known to have signed as a donation to a Sanitary Fair that was held October 18, 1864, in Tazewell County, Illinois. Mary L. Westerman, an officer of the local Soldiers' Aid Society, requested the donation. This CDV is believed to be one of the six known that Lincoln signed for donation to the event.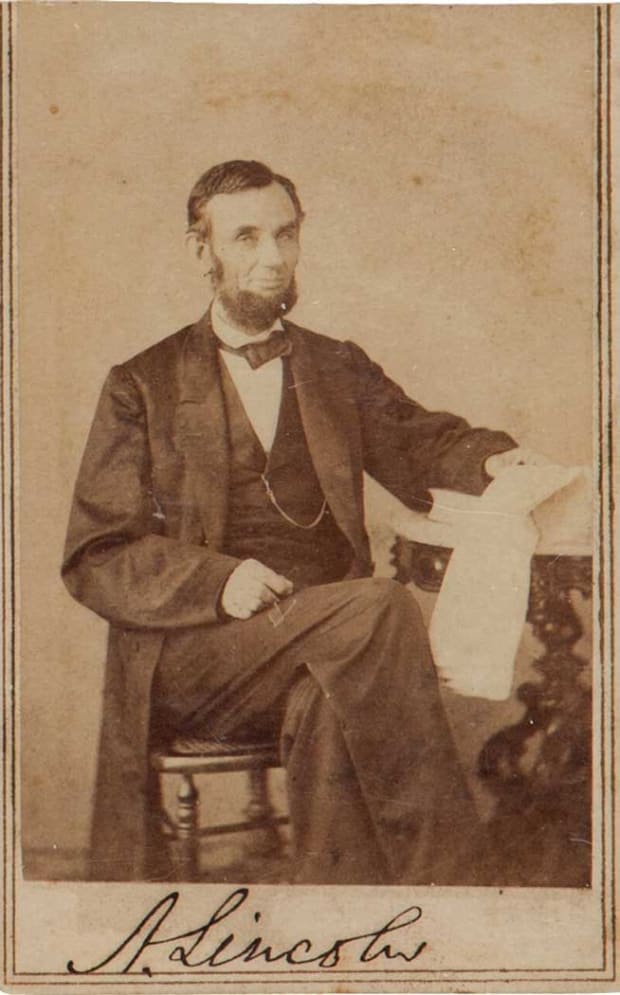 A Double Partner's Desk, circa 1857, from the U.S. House of Representatives brought $40,000. The desk was designed by Thomas Ustick Walter, who is known best for also designing the dome in the U.S. Capitol, and manufactured by Doe, Hazleton & Co., of Boston, Massachusetts for the newly opened House of Representatives chamber in in 1857. Who occupied this desk from 1857-73 is not known, but it likely was acquired by Nehemiah G. Ordway of New Hampshire, who was Sergeant of Arms for the House from 1863-73, when furnishings were updated in the chamber during the final year of his tenure. It was sold early in the 20th century by an antiques dealer in Warner, New Hampshire — the birthplace of Ordway — and remained in the family of the purchaser for more than 100 years.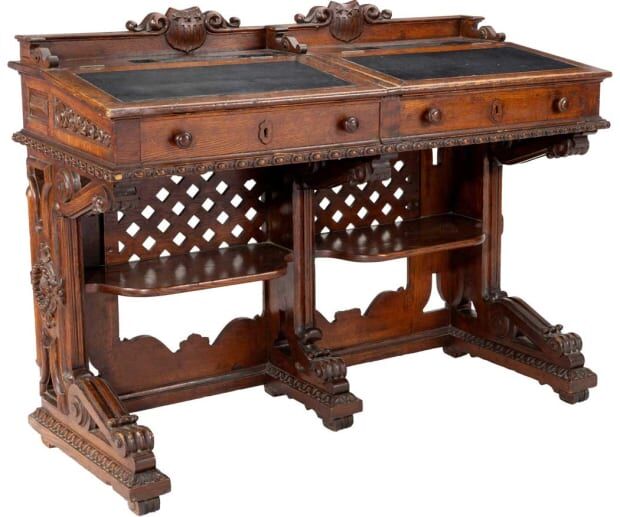 A display with signatures of Lincoln and John Wilkes Booth, as well as Slabbed Wallpaper from Ford's Theater, closed at $37,500. The upper portion of the display features a large colorful reproduction image of Booth with his pistol drawn as he approaches the Lincolns. It also includes a receipt for the total rent amount of $118,75 that dated Nov. 16, 1863 and signed by Booth, a hand-written note signed by Lincoln and a swatch of wallpaper from the booth in which the 16th president was assassinated.
The auction included two pieces of silver from the Tumbaga wreck off Mimbres, Bahamas, in 1528. A Silver Round, with a diameter of 10 inches, drew 15 bids before it ended at $35,000, while a Silver Bar measuring 13-1/2 inches long, reached $15,000.
Other top lots in the auction included:
An oil-on-canvas painting of General Washington at Dorchester Heights: $31,250
A Bookcase from the Law Office of Abraham Lincoln: $30,000
A Carved Bone Napoleonic Prisoner-of-War Ship Model, Circa Early 1800s: $23,750
A Thomas Edison Stock Ticker with Stand: $22,500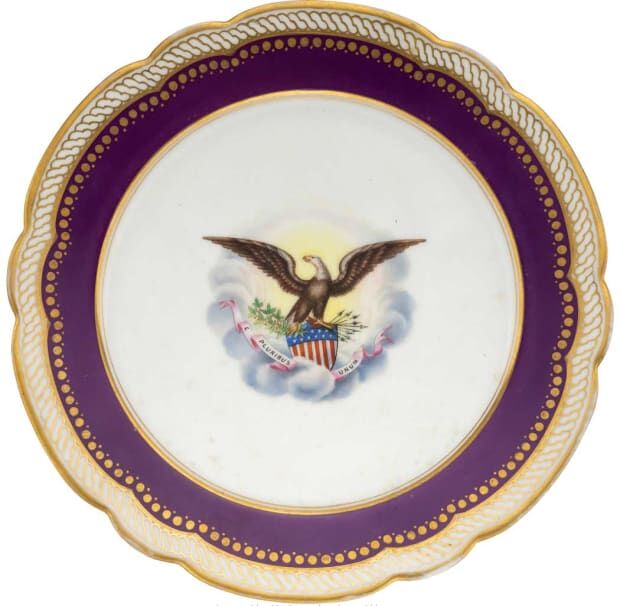 An Abraham Lincoln: White House China Dinner Plate: $20,000
A Full Standing Bronze Study featuring Andrew Jackson, James Polk and Andrew Johnson: $15,000
A Large Presentation Featuring CAG Certified Segment of Wright Flyer Wing Fabric, and Individual Handwritten Checks by Both Wilbur and Orville Wright: $13,750
Complete results can be found at HA.com 6269
YOU MAY ALSO LIKE:
The Fascinating History of the Pin-Back Button
The Evolution of Presidential Campaign Posters
Vintage Apollo Mission Photos Celebrate "One Giant Leap"