Review by Shawn Perry

I have to admit I had reservations about seeing Bob Weir at the Ryman. Having gotten closer to attending Dead and Company's 2022 summer tour in New York City, I had to come to terms with the fact that Weir was aging and no longer in his prime. Arguably the Grateful Dead's strongest singer, Weir's voice, like so many of his contemporaries, has lost a bit of its bite. For a man who's always maintained such a youthful and fit image – from the running shorts he wore on the dead's last outings to a daily exercise regimen that continues to this day – it's hard to relate to Bob Weir 75 and back to the once mocked "Bobby" as a senior. The shaggy white beard certainly lends credence to this notion.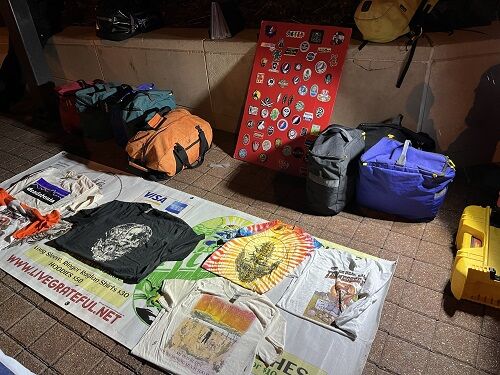 Featuring the Wolf Bros (drummer Jane Lane, bassist Don Was, pedal steel guitarist Barry Sless and keyboardist Jeff Chimenti) and the Wolfpack String and Brass Quintet (Alex Kelly, Brian Switzer, Adam Theis, Mads Tolling and Sheldon Brown) in his Corner , Weir seems to have one howling good time. And he did, along with thousands of Deadheads holding court at Nashville's Mother Church over the weekend. Best of all, Weir's voice bubbled and gushed appropriately over two sets within the intimate confines of the 2,300-seat venue, without the baggage of a hard-driving band pushing the singer's lungs to the limit of their capacity. There has been a concerted emphasis on nuanced flourishes, padded gates, sweeping laneways and elegant passages to keep the music moving so you never want to stop. And it didn't last more than three hours.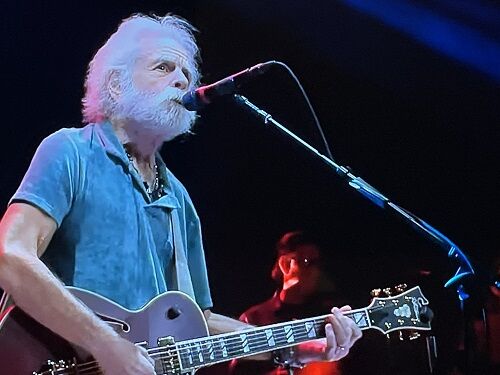 As he has done solo and with other ensembles, Weir has assembled today's sets with a bit of traditional material, a few solo-related originals and lots of Grateful Dead music. Jerry Garcia and Robert Hunter's songs were well received, especially in the first set when "New Speedway Boogie", "Crazy Fingers" and "Ramble On Rose" rolled out one after the other. Weir started out a little hoarse but quickly got up to speed as the rest of the players circled around the tunes and filled in the gaps. Both Sless and Chimenti mastered the occasion with stunning solos, while the Wolfpack spiced up the verses and twists with selective string and horn accents. The arrangements breathed new life into music that lends itself to this kind of flexibility.
Nashville native Mickey Raphael, best known for playing harmonica with Willie Nelson, turned up for a rough ride through Bob McDill's "Catfish John" and stayed out for "Even So" and "October Queen," both evening atmosphere, the only album Weir ever made with Ratdog, as well as the set's finale, the ever-effervescent "Bird Song." The bridge expanded into a soulful jam with a flute solo leading to a mind-bending finish before settling down for the night. You have to imagine that Garcia would have loved to have been there.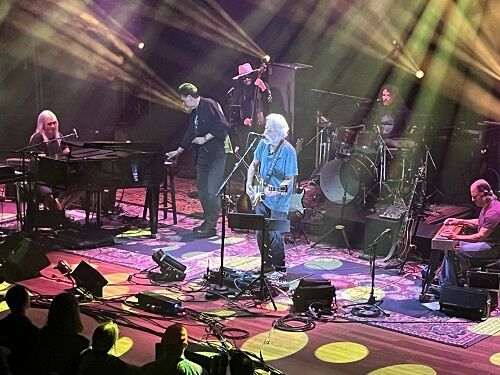 The second set started in grand style with the suite "Help On The Way", "Slipknot!", "Franklin's Tower". It must have been a stimulating break as every player came out with momentum. Chimenti dazzled the floor as his fingers danced effortlessly across his vintage vibe electric piano. No wonder Weir has brought him to every gig he's played for the last 20 years. "Slippery Node!" was particularly unwieldy in its execution, as Lane mastered the tempos and did the job of two, while Weir's guitar textures propelled the song into the next movement. The shift immediately lifted the spirits as the familiar chorus of "Roll away the Dew" swept across the room and brightened the mood. With each bend, slide, and peck, Sless raised the pedal steel onto the Ryman's canopy.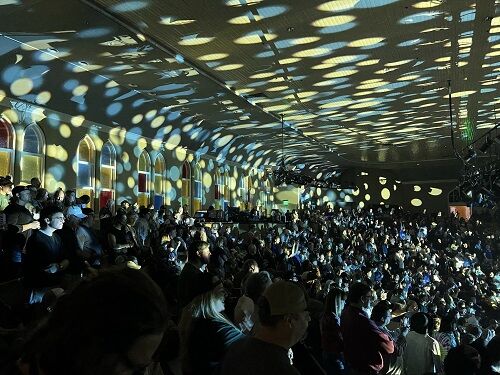 Weir then turned to some of his own Grateful Dead compositions: "Looks Like Rain" and "Estimated Prophet". Light bubbles burst and hissed across the Ryman's stained-glass back panel. From the upper balcony I could see the entire rotunda come to life. It felt like spinning in the sky. Along the way, the band paid a quick visit to Marvin Gaye's What's Going On. It took the powerful "morning dew" to bring everyone back to earth.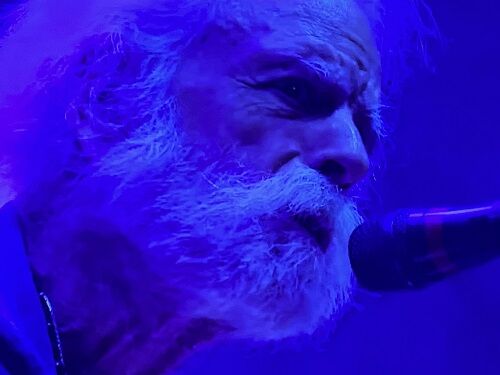 It was a Saturday night, and Weir and Co.'s (including Raphael) fleeting go-to delivery of "One More Saturday Night" capped a night of intriguing manifestations. Floor and balcony swayed and chopped; Earth girls in the back aisles spun faster. As soon as the music stopped, everyone left the hall and poured out into the city streets, joining the residents who mingled on Broadway and the adjoining side streets. A light drizzle pervaded the air. Many would return for the final show of the winter game on Sunday. After a handful of April dates out west, Weir then does one last run with Dead & Company. Once that's over he'll no doubt show up on another stage, probably with the Wolf Bros, maybe alone, or maybe with a new outfit ready and willing to give these songs a fresh twist. As with everything Grateful Dead, you never know what's going to happen next.