Fox's latest hit drama, 9-1-1 Lone Star, stars Rob Lowe and Liv Tyler. Lowe plays a veteran New York firefighter named Owen Strand, who is in the midst of cascading personal tragedies (a death in the family, a recent lung cancer diagnosis) and has decamped to Austin, Texas, to rebuild the city's rag-tag public safety department. Lone Star premiered in early 2020, and it's a spin-off of 9-1-1, which focuses on Los Angeles first responders (including the fire department), stars Angela Bassett, and has averaged around 10 million viewers across five seasons. But don't get either of those shows confused with Chicago Fire, NBC's juggernaut firefighting procedural that has been on the air since 2012, or Station 19, an ABC show also about firefighters, which shares the same universe and continuity as Grey's Anatomy (that one is set in Seattle). And please, all of those are different from Fire Country, which just debuted on CBS last October. That one is about an ex-con… who then becomes a firefighter in rural California.
Hour-long network serials don't garner much cultural scrutiny in 2023. The decline of monoculture, and the encroachment of Netflix documentaries, Hulu originals, and yearly tragicomic trips to the White Lotus, have marginalized the Big Four. So what have the networks been up to in our absence? Producing a cavalcade of identical dramas that are all focused on the men and women who put out fires for a living. We're a long way from the mid-2000s, when CSI could regularly count on 21 million viewers tuning in — live — every Thursday night to watch a forensics lab in action. But these ladderman programs are still courting massive ratings, enough to make them some of the most watched shows on TV. Firefighting is the hottest trend in broadcasting, even if the media doesn't seem to be paying attention.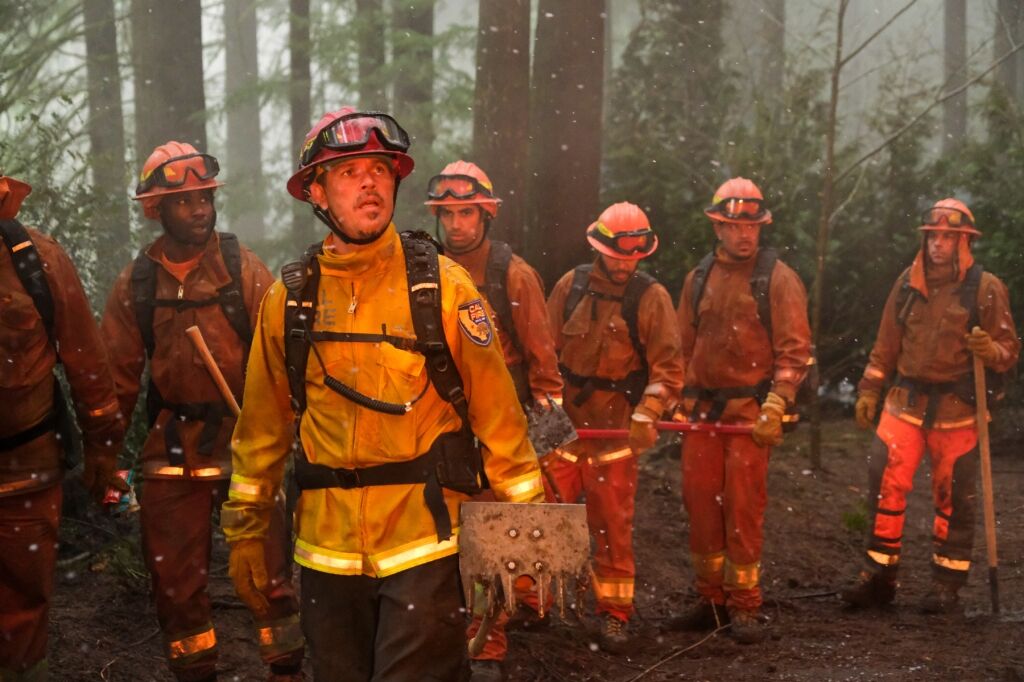 "Firefighters are exclusively heroic," says Krista Vernoff, the showrunner behind both Station 19 and Grey's Anatomy, when I ask her why the networks have become singularly fixated on burning buildings. "We're living in a moment on the planet where we're all increasingly frightened. When I was growing up we all gathered around the same news, we all agreed with people about what was happening in the world. And that's gone. But I think the one thing we can agree on is that firefighters are heroes."
Station 19, like the rest of the network firefighting wave, is an old-school workhorse procedural. Most episodes concern some sort of tragic inferno that is threatening the good people of Seattle, and a squadron of brave, good-looking professionals dampen the flames while simultaneously tending to their own demons, biases, and flirtations. This is the exact same formula deployed in the weekly slate of medical catastrophes that befall Grey Sloan Memorial Hospital, or the esoteric self-contained murder mysteries at the heart of Criminal Minds. The only difference is that, at least on paper, a firefighting show is centered around the disasters that a fire department is equipped to handle.
You might think that sounds limiting. Truly, how many flavors of conflagration can there really be? But Tim Minear, the four-time Emmy nominee who served as the executive producer of American Horror Story and created the 9-1-1 franchise alongside Ryan Murphy, assures me that it isn't. When you're working within the laxness of genre fiction, every narrative device is on the table. In fact, Minear tells me that 9-1-1 Lone Star — again, a television show about a firefighting Rob Lowe — is more malleable than anything he's ever put his name on.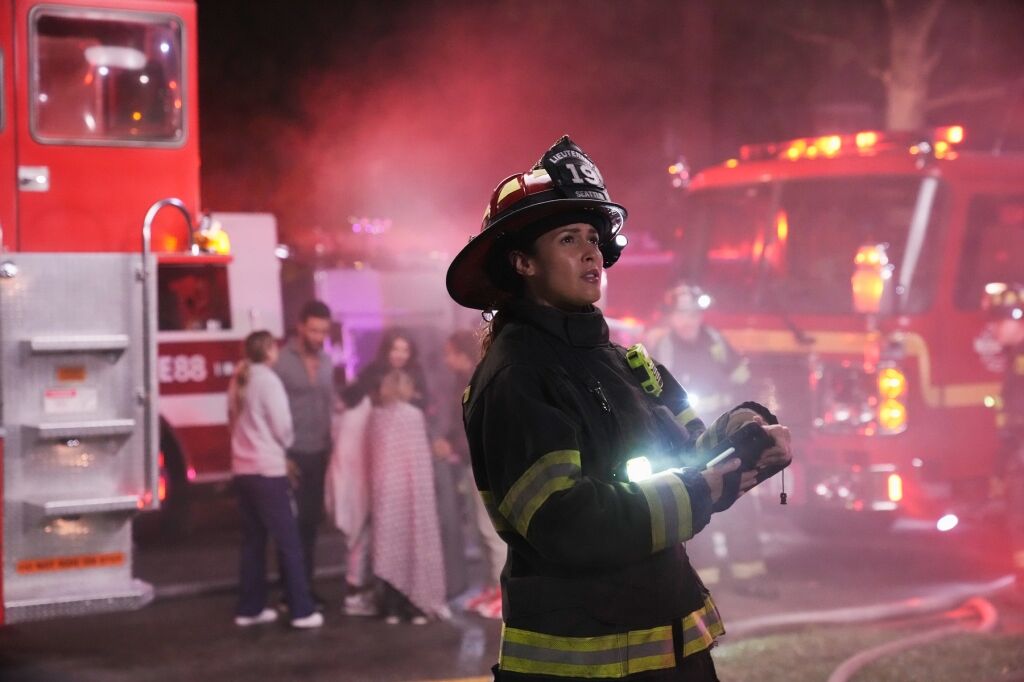 "We're the kind of show where, on one beat, we'll be telling the story about someone who survived 9/11, and in the next beat, we're talking about a dormant volcano that's erupted under a mini golf course," says Minear. "What's great about this format is that I can do a rom-com, a psychological thriller, and an action movie all in one episode."
Typically, this is the sort of terrain that would be covered by a vintage beat-cop serial, which gets us to the elephant in the room. Minear acknowledges that after decades of unchecked veneration (including seven Law & Orders, five different CSIs, and four variations of NCIS), police work has finally become something of a storytelling taboo. A pilot featuring a cast of do-gooding officers apprehending their fellow citizens simply doesn't gel in a post-George Floyd world. Thankfully, firefighting serves as the perfect textual alternative. They offer all of the competent, public-safety thrills of a criminal justice procedural with none of the jarring cultural baggage that puts them parallel to a daily swathe of headlines highlighting the wanton cruelties of the national policing apparatus. The primary antagonist in 9-1-1 Lone Star is the blaze consuming the downstairs apartment. The good guys and bad guys are both thoroughly apolitical. "I think we had to reassess, like everyone else did," explains Minear, speaking about the Black Lives Matter protests of 2020.
Vernoff went much further when I posed her the same question. Does she think television's cozy relationship with cops has changed over the last few years? "The policing system in this country has had a spotlight shown on it in a way where people are saying, 'OK, there are some really broken things here.' And other people will say, 'This system is working exactly the way it was designed, as functionally racist and oppressive,'" she offers. "It's become divisive." So yes, don't expect a police spin-off from Grey's Anatomy anytime soon.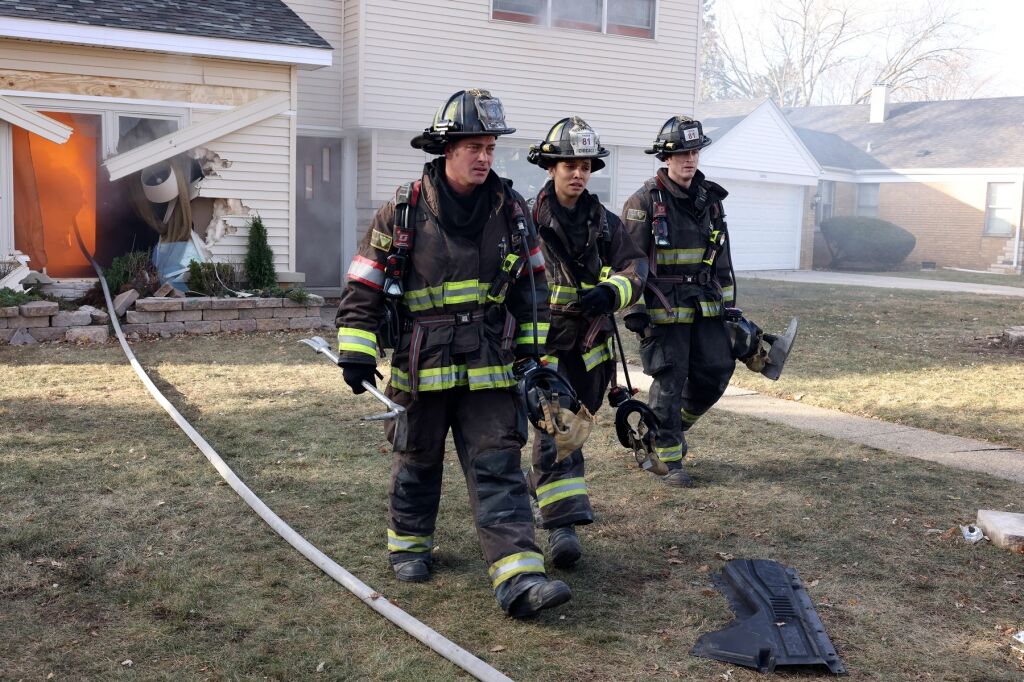 Station 19 is currently averaging an audience of around five million people for each of its six seasons. Those numbers would've been piddling during the over-the-air golden age of the '80s and '90s, but they still lap the metrics brought in by streaming darling like White Lotus. (If you're curious, the first season finale of the HBO anthology reaped just under two million multiplatform viewers.) It's easy to scoff at the perceived irrelevance of network broadcasting — and this litany of homogenous firefighting dramas — but they remain a better articulation of the prevailing American cultural palate than any of the shows that typically soak up ink in the press. We're the ones in the bubble, while the firefighters save the city.
"Do I think the media should pay more attention to us? Sure. This is what 10 million people are watching," says Tia Napolitano, showrunner of Fire Country, which — yes — has harvested double-digit Nielsen numbers throughout its first season. "Network TV isn't what it was even three or four years ago. But we're still evolving, we're still kicking, and we're still delivering stories that reach a lot of living rooms in America."
So perhaps us coastal elites — with our credit card bills pockmarked by a dozen different streaming service charges — ought to give a few of these firefighting shows a whirl. Maybe, after the horrific dystopia of Severance and the clouded morality of Barry, it'd do us some good to watch a cadre of heroes put out a fire for 42 minutes on a weekday night. The rest of the country is way ahead of us.
"The grail everyone was reaching for was, 'What is a hit network show?' And now I'm sitting here with two of them, even though we almost did these 9-1-1 shows as a lark," Minear confesses. "We're not going to win any Emmys. But I'll put our storytelling up against anyone."