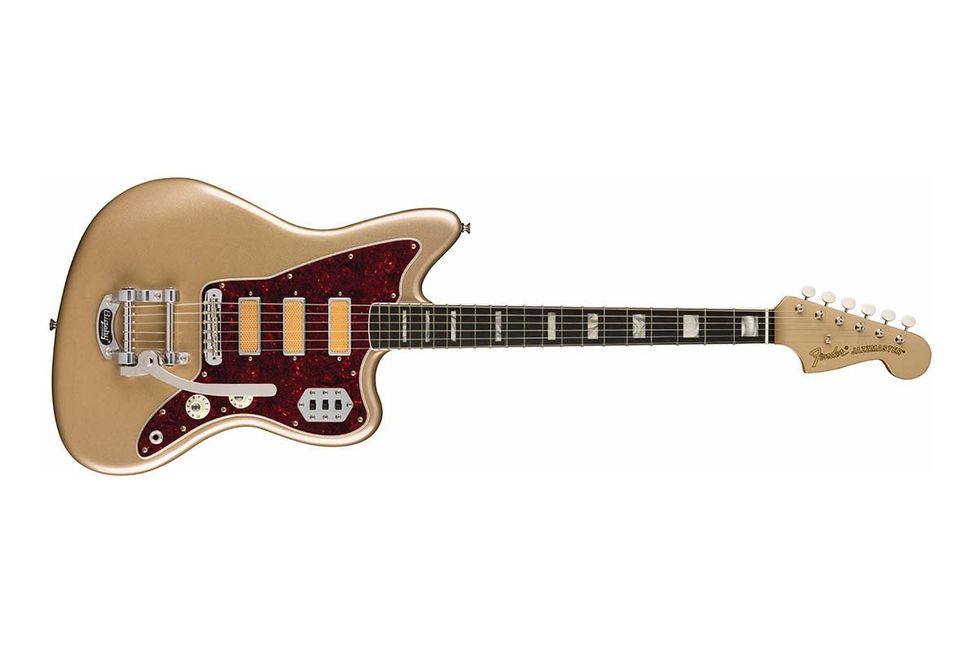 Purists may beg to differ, but irreverently recombinant guitar design makes the electric guitar world a lot more fun and interesting. Not every design mashup works, of course. Some attempts at blending influences end up about as elegant as grafting a pine tree to a cactus. But the Gold Foil Jazzmaster is a truly beautiful mutation. It gathers together Gibson-like attributes, like a mahogany body and mini humbuckers (yes, we'll get to that), with Fender's shapely, comfy Jazzmaster profile and 25 1/2″ scale, as well as curiosities like a Jaguar-inspired pickup selector and a Bigsby into a lively-sounding whole that's genuinely exciting to play.
Fender, to their credit, always seems up for playing fast and loose with tradition these days. But this unorthodox assemblage manages to be every bit as much substance as flash—and there is a lot of flash here.
Gold Is Only Skin Deep

First, though, the curious name of this instrument: The Fender Gold Foil pickups that provide its handle aren't gold-foils at all—at least not in the traditional sense. Instead, they are alnico-based mini humbuckers. But it's hard to argue about how completely cool they look. And in the 3-pickup configuration used here, they offer players a multitude of sounds to work with.
The output from the three pickups inhabits a genuinely unique timbral space. In the bridge pickup, for instance, you can hear a cool cross between the clear, airy tonalities of a Stratocaster single-coil and the heft of a PAF. At other times, I heard the concise punch of a Rickenbacker Hi-Gain with more sustain. In general, they are heavy on high midrange—a mirror image of most classic Fender pickups. That midrange emphasis means they dovetail nicely with black-panel Fender amplifiers—particularly with a minimum of effects and amp volume bumped up to louder, grittier zones.
The three mini humbuckers give you a cool palette to play with. The hot-Strat attributes, for instance, give the Gold Foil Jazzmaster the personality of a bossy, extra-brawny surf machine when you add heaps of reverb. The same characteristics make it ace for overtone- and feedback-heavy Neil Young sounds (which are aided and enhanced in no small part by the Bigsby).
The modes that combine adjacent pickups lack some of the snappy and quacky charm of a Stratocaster's 2 and 4 positions. Yet, on the Gold Foil Jazzmaster, these settings have their place. In general, they have a muted and subdued voice that's not especially responsive to picking dynamics, but they are perfect for softer melodic leads and rhythm parts that rely on tempered, regular accents. They can sound really cool, tight, and focused through a fuzz as well. But the mini humbuckers shine best in isolation or in the neck-and-bridge setting, which makes some of the loveliest sounds in the guitar and evokes the combined neck and bridge settings on a traditional Jazzmaster, which are one of that guitar's great strengths.
Crazy, Mixed-Up Kid—Sure Is Handsome Though 

As we said at the top, Fender was not shy about the flash when they put together this Jazzmaster. The guitar can be had in Candy Apple Burst, which looks pretty mean, but not nearly as slick as it does in shoreline gold. The post-CBS-style block inlays are a particularly effective design element. Visually they echo the pickup array, but they're also an effective bridge between early and late-'60s Jazzmasters. Other elements, like the white plastic keys that top the vintage Kluson-style tuners, provide visual cohesion between the white neck binding and the post-CBS-style volume and tone knobs. But both the control knobs and the tuning keys feel a little down-market compared to the rest of the instrument's luxe aura.
By the way, about that Bigsby: It's loads of fun, it looks awesome, and it is very tuning stable. But if you're accustomed to a classic Jazzmaster or Jaguar vibrato, the Bigsby can feel limiting. For me, that's down to the fact that you can't pull the vibrato arm toward you past the position where the arm is parallel with the strings. If you're used to Bigsbys, or new to vibrato in general, you might not find this a limitation. But to me, the ability to pull the long arm of a traditional Jazzmaster vibrato past that point, and the ease with which you can hold it in your palm while you perform more complex picking maneuvers, is a big part of a Jazzmaster's unique playability and appeal. And I missed it a lot as I attempted to get weirder with the Gold Foil Jazzmaster. That complaint aside, the Bigsby is awesome, and despite the limitation based in my own traditional Jazzmaster bias, it invites all kinds of radical and tasteful vibrato adornments that spice up this Jazzmaster's already wide sonic range.
The Verdict

I'm fascinated with late-'50s and early '60s car interiors, and I love the Jazzmaster silhouette. So, the Gold Foil Jazzmaster is a beautiful thing. But even if you don't align with the design aesthetic at work here, you'd have to be pretty freaking grumpy to be totally turned off by this well-executed and balanced amalgamation of hardware and trim. For me, it works. Nothing seems forced, and, if anything, it evokes a tastefully executed bit of custom-car-design work, which, of course, underscores the distinctly California relationship between guitar and automobile that informed so many cool Fender designs in the first place.
The playability is superb. Build quality is excellent. And I love the many tones available here, too. The mahogany body may or may not add some midrange to the tone spectrum—such assertions are hard to quantify on solidbody instruments. And depending on your perspective and tone predilections, the pickups could be a little more nuanced and complex. Maybe making them a little less hot and midrange focused would be nice. But the abundant switching options put a lot of sounds at your fingertips. There are many possibilities here, and all in an instrument so aesthetically inviting that it will be hard to put down—or stop staring at.
Fender Gold Foil Jazzmaster Demo | First Look

From Your Site Articles
Related Articles Around the Web