Review by Shawn Perry
Photos by David Sullenger
For any southern musician, performing at the Ryman Auditorium is a sacred and historic experience. So it was no surprise that North Carolina-born singer-guitarist Warren Haynes, who was once a full member of the Allman Brothers Band (a Southern royalty to many), was overjoyed to perform with his band at the famed Mother Church, Gov't Mule, for the first time in eight years. "I can't tell you how much it means to me to be back here," he said at the end of the more than three-hour performance.
It was also a long time since I had seen Gov't Mule live. I'm embarrassed to say it's been over 10 years. Most of the shows I attended were in the 1990s when The Mule was a side project of Haynes and ABB bandmate bassist Allen Woody. Joined by drummer Matt Abts, they performed as a hard-rocking power trio whenever their touring commitments with the Allmans were interrupted. After seeing them at a few different clubs in San Diego, the first time along with about 50 others, I knew they had a fire in their stomachs just waiting to get beyond the early originals and hodgepodge of covers.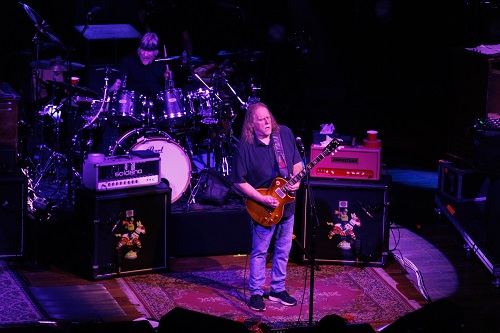 Woody and Haynes left the Allmans in 1997 to focus on the mule. Three years later, Woody died and Haynes returned to the Allman Brothers Band. From there, Haynes managed to stay with the Allmans until 2014, forming a new lineup with the Mule. My last encounter was in New York when bassist Jorgen Carlsson and keyboardist Danny Louis were already fully associated with Haynes and Abts. The opportunity to see her again would not come until they got to Nashville. The fire I had seen in the 1990s was just in full bloom.
Tonight they unveiled some original tracks from their previous studio release from 2017 Revolution is coming… Revolution is going. Two versions of the thoughtful country angler "Traveling Tune" rounded out the evening, while a sobering and extended "Revolution Come…Revolution Go" emerged in the second movement.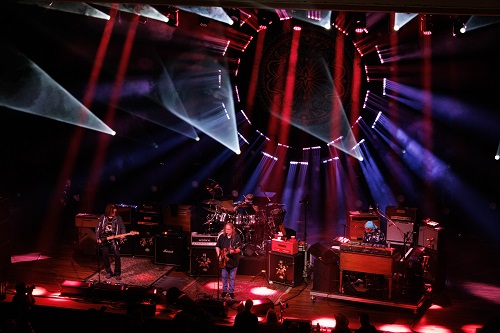 Three numbers from The Mule's upcoming studio release, Peace… like a riverShe also made the cut. "Same As It Ever Was" and "Dreaming Out Loud" have been making the rounds on YouTube and various shows since the tour kicked off May 5 in New Orleans. At the Ryman, the second movement began with the live debut of "Made My Peace". Largely unknown to audiences, the Beatles tune and solo weren't the only recognitions the Fab Four would receive in Nashville tonight. Haynes wisely keeps other new songs under wraps and refrains from bringing them to the live arena. Rich in detail, with great attention to songwriting, loose but tight arrangements and some very special guests, the album has what it takes to be a game changer for Gov't Mule. So the reluctance is palpable. In a month, Peace… like a river and all of its magical delights should hopefully be on every playlist.
Speaking of very special guests, Gov't Mule often invites other players to join their shows, and they didn't pass up the opportunity on the world-famous Ryman stage in a city teeming with world-class musicians. First, and quite unexpectedly, was longtime Nashville resident Peter Frampton. After largely withdrawing from concerts in 2019 due to a condition known as inclusion body myositis (IBM), a progressive muscle disease, Frampton is still recording and performing occasionally. Seeing him with the mule was just extraordinary.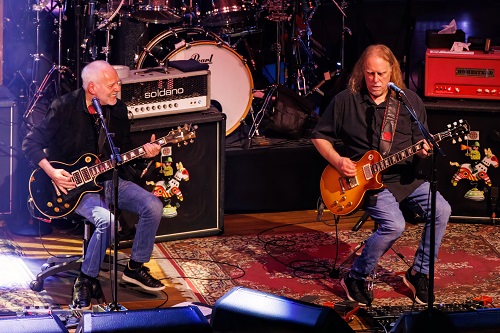 Due to his condition, Frampton was tied to an office chair while Haynes sat across from him on a drum throne. The two locked eyes and smiled while trading licks and swapping verses to a mesmerizing version of The Beatles' "While My Guitar Gently Weeps." A spirited "I Don't Need No Doctor" followed, the Ashford Simpson R&B play that turned Humble Pie, Frampton's former band, into a live epic. Although Frampton's ability to walk and stand is impaired, his fingers can still burn the fretboard on the best fingers. Watching him and Haynes play together was one of those moments that no one in the building will soon forget.
Both Frampton and Haynes happen to be appearing in Dolly Parton's upcoming film rock star So it wasn't unreasonable to think, at least for a second, that the Tennessee Country legend might show up himself at the fabled Nashville venue to join in the fun. No such luck. Who knows how that would have gone.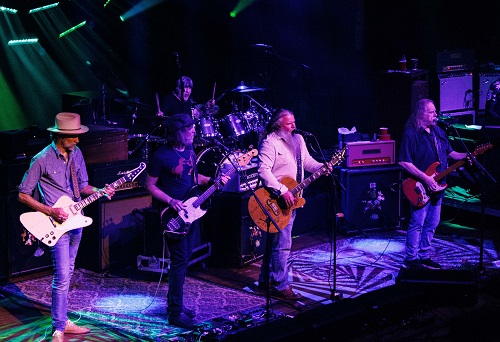 Most muleheads in the know were only too happy to welcome Grammy-winning singer-songwriter Jamey Johnson, accompanied by guitarist Audley Freed and bassist Robert Kearns, who joined the Mule (sans Carlsson) to perform rousing versions of the band's "Up On Cripple Creek" and Drivin' n' Cryin's "Straight To Hell". Freed later returned with guitarist Tom Bukovac to blast powerfully with Neil Young's "Cortez The Killer."
The rest of the night was all about the mule. Watching them all these years later, they've only gotten more powerful and bold, with a range that defies easy categorization. Today's runs of Thorazine Shuffle, Mule, No Need To Suffer, and Rocking Horse certainly brought back fond memories of the "old-school mule" I saw in the '90s. The jams and interludes, particularly between Haynes and Louis (who also played guitar at the same time), are more dynamic and adventurous than I can remember. Carlsson clearly has great bass skills, and solid rock body Matt Abts is probably one of rock 'n' roll's most underrated drummers.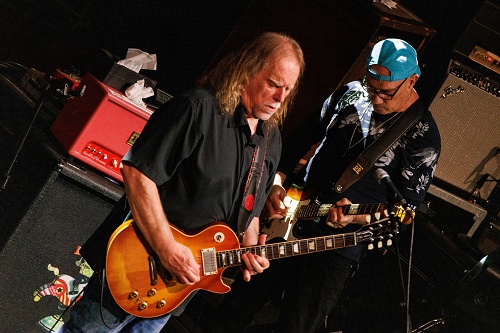 Just past 11, you couldn't help but feel that the encore of John Lennon's "Working-Class Hero" somehow ties into Gov't Mule and their approach to music. While the light show and colorful backdrop are typical of groups sharing the mule pedigree, there's little showbiz hubris and bourgeois nonsense to be found. Dressed in jeans and trainers, the foursome couldn't be less discreet as they gather and deliver their joint punch to the pit of the stomach.
No wonder Gov't Mules are popular with fans and level-headed peers alike. If you have clear ears, love to jam, appreciate top-notch musicianship and songwriting, and are curious about the unpredictable, then you and everyone you know need to board the Gov't Mule train before it leaves the station. Believe me, after such a long absence, I don't want to be left behind.