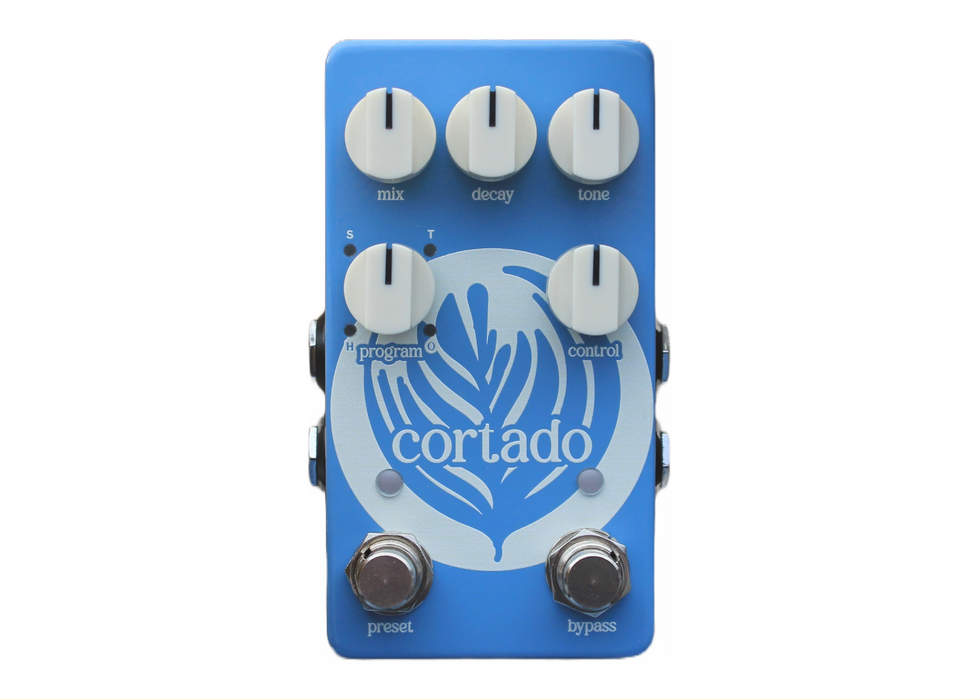 Designed and built in Saskatchewan, Canada, the Cortado features four reverb programs designed to go from short and minimal reverb to long and ambient soundscapes.
---
Coffee Shop Pedals announces its new CortadoReverb, a versatile multi-reverb that offers many features not often found in a small pedal format. With features like three presets, trails and spillover between different reverb types, andMIDI input, the Cortado delivers a surprisingly powerful range of options.
​Trails and spillover between presets and programs open up a world of possibilities with the Cortado. Trails allow for smooth transitions when changing sounds as well as playing over infinite trails as a backing track.
Changing presets Cortado can be accomplished simply by pressing the pedal's Preset and Bypass footswitches simultaneously – the same format as Coffee Shop's Affogato Fuzz. Presets are now even easier to use with the added MIDI input. With MIDI, you can save and recall up to 20 presets and load them in any order you want. As well, you can save any reverb program to any preset – allowing for so much customization.
Cortado Reverb key features:
Four unique reverbs (hall, spring, tremolo verb, and octave) selectable by Program knob
Preset spillover (between presets and reverb types)
3 savable presets to save your favorite sounds
MIDI input for saving and recalling up to 20 presets
True stereo inputs and outputs
9-volt standard external power; no battery compartment
Soft-switches and true-bypass option
The Cortado Reverb is available now at coffeeshoppedals.com at the retail price of 249 CAD, approximately $ 182 USD..
For more information, please visit coffeeshoppedals.com.
Cortado Reverb: Demo
Related Articles Around the Web