Another summer, another Cambridge Folk Festival set in the neatly contained grounds of Cherry Hinton Hall Park, Cambridge. A full weekend of music, talks, workshops and general merriment begins with gusto on the Thursday evening.
Opening Stage 2 for the weekend is four-piece Scottish band Gnoss, whose pacey set of upbeat traditional songs and contemporary originals charms the audience to its dancing feet before the first pints have gone down. It's difficult to think of a more perfect beginning to this year's festivities, embodying so much of the breadth and opportunity this festival stands for. Beaming from the stage throughout, they look as glad to be there as the audience is. They sincerely thank the festival organisers and volunteers – without whom none of what's ahead would be happening.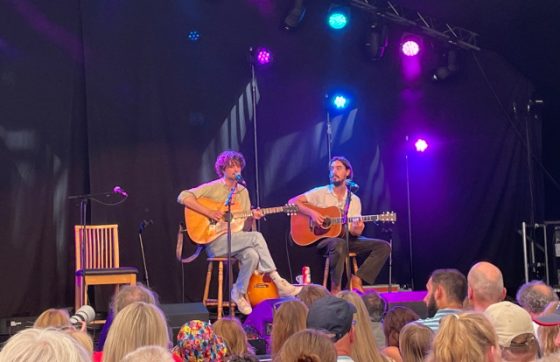 Staying at Stage 2, guitar duo Flyte chat easily through a relaxed set, their first appearance at the festival, "but not the first year we've wanted to [be here]." Wrestling with boomy sound with light-hearted patience, the set flows with gentle storytelling. 'Tough Love', the new single recorded with Laura Marling, brings the welcome addition of Billie Marten to the stage for accompanying harmonies. They'd had a tip-off that Stage 2 enjoys a singalong and teach the quick-learning audience the chorus to a song inspired by the iPhone's bedtime reminder function. It's sweet moments like this that make the festival.
The Den stage is known for showcasing up-and-coming artists – whether stopping by or planting down for a few hours, discovery of future headline acts is almost guaranteed. Dublin's Niall McNamee plays a set of lyrically heartfelt songs between bursts of showman energy, repeatedly celebrating the audience's applause back to them. The self-proclaimed 'young David Gray' recently acted the role of a failed singer-songwriter in Love Without Walls, but with a stage presence which brightly defies the humble confines of The Den, it seems unlikely that life will imitate art in this case.
Friday's highlights are a contrast of old and new. Three Icelandic siblings grace Stage 3 with a set brimming over with dreamlike harmonies courtesy of Blood Harmony. The two sisters and brother moved into their parents' basement during the pandemic and started making music, and are in the throes of recording their first album and playing their first UK shows. Reading the room astutely, they introduce a song for "when life feels too complicated, and you just need to be in nature with a glass of red wine, listening to your best friend laugh". They close this wholesome and memorable set with a sparkling cover of The Secret Sisters' 'Tomorrow Will Be Kinder'.
By contrast, Stornoway, who announced a parting of ways and sold tea towels on their farewell tour in 2017, seem to have consciously re-coupled and be making music together again. Bass player Oli beams with an infectious enjoyment of his own band's music as they play through old songs from their past life and introduce brand new music, both equally to the audience's delight.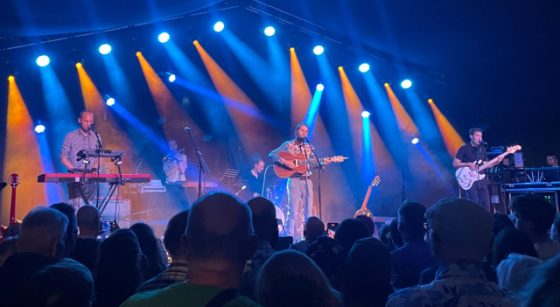 All good things come in threes, and that's certainly the case for Saturday's Stage 1 line-up. Gangstagrass bring their unique bluegrass hip-hop fusion with lashings of self-awareness (American flag shirt and cowboy hat decking out their banjo player). Name-dropping the festival mid-song and bringing the audience in on 'Do Better', the whole set is pure solid gold fun.
Regular festival feature Kate Rusby returns to Stage 1 after too many years away, and is the total proficient we know and love her to be. Her virtuoso band plays songs from '30', her 2022 album celebrating 30 years as a professional musician, and a cover of The Bangles' classic 'Manic Monday' from Hand Me Down, an album of comfortingly nostalgic covers released mid-2020. In the sweetest end to any set all weekend, Rusby's (and her guitarist husband Damien O'Kane) two daughters join the stage for renditions of Bob Marley's 'Three Little Birds' and the evening's first 'Wild Mountain Thyme'.
Closing Saturday evening's Stage 1, Rufus Wainwright and his band appear in matching black embellished tunics and blue chiffon scarves. All that follows is elegance and surprise. With his sister Lucy Wainwright Roche on backing vocals alongside Petra Haden, they mesmerise and transport the audience through a set which both asks the big questions – 'why must everything come to pass / why must everything good never last' – and also includes a balladic cover of 'Cotton Eyed Joe'. We're laughing, we're crying, we don't know where Wainwright's cathedralesque voice will take us next. Introducing songs from his new album, Folkocracy, Wainwright announces "it has happened in my lifetime – rock has become folk." He exits stage left while Haden closes their duet of 'Islands in the Stream' before returning for, you guessed it, the evening's second and more lavish hearing of 'Wild Mountain Thyme'.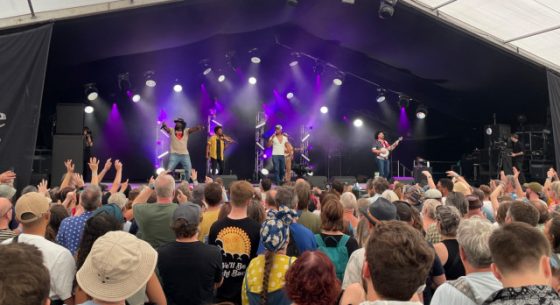 Hopes and dreams of closing out the festival on Sunday with a few more hours in The Den and a visit to Imelda May's headline slot were dashed for this reviewer, but safe to say the Sunday rains aren't likely to have dampened high spirits. Once again the team that programme, organise and deliver Cambridge Folk Festival have brought a line-up covering the length and breadth of the 'folk' genre, with seemingly seamless logistics underpinning it.
Words & Pictures: Angeline Liles