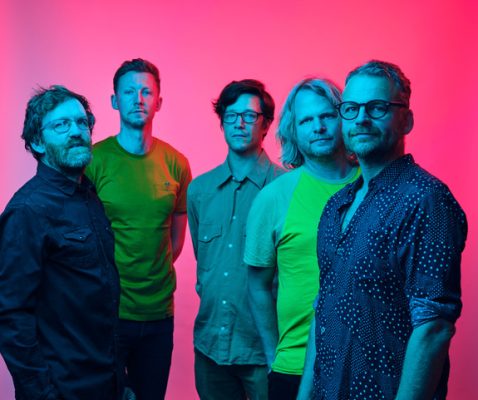 "They said I should stick to you like glue, after what the two of us went through"
The Miserable Rich's new release, 'Glue', is a song unlike anything James de Malplaquet had ever written before. Deeply personal, emotionally raw, it deals with the trauma he and his wife Sarah faced after the death of their baby boy Kit when he was just 13 days old in September 2017. It was as they were leaving the hospital that a nurse told James and Sarah they would need to stick to each other like glue as they processed their grief. A little under a year later, as The Miserable Rich got back together to rehearse for a charity concert in Kit's honour, KitFest, that message came back to James and 'Glue' was the result.
"I'd decided to put on an event to mark Kit's birthday," James explained. "Although it was a very sad event it could be a happy event too because we were making a difference and saving lives. The band got together and decided we should play some old favourites but do something new. The guitarist (Jim Briffett) came in with a piece, and it was this piece. I'd kind of quit the band and put the band on the back-burner because I didn't have anything I wanted to write. I didn't know how I'd feel talking about Kit because it was this cataclysmic life event, I didn't know whether I'd be ready to get into it but it came out straight away because of the guitar line he picked. The first thing I thought of was 'I should stick to you like glue' which is what the nurse told us. It kind of came out straightaway. There wasn't an awful lot of thinking about it. Since then, the world has gone through a bit of a difficult time so the idea of looking after each other, putting an arm around each other, has carried on."
The first KitFest took place in September 2018, just before what would have been Kit's first birthday, raising money for the Kit Tarka Foundation which was set up by James and Sarah to fund research into and raise awareness of neonatal herpes. The event featured contributions from Alice Russell, Fugiya and Myagi and the artist David Shrigley, but was of course headlined by the Miserable Rich, and saw 'Glue' performed for the first time. 
"When I first played the song in rehearsal, our bass player (Rhys Lovell) cried and then when we performed it at KitFest I was playing it to my wife, who was sitting in the front row, and 650 people there. I've never cried on stage but I was crying as I sang. I can't really see from the stage but all the other performers watched our set and there were a lot of tears. There was a purging element. I'm not very good at crying. I tend to feel weaker, not stronger, where other people feel the other way around. There was definitely some purging going on."
None of us would ever know unless we were in the position ourselves but writing about such deeply personal events and emotions must be incredibly difficult. Putting it into the world as a piece of art then takes on another dimension. I asked James how, when dealing with a subject so important to you and your loved ones, you reach a point where you know you are happy with what you have created.
"I'll tell you when I get there," he said. "Certainly I'm okay with this one. I'm certainly a person who feels doubt creatively and elsewhere in my life. Sometimes that's for the best and sometimes it holds you back a bit. This one I just tried to keep as simple as possible. There's a line in there, 'soldered in despair' which made sense to me. My wife Sarah is a great researcher and she found that couples who had been through a trauma like this, the failure rate of those relationships is in the 90s as a percentage, and I felt very determined it should be the other way for us, that it would cement us. I've always worried that whatever I write sounds like 'A' level poetry but I've tried to keep it simple. I've also written a song to my son. I think I'll always doubt and worry if I did the right thing, it's a lot to take on, and I don't know if I'll always feel I've not got it right. But it becomes what it is, it becomes itself, and you stop thinking about it."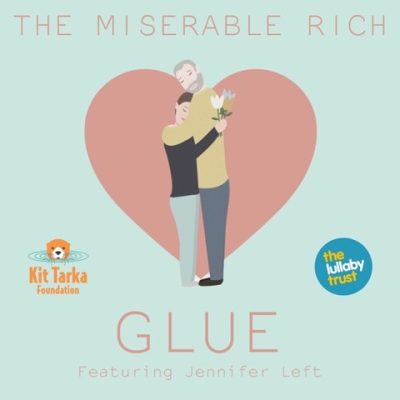 Having written the song for KitFest, James initially had no plans for the band to record it. But during the pandemic, the band began to get back together for rehearsals "as an excuse to eat pizza and share stories", spending so much time together they wound up writing and recording their first new album since 2012. 
'Glue' is being released now as James and Sarah are handing over the running of the Kit Tarka Foundation to the Lullaby Trust, a move which will give the charity greater reach but also allow James and Sarah to move on themselves. The number of babies who die during the neonatal period – the first 28 days of life – has been growing in the UK in the last decade, with many of those deaths preventable. Kit died from the HSV1 virus, the cold sore virus which is relatively innocuous in adults and carried by 70% of the population, and the foundation which bears his name was set up to make such preventable deaths among newborns a thing of the past. Their T-H-A-N-K-S campaign – Think Hands And No Kisses – seeks to educate people about the need to ensure friends and family wash their hands before holding a very young baby when they are highly susceptible to infection. 
"I think we did a good thing," James said of the foundation's achievements. "I know we've saved lives because people have told us and there'll be many more who don't tell us. One day I was walking down the street and a woman started staring at me. She looked a bit familiar and she followed me home and came into the garden. Sarah had just come out and she said, 'I want you to know our son is alive because of you', and she started crying. I'm really glad those things have happened. I'd still rather have Kit but you can only do what you can."
Glue, which features Jennifer Left, is available now via the Miserable Rich's Bandcamp, with 50% of the profits going to the Lullaby Trust, and links on the site to learn more about the charity and to donate.