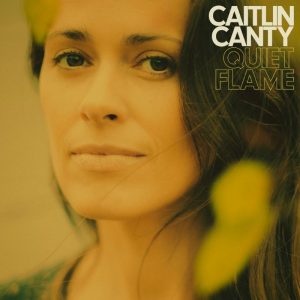 It's a bold move to put your catchiest song near the end of an album, where fickle listeners might well miss it. But on her new record, Caitlin Canty takes that chance. It is, indeed, a gentle and generous boldness that characterises Quiet Flame, which spurns electric instruments and drums, and which, in doing so, draws the listener close, then closer.
Canty has surrounded herself with a group of superb musicians from the world of contemporary bluegrass, including three members of The Punch Brothers (Chris Eldridge on guitar, Paul Kowert on bass, and Noam Pikelny on plectrum guitar), fiddle player Sarah Haas, formerly of Crooked Still, and four-time Grammy winner Sarah Jarosz on mandolin, banjo, and backing vocals.
These musicians each bring a layer of richness and depth to the twelve songs – witness Haas's ghostly, old-time fiddle on 'Heart of My Country' and Kowert's sweet bowed bass on 'Come by the Highway Home' – but it is Canty, throughout, who shines.
Hers is a voice that can do a great deal while eschewing any kind of showiness. There is a brightness and clarity to it, and a delicacy too. Her edge of breathiness can give the harmonies – whether provided by Jarosz or Andrew Marlin – a near ethereal quality. On songs such as the opener 'Blue Sky Moon', I found myself leaning forward in my chair, as if to get nearer to that sound. 
Throughout, Quiet Flame has an atmosphere of warmth and intimacy that perfectly befits Canty's songs. There is no overarching theme or preoccupation here; her lyrics speak of hope and disappointment and love and worry. They look outward as often as in, and are suffused with images of rivers and skies, and of moons in particular. They reveal themselves slowly. You hear them once and you want to know them better.
That desire to listen and listen again is nowhere stronger than 'Odds of Getting Even', the aforementioned catchiest of tracks. It's the kind of upbeat bluegrass that feet can't help but tap along to, with Kowert's rapid bowed bass adding an additional driving rhythm beneath. It's pure, perfect joy.
In a live recording of the track, you see that joy spread among the four musicians. You see them look at each other and smile, as if recognising that, in this song, this performance, this music they're creating, there is something truly special. And they are absolutely right.