Review & photos by Joe Schaeffer
To set the stage for this event, we know that Peter Frampton has inclusion body myositis (IBM), an autoimmune disease that affects his muscles. Although he has experienced some weakness and loss of function in larger muscles, his fingers still work great.  Before the pandemic, it was thought that the run of shows he did, as well as the European stops in late 2022, were the last we'd see of him live in concert. Luckily for his fans, Frampton, at 73, said he felt well enough to grace us with another small tour. Although now playing seated, it did not take away in any shape or form the fantastic guitar playing we have been accustomed to all these years later.
Frampton entered the Pearl Theater to a thunderous ovation from the sold-out audience. He proceeded to take a seat with his now infamous vintage Gibson Les Paul Black Beauty that had seen plenty of road wear. After a show career spanning opening video, "Lying" from the 1986 album Premonition was the opening song on this fantastic desert evening. Frampton and his band mates then rolled into "Shine On" a true classic from his days with Humble Pie.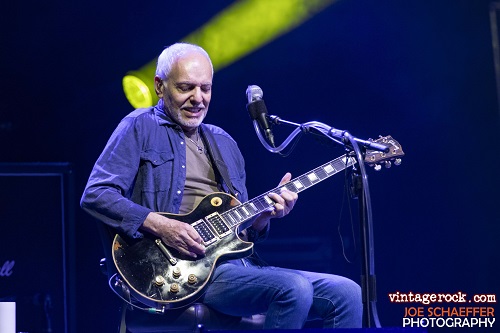 His longtime touring band is made up of guitarist Adam Lester, keyboardist Rob Arthur, bassist Alison Prestwood, and drummer Dan Wojciechowski. As you would expect the night was filled with a bevy of tunes that were included on the Frampton Comes Alive album, recorded and released 47 years ago. Eight in total with the showstopper "Do You Feel Like We Do" closing out the main set.
Frampton also dug into the solo archive to include a few tunes never played live including "I Got My Eyes On You" from Frampton's Camel and "The Crying Clown" from 1975's Frampton album. As he has done in the past, there was a stirring tribute to the late Chris Cornell with one of his Soundgarden songs, "Black Hole Sun" as well as a stylish version of Hoagy Carmichael's "Georgia on My Mind" off Frampton's #1 Billboard Blues album, All Blues.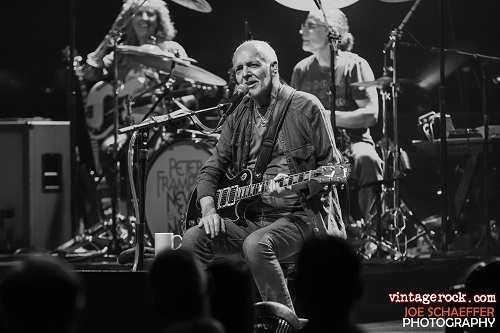 Another highlight was the performance of "Lines On My Face." It served as a beautiful homage to longtime Frampton bassist, the late John Regan. A video tribute played behind the band of their long career together. There was no end in sight to his tasteful performances, "Four Day Creep" and "I Don't Need No Doctor" brought the entire audience to its feet. The latter was a very fitting showcase for the fantastic musicians Frampton has assembled. Every player had a little spotlight shined on their playing during the song.
As if that wasn't enough, the band also stayed on for a version of the Beatles' "While My Guitar Gently Weeps." It included some truly inspired guitar work to cap what was one of the most gratifying sets I've seen for quite some time. It was two and a half hours from a true legend in popular music.