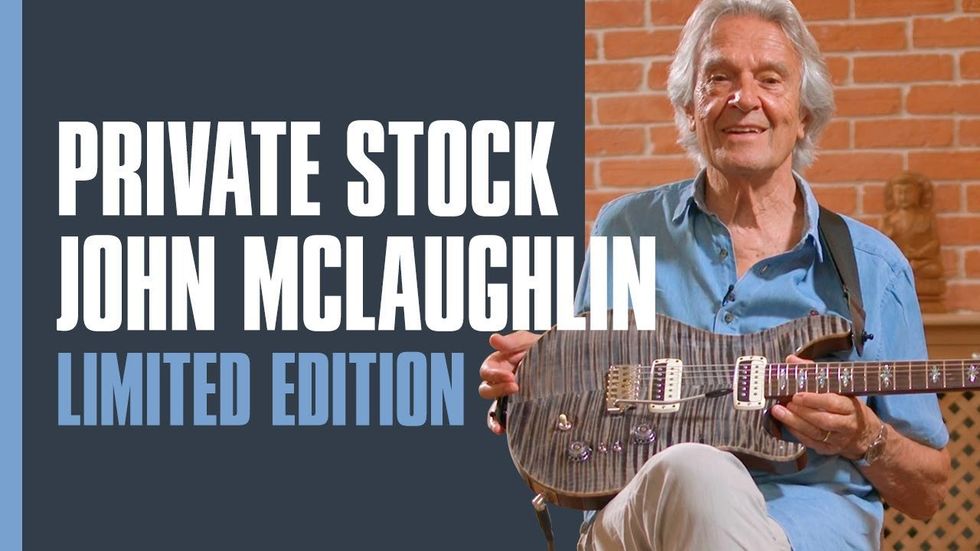 Here's your chance to hear John McLaughlin play the blues (and more)—on his new Paul Reed Smith Private Stock Limited Edition signature model. In this video, the legendary guitarist demonstrates this instrument's tonal versatility through various playing styles and settings.
---
Hear him recount his musical journey, from initially attempting the violin to ultimately discovering his passion for guitar. He also delves into the transformative power of music, highlighting the need to transcend conscious thought while playing, and spotlights his collaboration with Smith in designing this model, which includes a versatile EQ system that McLaughlin puts to the test.
In a broader sense, this PRS Private Stock instrument celebrates John's storied history in music, from his groundbreaking jazz-fusion solo work, his leadership of the influential band The Mahavishnu Orchestra and partnership in the just-reunited Shakti, and his many collaborations through the years, with Carlos Santana, Miles Davis, Tony Williams, and Al Di Meola and Paco de Lucia, among others. In this video, McLaughlin expresses his gratitude for the opportunity to have a signature guitar (his first, at age 81!) and his deep connection to the instrument.
Highlights:
John McLaughlin discusses the significance of discipline and love in achieving mastery on a musical instrument.
McLaughlin recounts his journey from violin to piano, and finally to guitar, revealing his profound attachment to the instrument.
He emphasizes the attention to detail and craftsmanship of PRS guitars, as well as the collaborative process with Paul Reed Smith.
McLaughlin explores the transformative nature of music, urging musicians to move beyond conscious thought while playing.
The innovative EQ system on McLaughlin's signature guitar is praised for its expanded tonal variety, and demonstrated through a wide variety of sounds.
"Playing music is a way of being. Playing an instrument requires you to move out of the normal level of consciousness. If you're thinking, you're not playing. If you're playing, you're not thinking. If you have problems with your instrument, you're not going to move out of the thinking zone and into your own world. This is why I love my guitar. For me, it's perfect." – John McLaughlin
The PRS Private Stock John McLaughlin is a classic instrument that has been meticulously spec'd by Paul Reed Smith to honor John McLaughlin. All of the woods were specially chosen by Smith for their tone, figure, and weight. The specs are fairly straightforward: maple top, mahogany back, hormigo neck (a tone wood used on marimbas for sound-producing tines) with an African blackwood fretboard, 22 frets, 25" scale length, Pattern neck, PRS's patented Gen III tremolo, and PRS Phase III tuners.
PRS