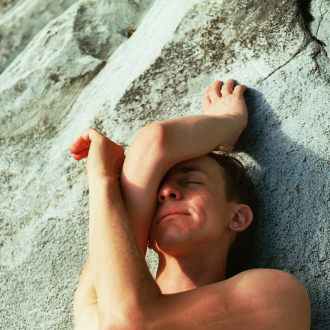 It's hard to mention Buck Meek without also mentioning Big Thief, his critically acclaimed folk group whose shivering melody lines and uncanny lyrical turns have earned them an almost supernatural status amongst fans and critics alike. But this album isn't about Big Thief, it's about Buck Meek, and it's arguably his most lucid and most tender rendering of self to date.
It's often remarked that Meek's guitar parts and backing vocals are seamlessly fitted to the musical worlds around them – he's an understated artist, he knows exactly when to turn up the drive or where to place his guitar in song's space; it's that kind of musical sixth sense that comes from decades of group performance. (Meek is only 36). With Haunted Mountain, it seems we finally have an album where Buck revolves around his own centre, his songs have a strong sense of narrative that rivets you right from the opening line to the closing chords. He's stepped fully into the limelight, and that lime light is a bright and brilliant one.   
As always, Meek plays with guitar tone throughout the album, leading the songs to feel almost like a series of individual vignettes – each linked vividly to a particular location or moment – defined not only by his lyrics but also through the particular shimmer, sheen, or grit that the layered guitars put forth. His choices of place are eclectic; the Cyclades, blistering sun and pine forest from his parents' youth; the bedroom of a woman in labour in 'Lullabies'; and, most notably, outer space, illustrated through the doomed love story of Suzy and Jim in 'Undae Dunes'. 
Despite the variety and complexity of location in Haunted Mountain, the thread that runs through each song is love. 'Mood Ring' is a whispered love; a brush of a hand, a bedsheet, 'kissing only with our eyelids, butterflies entwining, laid down in a field of dead lilies.' Tactile like the feel of skin on skin, the song is a luminous rendering of new lovers; of the city at 4am, of standing naked in a pond, of bells and mayflies. It's muted vocals and frantic shaker feel they could fall apart at any moment. 'Paradise' is another soft-love song, chronicled this time in the rocking of muted guitar. Buck's Paradise isn't one of tropical brightness and colour, but the light in a lover's eyes. It's an oft used metaphor that he navigates with typical elegance; 'heaven in your eyes… I fell into the halo'.
In fact, it's Meek's lyrics that stand out most in this album. In tracks like 'Cyclades' he lays out old family stories like poems. He has a great ability to draw out a particular image which stays in the mind's eye for long after the song finishes. He plays often with ideas of light and radiance; 'with my mom shining blue and gold', 'every dewdrop like a tiny crystal ball', and intersperses these with text that is visceral and bodily, 'and elk were scattered across the road', 'pierced my ear in the green light'. It makes for a powerful listening experience, and for songs that feel rich and thick with material, almost bloody. Whilst he may lack some vocal flexibility, Meek makes up for this tenfold in his storytelling. If songwriters are poets, Meek stands tall amongst them.