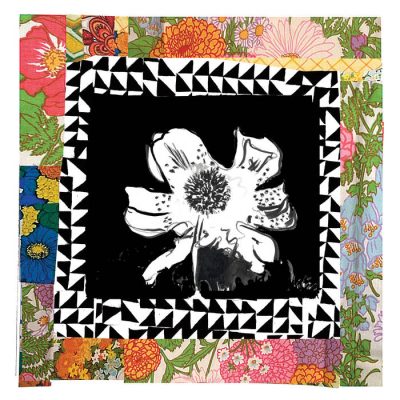 Perennial means to last eternally, to return time and time again with each year, to flower, or to emerge with the seasons. It's an apt moniker for this new release from Brooklyn psych/folk ensemble Woods, who seem almost organic themselves. Half band, half tree. 
Starting with 'The Seed', this album blooms from layered samples and weaving melody lines which seem to have an organic life of their own, taking us suddenly to new musical worlds, never quite settling; it's sound with agency. 'The Seed' leads with muted saxophones before flowing into a characteristic reverb-heavy guitar. Written on the go in the studio rather than fully crafted beforehand, it's easy to see how each song is process rather than product; twisting and germinating in the moments of shared creativity that often take place in a recording session. The music takes them where it wants to go, rather than the other way around.
'Between the Past' has a bright spectrum of sounds, it's a song bristling with colours, places, and textures. The very start feels like an Indian bansuri, which slips into an eighties style synth before settling with the soft warmth of gospel-like backing vocals. A well-travelled band on the cusp of their twentieth year together, you can hear the collective memories of Woods in the soundscapes they make, grown from a fertile soil of musical cross-contamination and sampling. Their eclectic festival, Woodsist, is likely in part responsible for the startling breadth and variety of Woods' musical textures. Held every year, the festival brings together a range of styles, from Ethiopian jazz to lo-fi rock. What stands out in Perrenial is that these styles aren't simply placed side by side but fused seamlessly in what can only be described as a sort of musical organism. They call it a 'living community of sound'. 
'Perennial', the final track, seeps slowly into being. The characteristic warmth of effected electric guitar anchors the track, flowing like a steady current through the rest of the sound. The guitar is a thread that links much of the music throughout this album, a kind of underground river, unbroken from source to open ocean. 'Day Moving On' paints another natural landscape; it feels like a warm bath, the glow of a sky moving to evening and light fading; you can almost see the music. These are songs to listen to outside, to move with, to lie in the grass with. They sound at once deeply rooted in nature and simultaneously like nowhere on earth, the sound of everywhere and the sound of nowhere, an imagined environment that feels a lot like home. I suppose they're simply the sound of Woods, and there's no place quite like it.