Paleosuchus is a South American genus of reptiles in the family Alligatoridae. They are the smallest members of the order Crocodilia in the Americas. The genus contains two species.
Texture and pattern
A magnificent aspect regarding reptiles is that they have astonishing surface and example in their skin. You ought to consistently try to catch this surface and example with however much clearness as could reasonably be expected—this may even be a decent contention for transforming a reptile photo into a highly contrasting. High contrast pictures of surface will in general be additionally convincing on the grounds that the watcher isn't diverted by shade (obviously a subject that has awesome shading would be poorly served in a high contrast picture, so utilize your judgment).
To adequately catch surface you need great light. This is another contention for shooting promptly toward the beginning of the day—not exclusively will your subjects be increasingly dormant and simpler to photo however the light will be gentler and all the more even, which will draw out that delightful surface better at that point direct overhead light will.
Actually this session was taken at a local school for a future new website. I used two lights a table and a black background without complex props. I had Claude the owner of the reptiles to help me with this. Reptiles are totally different from mammals, You need to be patient and do not ask for many interactions. You can not ask the turtle to sit down and wait, so you need to be with someone that know a bit how those magnificence creature react with us. I was surprise while I was doing my post Lightroom and Photoshop processing how beautiful they are plus in bonus to discover that they do have great personality.
Now and then a photo is increasingly significant on the off chance that you show the creature in its common habitat as opposed to at high amplification. In the event that you have some time and a willing subject, have a go at doing both. A couple of close-ups and a couple zoomed-out pictures can help balance your photograph shoot and give you a decent scope of pictures to browse.
On the off chance that you have some time, hang out and watch the conduct of your subject. This is the place a little research can prove to be useful — on the off chance that you comprehend what your subject eats, where it lives and what its propensities are you can be keeping watch for intriguing things it may do.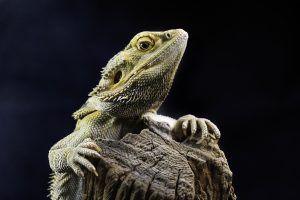 Pogona vitticeps, the central (or inland) bearded dragon, is a species of agamid lizard occurring in a wide range of arid to semiarid regions of Australia. This species is very popularly kept as a pet and exhibited in zoos.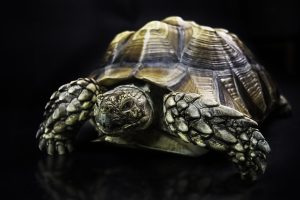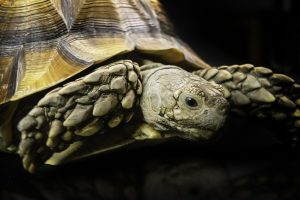 The African spurred tortoise (Centrochelys sulcata), also called the sulcata tortoise, is a species of tortoise, which inhabits the southern edge of the Sahara desert, in Africa. It is the third-largest species of tortoise in the world, the largest species of mainland tortoise, and the only extant species in the genus Centrochelys.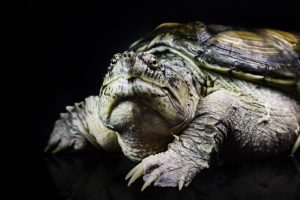 The common snapping turtle (Chelydra serpentina) is a large freshwater turtle of the family Chelydridae. Its natural range extends from southeastern Canada, southwest to the edge of the Rocky Mountains, as far east as Nova Scotia and Florida.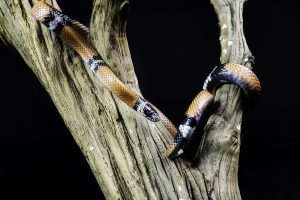 Lampropeltis triangulum, commonly known as a milk snake or milksnake, is a species of kingsnake; 24 subspecies are currently recognized. Lampropeltis elapsoides, the scarlet kingsnake, was formerly classified as the subspecies L. t. elapsoides, but is now recognized as a distinct species.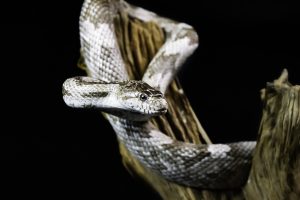 The corn snake (Pantherophis guttatus) is a North American species of rat snake that subdues its small prey by constriction. It is found throughout the southeastern and central United States.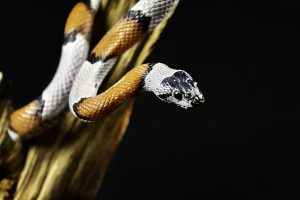 Kingsnakes are colubrid New World constrictors, members of the genus Lampropeltis, which includes milk snakes and four other species. Among these, about 45 subspecies are recognized.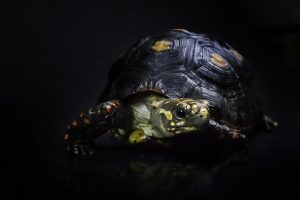 The red-footed tortoise (Chelonoidis carbonarius) is a species of tortoise from northern South America. These medium-sized tortoises generally average 30 cm (12 in) as adults, but can reach over 40 cm (16 in).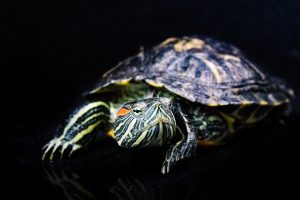 The red-eared slider (Trachemys scripta elegans), also known as the red-eared terrapin, red-eared slider turtle, red-eared turtle, slider turtle, and water slider turtle, is a semiaquatic turtle belonging to the family Emydidae.
Here is an interesting photographer that plays with some incredible snakes