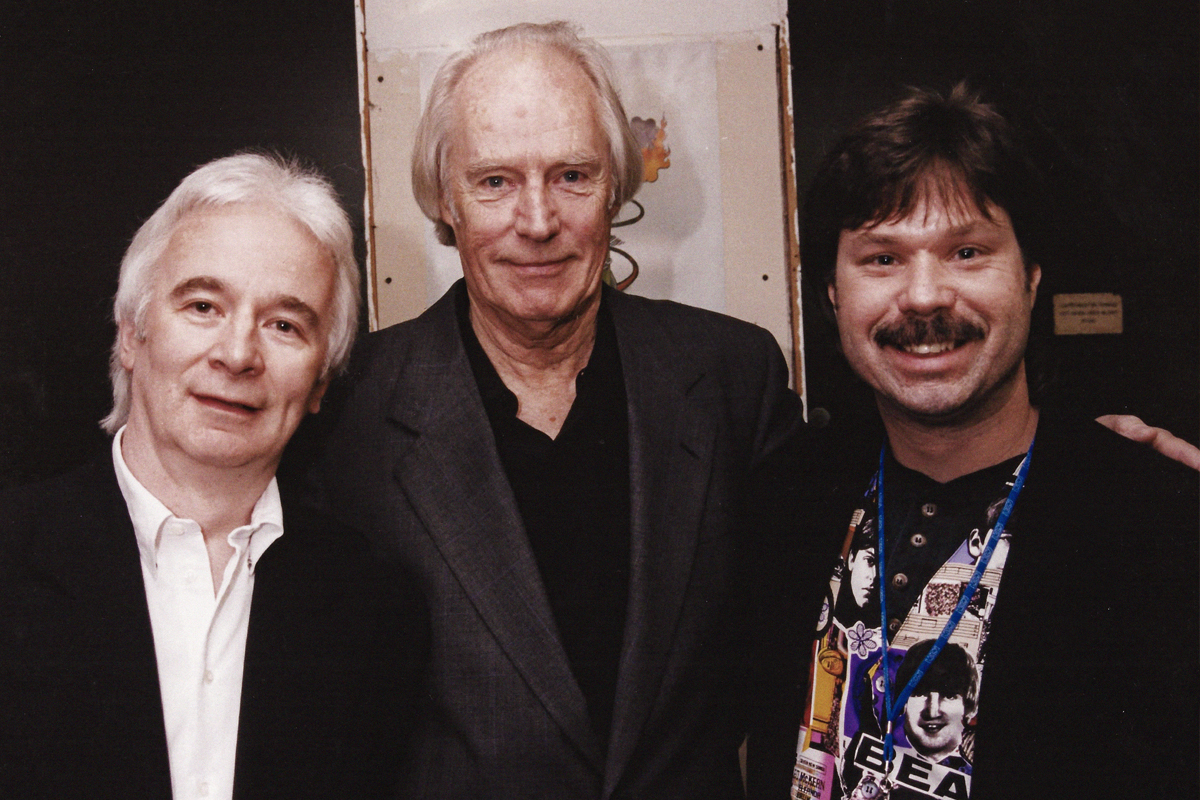 In my life. For everyone who knows me, you know that I am an undying Beatles fan. This is not a secret for anyone. I discovered the Beatles I was about thirteen years old at a childhood friend, Richer Francoeur. The first song I heard was Twist and Shout on an original Canadian album bearing the same title. This is the second album released by Capitol Records of Canada exclusively for the Canadian market. I was listening to all kinds of music back then from rock Quebecois to the great classics of rock without much passion. But finally, to discover the Beatles, their sound, their beat and their enchanting melodies were a great revelation to me. Their individual personalities were appealing to a side of my personality. I had discovered new friends and a new way of seeing life and music. The fascinating story of this group that had changed the world with their awareness, something new, and all their energies that had naturally conquered millions of fans like me. What I am today, a sensitive artist, a man of passions and convictions as my spiritual friend, John Lennon Lennon.
Know that the Beatles inspired me to travel and open myself up to our universe. They paved the way to see my life and everyday things with their songs and their personal lives. My first big trip and first meetings I was privileged to be in Vancouver as a Katimavik participant in 1984. I was barely 18 years old. Then be back and live there for 3 years, finding myself in this city with everything that I loved and discovering new cultures, I was in heaven. In Vancouver, I was also privileged to work at the Beatles Museum which was also a trendy records store. I saw John Lennon's psychedelic Rolls- Royce at Expo 1986. It was then owned by Jim Pattison. I met Jack Cullen and Red Robinson who made history by being members of the first Canadian Beatles Concert in Vancouver.
The Beatles on Broadway
I remember the first time I saw a gold record at the museum. Right away, I wanted to have one in my personal collection. In a little book titled "The Beatles on Broadway" (that I still own today) and that I had purchased at a garage sale in Mascouche, there was a photo with Paul and John with a trophy called " disc ", a gold record from England. I had found it beautiful and that had hooked me. I remember I was often at the store dreaming about having a gold record on my wall. At one point, I was negotiating the purchase of a gold record with the manager of the place, Brent. The piece was a gold-plated EP which was not framed. I wanted to have this item in my collection. Brent, and his generosity, allowed me to buy it for $140.00 and as a bonus gave me an original Hard Day's Night poster which is still in my collection today. That's when everything started. Expo 1986: The wax statue and the guitar I could be extremely intense as a fan in my days. At the end of Expo 1986, a colleague and I bought the wax statue of John Lennon and the Rickenbaker guitar which were exhibited at the same time as John Lennon's Rolls-Royce. I had negotiated a great deal with the British consulate to acquire the two collection pieces. Once back home, I remember having John's statue in my bedroom sleeping with him next to me and imagining all sorts of stories involving him. And the following day, I took the liberty to hold a photo shoot staged by my friend, Brian Vasconcellos. We took friendly pictures with the statue as if John were with us. Photo face to face, by his side with a hand on his shoulder, etc. I finally kept the guitar and Brian took the statue. Unfortunately, the statue was damaged, and I do not know if it still exists.
I kept the guitar for several years afterward. It was dating back to 1964 all original and I have exchanged it against a Bag One of John Lennon with the company that exposed John lithographs in Chicago in another Beatles fest. I had initially paid the guitar $400. It was a great exchange given that the lithography was worth more than $3 000 at the time. Meetings and an incredible timing Many people were stopping at the shop to look around. Once a Canadian actor, John Kapelos (Breakfast Club, Sixteen Candles) came to acquire collectible pieces. He wanted a "Butcher's cover" (the Butcher's cover of Yesterday and Today) but the item we had in inventory was not up to the standards of what he was looking for. As I had made friends with him, he had proposed that I pend a day with him on the Roxane movie set shot with Steve Martin. Wow! a whole day watching how a movie was filmed and having the opportunity to shake his hand. And on a beautiful Sunday afternoon, to find myself at the museum chatting with Brian Adams about his meeting with Paul McCartney.
I was not rich then, but I had a lot of fun in Vancouver, this incredibly beautiful city because of its location and especially to the beauty of its nature. I lived my best years as a young man there. From Vancouver to New York I found myself in New York at a Beatles Fest where I had the opportunity to shake hands with Billy J. Kramer, Andy white, Pete Best, Louise Harrison (George's ister), Bob Gruen, and Gordon Waller (one of the members of the group: Peter and Gordon). Always been amazed by all these people who also had an incredible story with this group. No, I was not alone in my lifestyle. I also remember, like it was yesterday, following my boss, Jeff Walker, to participate at an exhibit show with more than 200 participants, passionate artists and guests. I also had the opportunity to meet the shareholders of the California Gold Records company which were the official supplier of the RIAAs gold and platinum and collectible records in the USA.
After spending 3 years in Vancouver
I remember that I was on cloud nine, dreaming to have a wall full of gold records. Who would have thought that some years later I too would have become the official supplier in Quebec and Canada for 25 years? After spending 3 years in Vancouver, having finished my English studies at King Edward Campus, I went back home. I was missing it a little bit… I have always lived by my passions without even knowing it. The Beatles inspired me to live my life to the fullest, with what I had, and I always knew that one day I would eventually meet one of them, but that is another little story.
The music of the Beatles and their stories fascinate many bands and ordinary people around the world. Even today, they are still part of my life and of course they still hold a beautiful place in
my heart.
In my collection I still have some nice collection pieces, autographs, vinyls, pictures, and frames in my old trunk. I have a major collection piece, a John original bag one, that hangs over my bed. I also pleased myself by making the acquisition of a beautiful Gibson J-160, a copy in limited edition of "Bed-in in Montreal". I, later, had several opportunities, through my work and my travels to get closer to them and to change my life through other incredible encounters combined with a unique artistic journey. Thanks to whom? Of course, to my friends The Beatles. Who knew that a simple picture of the Beatles in a magazine dating back to 1964 would completely inspire great part of my professional and personal life and my own art?