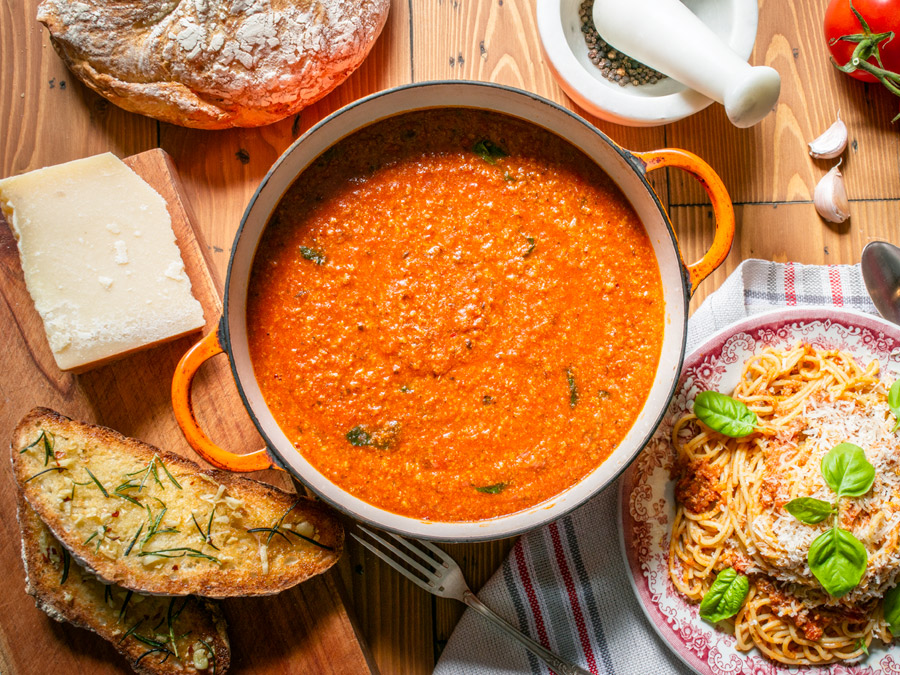 Who does not like a good spaghetti with meat sauce? Since my early childhood I remember the good legs of my mother, that of my grandmother Janette but especially this good spaghetti of my Aunt Angie. Aunt Angie born of a parent of Italian origin (Campobasso, Italy) who immigrated in the year 20 to Montreal.She was married to my uncle Serge, my father's brother. I remember at the time family visits at home and my young cousin Michael son, brothers and sister of my father and all the good mood to be at home with family. Many of the Roy family members lived in St. Leonard's home at Ma Gent's mother Janette on Paisley Street. Another time where everyone was around each week as in all the good families of that time. To meet with my aunt Angie was for me and my brother guaranteed pleasure and certain to know that for supper my aunt would prepare her traditional Italian spaghetti.
Spaghetti sauce
Everybody and every good Quebecker family has their own meat sauce recipe with its different ingredients, meat spices, canned tomatoes, short and long-term cooking, etc. Even I cooked my mother's recipe with ingredients like carrots, celery, garlic onions and a multitude of spices combined with cooking for at least 3 hours. Well she was good recipe and sauce of my mother. I can not say I was not proud of it. Unfortunately for my taste, she was far from this unique taste of that of my aunt Angie.
About 10 years ago during a visit to my Aunt Angie, I found myself spending a whole day at home with my wife, having had a lot of fun exchanging our beautiful memories of the Roy family, chatting from my uncle Réjean the former lawyer, from grandma Jeannette, her stuffed turkey, from all her good pies and desserts but also from telling her aunt how much I love her good spaghetti to her, which was for me the the best spaghetti in the world.
As luck would have it since it was early that day, she decided to please me and prepare her sauce for dinner and make her recipe in front of me, what a privilege to be there with her and that finally I could cook at home this good Italian sauce. So I sit next to her eyes wide open to carefully follow her way of preparing her meat sauce recipe. She began to cook her meat, 3 pounds of minced meat (pork, veal and beef). To cut a big onion, a clove of garlic, then she released two canned tomatoes, a small can of tomato paste, a bottle of tomato sauce and some spices, oregano and fine herbs sea salt and that's all . In a not very precise order she added the ingredients simply in her pot. And took care to taste and make some adjustments in the seasoning. I was expecting more from this recipe
In addition, just the time to chatty a little can with her and drink a nice glass of red, 45 minutes pass and she said "it's ready it is cooked. So I asked her, "Is this your mother's recipe? The original the same recipe you've been making for over 50 years? "She answers" yes! " This sauce so everyone in the family was talking, only one hour of preparation is everything! Wow! I could not believe it … Sometimes the good things that we eat seem complex and long to prepare and imagine all kinds of scenarios, the stuff of my aunt's sauce was surprisingly simple.
So, I would like to share with you this simple recipe of typical Italian meat sauce, you will surely think and tell you yet another recipe for spaghetti sauce!
And yes…. But not just any, Aunt Angie's. Today, since we are more and more busy, why not try this recipe? (One hour of preparation)
I am sure you will surprise yourself with its exceptional taste and frankly good.
Aunt Angie traditional Spaghetti Sauce (The Best)
My aunt Angie a real Italian woman. Since I am a Kid I love spaghetti. Every time we visit her on Sunday, she prepares for us her pasta. A few years ago I ask her her secret recipe. She said it is very simple ingredients and only one hour to cook. All those years I taught that it was much complicate.
3 tbsp olive oil (extra virgin)
3/4 tbsp Chili flakes
1 large red oignon (finely chopped)
6 cloves garlic, (finely chopped)
1 tbsp sea salt
2 tbsp Greek Oregano
2 bay leaves<br />
1/2 tbsp fine herb
1/2 tbsp thyme
1 1/2 lb "Three Meat" Beef, Veal, & Pork
2 can 796 ml tomatoes in can
1 jar 680ml passata (strained tomatoes)
1 can 156ml tomatoes paste
Preparation

1.In a large saucepan, brown the meat in 44 ml (3 tablespoons) of the oil, half at a time, with the red pepper flakes. Add oil, if needed. Season with salt and pepper.

2.In the same saucepan, soften the onions, and garlic. Season with salt and pepper. Add the tomato paste and cook for 1 minute over high heat.
3.Add the meat, tomatoes, tomato sauce, oregano, fine herb and thyme. Bring to a boil and simmer gently, Bring to a simmer and cook for 15 minutes. Place the immersion blender into the sauce and blend until the sauce is slightly thick, about 1 minute. stirring and scraping the bottom of the pan regularly, for about 1 hours or until it thickens. Serve over the pasta of your choice.